David Lynch plays with ointment in New York, while nostalgia turns in fashion in London. All these and more, including our newly released November issue, for this week's Five on Friday.
David Lynch opens ointment-inspired art exhibition in New York
The mind behind Twin Peaks has unveiled his Squeaky Flies in the Mud art show in New York, consisting of paintings, watercolors, sculptures, furniture, and more all inspired by ointment. Yes, ointment. In an interview with Vogue, David Lynch cites the world itself as well as the tube as his inspirations. "Just the right amount of silver in the middle of that painting. Very nice to have that," he said in the interview. Held in the library on top of Sperone Westwater, the mixed-media exhibit runs through December 21st.
"I have to return some videotapes."
A fashion student in London recently debuted a collection called It Was Better Tomorrow, in which all the garments are made of recycled video and cassette tapes. (Don't tell Patrick Bateman.) The colorful, textural pieces were handwoven by Benjamin Benmoyal of Central Saint Martins, who said the collection was inspired by his own nostalgia for his old Disney VHS tapes, as well as the color and architectural trends of the 1960s and '70s. "After high school I was completely lost in my life, I failed many things and needed to prove to myself I could do something that would push me, physically and mentally, to the limits," he told Dezeen.
Remaining few Chelsea Hotel residents featured in extensive photo essay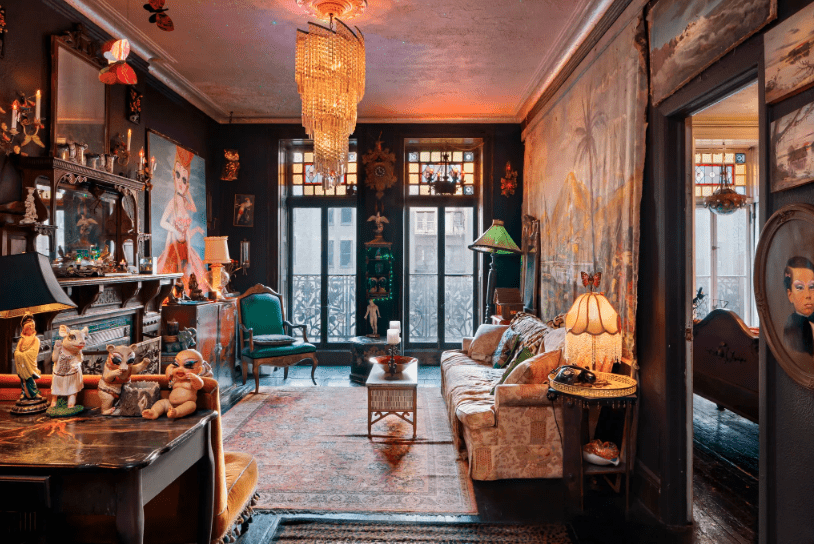 New Jersey-based photographer Colin Miller first toured the rundown Chelsea Hotel in 2001 but has returned on commission to document the renovations that have been under construction since 2007. "As I was shooting, I could see right into one of the apartments and it was wildly colorful," he told The New York Times Style Magazine. "That's when I realized that there's still something really interesting going on at the Chelsea." The rooftop studio, currently home to artist Gerald DeCock (and formerly Anthony Keidis of the Red Hot Chilly Peppers), was Miller's initial draw in this portrait of the remaining residents in the building. Plans to turn the building, first opened in 1884, into a boutique hotel and restaurant have grounded to a halt.
Starbucks' Reserve Roastery Opens in Chicago
The coffee juggernaut isn't resting on its laurels. In fact, it recently opening opened its sixth Reserve Roastery and the largest Starbucks outpost in the world at 35,000 square feet. Designed by Jill Enomoto, Starbucks' vice president of design and concept, the store highlights seven different brewing methods across five stories on Chicago's Michigan Avenue. "We envisioned this five-story experience that would pull people from the ground floor all the way up and tell this really beautiful story about the growing of coffee," says Enomoto.
Kit Kemp on color and craft
We're not above shameless plugs here at HD, especially when we have some exciting news to share. For our annual guest editor issue, we called on Firmdale Hotels' incomparable Kit Kemp to imbue our pages with her signature love of color and craftsmanship. In the issue, she profiles her most prolific collaborators, tells the stories behind her favorite headboards, and takes us behind the design of her most notable projects from SoHo New York to Soho London. It's truly a must read.