This week, Virgin Voyages launches its second ship, a former Uber exec rethinks the morning coffee routine, a Japanese hotel offers a $1 room with a catch, and more in our weekly roundup.
A mobile-friendly pop-up comes for your morning coffee routine
Founded by former Uber employee Max Crowley, the pop-up coffee startup  Bandit offers cheaper prices, shorter lines, and faster service. The mobile-friendly store recently debuted in Midtown Manhattan with all orders done through an app. "We are coffee at a push of a button," Crowley told Eater. To order a cup of coffee, patrons must download the app and upload a profile picture, so baristas can recognize them. Eater compares this pick-up only start-up to the Chinese company Luckin Coffee, the inspiration for Bandit and Starbucks' biggest competitor in China. To keep with the fast (and cheap) theme, the prefab coffee kiosks are made in factories in Michigan and California and fill in vacant commercial spaces that have yet to be filled. As Crowley says, "It's about speed and convenience, and at an affordable price point."
Lady Valiant by Virgin Voyages readies to set sail
Virgin Voyages has announced the latest addition to its growing fleet. Valiant Lady will join the Scarlet Lady (slated to set sail next year) as part of Richard Branson's lifestyle juggernaut's growing cruise business. Based out of Barcelona, the ship will debut in May 2021, with reservations opening by the end of the year. The ship will boast a design collaboration between Roman and Williams, Tom Dixon's Design Research Studio, and Amsterdam-based design firm, concrete, the same firms behind the design of the maiden ship.
A female entrepreneur is remaking Singapore's real estate industry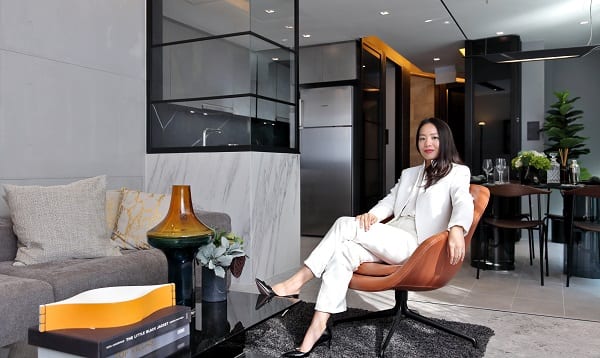 Inspired by landmark Flatiron building during one of her visits to New York, entrepreneur Joan Chang (her father, Herman Chong, founded property development firm Macly Group) wanted to develop a similar iconic structure. She brought on JPG Architecture to help conceive the Iveria, a 51-unit luxury condominium in her native Singapore, according CNA Luxury. Already having established a portfolio that includes Bali's hip hostel Cara Cara Inn and laidback Lloyd's Inn in Singapore, the 28-year old real estate wunderkind has big plans for her homeland and beyond. "As long as I can remember, I always went along with my father on construction sites and show flat visits," she said during the interview.
A night to remember at Platinum Circle 2019
Last week, we celebrated our annual Platinum Circle event at the Conrad New York Downtown. We've been calling it a night to remember, and it certainly was. We fêted a handful of industry luminaries at the black-tie affair, including Grupo Habita, Anouska Hempel, Andrew Zobler, Roman and Williams, and we honored the Parker Company for 50 years of incomparable service. If you missed anything from the event, read our recap here and check out the highlights at our Instagram page at @hospitalitydesign.
A Japanese hotel costs $1 per night, but there's a catch
Clearly a brand with an audacious spirit, the Asahi Ryokan hotel in Fukuoka, Japan offers its guests a hard-to-believe deal: a guestroom that costs only $1 per night, according to CNN Travel . But there's a catch: Guests have to livestream the whole thing on YouTube to get that rate. Dubbed as the One Dollar Hotel, there are a few ground rules. No cameras are in the bathroom and the audio is not livestreamed. The idea behind the $1 room started as a way to improve business after the hotel after owner Tetsuya Inoue took it over from his grandmother last year. Though the $1 rooms are considered a loss leader, Inoue is hoping to generate revenue from the YouTube channel, which currently counts more than 8,000 subscribers.