1 Hotels has launched 1 Hotel Hanalei Bay, its new flagship property in Kauai, Hawaii. Overlooking the island's North Shore, the 252-room retreat debuts as a beacon of wellness with a biophilic design by G70 and NICOLEHOLLIS that organically immerses guests in the area's tropical splendor.
"Hanalei Bay is the culmination of everything we've sought to achieve with the 1 Hotels brand," says Barry Sternlicht, 1 Hotels founder and chairman. "What makes the opening of this property such a special moment for me is that my family and I vacationed in the area for decades. When I first visited, I found the existing hotel not in keeping with its natural landscape. I had a vision of creating an extraordinary resort that would combine the magic of a lush native landscape with the region's rich culture and history. We've brought that vision to life with a unique hospitality experience that pays tribute to these wonderful local traditions where nature is the CEO, where the building integrates with the boundless beauty of its surroundings, and all our guests can experience the wellness, soothing, and healing properties of the extraordinary island of Kauai."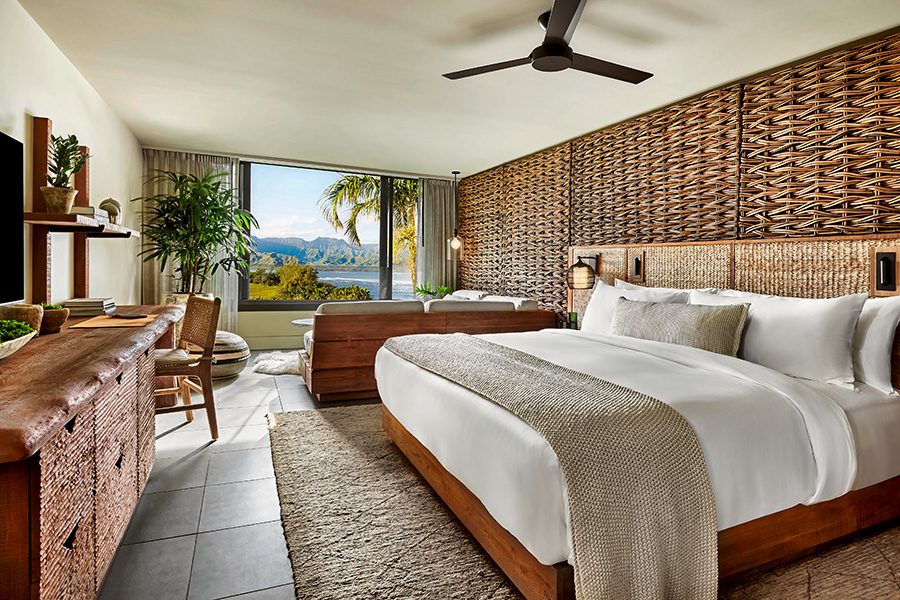 A journey into Hawaiian history and mythology commences as guests pass through an open-air entryway into the lobby and reception area. Indigenous and endemic vines and plants weave through the low-impact structures of the hotel, and locally sourced elements—including reclaimed teak joists, puka lava stone walls, and ceilings handwoven from abaca, a natural leaf fiber harvested from a cousin of the banana tree—further emphasize the brand's commitment to sustainability.
Nearly 150 tons of onsite furniture, fixtures, and equipment were also salvaged to limit the carbon gas emissions of 1 Hotel Hanalei Bay, while winged roofs reduce and filter rainwater runoff and help improve air quality.
In addition to seven F&B concepts, the 18,000-square-foot Bamford Wellness Spa anchors the amenity lineup, comprising a cryotherapy chamber, hyperbaric chamber, infrared saunas, ice baths, a meditation pod, and salt pod flotation chamber. A 10,000-square-foot fitness center and beachfront jungle gym are featured as well.
Each of the 252 guestrooms, including 51 suites, evoke a sacred quality with handwoven doors fashioned from local black basalt, reclaimed teak, abaca furnishings, and traditional punai daybeds. Textural surfaces and framed views of the crescent-shaped bay are also hallmarks of each space.
More from HD:
The Restaurant World Embraces Pop-Ups and Speakeasies
The Latest Retail Stores Focus On Experience
Submissions Are Open for the 19th Annual HD Awards