The luxurious lobby of Four Seasons Hotel New York is now a scene of nursing stations and designated walkways. Display cases and boutique spaces have been emptied or papered over to discourage lingering. Guests wait behind barriers to have their temperatures checked before proceeding to the front desk. After temporarily closing in late March, the hotel reopened on April 2nd to host healthcare workers serving the COVID-19 outbreak.
"It was an instinct and a reaction [to offer rooms]," says GM Rudy Tauscher. "The city has thousands of medical staff and others who need a place to stay." 
The Manhattan landmark is among thousands of properties worldwide—from Wuhan, China, to London and San Francisco—to offer free or discounted housing for hospital staff, first responders, and infected patients. With occupancy hitting all-time lows, hotels are vacant and able to provide fundamental resources the medical sector desperately needs.
Beyond beds, hotels can also offer regular meals to those living temporarily on site, plus meeting rooms for doctors and nurses who need to discuss caregiving strategies. Many rooms feature routine comforts like TVs, desk space, and lounge furniture that help overworked guests feel more at home, while security staff, engineers, and the maintenance crew ensure facilities stay up and running.
"It seems as if hotels were readymade for being able to handle this," says Chip Rogers, president and CEO of the American Hotel & Lodging Association (AHLA). 
Coronavirus has all but halted business and leisure travel as the world shelters in place. In New York—the epicenter of the outbreak in the U.S.—hotel occupancy was only 15.2 percent in late March, a drop of more than 80 percent from 2019, according to hospitality analytics company STR.
Tauscher says Ty Warner, founder and chairman of the company that owns Four Seasons, directed his team to repurpose the 5-Star hotel. Four Seasons swiftly partnered with International SOS, a medical and travel security services company, to safely adapt the property. One of the hotel's two entrances was closed and signage was added to direct foot traffic in a circular flow to encourage social distancing. Nurses offer gloves and surgical masks in the lobby, while frontdesk staff provide sandwiches donated by outside vendors.
The hotel has set aside 225 rooms for medical workers, though the turnover process is lengthy. When guests check out, their rooms must remain untouched for 48 hours. An outside cleaning crew comes in to sanitize the space and stuff linens into biodegradable bags, which dissolve in the washing machines. (Those, too, are disinfected.) Each room must rest another 24 hours before the hotel's cleaning staff can reset it.
"This is all uncharted territory for every one of us," Tauscher says. "You're not walking into the halls of the Four Seasons as you normally would."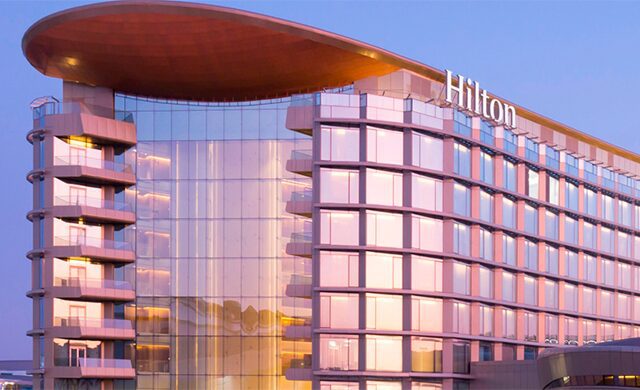 Hilton recently announced its brands will donate up to one million hotel roomnights to frontline medical staff through the end of May. Other hotels are transforming into makeshift quarantine wards. In downtown Chicago, Oxford Capital Group is providing 1,100 rooms across four hotels to asymptomatic patients and those requiring isolation. Meantime, California is designating 15,000 empty hotel rooms statewide to house homeless people to protect them and others from infection. Los Angeles, which accounts for the state's largest concentration of homeless people, has set its own goal of 15,000 rooms.
In Spain, Madrid's hospitality sector has offered 60,000 beds for patients with mild symptoms of coronavirus. At the Ayre Gran Hotel Colón, in the city center, hallways are filled with doctors and nurses tending to recovering guests.
New York officials plan to transform at least 20 hotels into hospital-like facilities. To do so, each room's air-conditioning unit must be converted into a "negative pressure" system to prevent coronavirus from spreading to other quarters. Rooms will be sealed off with a large piece of plastic that doctors unzip to enter, and each unit will be stocked with appropriate medical supplies. Nursing stations will line the hotel hallways, along with crash carts for patients with life-threatening emergencies.
"We want to use New York as the standard-setter," Lt. Gen. Todd Semonite, commanding general of the U.S. Army Corps of Engineers, says of the strategy.
Meanwhile, Rogers says hotels are available throughout the U.S. to respond to coronavirus efforts. The association recently launched Hospitality for Hope to connect local authorities with willing hoteliers. So far, the program has enlisted 15,000 hotels. AHLA has also created a model lease to help owners and authorities quickly negotiate agreements.
"Our industry has been hit probably more than anybody, alongside airlines and cruise ships," Rogers says, "but you still have folks who are willing to help out."
For more COVID-19-related news from HD, click here.