In the heart of the Rocky Mountain resort, the 68-room MOLLIE Aspen will open in December with chilled-out Colorado vibes from interior design practice Post Company and local firm CCY Architects. The hotel was crafted to honor Mollie Gibson, an instrumental figure in Aspen's cultural legacy.
Committed to a reduction of excess, the new-build's restrained palette of native materials from Aspen and the wider Western U.S. region is accentuated by natural timber, earthen ceramics, and hand-dyed textiles. Bricks and tilework also create pattern and depth, while terracotta, concrete, and sand-cast brass mimic the rough-hewn terrain glimpsed through large windows looking onto Aspen Mountain and Paepcke Park.
Designed for eclectic locals and visitors, MOLLIE's lobby and retail space is anchored by a large, burled wood desk with a soft, round profile that contrasts with a rectilinear fireplace and Bauhaus-inspired ceiling grid.
The lobby bar juxtaposes raw and heavy geometric concrete panels with refined millwork, while the lounge bar's bespoke hand-cast terracotta wall tiles evoke Aspen's rugged mining heritage. The laid-back all-day café includes year-round outdoor seating, and at night, the rooftop pool and terrace become a cozy lounge.
Surface imperfections become artful with the corridors' custom, solid sand-cast brass lights. Anni Albers-inspired textiles woven by Rachel Snack are featured in the lobby, guestrooms, and branding, also executed by Post Company.
"We chose to partner with Post Company and CCY because they understood the design aesthetic and atmosphere we were trying to achieve—a hotel with a residential comfort that felt rooted in Aspen and connected to its history," says Aaron Brown, co-owner of the project's developer, HayMax Capital.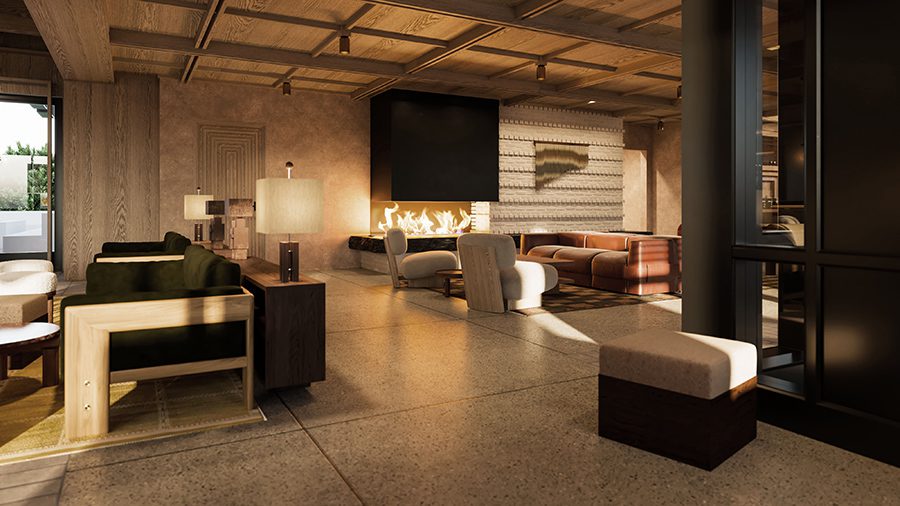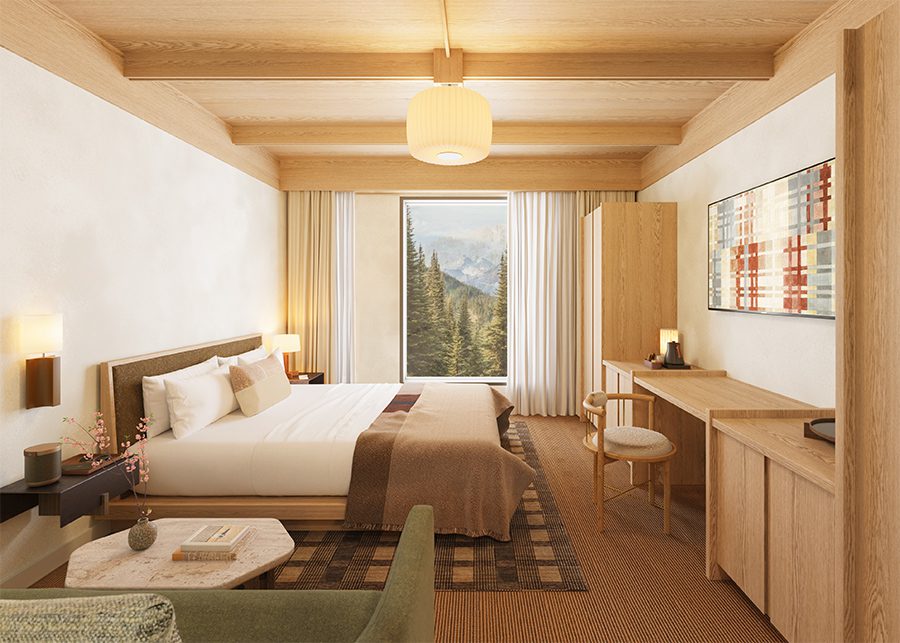 More from HD:
Glamping Gets Even More Luxurious at ULUM Moab
HDTV: Tour the Glass Light Hotel & Gallery in Norfolk, Virginia
Genuine Partnerships Are Paramount for Ryan Crown