The Renaissance New York Flushing Hotel at Tangram has debuted in Queens, New York as part of Tangram, a new dining, retail, and entertainment destination. The stylish 208-room hotel connects guests to the eclectic neighborhood through a design conceived by Margulies Hoelzli Architecture, Wilson Associates, and the interior design team at SCG America.
Traditional Chinese geometric puzzle games—or Tangrams—and Flushing's Asian immigrant culture both served as muses. "Renaissance Flushing embraces the concept of this puzzle and brings modern sensibilities paired with the wit of Asian-influenced pop surrealism to create a welcoming and flexible space for people to see and be seen," says SCG interior design director Tina Wu. "Guests are drawn in for a sensory adventure to experience unexpected moments at every corner, while mingling with locals and enjoying the bespoke services. Renaissance Flushing sets a new standard for spontaneous luxury and captures local authenticity with true place-making design."
On the ground floor, guests are greeted by a coffee bar before they ascend to the 12th-floor lobby. Laser-engraved concrete artwork of the cityscape enlivens the space along with a mural of a Tangram. Entryways and communal spaces are furnished with archived objets d'art, including small sculptures and vintage cameras, installed beside floating resin ceiling panels and industrial LED lighting. A mix of high and low materials and textures characterize the interior, with raw concrete and polished mirrored glass, leather upholstery, and industrial metal frame.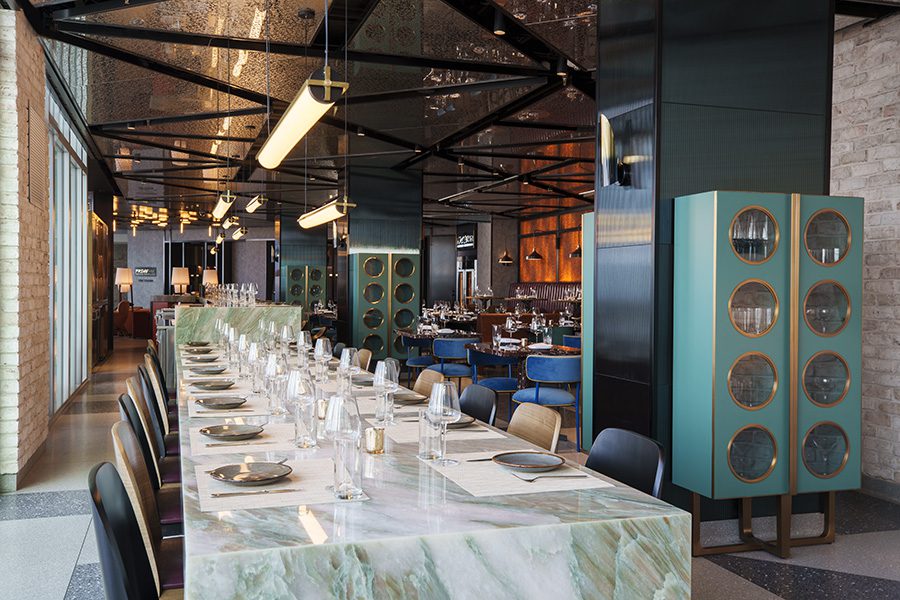 The F&B lineup is a key attraction of the new hotel, which is crowned with the Prime Mēt Steakhouse and Rooftop Lounge. The steakhouse is attached to a 3,500-square-foot outdoor terrace that is also equipped with a vintage passenger van transformed into a food truck. The rooftop hub also doubles as an open-air event space complete with a performance stage and DJ booth.
Additionally, the 12-story hotel features an 8,000-square-foot health and wellness club that comprises a 60-foot-long indoor heated lap pool, a heated vitality pool, yoga room, and a 24-hour fitness center. The Renaissance Signature Design Studio and the 11th floor's exclusive Club Lounge round out the onsite amenities.
Guestroom foyers are lined with hand-drawn wallcoverings that depict sparrows taking flight from a single peony, a transformational image that represents the beginning of a new journey. Carpeted brushstrokes in the hallways also nod to traditional Asian calligraphy techniques. Upgraded technology and modern furnishings await in the handsome, minimalist guestrooms as well.
More from HD:
The Best New Rooftop Pools Across the Globe
Nobu Hotel Barcelona Marries Japanese and Spanish Design
Chapter & Verse Endeavors To Leave Guests Inspired