Prior to meeting Selina cofounder and CEO Rafael Museri in early 2016, Ariel Levinsohn spent years running his own creative agency focused on experiential branding. But once Museri shared his vision for Selina—his lifestyle lodging company that combines hotel (or hammock) accommodations, coworking, wellness, and local experiences—the two spent the next several months talking daily.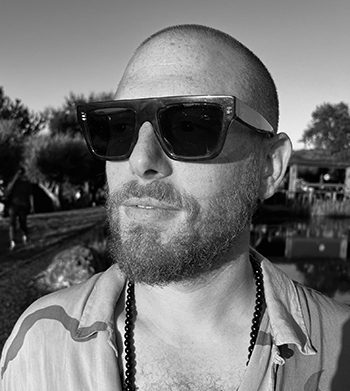 Selina had just two locations open at the time, and "eventually I went over to Panama and I fell in love," Levinsohn says. He started working with Museri that summer and now, as Selina's vice president of global brands and creative, helps oversee the company's growth. Now, with more than 160 outposts in 25 countries, Selina operates mostly on a conversion model with a sweet spot of 60-90 guestrooms apiece.
Below, Levinsohn delves into the brand's ethos, cool offerings, and upcoming launches.
What is Selina's ethos?
Ariel Levinsohn: The brand mission is creating authentic and meaningful connections with people, places, and communities around the world. It's how we approach design, how we create spaces. It's fundamentally to get people to connect. We try to disrupt what is there and come up with something new. What we do as a category is lifestyle, but it is lifestyle, hospitality, and travel.
How do you decide where to grow?
AL: We have the market research team that looks at how people are traveling and the trends and movements that are happening to be one step ahead. Once we do choose to go somewhere, we try and expand within that market to have a very clear pipeline of which destinations we want within the country and how that's going to connect to our other locations. Ideally, we're creating a network of locations where people can travel seamlessly through them and experience new things, but also have the comfort and facilities [they expect] while they're traveling, working, or just vacationing.
What are some of those consistent features?
AL: Every location has a [coworking space]. Every location has a wellness space. We have what we call democratic accommodation. It's a $10 hammock and an $800 suite, and everything in between. You know that you will meet people. We survey our guests whether they made a friend while staying at Selina, and more than 60 percent consistently make friends, which connects us back to our mission. We made a choice not to have TVs in our standard rooms. Instead, we have a cinema in every location. If you have TVs, people are going to stay in a room, but if you make them go out there's a lot more chance they will meet people and connect. Everything that's design-led is meant to help with the mission.
How do you handle the design of your properties?
AL: Generally, we only take over existing hotels. It dramatically reduces our carbon footprint. We send a group of creatives to the location, we evaluate everything that's there, and then we recycle whatever we can back into the project. That makes every location unique. The workshop consists of someone from our global team, but we always work with local artists and designers. Our core design team, branding, and graphic design is in-house.
Have there been any surprising guest insights?
AL: From a food and beverage perspective, we're going very plant-based and doing partnerships with companies that are innovative in that space. We [also] work closely with the music industry [creating] experiences around music, whether it's festivals or music conferences. We have live shows on a daily basis in locations. [When COVID hit] we learned right in the beginning that there is this [digital nomad] movement. The connection between workspaces and hospitality is something we want to lead. We're now even more confident than we were before.
How does wellness manifest at your properties?
AL: Every location has daily wellness programming. We have yoga, meditation, pilates. Wellness is beyond just the physical and we have some wellness partnerships coming up in terms of retreats. It's all-encompassing.
What are you looking forward to?
AL: We recently expanded into North Africa with Morocco and plan to open quite a lot of properties there—from surf locations to our first desert location and in great kite surfing spots, and Marrakesh obviously, as well as other key areas. We're also opening our first Spanish properties. It's a market we've been planning on since the beginning. There are exciting things we're developing and scaling in the experience space, and more interesting partnerships in the pipeline.
This article originally appeared in HD's April 2023 issue.