Multimedia artist and designer Daniel Arsham is looking forward to the future. "We all have to reconsider our paths slowing down. The pace of art or design fairs is sometimes too much," he says. "Some of the best art, historically, has come out of turbulent moments and I think that this would be no different."
Arsham also finds inspiration in the renovations of his Norman Jaffe-designed abode on Long Island, New York, from where he is assisting on the installation of his latest exhibition at the Musée Guimet in Paris. The modernist marvel stirs in him a desire for design to more widely shape contemporary visions of the future. "Architecture itself has become less a part of how people imagine," he says. "Now, it's like people imagine the future and it's all in technology, cars, and things like that."
These very ideas are explored in Arsham's diverse portfolio of artwork. Characterized by a signature monochromatic palette, objects including Game Boys, Porsches, sneakers, and sculptural renderings of Pokémon are cast in geological materials like ash and crystal to portray them as unearthed relics. They may tickle a nostalgic itch, but Arsham sees it differently. "Nostalgia is about the past, right? Those are actually all about the future," he says. "They're objects that I imagine being resurrected in an archaeological site 1,000 years from now."
One reason Arsham may gaze so far ahead is because of his commitment to sustainability. All production aspects of his art studio shifted during 2019 in order to become double carbon-negative. "We purchased offsets for everything that we do and we just doubled that," he says. "That includes the shipping of [each piece of] artwork, all the travel we do, all the materials shipped to us."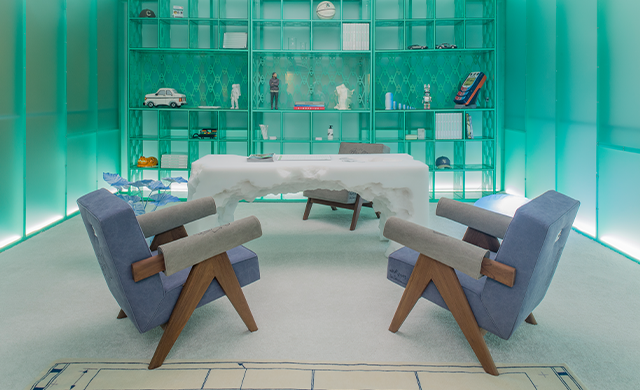 Currently, he is focused on 2021, when architectural projects delayed by the pandemic are expected to resume. As cofounder and partner of New York design practice Snarkitecture, he recently worked on the Tokyo flagship for streetwear and sneaker brand Kith, for which the firm has crafted outposts in Miami and New York. Tokyo is also home to another recent debut by the studio: the art gallery-omakase restaurant hybrid 3110NZ by LDH Kitchen. "That project is just amazing," Arsham says. Decades of jetsetting have also stoked his desire to design a hotel one day.
For now, Arsham is fulfilled with his literal blank canvas for expression and reflection. "The early drawings I made had this relationship between architecture and nature," he explains. "Some of the recent paintings are getting back to that."
This article originally appeared in HD's November 2020 issue.