Forced to close for months, restaurants have taken an especially hard hit during the pandemic. At ICFF and Wanted Design Manhattan's CLOSEUP 2020 trade event, David Rockwell, founder of New York-based Rockwell Group and Melba Wilson, owner of Melba's in Harlem, sat down to talk about DineOut NYC, an innovative solution to the challenges local eateries faced. "At Melba's we're a family, and March 17th—when I had to tell my employees that many of them would no longer have a job or a way to support their families—was one of the most difficult moments of my life," recalled Wilson.
Rockwell saw the massive impact COVID-19 restrictions were having on clients and friends and took swift action. "I began reaching out to a few people, and Melba was one of them," he said. "New York City is the hospitality capital of the world and we needed a way to keep businesses thriving [safely]. We put together every version of how a restaurant might open outdoors and began working with the city, which started very intense conversations about public space."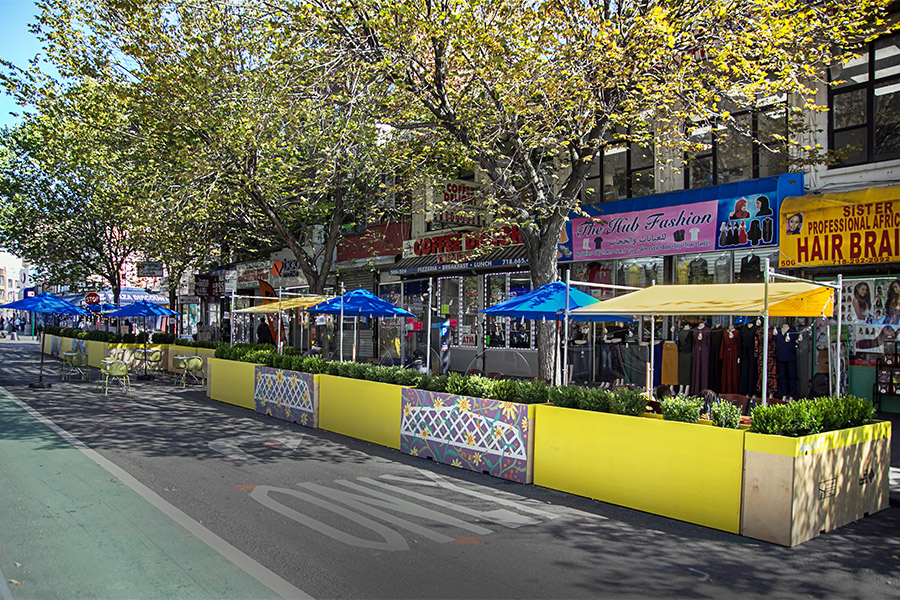 Rockwell Group designed outdoor seating modules for restaurants and organized strategic partners and investors, allowing the firm to work pro bono. But the project didn't come without controversy. "Taking a parking lane and making that available for dining was contentious," explained Rockwell. "The fact that the city has adopted it has led to this expression of life on the street. Once we had the deck, we started talking every day about how to get it adopted from a legislation point of view and how to make it affordable and scalable. When [outdoor dining was finally approved] we had Melba's ready, as well as at least one in each borough."
DineOut NYC, designed in coordination with the NYC Hospitality Alliance, where Wilson serves as president, is an adaptable and modular system that allows businesses, many of which have tiny indoor footprints, to operate under current health guidelines. The toolkit is available to all restaurants for free. "This is what we do as New Yorkers," said Wilson. "We see a crisis and we don't run from it. We collectively figure out how we can change the current situation."
This article originally appeared in HD's December 2020 issue.