For years, Ryan Shefferman traveled the globe in the name of restaurant development. Six years ago, he decided to delve beyond the world of décor and launch Gate 3 Design, a Beverly, Massachusetts-based firm devoted to creating innovative restaurant spaces, from a reimagined Bennigan's in Fort Worth Texas to the Top of the Crown Grill at Kansas City International Airport to New York's first LEED certified Applebee's. Here, Shefferman talks inventive sustainability, hospitality from an operational perspective, and Michael Jordan.

Did you always know you wanted to be a designer?
No. I've grown into one and I'm growing out of being just the 'décor guy.' Experience builds confidence, and so after sixteen years I'm assertive and prepared now more than ever to bring focus and full service design solutions to any project. This is what I am good at; I love the creative process, the adventure of each location, and the dynamic of each concept and owner.
What are some of your first memories of design?
My mother had a dried flower arrangement business to make some extra money when I was young. We would travel with her to various craft fairs around New England where she would sell them. Her work was beautiful. I appreciated it not only because [the flowers] were stunning, but I saw her intricate works of art in process at home. When she would sell an expensive large piece she'd celebrate and take my sister and I out to lunch-or she could afford to buy the Air Jordan basketball sneakers I really wanted.
How did you end up where you are today?
I grew up working in almost every type of hospitality [environment] you can imagine. I was finishing up my degree in Public Relations/Marketing, working three jobs, and I landed a job working for an antique dealer turned restaurant decorator, Jeff Walsh and Hospitality Solutions. There was a lot going on in the theme restaurant industry in the late 90s and 2000s and the need for antiques and décor was central to many brands. I was fortunate to be exposed to so many different concepts and aspects of business through restaurant development. It took me around the world. Each of these projects had a formula to success and it included a well thought out interior and brand presence. I love being a part of that formula. I wanted to impact my clients' businesses in a deeper way than just decorating. Six years ago I started Gate 3 Design and though I am rooted in décor and fabrication, I am a very versatile designer.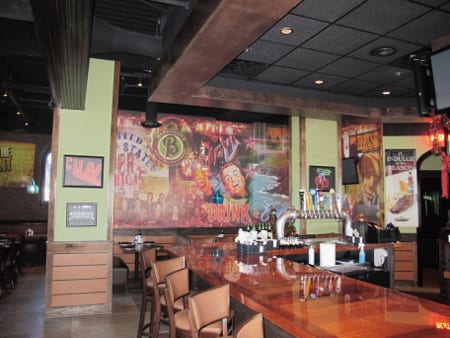 Bennigan's Fort Worth
Do you have a greatest lesson learned?
Never stop learning.
Have faith and don't give a damn at the same time.
Good design is good business.
What inspired you to start your company?
I want to be the next generation design company filled with talented people bringing enthusiasm and big ideas and also experience and relationships to a project. The reward of great results is my clients' trust. They give us their time and money and I'm inspired to bring the most impact to their businesses' success.
Tell us about your office culture and design process.
We are still building our culture. We are small but growing. I often will use sports references and metaphors in our meetings; I sometimes sound like a combination of Yogi Berra and Will Ferrell. The design process for us is flexible but focused. I like to use a team approach and welcome ideas throughout each project; there's an 'I' in design, but not Gate 3.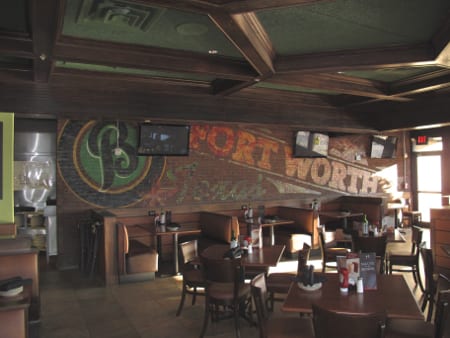 Bennigan's Fort Worth
Why hospitality?
It's my domain. I grew up in it. People will never stop eating, drinking, and sleeping. I love all three and to enhance the guest experience. The three in Gate 3 represents the relationship between the three pillars of successful business for me: food (or product), service, and environment. When all three of these are cohesively delivering on customers' expectations it is a win-win for the owners and their guests.
Sustainability is important to your projects. What is your distinct approach to green?
Sustainable design has evolved from being a luxury to a responsibility. My goal is to find the real quality within the green movement and bring it to my clients with the same values as other decisions. Quality is an aspect of sustainability that cannot be ignored. Beyond selection of the right materials and instituted best practices, quality craftsmanship is integral to sustainable design. We are always looking for both customers and vendor partners with the same values.
What are some of the challenges of the industry today?
Like any business, knowing when to grow and in what direction. I want to be capable to handle any customer but nimble enough to maintain value.
The creative economy is vast and many of us are multi-talented. Competition can come from anywhere.
Transitioning towards sustainable practices cost-effectively and on-time.
How do you first tackle a project? What do you look for?
By answering a singular need, a relationship begins. We want to elevate a project from where it has come.
What's a recent project that was most challenging and why?
The first 'green' Applebee's in the world in East Harlem for Apple-Metro, Inc. will be the first casual dining restaurant to earn LEED Gold certification in New York. The biggest challenge was maintaining Applebee's brand standards while accepting the tremendous opportunity to think outside the box, floor to ceiling. Thankfully, owner Zane Tankel's tremendous vision for being innovative brought this opportunity. He asked us to bring life and movement to his classic brand, and collaborating with friends Mike Berry (director of construction) and designer Peggy Leung, we were able to bring both the practical and fantastic to the finishes: LED lighting that resembles fireworks throughout the two-story vestibule tower and dining room, floating pendants over the bar, recycled wallcovering, a bamboo bar top, and a low roof with living trees.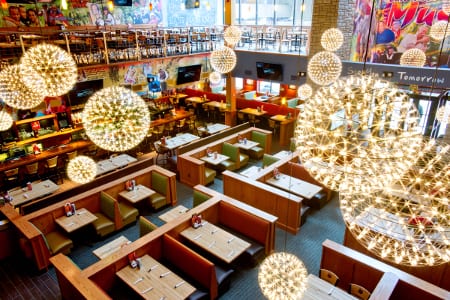 Applebee's East Harlem
Still, the wow factor was delivered with features like a 30-foot-long living wall framed in reclaimed wood from a Brooklyn factory, an exterior mosaic with recycled tile in the shape of growing vines surrounding the Applebee's apple, and a wood wall feature created with end cut wood from the beams of a church in Pennsylvania. With all of the challenges associated with bringing many firsts to this project, it still is an Applebee's at the end of the day-a living, moving, green one through design.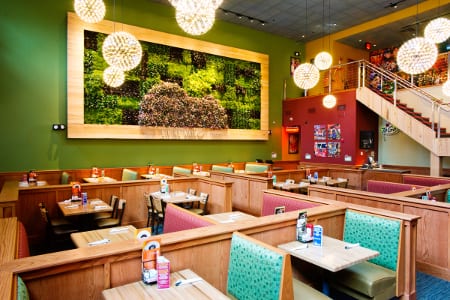 Applebee's East Harlem
What's one project you are most proud of and why?
In addition to the Applebee's in East Harlem, the SAYMedia Center at the Salem, Massachusetts YMCA, in my hometown. Last fall, a childhood friend of mine came to me asking for help in building an afterschool teen center that would provide vocational training in media and creative arts. I jumped on board and we handled the renovation of a tired basement space and turned it into a lively and functional classroom/small business setting. My whole team got involved. It was refreshing to take a moment from our busy schedule and do something that will have a positive impact on others. We are blessed to have the business we have, and with that blessing comes the responsibility to give back.
What are some projects you are currently working on? What's next for you?
Applebee's in Cairo, Egypt, and also Coney Island in New York. For HMSHost we are bringing the legendary Durgin Park (in Faneuil Hall) to Boston's Logan Airport and a Miller Brewhouse concept to the Milwaukee airport. Another legend is making a comeback in Bennigan's, and we are trying to help them do it even better this time. Next for me is developing my own concept. My journal is ripe with ideas.
Most creative solution for a cool design feature that you have recently come up with?
I bought the gym floor from an elementary school in Iowa. We repurposed some of the wood into stand-up workstations for the SAYMedia Center at the Salem YMCA. I'm waiting for the right opportunity to use the rest as a bar top.
What would be your dream project?
Dream projects for me are designing spaces that I would like to be in. I bring that to each project I work on but a dream project other than a boutique hotel (which is almost cliché of designers to say now) would be a great Americana beer garden.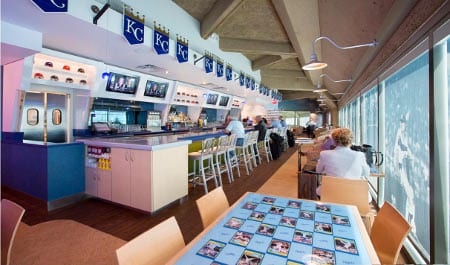 Top of the Crown Grill, Kansas City
What's the most important thing to remember when designing a hospitality space?
A hospitality space is a business and it needs to run smoothly and efficiently to be successful. Design and the environment we create should complement the operations. We have done hundreds of remodels over the past couple of years and we do everything we can to keep that restaurant making money. Hospitality spaces need to withstand traffic and use. Quality and durability of materials should be a top priority.
Motto to live by…
If you do what's right, anything is possible.
Greatest accomplishment so far?
rowing Gate 3 Design, leading my employees, and keeping it rolling.
If you weren't a designer, what would you be?
I wanted to be the catcher for the New York Yankees but I'd settle for a teacher and a college baseball coach.
When you are not in the office we can find you…
Hanging with my kids and girlfriend, playing board games, watching comedies, grilling food, drinking a couple beers. I'm blessed.
If you could have supper with anyone living or dead, who would it be?
My anwer to this used to be Michael Jordan, one of the greatest athletes and brands of all time. Today, I would say one of my contemporaries like Thomas O'Brien.
Describe that meal, the wine, and the person you're eating with.
Any great sushi place in New York or Boston. I'm into Malbecs lately but this meal I'd trade the wine for a tall Kirin Ichiban. Thomas O'Brien has the multi-disciplinary design firm that I admire. His personal taste is very similar to mine. His use of modern and vintage is elegant. I want to talk travel and refine my to-do list.
Whom do you admire the most? Why were they an influencing factor in your career and life?
I got the chance to work alongside Arthur Eilertson, who was a former principal and founder of the Boston office of Fitch [a global design consultancy]. I learned many things about design and branding from him. He was honest, even brutally sometimes with customers, but he genuinely cared for their best interests. He had an incredible mind but wasn't afraid to admit his weaknesses. He would surround himself with the right supportive players. He reached great success and yet his humility is what drew you to him. He showed me how a great career in design is possible, with plenty of room for family.