These nine designers have a talent for reshaping characteristically staid segments from offices to eateries and everything in between. Each with their own unique take on design, they are changing our perception of what the future of the industry looks like.
Li Xiang
X+Living, Shanghai
The adventurous Li Xiang, president and creative director of her Shanghai-based X+Living, is well on her way to becoming synonymous with daring, playful creations, from elaborate bookstores for the Zhongshuge brand (she's worked on five) to the fresh-faced Wheat Youth Arts Hotel in Hangzhou, China. She approaches design like solving an equation—working through the intricate problem with precision and her signature inventiveness. "We need to set a goal before starting the work," she explains. "Many people think design is sensitive, while sensible thinking is also indispensable." That perspective paired with a savvy design mentality has helped her continue to defy expectations. Hangzhou Neobio Family Park, for example, is the latest in a series of intriguing projects. Here, the space is divided into four main areas that cater to different ages and interests, with one interpreting a nighttime desert scene of adult playground Las Vegas into a child-friendly scale, resplendent in saccharine pastel tones and exaggerated shapes. With such detailed, diverse projects, Xiang says she's learned over the years that "only I can be my mentor," allowing her to surrender to her wild imagination.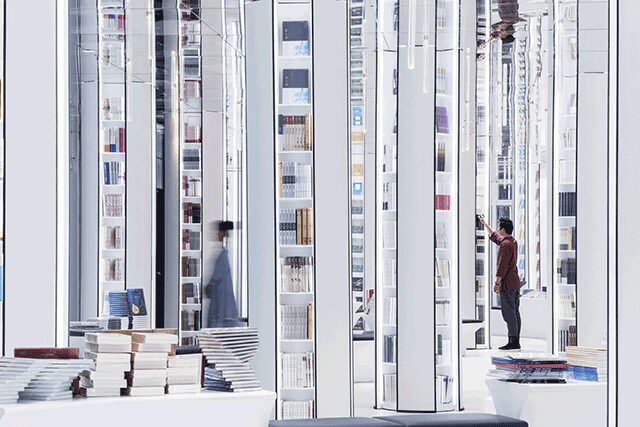 Chris Horger and Sarah Carpenter
Carpenter + Mason, Brooklyn
Within four months of launching their Brooklyn design firm Carpenter + Mason in 2014, husband-and-wife duo Chris Horger and Sarah Carpenter quit their day jobs, started the firm's first four projects, got married, and renovated their own apartment. "It was chaotic, but a great crash course," Carpenter says. Drawn to honest materials (they're both trained architects, with Horger spending his youth working at his father's masonry, hence the name), the pair has helped define buzzy New York fast casual spots the Meatball Shop and Egg Shop, as well as Van Leeuwen's many bright, modern ice cream parlors that have sprung up in trendy Brooklyn neighborhoods and Manhattan's West Village. The latest, in SoHo, welcomes passersby with a striking pastel blue façade and a design "informed by its ice cream and packaging colors, as well as the Pentagram-designed branding," explains Carpenter, adding that the stores are some of their favorite projects partly because the company was one of their first clients. Because the pair only has one speed, they're also taking a few major professional and personal leaps in the months ahead: a 17,000-square-foot Art Deco-inspired market and bar—their largest to date—is in the works, and they're in the process of adopting their first child, "which is definitely our most exciting new endeavor," says Carpenter.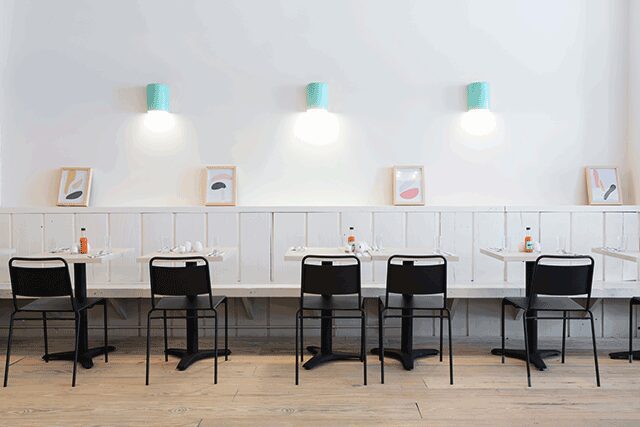 Esther Stam
Studio Modijefsky, Amsterdam
Esther Stam first discovered hospitality at age 18 when she moved to New York for three months to stay with her uncles. Though she had been "quite creative from a young age," it was then that she decided to become an interior architect, she says. In 2009, she founded Amsterdam Studio Modijefsky with a philosophy to "design until the interior is in balance and has a unique identity based on the history and context of the space." Often inspired by nature and local crafts discovered while traveling, two projects completed at the beginning of this year are quintessentially Stam. Each "has a strong design language and uses an outspoken palette," she points out. The CityHub hotel in Rotterdam, for one, aimed at the digital lifestyle generation with pod-like sleeping units, showcases a different, vibrant color in each of the property's three connected buildings, which gets darker as guests ascend floors, while the industrial, two-story Commons restaurant and bar inside the Student Hotel in Maastricht celebrates the building's history as a ceramics factory. Soon, Stam will impart her perspective on the firm's first retail space, Wolford, as well as a teahouse, both in Amsterdam. "I love designing small, local [spaces] and creating an entire identity and interior for them," she says.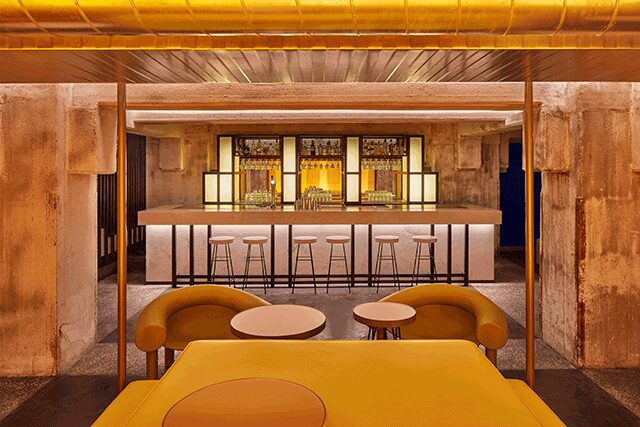 Nina Etnier and Brad Sherman
Float Studio, New York
"We make a point to learn about who we are designing the space for," says partner Nina Etnier of Float Studio's process, "and we get the best product when we get to know the team we're designing for very well." She and partner Brad Sherman met in college and started working together eight years later when he quit his job to start Float Studio after realizing there was a need for a firm to design headquarters for "companies aging out of the coworking model," he explains. The duo has found a desired niche working for startup companies like Casper, Bombas, and Food52 that are tight on budget but big on ideas. It has led them to inhabit other industries that need a little nudging into the 21st century with their characteristically charming aesthetic, such as the recent Royal Orthodontics office in Manhattan, with a custom desk made of pink and green speckled terrazzo, oak slats acting as partitions for the private consultation rooms, and a neutral palette with accents of teal throughout. Adds Etnier: "It was fun taking something that's traditionally dreadful in the design world and making it a happy, uplifting space."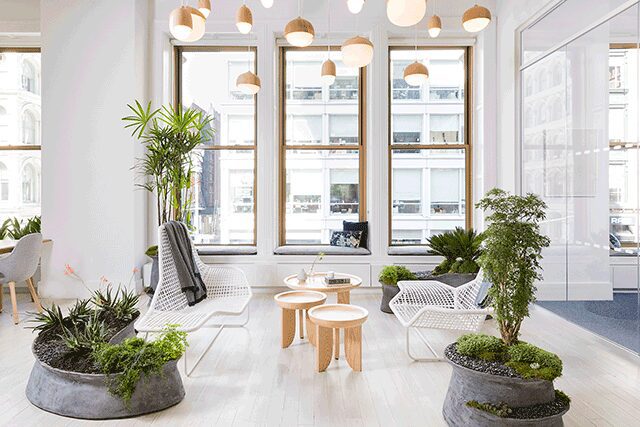 Julie Purpura
Avenir Creative, Chicago
Julie Purpura is layering the Midwest with her vintage-meets-modern flourish, from Chicago's Edison apartment building, an ode to the 1930s, to the Hotel Deco in Omaha, Nebraska, where public spaces drip in saturated jewel tones. Soon, Topeka, Kansas will welcome her polished style with the 109-key Cyrus Hotel, which takes design cues from Civil War military motifs and the muted yet rich colors of the prairie (it will also showcase her own artwork). It shows how far the art major has come since finding herself in an interior design classroom staring at sketch work pinned to the walls at Winthrop University in Rock Hill, South Carolina. "I didn't know what it was, but I knew I wanted to do it," she says. As Avenir Creative heads into its third year, Purpura continues to streamline her approach with idiosyncratic design moments sprinkled throughout. "I've found that concepting a project is an emotional process," she reveals. "We immerse ourselves into our design story where each project develops its own personality." Take the Delta Muskegon in Michigan. Set to open next year, it will be anchored by the region's lumber past and awash in tones that point to the port city's sumptuous surrounding landscape. "While designing, we're in the mindset of the character for that project," she explains. "It sometimes feels like method acting, but for design."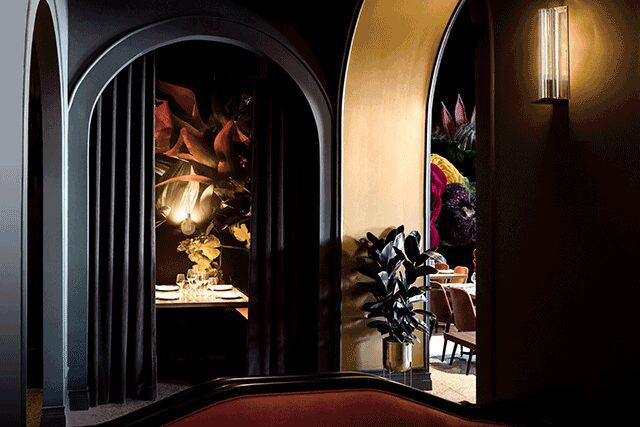 Jeremy Bull
Alexander & Co., Sydney
Jeremy Bull has always been analytical, striving to create art that is at once eye-catching and restrained—a lesson he learned at a very young age. "As long as I can remember, I was critical of my pictures, so there was an early sense that even a child's drawing could be better or worse," he explains. Founding the Sydney-based Alexander & Co. in 2013 was a way for Bull to take ownership of his vision, using artisan qualities that evoke an emotional connection. The Park House and Surlys in Sydney have emphasized his penchant for crafting sophisticated restaurants, and he achieved the seemingly impossible with Sean Connolly at Dubai Opera, creating an understated, minimalist restaurant in the lavish Middle East city. His latest, the 250-seat Imperial Hotel restaurant, bar, and nightclub with upper level Imperial UP pizzeria in Erskineville, Sydney is "wonderfully quirky, but also very simple," says Bull, with echoes of Studio 54 and hints of postmodern queerdom. "My favorite projects are those that bring the team's voice together the most effectively," Bull says. "Our entire process revolves around finding the spirit of a place by whatever means necessary."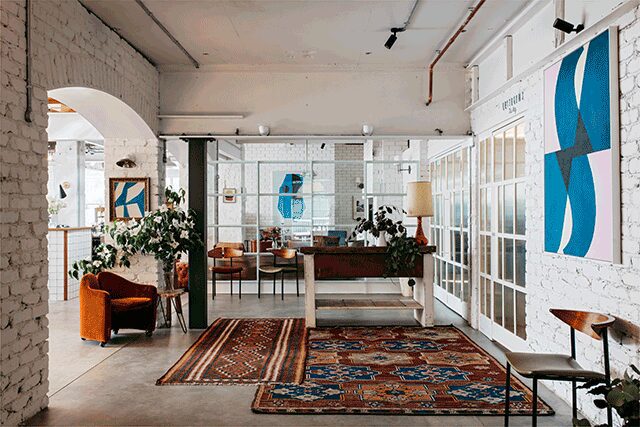 Alessia Genova
Tihany Design, New York
When Alessia Genova heard Adam D. Tihany speak as a Politecnico student at Salone del Mobile in Milan in 2004, she knew she wanted to work for him. Nine years later after joining his venerated New York firm, the now studio director and senior designer knows she made the right choice. "Working with Adam, I've learned to always look for a story to tell," she says. "Strong and meaningful inspiration can drive the design and give substance to each creative choice." In addition to exciting hospitality projects such as the penthouse at the Four Seasons Resort Dubai at Jumeirah Beach and Bar Boulud in Boston, Genova recently discovered a passion for luxury residential, beginning with a villa in Dubai, for which she worked closely with Emirati architect Khalid Al Najjar on the bespoke interior. Next, she will tackle her first complete hotel, a new build in Istanbul. "I can't wait to walk into the space and reimagine it as an entirely blank canvas just waiting to come to life."