Venus Williams, founder, V Starr Interiors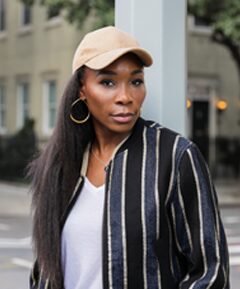 Among her many accomplishments, the tennis superstar has found time to launch her own design firm, V Starr Interiors, as well as start her own fashion brand, EleVen. Unsurprisingly, Williams is driven by a competitive spirit that has made her a noteworthy contender on and off the court.
This episode is brought to you by Global Allies. For more information, go to globalallies.com.
Hi. I'm Stacy Shoemaker Rauen, editor in chief of Hospitality Design magazine with HD'S What I've Learned podcast. I'm so excited to have Venus Williams here today. Yes, the tennis star. I first met her in 2005 when she first launched her own design firm V Starr Interiors and it's super exciting to see what she's done since then. Not only is she still a badass tennis player, but she now has a very successful design firm doing both hospitality and residential interiors and she has even launched a fashion brand called EleVen. We sit down today to hear how she loves to still win at everything both in business and in tennis, and a few of her secrets to success.
Stacy Shoemaker Rauen: Hi, I'm here with the wonderful Venus Williams. Venus, thank you for joining us today. We're so excited to have you here in the office. So, let's start at the beginning. Did you always know that you had a love for design? Growing up, was there anything that drew you to design or hospitality?
Venus Williams: You know, as a child I was on the court, I started at 4 years old. I always knew that that would be what I would do because that's what my parents told me I would do, but they also encouraged us to know who were were off of the court because as an athlete you finish quite young so you have to have this other second life. I found out as a teenager that I love design. That's when I decided okay, let me get involved.
SSR: In one of the interviews way back when you said that you used to look at fashion magazines and design magazines and go through the pages. Is that part of it?
VW: Yeah. I think that, you know, I started designing my own house and then I really found a love for it. Maybe that's where it all started, but I just remember going to trying to pick what I was going to go to school for at about 19, and it was a toss up between fashion and interior design, but I ended up choosing fashion because I could do it with Serena and we could both do it together. So, that was the breaker.
SSR: You're a world class tennis player and that's hard enough to begin with. What made you want to start your own design firm, and be so successful at it as you have been?
VW: I thought I had to impress my parents, and it wasn't until maybe this year that I realized oh, they were probably already impressed because I have avoided any major pitfalls, but also they probably are proud of the tennis. They haven't actually said quite so, but I think that they are. I never thought about it, but I always thought okay, I have to get an education to make them proud and I have to do something outside of the court so they'll really think a lot of me. It was my parents who pushed me.
SSR: What did you want to create when you were starting the firm? Did you have any big lofty goals or what did you want to do to kind of set yourself apart from what else is out there?
VW: Yeah, I wanted to do great design but also I wanted to win. I love winning. I'm addicted to winning in whichever thing I try and, you know, sometimes you lose too but as long as you learn and don't make the same mistakes twice. I think a part of it is I love the business development side too. It's just talking to people, getting to know clients. As much as I love the design, too, those are both wins.
SSR: Starting your own firm, is there something you wish you had known then that you know now?
VW: I wish I had known that you needed a psychology degree to deal with residential design. I wish I had known that from the beginning. We ended up transitioning from residential to commercial and hospitality a number of years ago, but I wish someone would've told me. So, just in case someone hasn't told you all listening. Yeah, get that degree.
SSR: You're still very involved in your design projects. How do you balance, you know, a very tough schedule from the tennis side and also a demanding client side as well?
VW: I have a great team and, you know, some of my team. You've met Sonja [Haffey] and you've met Michelle [Dang] and there are others out there too you haven't met. So, those are my team members that love the business. I think they like me a little bit. I love them, and that makes it all worthwhile and to be able to design together, learn together, win together, it's really what it's all about.
SSR: You've had some great projects including parts of the Midtown Athletic Club in Chicago, which was the tennis lounge and the V suite, [which] you collaborated [on] with DMAC Architecture. How was it to marry your two loves, to marry tennis and design into one space?
VW: It was definitely really exciting. Obviously, I love tennis, that's a no brainer, and I love design, and really the space is incredible. [It's] incredible design on every platform, not only the hotel but the public spaces and then also the fitness amenities. I haven't see a place like it before and people often forget the design in facilities like the gym. You just put in the rubber floor and a couple weights and you keep going, but the impactful design that happened there really makes it enjoyable and, hopefully, will be a model moving forward.
SSR: We did a conversation there a couple weeks ago and the space is just incredible. I have never seen anything like it either. What I thought was cool is downstairs is so active and then your suite was much more serene and almost a bit of an escape. Was that part of the design philosophy behind it?
VW: You definitely want to slow down after you've pushed a sled around or been doing a biking class or whatever it is that you were doing, you want to calm down and go to your room and feel serene and relaxed and get ready for that next workout or the next day. So, that was definitely intentional and also DMAC was amazing in every single piece of the execution. It was great working with them as well.
SSR: I love there's a whole wall of thousands of tennis balls in the tennis lounge that just was such a pop of color and texture all together in one.
VW: It was, and we had a fun design solution for that because cutting them in half and putting them on the wall would've been too intense. The team came up with this idea to create a mold. We just set them right on in and those are fun times when you kind of figure out a solution and every single person asks us, 'How did you do that wall?' We're like, 'yeah, well, smartly.' Maybe we should make up a more complicated thing that we did all this, that, and the other and they're all at just exactly 89 degrees, but yeah, we made it work. Also, that's important, too, for the budget, is the long way cutting them in half would've been too expensive but the mold really addressed the budget issues as well.
SSR: AndSerena's artwork, is that still currently on display there as well?
VW: Serena's artwork is on display, and she said it's just for borrow and it's very well curated. We have a piece in our office, it's huge and it's gorgeous and I don't know where this talent came from but I saw her prepping the other day. She did something else in the backyard, and the baby was out there running and trying to touch it. It's interesting to see her work.
SSR: Everyone's watching what Airbnb is doing and you just did the first Airbnb hotel. Is it the Niido? It's the first one powered by Airbnb. Can you tell us a little bit about the concept and the thinking behind creating something for such a powerful company in today's travel industry?
VW: Yeah, absolutely, and it's definitely a new concept and it's exciting to see it all start to roll out and being able to do the design on one of the projects was also awesome, ,too and I'm also on the board. So, there's a lot more coming along and it's important to think of things in new ways and to be innovative and to keep up with the needs of how people are living. So, the project really is geared toward okay, how are people living, how are they traveling, how do you combine both.
SSR: You still do some residential work, maybe not personal residences but you do multi-family. How do you think hospitality and residential are blurring? How do you think the lines are coming together? Do you see that?
VW: Multi-family is very competitive, and the projects are actually gorgeous. You have to create a design that feels like you're walking into a hotel or a top-tiered project because these buildings are competing with, you know, who's going to live here and if the next project is nicer then it's hard to compete. So, it's been a lot of fun, too, finding those solutions.
SSR: Did you use any of that thinking when you were doing the Niido hotel for Airbnb?
VW: The Niido has this feeling of kind of the project next door or the girl next door, and it feels light and airy and you feel cheery at the same time. But we also wanted to create a design that stood the test of time. So, something that wasn't so trendy that it was out tomorrow.
SSR: Yeah, which is very important. Besides tennis and interior design, you've now also launched your EleVen collection for fashion. Why did you want to come back around to what you went to school for and what did you want to create for active wear?
VW: For active wear, of course, being active has changed my whole life. It's guided my life and it's added so much. Also, it builds confidence in being able to achieve something, to make goals, to be healthy. All of that is super important. So, really the ideals there are to make it a completely holistic lifestyle. It's not just about what you wear but it's everything: How you think, what you eat, all of that. So, that's definitely my goal for EleVen. So, yeah, we stay busy.
That's a whole other side. We're in the same office though because I wouldn't have time to make it to two different locations because in the morning I practice. So, in the afternoons that's when I go to the office and sometimes it changes. Sometimes I go in the morning and flip or it just depends. I'm flexible. So, a lot of times I'm sitting on the V Starr side, on the EleVen side, and it's fun.
SSR: It must be cool to see how those two can play off of each other and what they can kind of almost take from each other.
VW: Yeah, most certainly, and it's fun when we get to do projects together and that's always a lot of fun when we all get to work together and everyone likes each other. That's good news, too.
SSR: So, you use a lot of fun vibrant patterns and colors in your collections, especially the new Caracas line. What was your inspiration for that and how did you pick the prints for it?
VW: Yeah, Caracas is a lot of fun. I wanted to bring some kind of cheer in the middle of winter, because even though it's spring and it's coming out in January, it's still quite cold in a lot of places. No one's really feeling like it's spring. I wanted to get people motivated to get out there and do something good for themselves. And it's the beginning of the year so a lot of people are ready to start the new year.
SSR: Was there anything that frustrated you about tennis clothes that you've implemented into what you design?
VW: I think a lot of times tennis clothes or athletic clothes, it was like okay, throw on a neon color and now it's athletic and that's changed a lot, and I like seeing the industry come along and people really into wearing clothes, working out, living a fit healthy lifestyle and, hopefully, that will never change. It's definitely a trend but hopefully it will just be like all right, we all live this way, it's a reality.
SSR: One of your pieces even has a tutu?
VW: The outskirt capri. So, it has a built in skirt. It's a capri with a skirt, and now we're doing a outskirt shorty and it also has like a kind of a mesh overlay. It's one of my favorites.
SSR: It's playful, which I love.
VW: It's fun. We'll get you one.
SSR: I would love one. What has been the biggest challenge being in fashion design?
VW: The biggest challenge, it's just a lot of moving parts. There's a lot of moving parts. It's capital intensive, there's a lot of competition, but honestly in any business, and everything's moving so quickly now so you have to always keep up, but the best part is that I love it, and I love my team so that makes it all worthwhile.
SSR: It's interesting because interior design, you can work on a project for five years when you're doing a hotel or even a big residential project, where I think fashion is so much quicker. You're doing so many more things. I don't know if you see that as well.
VW: Oh yeah, it's in and it's out. That's just how it is, but in design you have to have a different mindset and there's projects where okay, the goal is to just do something very avant-garde but the majority of projects have to stand the test of time for at least a little while—the seven year cycle for the minimum. So, it's fun to figure out ideas and ways to be creative while still being timeless and that's important to me too. I don't want to look at it in a year and be, like, 'Oh my god, I hate this and please take my name off of it.' But you never can, so, you want to bring some sort of pride to what you do.
SSR:  Is there anything that you practice in the athletic world that you now apply to your business world?
VW: Everything. You have to be disciplined, you have to have a regimen, you have to have goals, you have to re-evaluate. It's very much the same. Business people are athletes. Athletes are natural-born business people. I think that there's so many parallels; they're on the same wavelength.
SSR: Have there been any obstacles that you've had to overcome being a woman in design but also somebody who also has another successful career?
VW: I can't really be ungrateful. I've had a lot of opportunities. I can't complain, but people definitely do look at you and say, 'Oh, you're a tennis player,' but I think we all have to let our biases go. I certainly try not to be biased, but we all have to work on that and we've done some great work. There's a certain part where you have to prove but also, you know, the work speaks for itself and also our reputation. We do things right, we do things on time, we do things on budget and we're kind of fun so that's good for us.
SSR: I think you bring an interesting perspective, too. Have there been a lot of mentors along the way, people that have guided you to where you've gotten today?
VW: I would say the mentors are definitely on my own team, by just hiring the right people. You get to learn from them and everyone gets to learn from each other and that's important too. I like to have people around me who make me better. That's important.
SSR: I think hiring is one of the trickiest things about business.
VW: It's definitely tricky and we're also not in New York. We're down in Florida, so it becomes even a little bit trickier. We definitely take our time in hiring the right people and sometimes it's like, 'Oh my god, we haven't found anyone,' but it pays off waiting because we're really specific about who we are and what our culture is and what we stand for, and if you bring in one bad apple, it really effects everyone. So, we try not to let the bad apples in. You know, all the apples are good but maybe some apples don't belong with us.
SSR: How big is your firm now? Can you tell us a little bit about the culture?
VW: We work very hard, we have a lot of fun, and we have this kind of interesting combination of being left and right brained. So, we're creative but we're also focused, and it's important to be able to do design but also to be organized and to deliver. If you don't deliver—people hold us at a higher standard and will look at us and say, 'Well, you know, you're a tennis player. Why are you doing design?' So, if we don't do the design well and we don't deliver, then we're out. We do all of that well, and we have a culture where we have a lot of fun but we work very hard and that's who I am and that's in every single person that I've hired. Now we're a team of 11 and we're always looking. We could probably bring on two more. We're going to take our time and find the right apples.
SSR: I love that you have 11, and it's in your tennis clothes. Do you have a dream project? Is there something you would love to do that you haven't been able to do yet?
VW: A dream project? Definitely a big stadium.We talked about this before too. We're finding that magical moment where we do it, and we've talked to some people and the projects go on hold. It's definitely around the corner.
SSR: What would you do with a stadium?
VW: We'd trick it out. There'd be moving walkways and holograms and [artificial intelligence]. I think making a space that you walk into and you're impacted by it. A lot of times the public areas aren't really that special and then the suites aren't that special and the areas for the athletes aren't that special and people go into stadium it's like, okay, throw in the concrete, value engineer, and pack the people in. I'd like it to be a space that also is interesting and intriguing.
SSR: I would like to go to that stadium.
VW: We'll get you there. We're going to design it and we'll get you there.
SSR: What's next for you and for your firm?
VW: Well, short term as a team we're all going to the Miami Dolphins game. So, that's cool. We're going to have fun. Go Dolphins. But long term we're just continuing to build our team. We're continuing to expand. We want to be as creative as possible and we love what we do. So, we want to have fun at it. I have this secret project, which I can't talk about but Sonja and I are talking about how to do it. It involves charity and doing it in a cool, interesting way with design. Hopefully in a number of years that'll be happening. So, that's top secret.
SSR: Well, we'll have to do a second podcast.
VW: But I'll tell you. I'll tell you. Just not today, but soon. Yeah, maybe we can brainstorm on it.
SSR: That would be great. Looking back, from growing up, starting tennis at the age of 4 to where you are now, did you ever think back then that this is where you'd be and is there anything along the way that has been the greatest lesson learned?
VW: In a lot of ways it's like this is where I'd be, this is where I'd not be. I'm playing tennis still, and I can still play very well. I don't know if I thought I would be doing that, but it feels like something that's forever but it's not, so I continue to do that the best that I can. I always wanted to be an entrepreneur so that's exciting. I always want to do better. I see myself as someone who's in the middle of working toward their dreams and not maybe someone who's lived it yet. So, maybe one day I'll get to the point where I'm completely proud of me. Right now, I feel like, 'All right, V, work harder.'
SSR: I think we should ask your parents 'cause I'm sure they'd be very proud of you.
VW: When I get home today I'm going to ask my mom, and be like, 'Are you proud of me or not?' But I think she is.
SSR: Well, thank you so much for being here. It was such a pleasure to have you.
VW: Thank you. This was a lot of fun. Hopefully, you'll invite me back.
SSR: Anytime. The door is always open.
VW: Thank you.