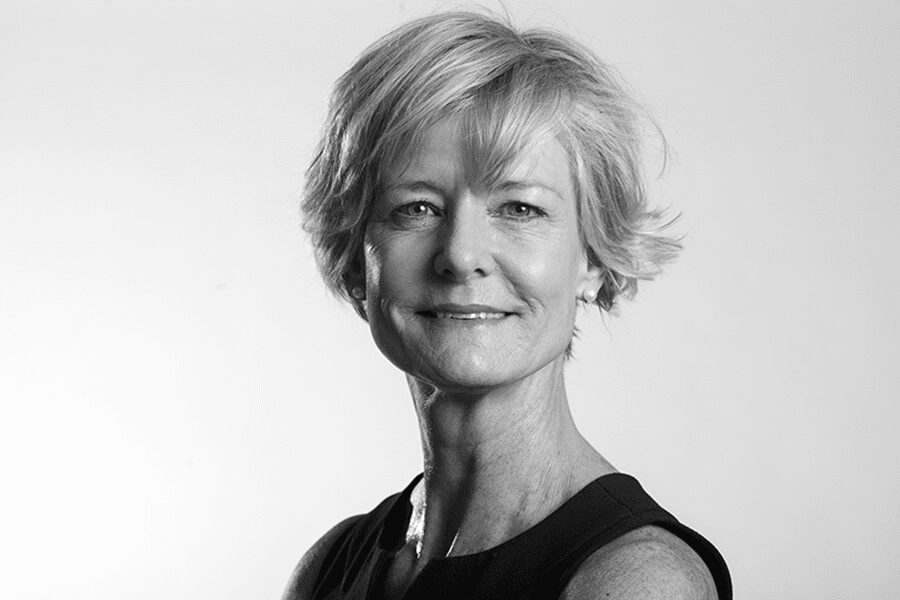 Libby Sims Patrick's Southern U.S. roots are both the foundation of her upbringing and her approach to design. Born in Memphis, Tennessee, Patrick grew up in Decatur, Alabama and graduated from Auburn University before starting her career in Georgia. Reflecting on the southern hospitality her mother, a restaurant owner, instilled in her, Patrick says great relationships are as important as great design. Sims Patrick built her firm, Sims Patrick Studio, through word-of-mouth marketing and referrals and to this day, employs a people-first approach with her clients and her team. Since 1999, Sims Patrick has designed a myriad of residential and commercial projects across the U.S., including the historic Battle House Hotel and multiple locations for longtime client Sonesta. Next, she will step into the role of owner-developer with the River Runner Hotel in 2024.
Stacy Shoemaker Rauen: So, hi, I'm here with Libby [Sims] Patrick. Libby, thanks so much for joining us today. How are you?
Libby Sims Patrick: I'm doing great. Thanks, Stacy. It's so good to see you.
SSR: I know. Hopefully in real life soon. Okay. So we always start at the beginning. Where did you grow up?
LSP: Well, I was born in Memphis, Tennessee, but I grew up in Decatur, Alabama, right on the Tennessee River, and we moved there when I was six years old. My dad is an orthopedic surgeon and he moved from the Campbell Clinic in Memphis over to Decatur, Alabama to start his practice. And it was a great place to grow up.
SSR: Love it. And so, did you know early on that you had an inkling for liking design or architecture or building things? Was that something that was inherent from a young age?
LSP: Yes, it was. Interestingly enough, I was always you know, outside and able to explore. We had a small town, so I was able to just get out and go and do, and I was always drawing and doodling and painting. And my dad, being an orthopedic surgeon, was always… It's like being a carpenter really, only on the human anatomy, and he was always explaining, I guess, total hip joints and knee joints at the table and showing us prosthetics.
So I was always thinking about that, but also, I had childhood cancer. So when I was sitting at the hospital and doing some things, I was always drawing. It helped me to relieve any anxiety and get into my own world. And then later, I ended up being the one that made all of the backdrops for all of our proms and all of our high school sorority photographs. So we would all stand in front of this backdrop, and it would always be based on the theme for the dance or for the event, and I loved doing that. And also, I was always chairman of the homecoming float committee, so I always had to do these three-dimensional floats.
SSR: Of course, you were. Of course, you were. Wait, going back to having cancer, so sorry, but what did that teach you? I mean, how old were you? I feel like that must have, I mean, instilled or made you grow up so much quicker having that in front of you.
LSP: Yeah. It was when I was 13, and I had thyroid cancer. And typically, if you're going to have a cancer, I mean, they're all bad, but that's one to have because you can cure it pretty easily. But having it at that young age was tricky for the doctors because it wasn't something that was perfectly easy to clear up, so they would remove part of my thyroid and then a few lymph nodes. And then finally, I went to the Mayo Clinic, and they took out my entire thyroid.
So I guess, to answer your question, at a very early age, I was thinking about, "Is this it?" because it was continuing on. But it also just gave me this sense of life to take every day and make the most of it and to connect to people and to… Because, let's face it, if you're a good patient, you're going to get better care. So I learned how to be a good patient, but also, it was a little bit scary. I didn't want anybody to know. And so, at that age, it's kind of a borderline, do you tell people, do you not? I didn't want to tell anybody.
So I wanted to be a normal child and be able to play sports and go to every activity and not be known for that. And back in that time, if you had cancer of any sort, it was sort of a death sentence in a way, and in my case, it wasn't. So I think it did. I think it opened my mind to all kinds of possibilities and connections, and I used art and drawing and just experiences in the woods and things like that that I just didn't want anything to go by without noticing it.
SSR: Yeah. And what did you draw? Do you remember what kind of drawings you did?
LSP: Well, honestly, I was a huge Elton John fan. And so, I drew him in glasses. I did, oh gosh, collages of things that were sometimes three-dimensional and sometimes just color studies that were weaving in and out of each other and looked at scale, and a lot of it was just happenstance in a way where I would just draw, and I love color. And that was about the time that my mom, who is a foods and nutrition major, she wanted to be Julia Child.
As we were growing up, she wanted to have our own restaurant, but there were four of us, and we were all close in age, and my mom and dad were very young, so we all kind of grew up together. And she set us up with drawing lessons, painting lessons, and really, my love is watercolor. And so, I began to draw more realistically. I had an art teacher that was after-school, and she really taught me how to draw and paint like Norman Rockwell.
But I also learned how to mix paints at that time. So watercolor, being such a fluid material, you're trying to make something realistic, so you've got to mix cadmium orange with lemon yellow and some sort of blue to make a beautiful lime green, that kind of thing, or more of this brown makes it turn that color more muddy. And so, it was really a great way to start to get comfortable with color.
SSR: Yeah. Was your mom a good cook?
LSP: Oh gosh. Yes. She still is. She's actually written five cookbooks.
SSR: Okay.
LSP: And the first one was with the Junior Service League in Decatur, Alabama, and it's all sort of Southern with a gourmet French twist.
SSR: Love it.
LSP: And I think she taught us all about hospitality at a very early age, because it's all about the presentation. And she would always make us put on something nice if somebody was coming over and help clean the house and never put a sauce, leave it in the jar. You always put it in a bowl to serve it with a pretty spoon and have a fresh flower or two from the garden and fresh herbs and things to garnish. And it was one of those things. She still thinks nothing of having 300 people for an event. So she had her own restaurant for about 10 years and then sold it.
SSR: Oh, nice. In town?
LSP: In town, in Decatur, Alabama. And it was quite a shock for Decatur to have a sort of gourmet-to-go restaurant with a blue-plate special every day.
SSR: So she did end up opening it. So was that when you were older?
LSP: Actually, it was when I had just started my career. She wanted to open her first tearoom. And so, I said, "If you'll borrow the money, I will design it," and we did, and it was in the lower level of a historic building in Decatur, Alabama. So it was a lot of fun.
SSR: Oh yeah.
LSP: And she did really well.
SSR: What was it like to… Yeah. What was it like to work with your mom?
LSP: Well, I learned a lot through osmosis for sure. And every time we would go out, which was very rarely, I would see her sort of tasting the dish and being able to say, "Oh, this has a little too much tarragon," or "Oh, I taste a little bit of saffron." And so, we all learned these things, and then also just how to cook, which is really chemistry.
SSR: Yeah, exactly. Okay. So get through, survived cancer. Where did you decide to go to school and why, once you graduated high school?
LSP: Well, it all kind of started in high school. I have an uncle that lived or lives in Atlanta, and he's an architect. So I decided that one summer, we would always, all of us cousins, would sort of switch, swap, and they would come over to Decatur, Alabama, and then we would go to Atlanta. So during one of those summer trips, I spent some time at his office, which was TVS, Thompson, Ventulett, Stainback, and he's actually Stainback of TVS.
So I was there and I was introduced to the interior architecture team there, and I was a runner during two weeks of the summer when I was in my junior year. So I learned that this was something that I felt like I could possibly marry art and architecture into something that was different than interior decorating but was more about the health, safety, and welfare of the public.
And so, I met a lot of their team that had gone to Auburn University, and that is a state school for me living in Alabama. So I was able to select Auburn, to go there, and learn about interior architecture and design, and it just was a perfect fit.
SSR: Yeah.
LSP: That's how I found out about interior design. And I went back to high school and took a drafting course and tried to get into the interior architecture program in Auburn, and I couldn't do it my freshman year, so I ended up staying that summer and doing this very immersive set of classes, it was like bootcamp for architecture and design, for nine weeks in the summer, summer option. And it's where all the architects, landscape architects, and interior designers are all together for the first two years.
SSR: That's cool.
LSP: And then you branch away to your specialty.
SSR: Yeah. Amazing. Was your dad sad that you didn't become a surgeon?
LSP: It's funny you should say that, because I really, really wanted to do medicine, I thought, but I just couldn't… Chemistry was just not my thing, and I knew that… So I still diagnose things. I know a lot about medicine, unfortunately and fortunately. Yeah. He wasn't disappointed. I think he knew that that was not for me really.
I tried to help him in surgery a few times and we went on a medical mission with a church, and I was able to actually help him in surgery. And I just… I had that terrible syndrome where you start to faint, and I just would keep leaving the room and having to re-scrub in, come back in, and it just wasn't my thing.
SSR: Yeah. This wasn't for you. I get it. 
LSP: A great experience.
SSR: Okay. So you did immersive program, you go through Auburn. Did school cement your love for it? Was there any kind of takeaway, what you thought you were entering and what you were taught?
LSP: It was incredibly intense. I think, when I call it a bootcamp, it really was. We started with 60 people and ended up with 10 in the long run. So there were certainly times that I thought, "Oh my gosh, can I do this?" But I loved it. It was definitely something that worked out. It seems like I always knew what I wanted to do. That's not true. But I had enough direction, and I went in that direction that I learned to really appreciate it even more as time went on, and still love it.
SSR: Good. What was your first job out of college? Did you go back to TVS or did you go somewhere else?
LSP: Well, I did a couple of internships while I was at Auburn up in D.C., and then also at TVS again. But my first job, ironically enough, was… TVS didn't have a position, so I worked for a TVS competitor, Stevens & Wilkinson Architects in Atlanta, and I worked in their interior design group and worked on a lot of more corporate-type projects at the time and got a lot of good experience doing doorjamb details and legends and that kind of thing.
And gosh, things have changed so much. We were doing everything by hand and drafting and the eraser. The electric eraser was a big thing. It was… I'm dating myself. But I stayed there for about a year and then I moved to Birmingham for five years, and that was quite a coup because I also worked for an architecture firm in Birmingham that had a lot of interesting work, a lot of historic work. I was able to do my very first hotel, the Pickwick Hotel in Five Points in Birmingham.
I did the Birmingham Turf Club Race Course interior design with Ewing Cole Cherry Parsky out of Philadelphia, gosh, a law firm, and a downtown YMCA that was like a country club recreation, and then just a library that was a research library, a 1906 building. So I just got a huge amount of experience quickly. And then I left from there and I moved back to Atlanta and worked for TVS. That was my track. So always as part of a big architecture firm.
SSR: Yup. But a complete circle, which is kind of cool to see. And what were you specializing in or on at TVS?
LSP: Well, it was really interesting, and I think that one of my big breaks really was that they… Because I had done so many big public space projects and pretty much every kind of interior design project type that there was, they needed somebody to work in the retail division at TVS doing shopping malls, and that didn't sound particularly fun for me.
But the reason that I went is because there was a specific mall that kind of put us on the map, and it's called Phipps Plaza in Atlanta. And it was the sort of flagship mall for a big client, and they wanted something very, very unique. So this was an opportunity. I'd always wanted to do hotels. But in that time, all of the shopping malls were exterior spaces with a roof on top.
SSR: Right.
LSP: And so, they had park benches and trees growing out of grates, and it was really just trying to stay a really, really open so that you could see the tenants, no columns. That kind of thing. But this mall was quite a special place. It was a very high-end mall, and it gave me an opportunity to work as part of a very large team in charge of the interior architecture to do, really, a luxury shopping experience. And this was, I think, one of the very first times where it was a time to show that it could be an interior space.
And so, we actually added columns. We used the Tuscan order to create the proportions of all of the spaces within. I mean, I used that a little loosely, but I was working hand in hand with architecture, and once we got the plan situated, we used the native Southern flowers as ornament, almost like a Louis Sullivan approach to a geometric flower and how it translated into the custom rugs, and the columns were all clad in American black cherry that was slip matched.
The elevator towers looked like big armoires in a space or grandfather clocks, and there were 13 different marbles on the floor. Of course, there were all these intricate laser-cut medallions at each end court for the shopping center… I mean, for the retailers. And it just kind of put that whole idea of an interior shopping experience on the map.
SSR: Amazing. How long did you work on it? I mean, what were kind of some of the takeaways of trying to reinvent something?
LSP: Well, it started… It was a five-year project, so I was able to take it from zoning to checking the lippage on the tile when it was fully complete. And it went on and on because of stops and starts and that kind of thing. It started as a $75 million project and ended up at 55 million. But for instance, I learned so much about just owner-operator, contractor meetings and how things happen, and there were two different contractors on the project: one for the renovation, one for the expansion.
And it was like my dream come true, because this is what I'd gone to school for. It was very holistic. Flourish wall, ceilings, ornament detail, architectural but interiors-focused, and then down to the custom curved benches with muscadine fabric patterns. So it was really neat.
SSR: Amazing. So how long did you end up staying at TVS? And when did you decide to… And how did you decide to launch your own namesake firm?
LSP: I was at TVS for 10 years.
SSR: Okay. 
LSP: And I became a principal at the end of that timeframe, and we started the TVS Interiors division at that time. And I loved my time there. I was traveling all over the place doing big public spaces. I went from doing shopping malls to more entertainment, doing restaurants, did a lot of hotel feasibility studies. I always wanted to do hotels. But when you're with… Back at that time, when you're with an architecture firm, a lot of times, they'll hire… The owner would hire a separate interior designer to work with our architects even.
So it became one of those things that we weren't able to do hotels, so I just kept bouncing around. I also did my own work with other architects in the city. A lot of pro bono work. Ronald McDonald Houses and Adidas' Olympic headquarters, things like that. But what happened is that I had a young son at home during the end of that timeframe, and I wanted… I'd always promised myself that if I had children, I wanted to be able to be that homeroom mom and be flexible.
I love what I do and I want to work hard, but I wanted to have some flexibility. So it was difficult. But I decided that if I just took a leave of absence, I could come back and I could get organized and be flexible, and then I would come back. But what happened is that I got home and I took about two weeks off, and I said, "Nope. I love what I do." And I just sort of started doing projects in the lower level of the house. And Sims Patrick Studio was born a couple of years later, I incorporated. It wasn't really a strategic decision to start a firm. It was more of an evolution.
But right after 9/11, I had a huge hotel in Mobile that I sort of stumbled upon. It was the Battle House Hotel, the big Renaissance by Marriott. And I was so excited, but I was a little bit in over my head because all of the resources for hotels and just everything about our hospitality industry is different from corporate and healthcare and multifamily even. And so, one of my now-partners, Jenny Rutledge, was out of a job because as you know, all hotel projects just came to a screeching halt. And she basically said, "Libby, I'll work for food." And I said, "Well, you don't have to do that. I've got a hotel, and you know how to do hotels. Let's do it." So Jenny and I…
SSR: How did you know Jenny?
LSP: I didn't know her, but I knew her husband went to Auburn, so she couldn't be all bad. She was a Florida State grad, has a similar background. And so, she came in and she had some contacts and we started building a team to do hotels. So it was really exciting.
SSR: Amazing. You've been saying to get to do hotels, to want to do hotels. What was it or why did you… Why was hospitality your calling through all of this? I know you did your first one, you said, back at one of your first jobs, but what made you want to keep trying to get the end result to be hotels?
LSP: Well, honestly, I believe that it is the culmination of every single project type that I've ever done, high-end residential mixed with corporate, entertainment, retail. And so, it was like the prize for me to be able to… because it is such a complex project type. It really is. And it's got a little bit of everything, and I loved the idea of it being custom because, as I mentioned on the Phipps Plaza project, you're designing custom floors and custom lighting, because the scale of the projects is so much larger than any other project type.
And it takes a special, I think, experience to do interior architecture and design for hotels that I felt like I was building up to, to be able to do floors, walls, ceilings, custom furniture, custom rugs, custom lighting, and have it all come together in a one-of-a-kind concept. And also, I know it's a real buzzword now with everybody doing all the storytelling, but that's really the way I was raised at Auburn, was to have a very strong concept in order to make decisions so that it takes a bit of the subjectivity out of projects and makes them more objective when you follow that script so tightly.
SSR: Yeah. I love it. So almost 25 years later, congratulations, you've had your own firm. 
LSP: Yikes?
SSR: What is it like today? I mean, how many people? What's your culture like? What have you created that started off organically? What have you now created? 
LSP: Well, I've got a whole bunch of wonderful people together, but I know that… I'm always saying I'm smart enough to know. I need a lot of help from people that are not exactly like me that have complementary skills and also can work in a situation that is sometimes pretty chaotic. Lots of juggling, lots of unknowns each day. So we have a culture here that is very supportive, very positive. We are problem solvers, and we are mostly women that have families or have dogs or cats or other people they need to take care of.
And we all really are about having quality of life, putting a little bit of vacation in every day. But knowing that we're results-oriented and not really policy-oriented, that gives us the ability to have flexible hours and work around people's schedules, and for people to take care of themselves, really. This business is so stressful, and it's not for everybody. And our structure is not for everybody, but we have developed something I'm really proud of.
And we've got… We actually run the firm like a big, large firm with all the software that you would have if you were at the largest firm in the country, and the systems. The way that we carry on is very similar the way that I would carry on at TVS or Stevens & Wilkinson or KPS Group. But we are all interior designers, interior architecture and designers. We actually don't have any licensed architects on our staff, but we are able to work hand in hand with architects all over the country, which we very much enjoy. And we kind of do our work and get home to our families and have a lot of fun.
SSR: Yeah. What has it been like being… I mean, you're a principal at a big firm, you launched your own firm in 1998. What would you tell other women starting out in this industry that have been some of your secrets to success to where you've gotten to?
LSP: Well, I alluded to it a little bit ago. So part of it is that we all, I think, genuinely feel like we want everybody to be just like us. I mean, secretly, we are like, "If everybody was just like me, then the world would be a much better place."
But the real fact of the matter is that if you can learn to love and work with people that have skills that you don't have, and you're okay with that, and you're not threatened by it, and you're not threatened by people that are smarter than you are or more talented than you are, then you will go far. And that's truly what I've learned. I have an amazing CFO. I have two partners that one is very focused, Melissa, on all the quality control for our FF&A, and then Jenny is quality control for all of our three-dimensional work.
And then my strengths really is in the big picture and the narrative and the research and the cheerleading and the pushing of everyone. And that doesn't always work out. But when it does, it's a beautiful thing, when you get people that love each other and need, genuinely need each other, and see the benefits of those relationships, and when we learn each other's strengths and weaknesses, but we don't use those against each other. We really just try to support each other and smile a lot and giggle a lot and help each other to navigate.
SSR: Yeah.
LSP: So I think that would be my… My biggest shout-out would be, "Find people that are different than you to make a stool that has at least three legs."
SSR: Love it. I know you talked about your first big break, but what have been or has been a big break with your own firm? What do you think put you on the map?
LSP: Well, initially, it was the Battle House Hotel. I think what has really put us on the map is that we believe that great relationships are as important as great design, and that one thing leads to another. We have built our firm on word-of-mouth marketing, referrals. That kind of thing. I guess our big break was when we rebranded, I would say, about six years ago, maybe seven, where we stopped putting on our website the things that we had done and started focusing on the things that we wanted to do.
In other words, because it was word of mouth and because we weren't so strategic getting started out of the gate, we have built our experience and become ready for upper upscale boutique, one-of-a-kind projects, and that's really what our ideal client is. So we stopped putting just every little thing that we had done and stopped talking about every little thing that we had done and started to be more proactive. We came up with our tagline of, "Shaping places into memories," and we began to sort of express our experience, our goals in doing luxury projects that were custom, and it worked.
SSR: So you almost manifested what you wanted?
LSP: Yeah. It worked out like that. At first, you're like, "Oh, this is so much money. This is such a big deal. Should we be doing this? Is it worth it? Is it going to work?" But you have to go for it. And we just said, "Let's do it." And I think during that time, Melissa, Jenny, and I took off to Europe and we just went to look at every single project we could get our hands on, and had time to just sort and think and throw out names and, "Should we change our name?" and "Should we form another division or something to try to make that break from who we had been and who we wanted to be?"
And then we said, "No. I think we've got something here. Don't change too much because people will think it wasn't working. Let's just give a shot at what we want to do." So we changed our website. We changed all of our branding. We came up with our tagline and our filters that we were going to use in our projects. And we reached out to all of our clients to tell them we had done this, and I became more proactive about, I guess, getting our name out there.
SSR: Yeah. Sounds obvious, but it's not. So I applaud you on that. What was one of those first projects you got that you're… Not that you weren't excited about your past projects, not saying that, but one of these kind of more boutique lifestyle, high-end properties that you were hoping to do? It's either one you're working on or one that you completed that you were… I know you can't pick a favorite child, but one that was after the rebrand, kind of helped you relaunch yourself and your firm.
LSP: Yeah. Gosh. We've gotten so many amazing opportunities from some great clients. I think one that we worked on in the last five years that really has made a difference is a truly boutique project that utilizes an existing manor home as the living room of the space, and then a new tower with a freestanding restaurant design, a freestanding spa, and a lot of really exciting meeting event space for weddings and that kind of thing, a much bigger resort type space.
And then I would say that our work with Sonesta was actually a big break for us. We competed against some very large firms. And in this case, we put together… There was a stipend where you had to do a competition to get the project. And so, we put together everything that we had within ourselves and we ended up winning that project, and it took us into six or eight other very large, full-service projects with Sonesta, and then beyond that, have had a great relationship with them. So that first one was in Hilton Head, and it was huge for us. Almost 500-room hotel.
SSR: Oh, wow. And I know Sonesta has been, as you said, a longtime client. What do you think makes for a successful collaboration from your point of view and from the client's point of view?
LSP: Mm-hmm (affirmative). Well, obviously, we do better when the client has a vision and has experience having done hotels, and they know what they're looking for, and they know what it's going to most likely cost and have a schedule that is realistic and understands the value that the interior architecture and designer brings to the table. Those are certainly the sort of starting-out-of-the-block ideas that make things successful.
But it's really… We like having a very personal connection with our clients that they are good communicators, have a good system in place. And typically, we like for them to have a project manager that's completely dedicated to the project either outside of their own group or within that's dedicated to our project that helps to manage the process, also having a great purchasing agent involved that is collaborative, great art consultant that is collaborative and creative.
All of those things certainly help to make things more collaborative and to run smoothly. It also helps if they're really nice people and we all get along great and have a lot of fun. One of our, I guess, mottos is that we like for the process to be as much fun as the way the project turns out. So we like to practice hospitality every day and have fresh flowers in our office and have luncheons, nice china, and really treat people like celebrities.
SSR: Amazing. I love it. And what does hospitality mean to you now after all these 25 years, after going through COVID, 2008, and 2001?
LSP: Wow. Yeah.
SSR: How would you define hospitality, and what do you see looking forward if you had your crystal ball?
LSP: Yeah. Well, I think that hospitality is, it's still about doing lots of research so that we are as much of an expert as the owner is about the project, about the location, about the guests, the competition. And I think that will still carry us through. I think that one-of-a-kind projects, whether they're soft brands or truly independent hotels, I believe that those projects are going to probably do a lot better for a while because of, I think, more of the focused service-type business hotels may be slower to get going again, that people are looking for that experience that's authentic, really. And I know these are all the same buzzwords that everybody uses.
But to me, we're always looking for ways to be more efficient and effective. So I think a couple of things. I think that drivable destinations for people that can get an authentic experience can be very important. I think that wellness is going to be of utmost importance for everybody. I think we're all finally learning that we really have to take care of ourselves, and we have to do that on the road as well. And I think that these are not going up as fast as inflation. So we are looking for ways to expedite projects. We are starting to use virtual reality.
I'm currently on this Hotel of Tomorrow exercise that's going on, and I have a young son who is teaching me all about non-fungible tokens and VR and the metaverse. And I do believe that even though it's very early that that is going to be part of our future, and cryptocurrency and all those kinds of things. I mean, certainly right now, it's very, very risky, but we are actually doing a hotel right now that is a Hotel of Tomorrow, if you will, that's going to have the first cryptocurrency experience.
It's opening in Phoenix, and it's not ready, but it is under development. And it's, in this case, a human experience but using robots and other means of taking care of more the menial tasks, the things that you can do electronically, like checking in and bringing room service to the room or having service and cleanliness done, the vacuuming, things that can be done with robots so that the housekeepers don't have quite as much to do so they can work on sanitizing the room, and the concierge can actually give the special attention to the customers, the guests. And so, that's really exciting.
And who knows, we are looking at ways to… Especially on renovations and historic projects that we do. We're looking at a SWAT team approach that we've used several different times to actually do research about the location and the client and all the things I just mentioned before we go down to the site and actually ship materials and finishes and have done initial floor plans and details and sort of worked on the concept and the narrative, and then we literally descend on the property.
It will take three to five of us, and we immerse ourselves in that location, go to all the restaurants and nightlife and other hotels and look at the flora and fauna of the place and test what we thought was going to be appropriate and present it while we're there and leave and have things way down the road.
SSR: I'm just raising my hand. If you need an extra body to help you do research, I'm happy to… Sounds lovely.
LSP: Well, it's a lot of work, but like I said, when you're doing it with people that have experience and like working together and don't mind bossing each other around a little bit, it can work.
SSR: Yeah. Love it. Love it, love it. Quick little lightning round of questions about you. So what's one thing that people might not know about you?
LP: There's probably a lot, but I would say the one thing that stands out is that because I was on the varsity basketball team and won All-Region my senior year, I was able to play, for 30 minutes of my life, HORSE with Moses Malone.
SSR: Ooh.
LSP: Moses Malone, you may not know exactly who he is because he was back in the day, but he was one of the top 10 centers of all times. And he came up to me while I was just shooting at the gym and asked me to play HORSE, and I had no idea who he was, and thank goodness I didn't, because I don't think I would've been able to make one shot. And I was doing things that were crazy, shooting from the hip, from mid-court, and they were going in, and he was just laughing and doing the same thing.
And at the end, he came over to me and he said, "What's your name?" And I said, "I'm Libby." And I said, "What's yours?" And he said, "I'm Moses." Well, I still didn't get it. Although I knew who he was, it just didn't click. And it wasn't until later that he said, "Moses Malone," and I was like, "Oh my gosh, you got to be kidding." So people that are basketball fans will know who Moses Malone is. And so, I guess I was able to hold my own because he got H first, and then after that, I was doomed.
SSR: Too funny. I love it. Did you play center?
LSP: No, I was a point guard, so I was kind of trying to run the plays. Wait, this was… Gosh, this was way back, and this was kind of the first varsity team that had started at Decatur High School in Alabama. And it was… But we had a great coach.
SSR: Amazing. I love it. I played basketball in high school too.
LP: Did you really? What were you? You're tall, so…
SSR: I was a shooting guard. Yup. Love it. I still like to beat my kids and husband in HORSE. Makes me happy.
LSP: Oh yeah. We'll have to play next time I see you.
SSR: Yes, we will. So how do you stay inspired and creative and constantly… Especially in today's world, right? And continue to reinvent or rethink yourself and what you're doing? Or evolve. I guess maybe evolve is a better word.
LSP: Yeah. Well, I read a lot and I write a lot and I sketch a lot and I try to follow fashion and music and food. So I am just constantly learning from other people. I love people. I love connecting with other folks in our industry and learning from them and asking them questions about how they do things. And I'm all about really being collaborative with my peers, and I think we should do more of that.
I think we should really share what we can share to promote our industry as much as possible. I love teaching and mentoring, and I am on the advisory board down at Auburn, and I love to be on juries and have interns in our office that always inspires me to watch these young folks come up with their ideas, and it's so exciting, and it challenges me a lot because you've got to be able to size things up. And sometimes, they overwhelm you with their creativity, and sometimes they don't, and then you have to figure out what to say.
SSR: And how nicely to say that like, "Oh!"
LSP: Yeah, exactly.
SSR: "Well, well, well."
LSP: "Goodness!"
SSR: Right. Yeah.
LSP: Yeah, exactly.
SSR: Love it.
LSP: I mean, those are some of the things, but it's… Gosh, we have such a great industry. I love it.
SSR: Yeah, we do. Is there a dream project or something you haven't done that you still want to do?
LSP: Well, I'm actually working on it right now, and that is…
SSR: Okay.
LSP: And I could tell you, it's far enough along, but I've decided to go to the other side of the fence and try to play owner-developer.
SSR: Ooh.
LSP: So in my hometown of Decatur, Alabama, my husband and I bought an 1835 mansion that saw the Trail of Tears and the Civil War and changed hands from the Confederate troops to the Union troops several different times. And so, because of that, it was one of the only four buildings in Decatur, Alabama that wasn't burned during the Civil War.
SSR: Wow.
LSP: So it sits on a beautiful site right on the river and right at the Port of Decatur, which has a lot of barges tied in and whatnot. Decatur has always been seen as an industrial city on the river, but working as part of a big committee to combine the community and industry and nature together because there's a huge wildlife sanctuary surrounding the city, and there's just so much to do.
So I'm doing a 55-room hotel and using the home as the living room of the property, a very large event pavilion for weddings and galas and reunions and special events, and then also a freestanding restaurant with a rooftop bar overlooking the river, and a cafe, and a tearoom, and a little boutique. So I'm very, very excited, and we've just hired an operator and we are putting together our pricing package now, and once it's priced and situated, then we'll get an investor memorandum out, and hopefully we can get this thing moving and open sometime in 2024.
SSR: That's amazing. How many rooms did you say?
LSP: It's about 55 right now. It might go to 56 or 58. And everything is not within the home. It's going to be… We keep that as like the grande dame of the property and have everything else sort of recede around it, if you will. And we're also weaving in our family sort of quirkiness, and that will be that the cafe will be named after my mom, Betty B, and we'll be using all of her recipes from her cookbooks, and other things, place to get pastries and ice cream and local brews and things like that.
And then we're going to name the hotel the River Runner, which was the name of our first boat. And then we have the bar, which is my favorite. It's called the Brown Recluse, and that's a very poisonous spider that is found in Alabama and all around the South, and that was the name of our first river cabin that had a two-holer outhouse. It was a log cabin that was very scary. So I'm so excited, especially about the wellness component. So it's fun. I've learned so much about that other end of things.
SSR: That's amazing. I'm so excited for you. I can't wait to see what you create. So in the interest of time, I have to end this, but we always end the… And I can talk to you forever, as you know, but we always end the podcast with the title of the podcast, and I know we've touched on some secrets of success along the way, but what has been or what is your greatest lesson learned along the way?
LSP: Well, I would say that it is to… I think it's all about what I said before that… Be open-minded to what other people have to offer you that is complementary to what you do, and that has been a big lesson for me. And I thought I might have another one, but we're never granted tomorrow, and to put a little bit of vacation in every day and make the most of everything. I think also, a big one for me is, seek first to understand and then to be understood. That's the Prayer of St. Francis and big Stephen Covey thing, but it's really important to me because I use it every day. There's so many challenges.
SSR: Yeah. There always seems to be a new one popping up along the way. Well, thank you so much for this amazing conversation. It's so great to catch up with you and hear all your amazing stories. So I hope to see you in real life soon, but until then, it's been a wonderful 45 minutes.
LSP: Thank you, Stacy. It was so much fun to see you and talk.
SSR: Yes. I'll see you soon. Thank you.