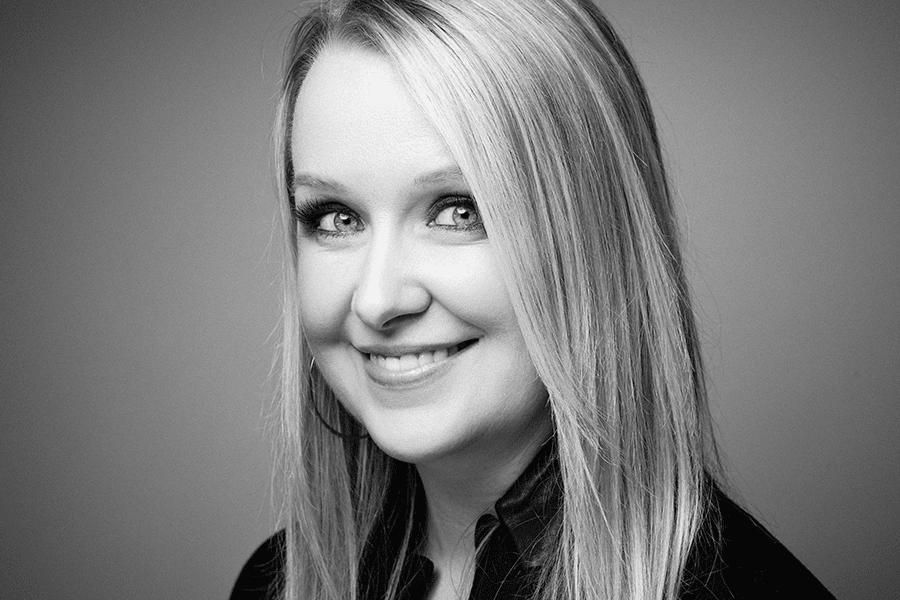 Growing up in Wamego, Kansas—a small town outside Topeka—Meghann Day came to the realization she was more interested in cities than the countryside. After graduating from Kansas State University, Day relocated to Chicago before heading out West, working for a small firm in Orange County, California. It wasn't until she landed at Hirsch Bedner Associates (HBA) that she found her perfect fit. Over the course of nearly two decades, Day has ascended the ranks, working her way up from designer to principal interior designer to president of the Americas, a recently created position at the practice.
Stacy Shoemaker Rauen: Hi, I am here with Meghann Day of HBA. Meghann, how are you today? Thanks so much for joining us.
Meghann Day: Good. Thanks for having me.
SSR: Of course. This is exciting. All right, so we always started at the beginning. Where did you grow up?
MD: I grew up in Kansas, specifically Wamego, Kansas, outside of Kansas City.
SSR: Amazing. And were you a creative kid? Always have a love for design or have any early influences of design?
MD: Yeah, my family's very creative. My mother's in the arts, she's actually a musician, she's a music teacher. So we were always going to museums. We were always doing different things, traveling. So it was always an influence at a very young age, from the background with the influence of my mother, which was fantastic.
SSR: Yeah. Did you pick up art early? Were you a singer with her? What were you like as a kid?
MD: Could not sing. My brother got that talent. Very upset about that by the way.
SSR: So am I.
MD: Right?
SSR: Every time I watch The Voice I'm like, why can't I do that?
MD: I know. I know. So she used to sing all over. We used to go with her and sing, but I think art at a very young age, not talented whatsoever, but the enjoyment of it and just being part of that community, being around artists, the theater too, super creative. Being part of, let's say, kind of set design and behind the scenes, which was fascinating. Not necessarily in the front but behind, which I think carries through design, right? Because really, we're one of the ones behind the scenes doing some of this and then eventually out in the open. So I just really enjoyed the influence of visiting and travel, too. They were very influential as we'll talk later, just with travel and experiencing different cities, different communities, different regions of the world, which was fantastic.
SSR: Yeah. Was there an early travel experience that you remember with your family?
MD: I think the earliest one, and then it was only in the States, but going to Chicago. It's such a great architectural city. It was a major influence because growing up in Kansas City, it's very small and tight. And to be part of and go to Chicago and see all the architectural influence and what was happening in the river and some of the retail stores and then of course New York was just the Mecca, right? That was the next place after that. But starting with Chicago I think was a great start and was just such a really interesting experience and influence.
SSR: Yeah. So did you go end up going to school for design?
MD: I did. I went to Kansas State University. They have a design and architecture program. It's still very good program. It's in the Midwest. No one ever gives the Midwest credit, but it's still a top 10 school of architecture and design. Went to school there for five years. It was a five-year program. And then once upon graduating school, it was either go east coast, west coast. So I applied to both. It was either going to be New York or California, depending on job. And ended up getting a job in southern California. So literally it was just based on what the best offer's going to be, the best in which direction to go. Just right in the middle of the US deciding, yeah, do I go to New York or do I go to California? Let's kind of see how this plays out.
SSR: Yeah, Chicago or Texas wasn't an option?
MD: No, I was done.
SSR: You're done.
MD: Love it. Love the Midwest, but needed to experience some coasts for a little bit.
SSR: Yeah. So where did you end up for your first job out of school?
MD: I ended up in a firm in Southern California, in Orange County. They did commercial work, they did residential work, but they had just started a hospitality department and they were doing the project that another one of our competitors ended up picking up years later. But it was in Rancho Palos Verdes, and it was a large resort hotel project. And I was one of the junior team members on that project. So I did a few commercial projects with them, A few residential, not something I was totally into, but once we did the hospitality project, it's very interesting. It was very exciting. It was very creative mean. We learned after experiencing several years with them, the commercial world where it's a lot of desks, chairs, a lot of items that aren't customized. And then to transfer for two and a half years to this customized property, it was very exciting.
SSR: Yeah. Did that start your love of hospitality?
MD: Yeah, that started it. Of course, we traveled a lot to job sites, which is great. I had a great mentorship there that everywhere we stayed, if it was a project site in the US, which we traveled a lot for work on the commercial side, she would make sure that we stayed at the… W Hotel just opened, we're going to stay there. You have to see it, we have to look at it. We have to be influenced by it. So at a very young age, it was great mentors that made sure that I had and my team members at that time had that experience of not staying, let's stay at a hotel that is something that's a little bit more basic or standard, but really experiencing new properties that had opened up, which was great to have that influence.
SSR: Right. And from there, you went on to HBA, right?
MD: I went on from there to HBA. One of the gentlemen from HBA came down, he had worked for Michael Bedner and one of his former colleagues was worked for us down there. And next week, four of us submitted our resumes and four of us all moved up to LA with new jobs. So it was so random.
SSR: Well, there you go.
MD: I didn't know who HBA was. I knew the hospitality side of it. I was just getting into this and actually had an interview. That's where I met Michael Bedner, was in the interview. He actually interviewed each one of us, which was actually interesting too, that he actually was a part of the interview process. And at that time it was an office of almost 80. So it was a large office, but he interviewed every individual. And then from there I started out as just a junior designer and just kind of worked my way up through there.
SSR: How long has it been now?
MD: 17 years. Well, and you, it's been…
SSR: Oh, 21.
MD: Right?
SSR: Yep. We're lifers. Creature of comfort, can we say?
MD: It's interesting because I always measure the time Katie Daley started Valley Forge like a month before I started HBA and she was in LA. Yeah, I know, right?
SSR: Crazy how time flies. What was Michael like back then? And did you get to work with him? I mean, he's such an amazing soul. So from this side, I'd love to hear how it was to work with him and at the firm back then.
MD: I worked with him specifically for three years. So that's the individual that I worked with, which I knew who I was working with, but to have that one on one, he is a master at marketing and presentations. It was phenomenal to walk… Of course he's crazy. Everyone knows he's crazy and fun and wild. But to see him walk into the rooms, I mean, one of the first clients that I worked with him was Sheldon Addison. And to watch him work that room and to watch him present to the team and cater to the personalities in the room. I've seen him, we worked right after that on our project with Paramount Studios. The president at the time, we were doing some of their F and B elements. Watching him with these individuals and watch him work that room and kind of work over and win over the president at that time, who was the executive producer of the Sopranos and kind of how he maneuvered that, even though he was hospitality.
So his expertise is marketing, which is phenomenal. I've been a part of watching a lot of other people present, but that's a very skilled item to have and he was phenomenal at it. He could just work clients, which is why he was so well known. He was entertaining. But he also could speak design and work within there, too. But a lot of the times I wouldn't let him touch the design, as we all know. And people in this podcast will know, but he could market it. So everyone kept him at bay actually designing. But as a marketing person and understanding design and his experience with, he could name hotels all over the world that they had worked with. And this is what we did and this is how we did it. So it was quite an experience to have that one-on-one from an early start, which is great.
SSR: Yeah? Okay. So you've been there for almost two decades. You started as a junior designer and now you're just recently promoted to the new role of President of the Americas. So congratulations.
MD: Thank you.
SSR: So talk a little bit about your journey and the different facets along this lustrous career that you've had.
MD: Yeah. Well I started at the bottom, which I think is great. I started as a junior designer and I honestly just did drawings and I did AutoCAD. I did the online computer, programs for drawing. So started at the very bottom, and then after three years, had worked up to be a designer, worked on some projects, worked on a couple projects over in Hong Kong, just the facets. It was so many different areas, learning metric versus imperial, which is big change at a young age as we're all trained a certain way and no one else uses this. And learning that very fast and quick in front of clients and meetings. And then the recession hit. And as we all noticed, we witnessed HBA had so many projects financed by Lehman, but resorts all over the world.
So then I transferred to San Francisco. They were a boutique office. It was only two team members up there. They had some really interesting projects. And it was a change of lifestyle. I wanted to move to a different city, but stay with an HBA. Michael gave me that opportunity, went up there and really was able to really be exposed right away and see everything right away. I've never invoiced a client, I had never marketed for a client. I saw Michael do it. And so it was the recession. I've heard others in those podcasts you had to do it to survive and it was just really survival. And so really we started with just, there's two of us and hit the ground running and started working in China. And we had a couple architects in San Francisco that had some projects. And then it just slowly built from the recession.
Meeting with operators, I mean, we had a walk into a room. It was good and bad saying, "I've never worked with you. My team member's never worked with you. It's a good thing cause HBA has a lot of history and different team players, but give us a chance." But proving to them that we could do it at a young age and proving that we could do this. So the operators, everyone was very generous. We started out with lobbies, we started out with one meeting room or small scope and just slowly started to build and build the reputation of San Francisco from that, which for me it's just an awesome experience just to start something that was down to a very small number and build that up during that time and continue to build it up, which is great.
SSR: Right. How many are you now in San Francisco?
MD: At San Francisco, we're 25, which is great. We like the boutique. We got up to 50 at one point. And I talked to a lot of people in this industry and after everyone explains, after you hit that 30 35, you start to lose control. And everyone talks about it. So I really like the 25 to 30 range, a nice group. And now with this role, if we needed support on projects, what we've done is we've kind of unified all of the stateside offices, which are Atlanta, Miami, LA, and San Francisco and really bring up the standards and have cross pollination of team members if we need some help on a project and we can use some team members from Atlanta to work with us, vice versa if they need some reviewer help. And so it's been a nice kind of group build that we've been doing between the offices and really open communication.
SSR: Yeah, well that makes sense, too because then you can ebb and flow depending on projects and who's busy, who's not. And there might be some talent in another office that you need for a project.
MD: Exactly.
SSR: So was there one project along the way that you think really helped you in your career or really defined your evolution within HBA?
MD: I'll start when I was in L.A.. The project that really changed me was we were working on a three hotel deal in Macau, China.
SSR: Oh wow.
MD: What changed me was the influence. I was flying there one week a month, pre, pre of course recession. The team players, how deep the team was, the individuals that were from all over the world internationally, the collaboration, everyone in that room that we needed to make this work, that was a game changer for me because it was such a large scale. And to see the influence of everyone and understanding, we worked with operators and we've worked with owners, but to have something so massive and something international was really for me, eye opening. And I think it opened up from that experience when I moved to San Francisco, all my work moving forward through China, which was very influential through the recession, helped for that experience of that project in Macau. The project in Macau was three years. Learned so much, learned kind of the process. Learned what works there.
SSR: Right.
MD: What things that they really hold onto, things that don't. And really learning and watching Michael and our senior team adapt to what we would give to, what we wouldn't in different regions, specifically in a region that was such a big boom and such a large influence. And a lot of projects from that for the next five years to kind of support us and other architects state side. So influential, that one, and I learned a lot. That was my biggest learning experience to be able to navigate working over there for the next five to six years after the recession because so much work was happening there.
SSR: Yeah, no, that must have been-
MD: Yeah, sorry.
SSR: I was just going to say, it must have been amazing to be there one week a month.
MD: So we would stay in Hong Kong for a week. The next trip we would go over to Guangzhou. We'd take the train down, go there, go back to Hong Kong. So every time it was nice because when I was there, it was six different architect groups. We'd all splinter off and they would tell us, okay, go to this island. This is where you need to go for a couple days, stay four more days. So we really enjoyed it cause we got to meet all these people, got to do all these experiences and travel and you meet them later in life. I've been at other job sites in the Middle East and I've seen two of them pop up in the meeting and it's been eight years or 10 years since we've seen each other. So in terms of influence, that was a major game changer for me in terms of learning.
The project I think that we are, in San Francisco, the most proud of the one that really was so unique was the Edgewood Tahoe resort that we did. It was a great partnership. It's in our backyard, it's in South Lake Tahoe. To work with the client, they had 14 years of entitlement because of the restrictions of Tahoe. It's a boutique brand developing this brand, this hotel. It's a family that's has this really well known acreage and golf course and very famous. And how do you bring that in? There's so many things we couldn't, if you removed a dock from the water in South Lake Tahoe, you had to use that within the hotel. Anything that you removed, you had to put within the property. So it was just very unique because it was a client that was willing to just trust the design team.
The possibilities were endless in terms of customized design and creativity, which was fantastic. Working with what we had to do and the influences of reserve and preservation within the market, too. So every time we go there, we smile. It's a great property, it was a great team to work with. But in terms of doing something boutique that kind of put us on the map for that. Working with the client on their first new hotel and really developing something that we all really enjoy.
SSR: Yeah. Has there been one where there was, because I feel like you learn from your failures as much as your successes. Has there been one where there was not a failure, but a mishap or something that happened during the process that you remember and is stuck with you along the way?
MD: Yep. When we first started San Francisco, we did some work to be unnamed overseas. You will never see a photo.
SSR: It doesn't exist.
MD: It was very much… It was a learning experience. But there's some things you're like, "That did not work. We made some mistakes there." But it was nice because it was the team learning how to grow. But it was interesting because we had to all learn. Everything goes so quickly there. So it was a situation where we sent something and they had it mocked up the next day. We're like, "Oh nope."
SSR: Not going to work.
MD: Yeah, that's a mistake. So yeah, we've made a lot of mistakes. I think everyone has and you learn from them and learning how to navigate that. But we've had some stuff when we started overseas in China that you will never see.
SSR: I'll never resurface.
MD: Never resurface.
SSR: And wait, going back to when you went to school, so did you start doing arts and then you fell in love with interior design? Or did you know going into college that you wanted to do interior design?
MD: I actually started out in business administration because I wasn't sure the of program, I wasn't sure what I wanted to do. So I started in business administration, which is business side. And then I had an individual that said that I should look into joining a studio. A good friend saying, "You should just go tour it, see what you think." It was something I was always interested in. And I toured the studio, I met with the department and that April or the next semester of course, is when I applied and joined. So I was a little behind, so I had to makeup in the summer for the studio work. But honestly, it was a classmate that had recommended, "I think you would really enjoy this. I think this is something you're interested in. Just come visit, see what you think, meet with, here's the professors that I have and then decide from there."
SSR: Well yeah, smart classmate there. You've worked with a lot of different development, ownership, brand groups and a lot of repeat ones. What you defines a successful collaboration and how do you teach that to your team and instill how you should be with clients in order to get that repeat business?
MD: Personalized service. It's a personalized account. I think what they're witnessing in our office, we have so many clients. Our client in Mexico City, we've been working with since 2011. When it was first a Hilton Hotel, it's now, what? 12 years later? And we're now finishing up his ninth hotel to be installed this year, which is fantastic. I think it's just a dedicated team. I think a lot of people have asked, I know we've heard and we've seen it and we made our mistakes from it. They just want that one contact and that dedicated team member that stays on this project that can carry the project from start to finish. Having leadership involved is not something, there's another partner of each office, once we work on a project or start a project, we're still on the project through the finish. It's not that we're there for two months or couple phases and then we phase out. We're still on the calls. And yes, it may stretch you a little bit, but it shows that you're involved.
This is the service, we see every aspect of it. We see everything that goes out the door on these projects as well. I think which is important, which is why we've kept it smaller and more boutique so that we can make sure that we maintain these relationships, make sure that the quality is at the level it should be that they're looking for, that are part of ours, too, and to get that out the door. So it's just that one-on-one and it's the personalized service.
SSR: All your properties there because we focused on Mexico. You've done a lot of projects down there, how have you seen that evolve and how have you tried to redefine luxury in Mexico?
MD: Mexico, we started in 2011 with Hilton. So this ownership group, they did a lot of commercial properties, they did a lot of office buildings, but they had never built a hotel before. So we partnered with Hilton and it started out as more of an education with this client particularly, explaining to them what they need, what are the standards. What was nice, Stacy, too is really immersing ourselves in materials. You're very limited on importing in Mexico because of the tariffs. Wherever we work at something internationally, you have to work with locals. So establishing a library, establishing partnerships, Stacy, with vendors.
SSR: Right.
MD: That our state side that are there, that we didn't know were there. Influencing other vendors that aren't there. They need to get there, because this is what we're seeing. We're boots on the ground. This is just one out of X number of developers and this is what they're doing and this is a big development.
So for us, back to your original question, our experience was educating them on our expertise of hospitality. Yes, this is what you need, these are some of the influences that you need to make sure that you incorporate in here. But I think what's interesting about Mexico is it's such, it's so creative, it's such a really art influenced culture. And so it's been a real joy with each region that we work in. There's several things that brands want that aren't going to fit within that region. But working with the client, educating them on the process, the procedure, what the brand wants, but also how can we take their vision and incorporate that to make it very unique to each region. So for us, it's just the education of the process. And I know a lot of these clients are builders anyway. It's just walking them through, let's say the hospitality process, not necessarily the residential or the commercial.
SSR: Yeah. For sure. And what is your process like to find all those vendors? Do you guys go and immerse yourself in the area? I mean, how do you really find those key sources that you need?
MD: It's taken six years, to be quite honest, to develop a background. In Mexico City, they have a lot of sources through this company. Also, the operators have a lot of sources just because of other properties that they've worked in within the region or the area. And it's us, I think it was interesting at your HD events, understanding we brought these clients in Mexico to the events so that they can see some of the stateside vendors talk to the stateside vendors about do you have partnerships? And a lot of them, Stacy, we didn't know they did. A lot of these vendors had these partnerships established. It was just a different avenue and a different name and a different company, but establishing those and really building that. It wasn't something immediate, it took us a long time to really establish this vendor list that is a hospitality based vendor list.
And then wherever we worked, when we were working on the Saint Regis now in Cabo, they wanted everything influenced from Oaxaca. So going to Oaxaca, meeting, I mean this was just weeks and weeks and weeks of trips down there with the client, with representatives, meeting with vendors they worked with before, meeting new vendors, meeting new designers. And so it's the same thing in Cancun, they wanted a lot of local influence, not necessarily on furniture, but all materials. So meeting with these individuals that are going to do the hand carved wood. Meeting with the quarries within that region, because they didn't want to bring quarries across the state. What can we select from here? What can they provide for this project? So very, very local influenced. Quite honestly in Mexico, the only thing that they can import that they're not tariffed on is carpet and area rugs. So it's a very immersive experience.
SSR: Is there a part of the process that you still love the most?
MD: I love the initial concept and the beginning stages, right?
SSR: Yes.
MD: Where you're really working with them on their brand working collaboratively. And then once they start, the excitement is, Stacy is a lot of developers, they understand a plan. Some people don't, some people don't understand elevation, but once you start showing them that 3D side of it, it's just exciting to see how excited they're getting right away on what you're developing. So I think the world of technology and to be able to show them 3D right away, it's exciting. And it's a part of the process I like because they get excited. And the CA, the construction process, that is where I about lose it. I can't even [inaudible 00:27:42]
SSR: Out.
MD: Out. With me that doesn't work.
SSR: I love it. And I mean your role has changed. You've grown up at HBA. What is your favorite part of what you do now and what still kind of drives you personally and professionally?
MD: My favorite part is really meeting, we were kind of siloed in the, let's say, previous HBA kind of programming where it was just San Francisco that was your office. We didn't really communicate with the other offices. What I like now is we're all together. So I have met and immersed in all the designers in Atlanta and Miami, in LA. It's so collaborative. Everyone's always communicating. We meet weekly, we do training together, we do spec training together. All the offices do on Zoom or Teams. And it's nice because you've gotten to meet everyone and see these designers and actually see what they can do. A lot of things, certain offices ran things certain way, we've changed that. Really exposing talent, giving credit, having them do PR, having them get out there, do business development, go to these conferences. So I think that's exciting to see this growth and exposure that maybe some individuals didn't have from previous leadership and really seeing that grow, which is great.
SSR: How many people do you have in the US now or the states?
MD: U.S.? About 500.
SSR: Oh wow. That's a lot of people.
MD: Yeah. Yeah. And that includes admin and accounting, et cetera. But about 500, which is great. So I really enjoy that. I think challenges is just really establishing quality. It's really taking the model that, let's say we have in San Francisco, and then applying that to the other offices to make sure that it is repeat relationships as we talked about, and really the quality of packages and design going out that door as well.
SSR: And then what drives you today to keep going to do all that you're doing and taking on this new responsibility?
MD: I think what drives me is when this role was first approached and discussed, I wanted it, but there needed to be a change. And I think everyone on this podcast knows about HBA, the history of HBA. But there needed to be some change. There needed to be some change in things that we did, processes. And what I think is exciting is the CEOs they said, "Okay, this is what you can do. We're letting you take it in the direction you'd like to take it. We trust you in that direction." So I think the drive is really changing some things about the company for the better and really driving quality projects.
We have so many great projects, so many great clientele. There's so many more outreaches. There's certain different regions that we can develop. There's different opportunities. Is it an opportunity to put an office in Mexico? Is there opportunities to grow? Looking at that in Central and South America. Some of the stuff that we're looking at, like we talked about earlier, in Africa, a lot of opportunities. So it's exciting to see growth and the potential of growth and to have that provided by the CEOs and allow us to take that next step and really have that trust is exciting. So I think the drive is what can be developed and how this can grow.
SSR: Yeah. And do you have the same kind of interconnectedness now with the other offices internationally?
MD: Yes. So, we're starting it. We have that with London. We're working on it with other offices. We have it with Shanghai, and we have it with Hong Kong. And just really making this quite a connected network that we all have access. I mean, each office, which I think is interesting, is you're not regional. So if Miami has a clientele that's in LA that trusts them, then Miami works with that. But then we also have an LA individual if they needed help that could step in, go to the job site. Same thing globally is to have that connectedness so we can support each other in each of the offices.
SSR: Which makes sense.
MD: And have the resources. We have a project in Shanghai, there's a certain design that this client wanted. We didn't understand it. We needed Shanghai to help us understand, okay, what are they talking about? What are some of the other things that you've done in the past within this region that they're specifically asking for? So it's nice, too to have these pockets of different offices because we can ask culturally is this correct? Does this look okay? What else are we missing within this, let's say restaurant design, that are a need?
SSR: Right? So looking back, did you ever think you would end up where you are today?
MD: No. I mean, I love design and I wanted to be in design. I love the management aspect of design. I like the business side of it too, and the clientele interface. I just didn't think that it would be within HBA. I didn't think that there was an opportunity to do this, which is exciting. So I really enjoyed running an office. It's been great, but this next step I think has been a little bit of a surprise in a good way and kind of navigating that to see what changed. But I did not think in LA after my interview with Michael Bedner working there for a year that it would become this. And by the way, Michael still comes to San Francisco, he still stops by every three months. He still meets the team. So, he's been great too because even though he's retired, there's questions I've asked him, "How did you do this? How would you do this? What's happening? How did you even develop some of these different offices overseas?"
SSR: Yeah, that's amazing. I love that he is still involved. I mean you mentioned him. Has there been any other "mentors" along the way that have helped you think? 
MD: I think what's nice, and I'm going to speak about this, is the female leadership in the company. So many great mentors that have allowed me over the years to ask questions. How do you do this? How are you navigating this? I think what's interesting is the change of female leadership. Stacy, too, I'm not sure if they told you but our Singapore office, it's all female run. There's three female partners now.
SSR: That's nice.
MD: So it's been a nice change. I think it's been a good cultural change. In our stateside offices, our Atlanta is now a female principal. Same thing in our other offices. I've had really great mentors, not only in HBA, but outside of HBA and someone like when I first moved to San Francisco, Jennifer Ramsey. I didn't know her. She took me out to lunch. She kind of outlined navigation, she outlined clientele, she outlined who I should talk to, who I could get in the door with. To have, not only within HBA, but to have these other influences, it's been very lucky that this industry, the women are so supportive of younger generations and supportive to help and then develop these relationships together. That was just one of several examples where they were part of this whole journey and they supported us in this journey and they introduced clientele to us. It's been really, really, I don't know in your journey if you've had the same thing, but in our design industry, we've been really blessed with really strong female leadership that have supported.
SSR: And how do you try to pass that down to the next generation?
MD: Doing the same thing. We've had, as you know, some individuals come and go. We've had some individuals in the company that wanted to start their businesses but be associated with HBA. Supporting them on that, giving them guidance of, "Okay, I know you're going to start your business. These are some key things." Just like Jennifer did for me. You need to look out for, if you have any questions, let us know. Look at your contract templates. And even though they were with us for a while and they've, they're going to start their own. Being able to have that influence, but internally doing the same thing, leadership opportunities, being able to run projects within your career much more earlier than later. Just really supporting. Supporting on the PR.
I think it's very important that if a designer designed a project, that they get that full support. That they get the full PR support. They're the ones that's quoted. I mean, we were on it, but they're the ones that did the work and really supporting them on it.
SSR: Oh, that's great.
MD: So, it's been fantastic. And you know this, our industry, everyone is so supportive and genuinely supportive and, "How can I help and what can I do?" And just sharing, "How did you do it? What would you recommend? I'm failing here, how are you doing this?" And everyone's kind of really been open arms since I moved to San Francisco in this industry.
SSR: That's amazing. Is there a piece of advice you would tell your younger self or you would tell your junior designers?
MD: To remain calm.
SSR: That's a good one.
MD: If the bathroom wall falls over in a guest room, it's fine. You're going to be fine. Just understanding that it's going to be okay. I think on the designers as you're developing and growing when you have to bring in work. I read something, I think you had interviewed someone in 2011, and they had recommended it was a high profile designer and they said, "The work will come, don't worry about the work. If you do the quality and if you establish yourself and are able to produce and continue to do that, don't worry about the fear about that next project's not coming in." And it was something that has always resonated. It will come in, you just have to take the time and the steps and not worry about it as much. So if I could do that, because it was so much stress of, "Oh my gosh, how are we going to do this? What's the next project? I don't think this is going to work. Can we hire someone? Can we not hire someone?" And it will happen and it will work itself out. There's enough work for everyone.
SSR: Tell us one thing that people might not know about you.
MD: I was on the equestrian team in college.
SSR: What?
MD: I grew up in equestrian. I don't think anyone knows, I've never talked about it on anything. I grew up riding and showing horses. And then in college, the college I went to, they needed another Title 24 or Sport, Title IX. And so they brought equestrian to the college and university. I tried out. So I was a college athlete.
SSR: Oh, wow. I had no idea.
MD: I know, no one does!
SSR: Do you still ride?
MD: Once in a while, not as much. But there's several individuals that you and I both know that are riding again, so they're kind of influencing. But yeah, for three years I was on the equestrian team in college.
SSR: That's amazing. My sister was too. She owns a horse still.
SSR:
Is that right?
SSR: Yeah. Wait, and then also you've been to how many like of the-
MD: I have a list.
SSR: Sorry, say it again?
MD: I have a list. My countries?
SSR: Yes.
MD: There's 45 I've hit so far and I've done all the Seven Wonders of the World, so that was a big one. It was just a bucket list goal. And I have a friend that's a flight attendant. So, we hit all the Seven Wonders and now we're doing our next. So 45 countries and trying to build up. She's way ahead of me, she's at 65.
SSR: Wow.
MD: So it's really hard to catch up to her.
SSR: To catch up to her? Yeah.
MD: [inaudible 00:40:49] countries by the way.
SSR: Is that how you stay inspired?
MD: Yes, yes. So right now I'm in South Africa, which is fascinating. Johannesburg. I've been to Cape Town before, but not Johannesburg. In a couple of months I'm going to do Nepal and Bhutan. That's my next country visit. So, it's exciting. It's fun.
SSR: Was there one Wonder of the World that you love the most? Can you even say that?
MD: Everyone asks. It's a tie between Petra and Machu, but I have to tell you that the Machu Picchu experience, it's just the most unique thing. I mean, to sit above the clouds in this village that's been there for hundreds of years. It's phenomenal.
SSR: True. Especially hopefully moving forward the development keeps going as we think it will. So I hate to end this conversation, but in the sake of time, we always end the podcast with the title of the podcast. So what has been your greatest lesson or lessons learned along the way?
MD: Oh, Stacy, that's a good question.
I think greatest lesson is it'll always work itself out. Right? There will always be a resolution. And because we're in the construction world, I think the greatest lesson is there's always a way to work out the situation or problem. There's some way to navigate it. And I think there's always a fear kind of stopping your tracks with issues, but there'll always be a resolution. It's always negotiation. But in the end, you might not get a hundred percent what you wanted, but at least there's about 80% of what your original design intent was. And that's great.
SSR: Well, amazing. Well, thank you so much for joining me today.