Noah Tepperberg + Jason Strauss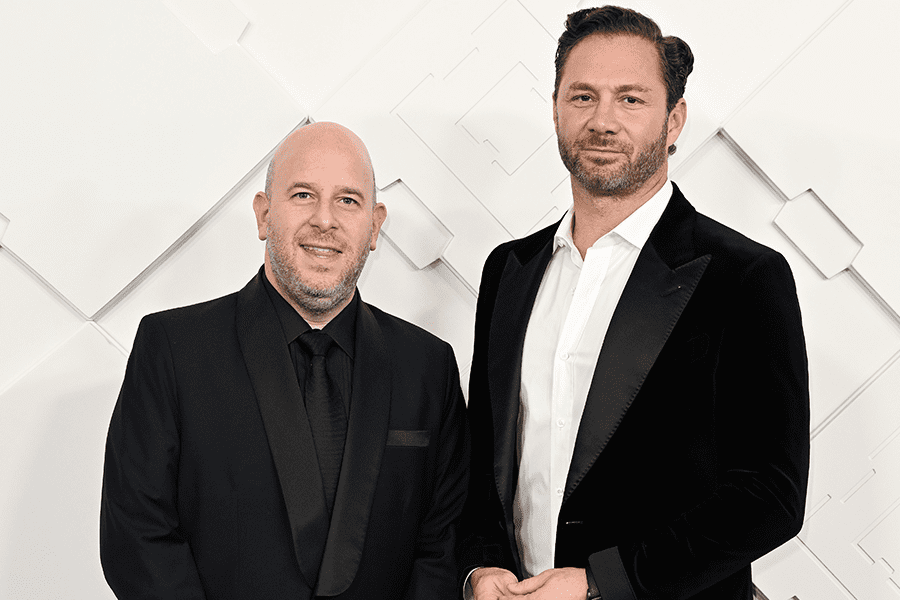 Both Noah Tepperberg and Jason Strauss grew up in New York but they wouldn't meet until they were in high school. Although their hospitality empire wouldn't be fully realized for another several years, the pair started out throwing prom and collegiate parties, which soon gave way to more exclusive events. After cutting their teeth and gathering clientele, the duo opened Manhattan's gamechanging nightclub Marquee. Soon after, they met Marc Packer and Rich Wolf, co-owners of Tao restaurant and together, the foursome formed Tao Group Hospitality. The rest is history. The company's portfolio includes some of the most renowned brands in the industry including Hakkasan, OMNIA, and Beauty & Essex, and the name itself has become synonymous with hospitality.
Stacy Shoemaker Rauen: Hi, I'm here with Noah and Jason, thanks so much for joining us today. How are you guys?
Jason Strauss: Great. Thanks for having us.
SSR: Thanks for being here. All right, so we always start at the beginning, where did you grow up? Jason, I'll start with you.
JS: Grew up in Manhattan, 39th and Park. Some summers in the Hamptons and started working in hospitality very early, at 16 at an ice cream shop in Westhampton Beach, so that was my start into this amazing world of hospitality.
SSR: I love it. Noah, you grew up in Manhattan as well, right?
Noah Tepperberg: Yeah, first in Brooklyn, then I moved to Manhattan in elementary school and grew up, I really grew up in Greenwich Village. That's where I lived as a child until I went to college in University of Miami. Jason and I met at the end of high school, we were both in the nightclub business, we were promoters, we were throwing parties for collegiates, and the rest is history, 30 years ago.
SSR: I love that.
JS: We should do something for our 30-year anniversary, Noah. We've been really, that's a pentacle in time, amount of time together.
NT: Sure.
SSR: Especially since you're business partners and friends, you don't see that long of a run all the time.
NT: Yeah, very unique and hardest thing in life is to find a good partner, so we're lucky.
SSR: So how did you guys start promoting? Was that just out of need in high school or want?
NT: For me, I was opportunistic even then, I had relationships with people in the bar and club business through my older brother, who had a band. I was able to find venues to do parties for students, I went to Stuyvesant and we had an annual play called Sing. So my entrée to the business was actually putting together a cast party, and Jason has a similar but different story, I'll let him tell you about his-
JS: Yeah. Mine was similar, but it was based around sports, I was the captain of Riverdale Football and had to throw the Homecoming party. Instead of throwing it at somebody's house where some neighbor or mother would call it in to the cops, we figured a way to go to a bar that would allow college kids to come in. From that, it opened up a lot of doors that I could gather people. Actually, my first time doing it was the night I met Noah, ironically. We started doing prom parties and collegiate parties, and soon, older people in the industry just found out about us that we could wrangle people and be pied pipers. So the promoting world started for us.
SSR: Awesome. Then you both went to college, but you went to different colleges, right?
JS: Yep, yep. Boston University for me, and Miami for Noah, Miami University.
SSR: Would you come back together at summers and still promote? Tell us a little bit about how you progressed.
JS: Instead of going on a family trip during Christmas break or getting a summer internship on Wall Street, like all of our friends were, we would rent nightclubs, work at nightclubs, bartend at nightclubs and basically our summer job, our Christmas break and fall breaks were all about that. Later on, when our senior year came around, we were doing spring break trip packages. So the nightlife world bled into other ways of us making money by getting people together.
SSR: What did you love about it? Why do you think you were drawn to it?
NT: All through college, Jason and I would actually communicate by fax back then.
JS: No shit. Fax, fax.
NT: Rolled papers.
JS: Fax and beepers, I think.
NT: At one point, we started sharing papers, we were both taking the same business classes and I think we both did our final project was a business plan senior year on opening a nightclub. We were entrepreneurs even in college, as Jay said, we always got together during the breaks and figured out ways to throw parties, make money, bring our crowd together, bring our social circles together, and that was really the foundation for what we have today. It started back then, 30 years ago, and here we are. Three decades and a couple generations later, still doing it, just on a much bigger scale.
SSR: If you were communicating through fax, how did you get people to the parties? Was that just calling people?
NT: All calls, sitting at home making phone calls, using a plastic Rolodex, our family's phone, call waiting. At one point, we moved into flyers where we would give flyers out, we would meet up late night at Kinko's in the printer's on 20th Street in what's now Flatiron, it used to be the printing district of New York City. That was the old school way of promoting was really hand-to-hand and actually making phone calls. That's how we got started, really in the roots of it.
JS: In college, we would get creative, we would all just unique and interesting flyers. I remember at Boston University, I made a flyer that looked like a parking ticket and you'd just flyer every car at the cafeteria. Just doing stuff like that to get notoriety. It would always be, "Jason and Noah present." So in the early days, before we had brands like TAO and stuff like this, we really put ourselves out there. We were a brand of collegiate promoters.
SSR: Love it. All right, so you graduate, what's next? Marquee didn't happen for a couple of years, right?
NT: Right after college, Jason and I literally moved home to New York City within days of graduating, took an office, rented a space from a friend's mom who had a bigger office space than she needed. Hired some of our friends to come in and work, answer phones, make phone calls. Immediately, contracted with a handful of nightclubs and started our promoting business. Then in 1997, what started in the dorm room moved into the off-campus apartment. Right after college, into a small little office on 21st Street.
JS: Plus, we had our studio apartments where we had people working in our studio apartments, because we didn't have enough phone lines at the back of this office that was just like the back closet.
SSR: I love it.
NT: Would get on our guest list by leaving messages on our answering machines, and back then, you'd have to wait for the beep. We always knew how well our clubs were going to do by the length of the beep that people would have to wait, because we knew we'd have a lot of messages for that night.
SSR: Were you counting them? Okay, so from there, what made you decide to go create a brick and mortar of your own and create Marquee in 2003?
NT: Jay?
JS: Well, I think before that, we were nightclub promoters for many years, we had opened up a nightclub in the Hamptons before that, and that was really our first entrée into ownership. We had partnered with another operator that had been in the nightclub business in the Hamptons, and it was the first time Noah and I had put in money, invested, helped build a place, market a place, put our name on a lease, put our name on a partnership contract, got a liquor license. That was really our entrée into it, and I think the first year we broke even, and the second year we were onto a lot of success, but then we had a major incident that happened there, but we can leave that off to the side.
But that was our entry into it was really Conscience Point, and then we started dabbling into other business worlds like liquor marketing and brand sponsorship and brand promotion, and working at events like the Bridgehampton Polo, and we started dabbling in all sorts of forms of marketing and really seasoned our knowledge in ways to communicate with the corporate world, as well as to bring this club culture to a corporate world and unite them in a marriage. We started really getting good at that, before we really started doing the brands you know of like Marquee.
NT: We also had a couple small restaurant and lounge partnerships in the early 2000s, and that helped us hone our skills before we built Marquee. We built the original Marquee, it will be 20 years in December, planning a big 20th anniversary, you know it, reunion. But we started the project even before that, took us a while to secure the lease and build a space from scratch. That's when we met Marc Packer and a lot of the people we are still working with today, and that really was what catapulted us into the real main event of hospitality, that club really was and still is to this day one of the most prolific venues of all time. From there, one thing led to the next and we connected with Marc and Rich and did TAO in Las Vegas. From there, we just continued to build our portfolio and now we're going back 20 years, not 30 years. But that's where TAO Group really started was really on the heels of TAO Las Vegas and Marquee New York success years ago.
SSR: What were you hoping to create with Marquee?
JS: I think when we took that, we had a really good knowledge of where the market was going. We had been promoters, we had owned smaller places, we had traveled the world and really were studying this, and we even knew the energy was going to, the whole nightlife world was going to the outer Chelsea neighborhood. When we found this parking lot garage, parking garage, which is now Marquee, we really already knew what we were doing, we had a vision, which we were going to introduce a really high-end, bottle service, scene driven nightclub that was going to cater to mine and Noah's database that we had been collecting and curating and forming and forging for so long. We scraped the money together hand-to-mouth and got the place opened, and it's been, like Noah said, 20 years of an amazing story.
NT: Another really interesting part about the original Marquee concept, it was really probably the first club to open that played house music and hip-hop. We had one room that was a dance room with more, at the time, it was more like music, I don't know if we would call it house, but it was all DJ, but dance music. Then we had a room that had more of the hip-hop and R&B. I think looking back now, that was really I think a real pivot. There hadn't really been a club in New York that catered to both audiences. I think it was definitely ahead of its time. As you can see now from our vast portfolio of venues, we were able to really use that and those were our two specialties. We have great venues that play music, we have great venues that play open format and hip-hop and R&B, and it really started back then.
It was also one of the first venues to bring everything in house. We hired everyone as a full-time employee, our host, even the promoters were working for us and nowhere else, and we really built a team, a family that everybody was all in at Marquee. We were open five nights a week, then we went to six, at one point seven nights, and we really were able to give our team members. Then when we opened TAO in Vegas, it was the natural evolution to go from having just a nightclub to having a nightclub and a restaurant all in the same building. We were really the first people to take that business model from New York to Las Vegas, from just having separate restaurants and separate clubs to actually bringing them together into the same building. That's why I believe TAO Las Vegas, when it opened almost 18 years ago now, was so successful.
JS: It was really the first to marriage the restaurant and nightclub one-stop-shop in Las Vegas, and do it well. Even if someone had tried it before, it wasn't done at that level and with that sophistication and that level of detail and thought.
SSR: Yeah. It's hard to keep a restaurant or nightclub open for 10 years, let alone almost two decades, what do you think has been some of your secrets to success to both TAO Las Vegas and Marquee?
NT: I think the family-like atmosphere with the team members, creating that culture. We have numerous people that have been with us at both venues since opening, and I think that continuity, I think the focus on just creating this great venue with a lot of options and a great product, and then continually reinvesting in it over the years, always putting money back in, really keeping the place looking nice, always replacing things, not because they're broken, but because there's a better technology or better product out there. I think the marriage of great work culture, great workplace culture and attention to detail and great service and great product, that's what creates longevity and what makes a place iconic and makes it trans-generational. So people will go there and go there, and then never get sick of going there.
JS: I would add to that, Noah's right, institutionally and service wise and décor wise, Noah nails it, but I think we also did a really good job when Noah and I got a little older to not think that we knew it all. We tapped, we just had either luck or the ability to have a culture where we really embraced the younger generation giving us feedback on how to program the venue, how to market the venue, how to use different relationships that are coming up to program different events, either before or after our off nights, just to keep them relevant. Through that, I think we've been able to keep current and have the staying power that we've had.
SSR: Yeah, especially with the evolution of DJs and music and partnerships and celebs.
JS: TikTok, anything, anything that's thrown at us, the nightlife market is so ever-changing. If we're not on the cusp of change, we can become a dinosaur quickly. So I think we do a good job of staying relevant like that. We fight for that, we really have open communications and focus groups and push the marketing guys to always think on relative terms and keep us in the loop on what's going on.
SSR: Hopefully, your Rolodex is now digitalized, not the old one. So you mentioned Marc Packer and Rich Wolf from TAO, so did you guys meet while you were making, while you're building Marquee, or did you meet them elsewhere? Then how did that partnership expand from Vegas and from there on?
NT: Marc, we met when we were still promoters, we met him through mutual friends. Then we met Marc and Rich when they opened TAO, they were the owners and founders of the original TAO. They brought us in shortly after to do events there, so we became an event company that they contracted with.
JS: We did their first New Year's Eve party at TAO Midtown, that was our first event with them.
NT: We brought them into Marquee as partners, and there we decided to go to Vegas together and do TAO as partners. That's where TAO Group started was really when we combined the Marquee and TAO business, Marquee nightclub business that we started and the TAO restaurant business they started, to create TAO Las Vegas, which was this nightclub and restaurant combined. Marc and Rich continue to be our mentors, really great friends, board members, co-founders, and guys that we really learned a lot about from and that we really look up to for being true pioneers, especially in the restaurant part of our business.
SSR: So for those that don't know, you went from New York and Las Vegas, and then you expanded with more TAO locations, Lava, Beauty & Essex, Highlight Room, from New York to LA, Vegas, Chicago. So a lot of growth in that time. Was it an organic, was it more organic, or was there a plan behind it? I know sometimes things just, the right deal comes, the right opportunity, was it always a vision to go bi-coastal, go to different cities? Or was that just more of an organic growth?
NT: I think it was always a little bit of both. Everything happened organically, but we always had ambition, we always wanted to do more, we always pushed ourselves, we always were quick to jump on a plane if there was a meeting or a deal that we thought would open up a new door and would allow us to take what we were doing to a bigger stage. So there was a lot of ambition and it was a desire to always grow and do bigger, better projects, but the actual growth, the actual deals, they all happened organically.
SSR: Where you reinvented the idea of a restaurant and nightclub in one space, you've also helped redefine what nightlife in a hotel could be, or F&B in an entire hotel. So you did that with Dream New York and Dream LA for sure, where you had multiple venues where guests really never had to leave if they didn't want to. Can you talk a little bit about that strategy and how that has led to your success?
JS: I think when we went to Vegas, we really learned how to work within these buildings and be part of just an overall integrated property offering. As nightlife started hitting places like Vegas, I think the rest of the world started paying attention, that they could be a real driver and it could lift, the nightlife could raise all boats per se. Because if you had a great nightlife and a great energetic food and beverage program, the room rates would explode and the desire for guests to be in the hotel outside of just the nightlife and being in the lobby and being in other forms, really came alive.
Once they saw what we did in Las Vegas, I think we really became one of the premier companies that these developers would come to, to say, "Hey, program all the food and beverage, we want the sizzle, we want the energy, we want all the notoriety that you guys have done for everyone else. That of course led to partnerships like we have with Lightstone and the Moxy Hotels in New York where we really had more venues ground-up that we programmed all of the F&B nightlife, roof decks, bars, lounges, speakeasies. Because of the success of that, the hotel and us together just had a really impact on the overall property.
SSR: Yeah, for sure. It's just amazing too how you guys organize and almost orchestrate the flow, right? So even outside of Vegas and getting into TAO and the lines and how you get there, and Marquee, and also in the hotels. It's all a dance, I love how you guys-
JS: It's definitely a skillset. I could tell you that regular brick and mortar or standalone operators would have a lot of learnings when they come to an integrated property resort like a Dream or like these casinos. It's a different way of communicating, it's a different way of operating, a whole new operating system needs to be put in. So we got that skillset early and we just did more and more of it. It was obviously an advantageous situation to be in a property with so many rooms that can fuel immediate guests for your venues, and obviously then attract people from outside of course.
SSR: What were some of the biggest learning curves during that growth spurt? You talked a little bit about figuring out how to work in these different buildings, but going from two venues to then having New York and LA and Chicago, was it just being able to scale properly? Was it figuring out what was needed to handle all these different locations? What were some of the learning curves?
NT: I would say there was many. One thing we've learned is just you need to make sure you have great partners, that you're aligned with the people that you're working with, and that there's a vision, as far as what the product's going to be, what the experience is going to be. Another real lesson I think that we learned was to not go out there and just sign deals and then figure out who's going to run them. We always like to identify people within our organization that we feel are ready to grow and that are capable of running projects or venues, and then go find projects for them to run.
It's different, we've never been about just signing projects and collecting flags, we've really always focused on developing our people and then finding great projects for them to go run. The last thing I would say is, when it comes to design of venues, I think we really learned very early on and stuck with that, that you need to design your venues inside-out, we like to say. You need to design the heart of the house, the back of the house first, and make sure that you-
JS: Functionality.
NT: Facility and the functionality that you need to then do the sales, and then figure out how many seats and how much space you have after. It's very hard, we've seen a lot of people make this mistake to design the dining room and figure out how many seats you need and how big the bar has to be, and then what you have left for back of house. It really has to be the other way around. That's a real fundamental thing that we learned when it comes to venue design and layout.
JS: It's easy to lead with the cosmetics, because it's fun and sexy, but to lead with form and functionality is really the way to do it. Then whatever's left is what you have for cosmetic, and then you have an operating place that can be timeless.
SSR: Speaking of your design, you've always been known for dramatic spaces and really beautiful, really investing into creating these beautiful experiences, how involved are you guys in the details and what do you think makes for a successful design?
NT: Jason and I do a lot of the layout work with our team, but really our senior VP of development and design, Susan Nugraha and Derek Silberstein and their team do a lot of the design work, and they work with our design partners like Rockwell Group and Joyce Wang and the other groups that we work with, Focus Lighting, SL Lighting, all the audio groups. So Jay and I like to give a lot of feedback on the layouts and we do stay involved with the design and the selections, but we really trust our team to do the real design and to develop the concepts along with our design firm partners.
JS: I would add to that, Noah said it right, but this team has worked with us for a long time, so they know our eye, they know our aesthetic. Noah and I are still signing off on big ticket items, but they're doing the leg work and just presenting items as they go, and it's a long history with each other. I will say there are passion projects that Noah and I have dipped our toe in a little bit stronger than that, like there's one or two venues that we really have a passion for, we'll be more involved. But generally, our team is doing the heavy lifting.
NT: As I like to say, we don't design things for our taste, and I think that's where people had to get caught up. We really try and design things that we think other people will like. Our team really knows how to bring that to life, and often they need to be the referee between us and our personal taste, and what will actually translate, not just to people, but also physically in the form of materials and materiality. We're good at what we do, but we're also really aware of what we're not good at and try and find people who are better than us and surround ourselves with those people.
JS: But I will say that we've caught ourselves many times on designs saying, "This is too trend-driven or this is just too much in the moment." Whether it's a light fixture or a fabric or a pattern or a way a chair has now been popping up in five different venues, and we spend a lot of time trying to think timelessly in the design, instead of trend-driven, because we know that we need to be there for 20 years when we sign a lease.
SSR: Right. More about longevity. How do you constantly come up with new concepts though? Is that more … I guess the question too is how do you know when to use a brand that you have and reinvent it for the area, or when is it time to come up with something completely new?
NT: A function of the deal, sometimes the deal just calls for an existing brand or an existing concept, and sometimes it doesn't work for various reasons, whether it's partnership, whether it's location, whether it's the market. In some markets, we have so many places that our only option is to create new brands. So we like doing both. We really feel that when you do multiple versions of a brand, they tend to get better every time you do them. Actually, because our model is never to even, with the same brand, we don't make, we never do the same exact place. We have an 80/20 rule, even with a TAO where there's six or a Lava where there's five, or Beauty & Essex where there's four, none of them are the same. We like to use 80% the same and 20% new for each one.
JS: That reflects even the menu, because we don't want to ever feel like a chain, we want them to have individual sensibilities, whether it be to the marketplace, or as Noah said, just a different design element to give that 80/20 effect.
SSR: Speaking of new venues, you just recently opened the Moxy Lower East Side, or five venues in the Moxy Lower East Side, and they seem to be smaller, more intimate scaled, can you talk a little bit about that property and what you wanted to create there?
NT: Sure. So we have a partnership with Lightstone Group, who are a major developer of hotels, and years ago we set onto this road to develop four different Moxy's that they were developing in Lower Manhattan. So we started with Moxy Time Square where we have Legacy and Magic Hour and Bar Moxy, we moved down to Moxy Chelsea where we have the Fleur Room, Feroce, Bar Feroce. We then moved to Moxy East Village where we have the Ready, Cathedral, Little Sister, Alphabet Bar. Then we moved to the Lower East Side, so that's the latest and the last of the four-hotel deal with Lightstone.
So we, A, had many years of experience with other Moxy's to figure out and I think perfect it, which we really did with Lower East Side. Ultimately, the idea from the beginning was for each one, because they all had the Moxy flag on them, to have very unique F&B offerings and public space offerings, not only unique to each other, but unique to the areas where they were. So with the Lower East Side, we really wanted to design something that felt very Downtown, edgy, but also very New York, since that area's so distinctively New York. So we brought a concept that we had from other markets and we also created some new ones.
So Loosie's, which is our subterranean nightclub, we created in partnership with Dylan Hales and Ronnie Flynn, two guys that have a couple of really cool places in that area, like the Flower Shop. Silver Lining is a live music venue that we created also with them, both feel very unique, but also very appropriate to that neighborhood. Then we wanted to bring the Highlight Room, which is one of our very successful rooftop concepts from Los Angeles, from Hollywood, to New York, and that just adds the perfect space, because of the way the rooftop sits, it's the highlight of the property, it's got these sweeping skyline views.
Then we also brought a Japanese concept called Sake No Hana to the building, which while it did exist previously in a totally different form and country, in the UK, we created the brand, we kept the IP and did something really special with that. What was cool about Lower East Side was we got to work with a bunch of different firms, we worked with the Rockwell Group, we worked with a firm out of the UK called Michaelis Boyd, we brought in a new sound vendor for the first time, a guy named Nicolas Matar, who has a boutique and dance club, AV company. Then we got to work with a lot of our regular guys, people that we've done many projects with like Advanced with Angelo and Focus of course, who does a lot of our lighting work.
So it was a very fun project, very unique to the neighborhood. Then we also have the Fix, which is the hub, it's the center of the hotel, it's the main public space for hotel guests. So there's a bar, there's a grab-and-go bakery/coffee place where you can also have a breakfast or lunch sandwich, and there's a few small rooms that are adjacent to the Fix. But there's five outlets all in the same hotel, it was a ground-up building, we worked on it … The first project we actually fully designed on Zoom, we did it during the early, early throws of the pandemic, so that was interesting. It was also the first project that we opened in New York City post-pandemic. It's been about three months, it's doing great, people love it. All of them are unique, but they all work together to create this one-stop-shop experience. Once you get down to the corner of Broome and Bowery, you really have so many options without leaving.
SSR: Yeah. No, it's wonderful. I just got a tour of it, so it was super cool. The question with Moxy, what was, when Mitch approached you, Mitch Hochberg the owner, or when you decided to do this deal, what was interesting for you to do four hotels in New York? It's a lot of different venues, a lot of growth for you all, what was it about the brand too that you found attractive for your brands?
JS: No, I remember the first conversations. What was super interesting, A, the scale, to be able to do four ground-up hotels, and to be partners with someone with his reputation, someone we got along with right away and knew we would get along with for a long time. But what excited me was that we were able to create our own own-able brands in so many restaurants and really have Lightstone and these properties be the showcases of brand new concepts that we could do, which was super exciting. He wasn't really interested in having us bring our existing brands, he wanted to create all new unique brands to all of his properties, so that they would be unique and just that opportunity at that scale is what got me excited.
NT: We knew that Mitch was just a prolific developer, he had an amazing track record of producing amazing properties, he really knew how to build, he really had a great sensibility when it came to hospitality. We just knew, as I said earlier, having a great partner is one of the keys to being successful. We just knew from the start that Mitch was going to be that guy, and he gave us a real opportunity to basically open 15 new concepts in five-and-a-half, six-year period, all in New York City, all in unique locations, all in our backyard.
We grew up here, right? So having the ability to do that much, to have that much scale all in our hometown, all in Downtown between Broome and 36th Street, really for us was just a great opportunity, and do it with someone like Mitch, who just had decades of experience and we knew would develop, would deliver on these incredible integrated developments.
JS: When you see brands that were created out of this partnership like, let's just say the Fleur Room that started in New York, and now it's living in LA and thriving, it was really the vision we had to be able to create these concepts and then take them all over the world. To see it happen so quickly, it's just why we did it.
SSR: I can't believe you did all this in five-and-a-half years.
NT: … Open, right? Seven years when we actually signed the deal and started designing the first venue to today, it's about seven years. A big chunk of our career has been spent on projects, and we're just starting. We're going to be running these projects for a very long time, and feel really good, they're all really special and they're all very different.
SSR: It must be fun to figure out names and brands and logos for each of these.
NT: It's fun, but it's also stressful. It's hard, that work, especially when you're operating at the level we are, where you really want to have the trademarks and you want to have proper IP, proper brand guidelines. It's a lot of work, and it takes a lot of patience, because sometimes things don't always sound right, some things don't always work, you've got to reinvent, you've got to stay at it. Not everything is packed when it opens. I know when you come there, you feel like, "Wow, these guys are great, everything's full." But some of these things took a lot of time to work.
The pandemic hit us right in the middle, so we really had a real curve ball that we never could have planned for, but again, having a great partner, we were able to work through it and come out the other side even stronger, better way, where our places have all thrived post-pandemic. They're actually all doing better now than they were before, so God bless. We got lucky there.
SSR: Yeah, which is good to hear. Then there's been other, a bunch of change for you all too with MSG taking a controlling stake in TAO Group in 2017, and then TAO, you guys bought Hakkasan Group in 2021, so you've had a few very busy years. Talk to me about the Hakkasan Group, now it makes you one of the largest F&B operators I think in the world with all of your different venues. I know you guys like to push yourselves, but what was it about taking over this portfolio and expanding globally?
JS: That was an opportunity that came to us during COVID, the controlling company that owned Hakkasan Group at that point wanted to sell the company or find a partner, and we were the obvious partner just because we have so much synergy and essentially they were our biggest competitors, especially in Las Vegas. With our management team and our existing infrastructure, we knew if we could merge the two companies it was really a one-plus-one-equals-three right off the bat.
NT: From my perspective, Stacy, I feel we are very lucky. Timing was on our side, but there was also a real synergy with the management team. They had some really great people running that business, and once we connected, we realized that with our common backgrounds and both having two decades of experience running not only high value, high impact, high style Asian restaurants, but also big nightclubs, and then having diversity of other concepts around our portfolio, that we really were able to also acquire a really amazing group of people. They had an incredible team that we really seamlessly fit right into the TAO team and became one bigger better team.
For us, as the chief executives of that and architects of that, that was really attractive. We had really wanted to go into the UK market for a long time, and had been close to signing a couple of projects prior to the Hakkasan merger, and we loved that there was a really great infrastructure already in place in the UK with some really great people who had been there for a while and great brands, so we were able to really, almost overnight, acquire an infrastructure in the UK, plus a whole other infrastructure of partners around the UAE and different parts of the world where TAO Group hadn't been yet.
The other side, the Hakkasan Group hadn't had a large presence in New York, they didn't have any presence in Chicago, LA was a mixed bag and we were there, and we also had Singapore and Australia. So when we put everything together, we really did create a one of a kind, one of the largest premier hospitality companies with almost 80 branded locations right now. So a really good project, it was exciting, I always like to say that for Jason and I this is a rollercoaster, it's up and down, fast and slow, but it's always thrilling and it's always a ride. Definitely, the first 27 years of our career was that case, and the last three with Hakkasan and the pandemic have been that plus-plus.
SSR: Yeah, totally. How do you guys complement each other in business? Why do you think you two work so well together?
JS: I think our history is our backbone, the fact that we started so young, knew each other, experienced so much together. I think both of us would be, none of the wins would mean as much unless we had each other to share it with, and so we started in the beginning. I think that's a backbone, and we are just so closely integrated, everything from our personal lives to our family lives, it's just a family since day one.
I think also the complements come geographically. When I moved out to Vegas, we were able to divide and conquer. Although, we spend 19 to 20 calls a day and text messages and voice notes to each other, we really were able to divide and conquer. There's things that Noah's obviously much better at than I am, and there's things that I can complement the business on, but when we separated we had learned so much from each other by being side by side that we were able to divide and conquer, and it's been like that for 19 years, 18 years since I moved out West?
NT: 18 years. I add to that, I definitely think our bond is family, is sure, the strongest reason we work well together. But we also know each other's strengths and weaknesses so well that we are able to operate as one, and Jason knows exactly what to defer to me on, I know what to defer to him on, I know what to second guess him on, he knows what to second guess me on.
JS: What to delegate to each other.
NT: When I have a partner who just understands the ins and outs on the other side, it just makes you overall a stronger group. We know exactly, I know exactly the types of things to ask Jason to do and he knows exactly what to ask me to do, and we also know where we need to support each other. That type of synchronicity doesn't just come, even with practice, it only comes with time. You just can't buy or fake 30 years of working together and being with someone who you literally started in the exact same place and stayed together the whole time.
SSR: So what is Jason's greatest strength, Noah?
NT: Jason's greatest strength is probably his ability to just read a room, and to understand how to make connections with people, and that's almost priceless.
SSR: All right, Jason, your turn. What's Noah's greatest strength?
JS: He's just an amazing leader, but he hits all facets of it. He leads by example, he can hit every single facet of a business, and be the smartest guy or the most strategic thinker in each facet of the business. Everyone immediately, he gets their trust immediately, because they can smell it on him and they know that he has the wherewithal to lead them.
NT: We both share the authenticity card, Stacy, that again, you can't buy it, you can't teach it, you can't train it. When you have a partner who's just 100% as authentic as you are, it's just a special-
JS: No, that comes also from you handing out flyers, me bartending, we can talk the talk. We were in the trenches.
SSR: Yeah. Looking back, did you ever think you'd end up where you are today?
NT: No.
JS: I thought I was going to be in Vegas for three months, come home, we'd have Marquee for a few more years and that was maybe our legacy. But it's just gone totally different other journey in the best of ways.
SSR: Yeah. Is there a project you're most looking forward to?
NT: Going back to Harvard Business School's campus, we go every year and that's something I'm really proud of, and we get to speak to the students and connect with some of the teachers and professors that we're close with. That's not a business deal, but it's something that we enjoy personally doing. We've done it maybe 12 or 13 years now, we're going back, we're going to bring our boy David Grutman with us this time, and for me that's one of the things I look the most forward to every year.
JS: I agree with that, but I think now that we've finally got a TAO Hotel underway, I think that's a real evolution of the culmination of years and years and being able to take our whole collective company brands and knowledge and be able to create a new experience under a hotel flag, so that's going to be exciting.
JS: We've been waiting to do this a long time.
SSR: So what, you spoke about legacy, Jason, what do you think you want the legacy of TAO Group to be?
JS: I think more so than just how many venues we have or how much money we grossed or how big the company was, it's really about the people that work for the company and the lives and the livelihoods and the culture that we created. I think that's the legacy behind, that we've created this amazing management team that had unbelievable culture, who probably had ways that we changed the industry in a lot of ways by doing things a certain way and really treating it as a family and having people meet at their jobs and fall in love and create families, and people met their husbands or wives and created their family all under this TAO umbrella, and how big that's gotten and how many people we've touched under that.
That relates back to TAO Cares and the charity work and the employee relief fund that we created during COVID, and how we really spend a lot of time and energy making sure that our team members experience and their lives are more important than even our guests in our venues experience and lives, is where the legacy should probably end. That's probably what we should be remembered for, because it's a lot of people in a lot of countries that we touched. You spend more time with the people at work than you do even with your family. So I think that makes it even more important.
SSR: What has been your greatest lesson learned along the way? Noah?
JS: That's you, Noah.
NT: I think the greatest lesson I've learned is really that you have to pick your partners wisely, and just be really careful about who you associate with, and make sure that when you do use, go into business with someone, that you have the same culture and the same vision and the same alignment of interests.
JS: Just through the years, being able to manage and work with and for people in all sorts of different cities and the culture that comes in being in a different city, and learning the emotional intelligence to be able to interact and pivot to be able to get the best out of them, the most and the best out of them, has been a big learning and continues to be a big learning. We're going to be doing a big project in a new city, or even when we go to a new city like Dubai and having to deal with that city and its nuances and the way people there communicate and work together, that's a constant learning for me.