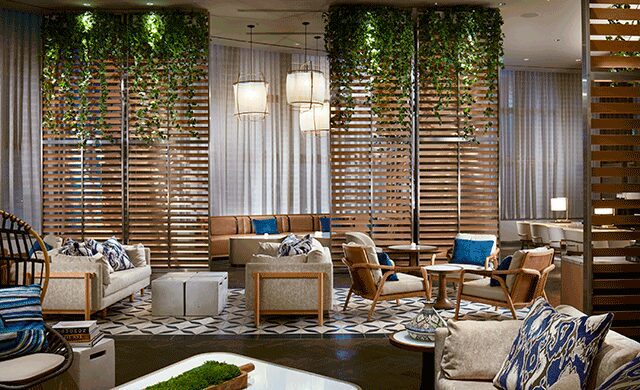 When chef Daniel Boulud sought to grow his eponymous culinary empire with the second iteration of his Mediterranean concept Boulud Sud (the first is in New York), he envisioned a backdrop defined by the sun and sea called to mind by the cuisine. Naturally, Miami stood out. The elegant Boulud Sud Miami is so steeped in authenticity, in fact, all that's missing is an Aegean breeze.
"We wanted to create an architectural dining envelope, which showcased the chef's menu in a beautiful, yet casual setting," explains Joanna Gonzalez-Guerra, a vice president with CallisonRTKL's Miami office.
The 6,350-square-foot space is reminiscent of a beachside residence in a sleepy fishing town. Lush planters and lanterns welcome visitors, along with colorful, original artwork from Brazilian artist Vik Muniz. During peak times, diners are invited to wait in shell-like seating nooks that frame the bright interiors. Wooden screen walls in the dining room complement the coastal white and blue color palette with greenery and lighting added to soften hard architectural lines. "The light fixtures, fabricated in undulating linen fabric, are reminiscent of sheer drapery swaying in the breeze," adds Gonzalez-Guerra.
Teal and white encaustic cement tiles help to differentiate dining areas while gray and white patterned porcelain tile span the outdoor patio, achieving a specific worn look that recalls the beachside residences that served as inspiration."We wanted guests to feel as if they had been transported in each of their senses to the Mediterranean," Gonzalez-Guerra says. "Appealing to the influx of young professionals and creatives moving to downtown and the many avid Boulud followers, the chef wanted [the restaurant] to feature an energetic lounge and intimate private dining spaces with a light and airy aesthetic."