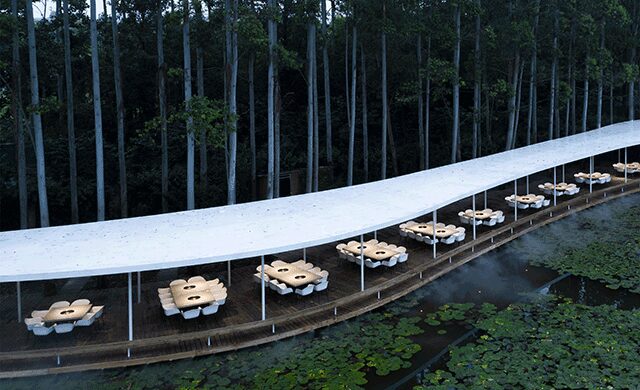 Garden Hot Pot
Chengdu, China
To create the ethereal Garden Hot Pot, locally based firm MUDA-Architects took the risky step of eliminating walls as a means to seamlessly immerse guests into the landscape. Surrounding a lotus pond within a eucalyptus forest in Chengdu, China, the restaurant positions diners as close to nature as possible. "Pillars and boards hide the building in the woods, letting it gently [merge] with the site and delineating the shape of the lake in a light and peaceful way," says founding partner and principal architect Yun Lu. The slightly raised platform of the restaurant is made of anti-corrosive wood, while its galvanized steel roof is coated with white fluorocarbon paint. Both are meant to evoke the steam and smoke rising from the boiling pots built into the tables, "which makes the construction look like steam curling between the pillars and trees," he adds. Impressively, not one tree was cut down during construction, and the surrounding plants have all been fully integrated into the site.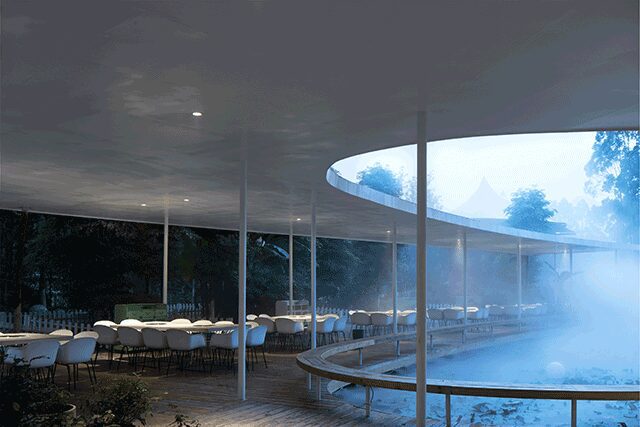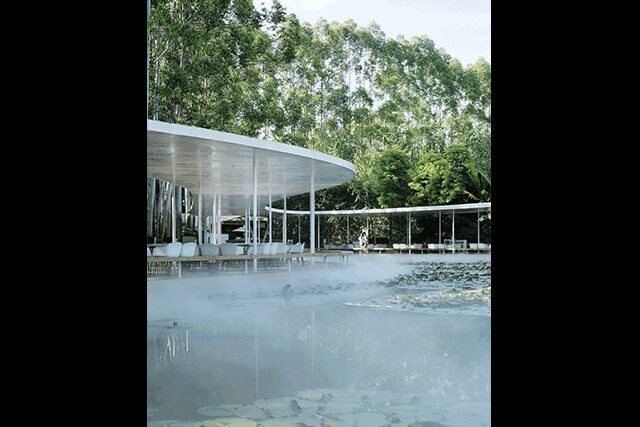 Hiroki
Philadelphia
For the highly anticipated Japanese restaurant Hiroki, found in the city's Fishtown neighborhood, local design firm Method Co. took a less is more approach, leaning into the lack of natural light by wrapping the space in textural materials like concrete, clay plaster, and timber. "We wanted the food to be the star," says creative director Daniel Olsovsky. "Our goal was to provide a [place where guests] can disconnect from the world and relax." The exterior proved to be the biggest challenge, however. Concrete was re-poured three times for the foundation of the façade to correctly align with the circular door, with an assist from local studio Stokes Architecture & Design. As a nod to chef Hiroki Fujiyama's Japanese heritage, the entrance was made using the ancient Japanese technique of yasuragi. "It's a great example of how design can influence curiosity," Olsovsky says.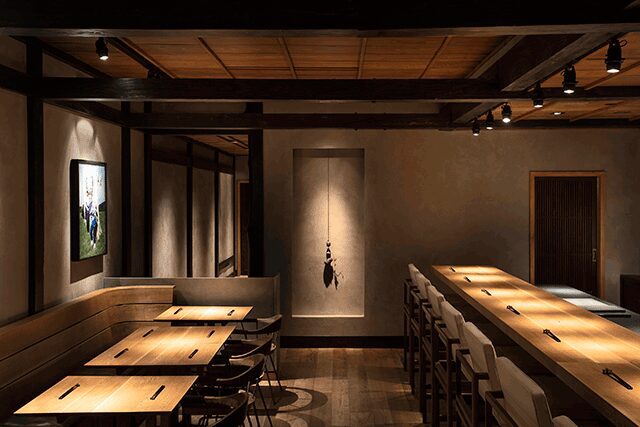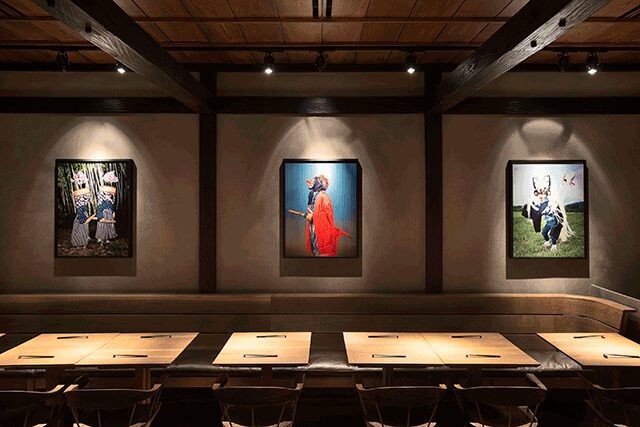 Saké Manly
Sydney
For Saké Restaurant and Bar's sixth location, in the Manly neighborhood of Sydney, the design team at locally based Luchetti Krelle took cues from its Japanese fusion menu, juxtaposing materials and textures for "a sophisticated tone," says design director Rachel Luchetti. Concrete floors, for example, are warmed by square, oak-topped tables and graceful paper lanterns. To heighten the experience, timber dowl sliding screens, inspired by sushi rolling mats, and circular wall cutouts separate different rooms from the main restaurant, which shows off views of the North Harbour.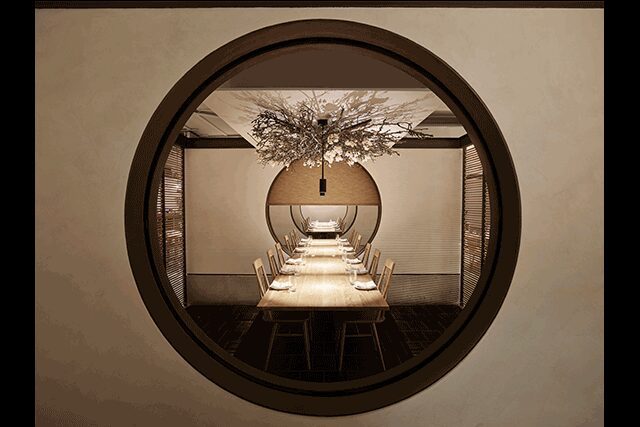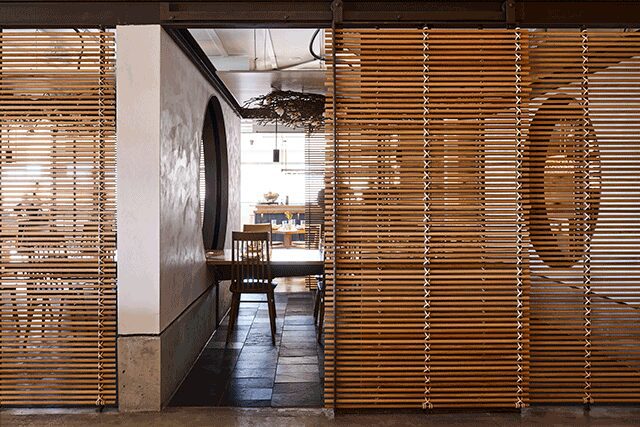 Auburn
Los Angeles
Auburn, the new Los Angeles output from chef Eric Bost on Melrose Avenue, is set within a building that once housed restaurants like Hatfield's and Michel Richard's Citrus. Instead of shying away from that culinary heritage, Jon and Maša Lončarič Kleinhample of local firm Klein Agency chose to illuminate it. "Entering the restaurant along an original clerestory signifies the division between what was original and what was added over the years," says Maša. "The guest simultaneously senses a careful, sculpted division between the floor, walls, and ceiling," noting how that tactile haptic band engages patrons with the likes of custom sconces and furnishings layered against lime-washed walls. Natural light and greenery are in dialogue throughout, particularly in the semi-enclosed center patio. Like Bost's progressive California cuisine, the solid, enduring materials—white oak, thick limestone slabs, vegetable-tanned leather—are meant "to exude a sense of effortlessness," adds Jon.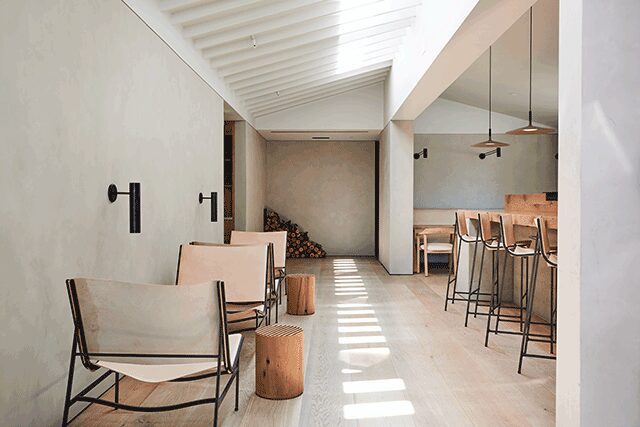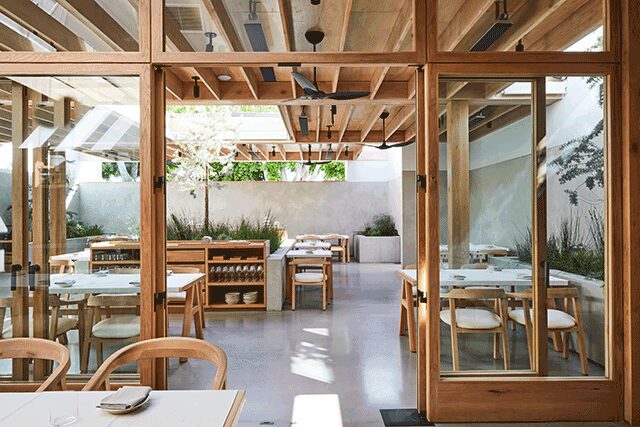 Burleigh Pavilion
Brisbane, Australia
In the late 1980s, a pavilion was built over a swimming pool, a former skating rink, and campsite at Burleigh Heads on the Gold Coast of Australia. As the Burleigh Pavilion, it now comprises casual restaurant the Pavilion, coastal brasserie Tropic, and a convivial outdoor beach den, fused together by a massive central kitchen that is one of the venue's only fixed pieces of architecture. Jeremy Bull, founder of Redfern, Australia-based design firm Alexander & Co., says the owners desired "a beach house with the spirit and memory of the coast." So, he instilled a "surfers' paradise-meets-Miami Art Deco" vibe with unexpected touches like the blue terrazzo that energizes the kitchen pass to tiled window nooks that evoke an alluring Old World glamour.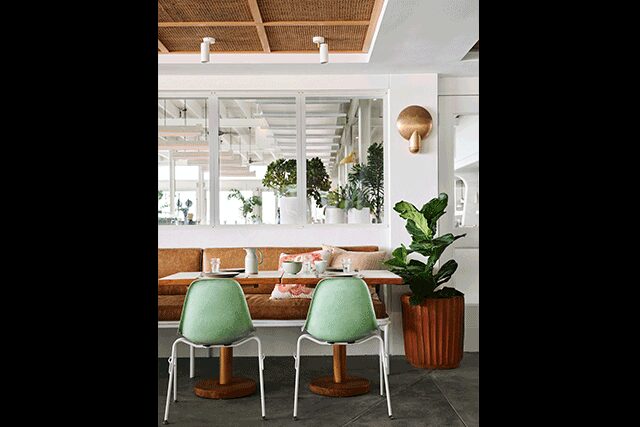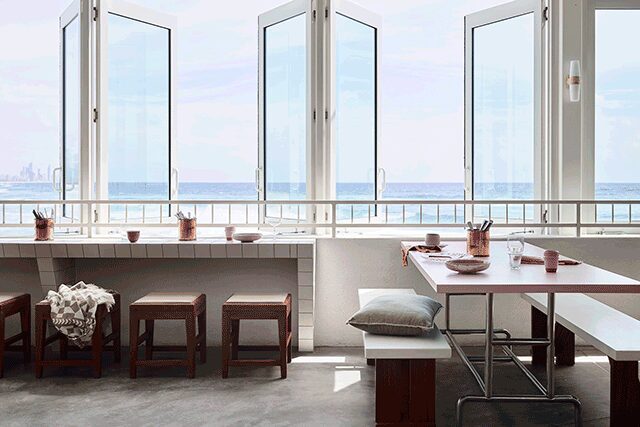 Le Jardinier
New York
French architect Joseph Dirand let his intuition guide the design for Le Jardinier, one of Midtown Manhattan's latest fine dining ventures. The vegetable-concentrated menu, as well as the new Art Deco-inspired glass tower where it resides, were both starting points for his pristine, light-filled composition of marble, mirrors, and moss green fabrics. "What you have on your plate and what you feel while you are in the space work closely together," says Dirand, adding that he wanted guests to feel as if they were dining on a terrace surrounded by a garden. "We included a lot of plants that seem to be growing between the architectural elements that give a sense of charm to the dining room." The double-height space is highlighted by vertical mirrors paired with striking Ayers blanched green marble—so rare, in fact, that Dirand sourced the last of it in the world from a quarry in India. "The most important part is not how people like the décor," he says, "but how they remember the experience."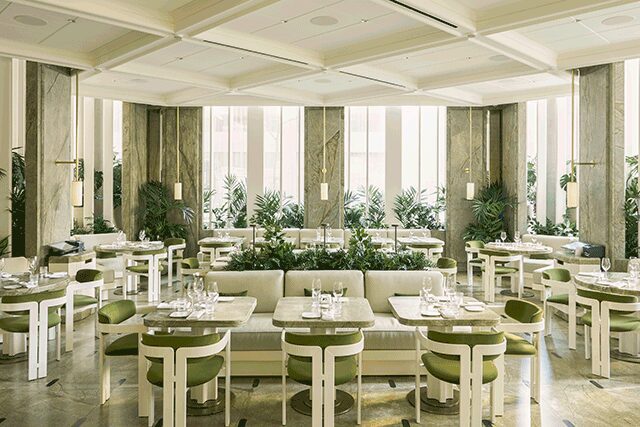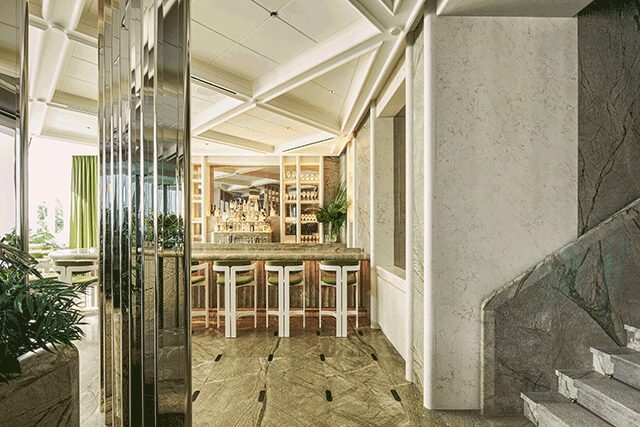 Sara
Toronto
Spanish architect Aránzazu González Bernardo and Canadian designer Michael Norman Fohring of Toronto design studio ODAMI often find themselves lakeside when they need a break from everyday life, so they turned to those elements—rippling waters, textured stones, and jagged shells—when conceiving the serene Sara restaurant in Toronto. "We wanted a refined dining space that instead of trying to be trendy and hip [evoked] a relaxed and tranquil atmosphere—a space to disconnect from the everyday buzz and focus on the food and the company," says González Bernardo. To that end, guests are greeted by a striking curved and textured ceiling that lends a sense of drama to the space while also conjuring a softness "as the ceiling and seating gently settle into each other," she says.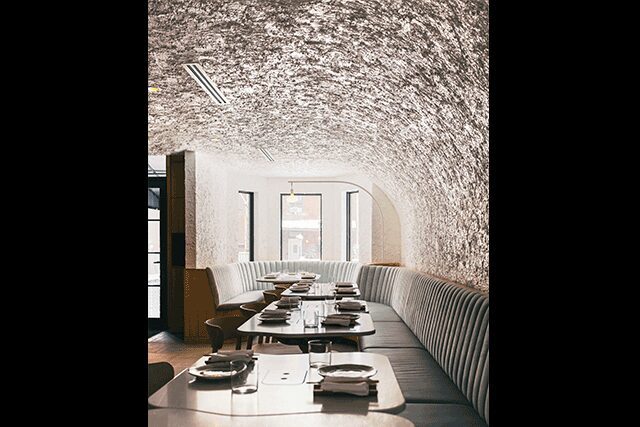 Gran Blanco
Venice, California
Great White, the bright Venice, California café, is such a hit with locals that Aussie proprietors Sam Cooper and Sam Trude decided to expand their laidback vision to the evening by opening Gran Blanco just across the street. Situated in the Bank of Venice building, a 1905 landmark designed by Abbot Kinney, the interior, handled in-house, features a muted color palette buoyed by textural elements like plastered walls and unfinished oak, as well as the soaring, uplit 20-foot-tall arched ceilings. One challenge for a restaurant celebrating the California lifestyle was "limited natural sunlight," says Trude. "We resolved this by opening up the storefront with operable doors." An earthy atmosphere is maintained through large Balinese rattan light fixtures, custom clay wall sconces, and olive green upholstery that complements the restaurant's abundant display of plants.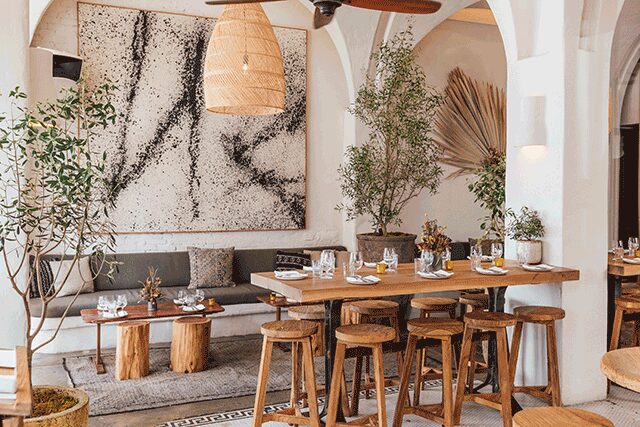 Maku Poke Stop
Cancún
Paloma Flores Herrero of Mexico-based studio WeWi conceived a beach-like haven for Maku Poke Stop, outfitting the space in natural materials that nod to the dreamy Hawaiian landscape. Chukum, a smooth local resin made from trees, was used for the plaster in the floors, walls, and ceilings, while round-edged tables were made with local Bojon wood. For contrast, oversized, layered concrete pots house tropical plants with large leaves that boast a rough texture and replicate colors natural to Hawaii. "[They were] a way to bring some of the natural landscape into the interior," says Herrero. "At the same time, they helped us create shadows, adding more depth to the space."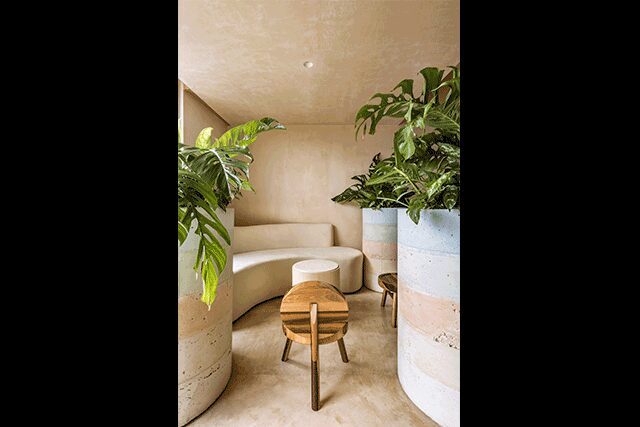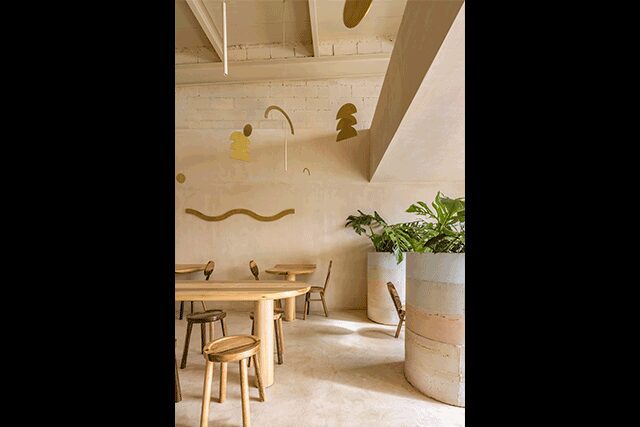 Humble Pizza
London
King's Road, once the Mary Quant- and rock 'n' roll-fueled bastion of 1960s London counterculture, is now an ordinary Chelsea high street. But, the arrival of Humble Pizza, awash in cotton candy pink Formica, winks at a more enchanting past when Mick Jagger would hang out at the notorious Chelsea Drugstore and Vivienne Westwood's first punk boutique opened down the road. "We wanted to capture those memories and create a melancholic atmosphere with soft pastel tones and midcentury motifs," says Alexey Kostikov, cofounder of local design firm, Child Studio. In tribute to the Italian immigrant-run "Formica caffs" of the 1950s, the vegan pizzeria balances its barrage of pink with mosaic tile, cherry wood, and green accents. The café "is now popular with fashion bloggers and Instagram models, proving that the legacy of King's Road continues to attract fashion-conscious Londoners," adds cofounder Chieh Huang.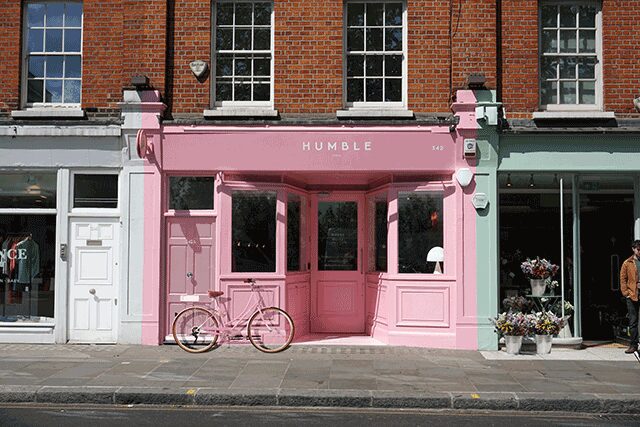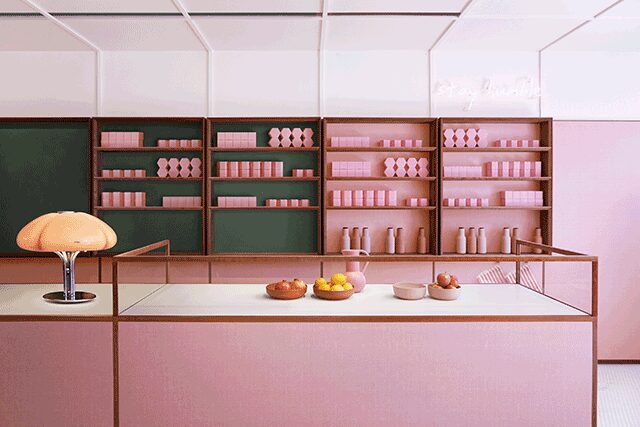 Commons
St. Petersburg, Russia
Outfitting a less than 250-square-foot space proved challenging for Moscow-based Yuloo Studio, but the firm's founder Yunna Lukinskikh "used big objects and volume to confuse the eye," she says of the farm-to-table restaurant and wine bar, Commons.  That is how the kitchen cube that looks like a room inside a room came about, as well as the marble slab against the wall with the restaurant's motto—Farm to Table—on it, a favorite of Lukinskikh's. Dilapidated brick walls were left untouched in some areas and covered in plaster in others, while the showstopping red floor reflects the client's passion for wine. "It was hard to find the right shade and convince everyone it should be as bold as it is now," she adds.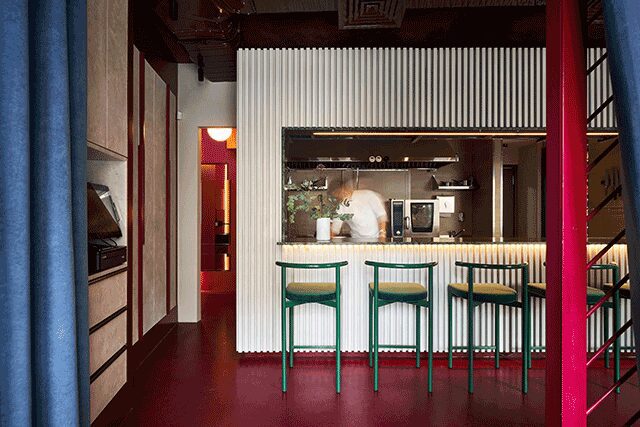 Wagaya
Lidcombe, Australia
Sydney firm Span Design conceived an otherworldly atmosphere at ramen restaurant Wagaya, starting at the mystical, portal-like entrance that transports diners to Japan. Once inside, a blush pink-painted tunnel is overlaid with video mapping technology that produces the illusion of falling cherry blossoms—a nod to the country's tradition of Hanami, which welcomes spring with a cherry blossom festival. To counterbalance the decidedly feminine moments, rich cobalt blue hues and perforated timber panels add depth and dimension to the space.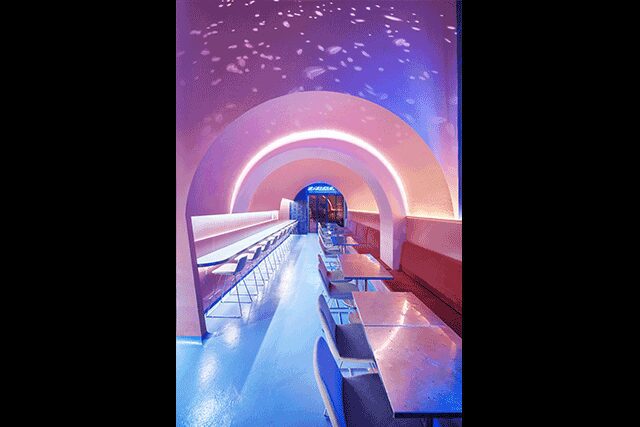 Virtuous Pie
Toronto
For the fast-casual, plant-based pizza and ice cream shop Virtuous Pie's debut outpost in Toronto, local firm Mason Studio was called on to translate the brand's healthy ethos into a clean, crisp design. Materials and finishes reflect the neighborhood while tying the vegan hotspot to its other locations. In a striking contrast to the white textured walls and booths, "the bright pop of blue carries through from the entry way to the dining tables and a stairwell, acting as a guide through the space and a reference to the blue sky—a conscious nod to the importance the brand places on a healthy planet," says designer Karen Wilson.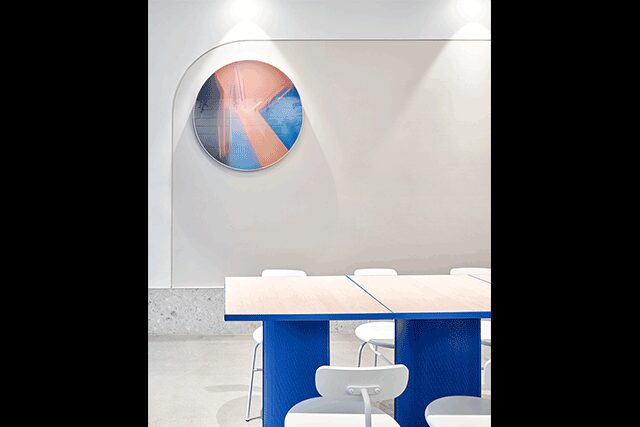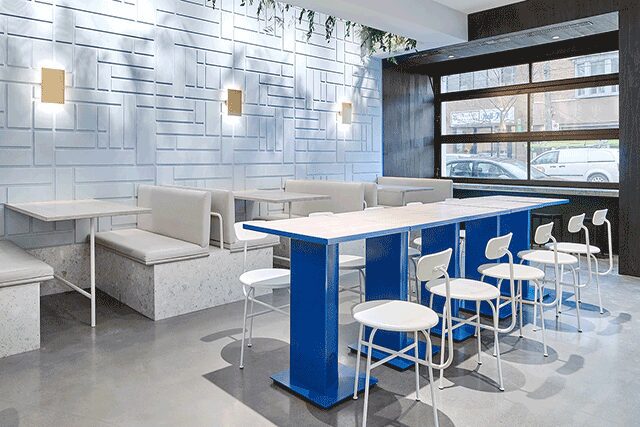 Photography by Arch-Exist, Matthew Williams, Anson Smart, Nicole Franzen, Adrien Dirand, Kurtis Chen, Brecht Vanhoff, César Béjar, Child Studio, Yuloo Studio, Andrew Worssan, Jayden Huang, Scott Norsworthy