In 2013, Sir Albert, a one-time diamond factory reimagined as a world traveler's Old World residence by Baranowitz + Kronenberg, opened in Amsterdam's De Pijp neighborhood. Three years later, the Tel Aviv architecture firm, as well as Amsterdam designer Saar Zafrir, unveiled the Art Nouveau-meets-midcentury Sir Savigny in Charlottenburg, Berlin. Founded by Israeli native Liran Wizman, Amsterdam-based Sir Hotels is owned and managed by Wizman's Europe Hotels Private Collection (EHPC), which spans the Park Hotel Amsterdam (one of the city's first lifestyle hotels) and the casual, upbeat Max Brown Hotels in Amsterdam, Düsseldorf, and Berlin. EHPC also handled asset management for W Amsterdam.
Wizman first envisioned Sir Hotels in 2011 as an upscale boutique brand in various cities showing off a clean design and neighborhood feel with buzzy restaurant concepts like the Butcher and Izakaya Asian Kitchen & Bar, shepherded by the Entourage Group— founded by Wizman and Yossi Eliyahoo—all while prioritizing guests' needs. Each distinct property is rooted in history and locale, bringing to life the personality of a fictitious, dapper man about town. The newly rolled out Sir Explore program also strengthens the connection to place through custom tours and workshops led by impressive local personalities. "It is crucial to retain brand familiarity despite the differences in design and atmosphere," says EHPC CEO Bram Van der Hoek. "With Sir Hotels, guests know what to expect the moment they walk through the door no matter which of the locations they stay." That's due to the Sir philosophy, where a cheeky vibe, seductively fluid public spaces, and engaging service are all part of the brand's DNA.
2017 was especially successful for the company, with the openings of Sir Adam—expanding its presence in Amsterdam—Sir Nikolai in Hamburg, Germany, and Sir Joan in Ibiza, Spain. All three flaunt impactful, one-of-a kind designs that signal a ripe future for the brand.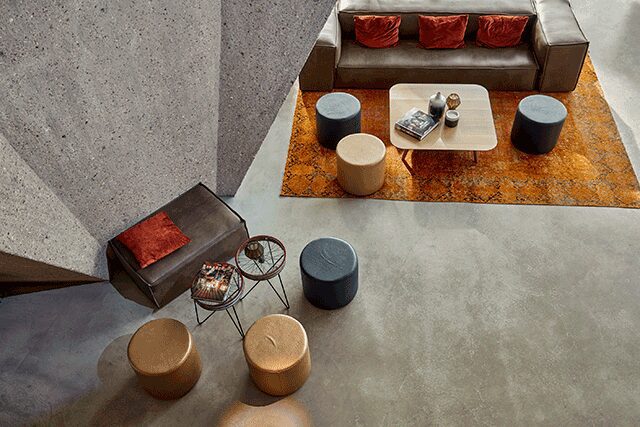 Sir Adam, Amsterdam
Opening a second location in Amsterdam, this time in the iconic A'DAM Toren Tower in an emerging waterfront area, provided an opportunity to reveal another dynamic layer of the city's personality, says Van der Hoek—an edgy and carefree one. "Being in North Amsterdam and sharing the building with music industry leaders like ID&T, MassiveMusic, Sony, and Gibson means we were able to create something fresh and nurture an entirely different community," he explains. For ICRAVE, the New York firm that handled the interiors of the 108-key property, art and music were the guiding inspirations for the hotel that Jesse MacDougall, director of strategy and brand development, points out was "a harbinger of change for the neighborhood." Public spaces engage the community as much as the guests. Butcher Social Club, for example, features murals, game tables, and a two-story green wall. Up on the mezzanine, the check-in process unfolds at a console designed as a lenticular sculpture, while a Music Library encourages listening breaks. Guestrooms, however, steal the show. "Our client let us experiment, like leaving the concrete columns and ceilings exposed," MacDougall says. Cantilevered desks, rosewood beds, and Calacatta tile bathrooms are swank touches, but it's the colorful artwork, record players, and song lyrics whimsically etched into mirrors that reinforce Sir Adam's robust creative streak. This hotel, adds MacDougall, is for those "who want to rediscover Patti Smith in their hearts."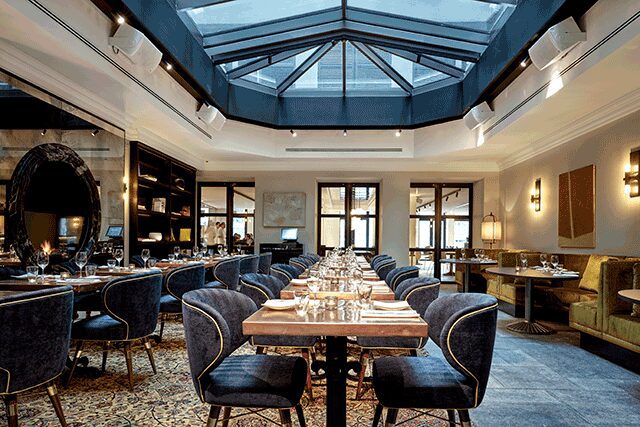 Sir Nikolai, Hamburg
"Hamburg has become an increasingly popular destination among travelers, with eclectic neighborhoods that are home to creative types and innovators. Yet, with all this increased hype, we noticed a gap in the hospitality and culinary worlds," says Van der Hoek.
To remedy this, Amsterdam firm FG stijl converted a former office building on the city's Nikolaifleet waterfront into Sir Nikolai. A lightwell courtyard, for instance, has now morphed into an inviting hangout with a retractable glass roof and circular marble fireplace. Windows in the old warehouse where fine dining concept Izakaya is found were cut out to make way for glass doors that lead to two cantilevered terraces, while public areas were designed as interlocking spaces.
"The central patio with aged Belgium hardstone is the center of the ground floor between the 'family house' at the street side, and warehouse at the back, which overlooks the water," says Colin Finnegan, cofounder of FG stijl, recently rebranded as FG stijl by Colin Finnegan. Terrazzo, smoked herringbone, and oak help define the 94 individual lairs. "The materials were chosen to give character and a sense of history to the hotel," he says. "They can also be found in the surrounding buildings in the HafenCity area and Old Town." All courtyard hotel windows don shutters to instill a feeling of privacy, echoed by guestroom accents like rolling cocktail carts.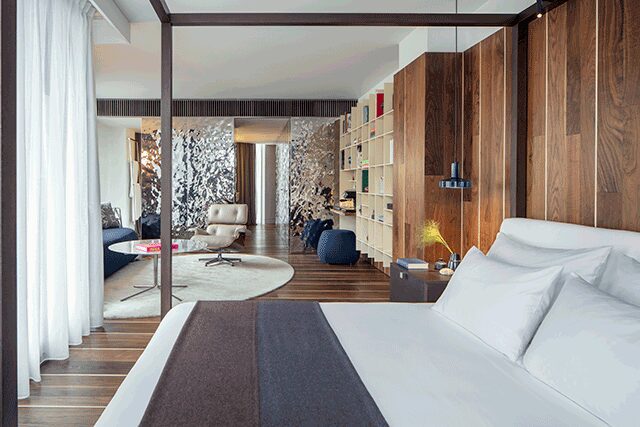 Sir Joan
The 38-room Sir Joan was a passion project for Wizman. "Liran has had a longtime personal connection to Ibiza, having been enamored with the bohemian past and luxury present," says Van der Hoek. Yet, from a business perspective, its arrival serendipitously meshes with changes in Ibiza from a clubbing destination to "a revival of its older, free-spirited community, creating an opportunity for Sir Joan, which reflects the ethos of Ibiza taking inspiration from the marina, the ocean, and also the people on the island." To accomplish this, Baranowitz + Kronenberg was once again brought into the fold with help from Barcelona firm Ribas & Ribas Architects. Nut wood flooring with an inlay of parquet mimics yacht decks, an undulating steel bar resembles bollards, and a brightly patterned carpet is an ode to the tattooed seamen of yore. "We don't have any lights on the ceiling and it's like walking into water," says cofounder Irene Kronenberg. But there is a polished aluminum lamella ceiling that gradually shifts hues to reflect the changes of skies and seas, complementing walls of deformed, polished stainless steel "where you can't see yourself, but a duplication of yourself. We play with a lot of reflective materials and sensations in this project." Influences such as conquerors and mermaids are so far detached from Ibiza's modern-day image of DJs and debauchery, but Kronenberg says it's essential "to see the touchable and the untouchable, and always work with what is and isn't there. It's a decision we made to try and design a hotel that's unlike Ibiza right now by looking at its history. Today, there are party people, but back then there were pirates."