MNDFL > Hyphen & Co. founder Shelly Lynch-Sparks was at the helm for New York meditation studio MNDFL's three locations in Greenwich Village (a collaboration with local firm Bright Architecture, pictured), the Upper East Side (also the handiwork of local firm Taylor and Miller), and Williamsburg, Brooklyn. As a nod to the brand's mission, she infused each serene space with plants for a lived-in, back-to-nature feel. Wooden benches in the reception areas and lounge spaces double as cubbies to hold belongings during sessions, while white oak and whitewashed brick "keep the palette neutral and soft," says Lynch-Sparks. In one studio room, natural light pours in from skylights to highlight a dramatic green wall installation—a brand staple.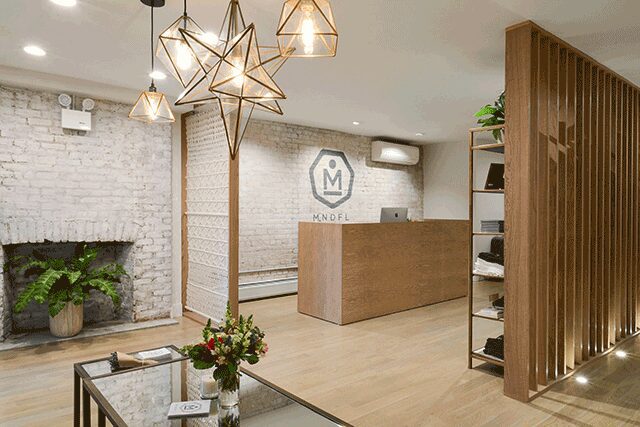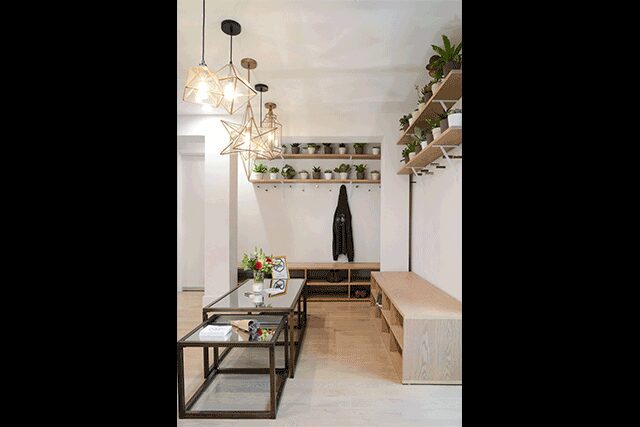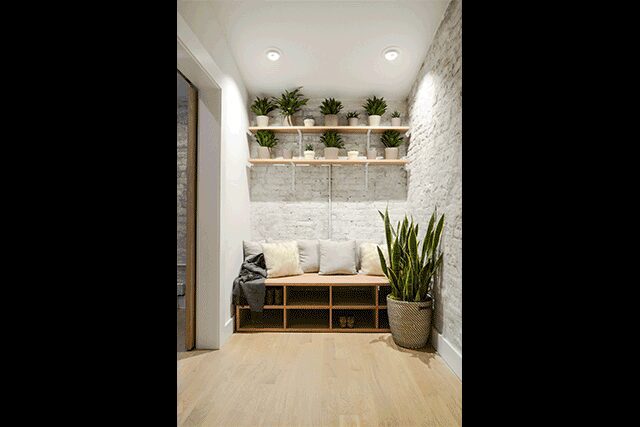 WTHN > For acupuncture studio WTHN's first location in Manhattan, founders Michelle Larivee and Dr. Shari Auth tasked New York firms Shadow Architects, Hyphen & Co., and branding agency Fuzzco to develop a concept with "a good amount of curb appeal and a playful attitude, but also a spa-like tranquility," says Shadow Architects principal Larry Cohn."The spaces change in scale and design as you progress through the environment and are reinforced with the use of textured materials and lighting." Oak and brass elements juxtapose neutral-toned fabrics and whitewashed walls in the lobby, where a striking tambour- and marble-clad reception desk welcomes visitors.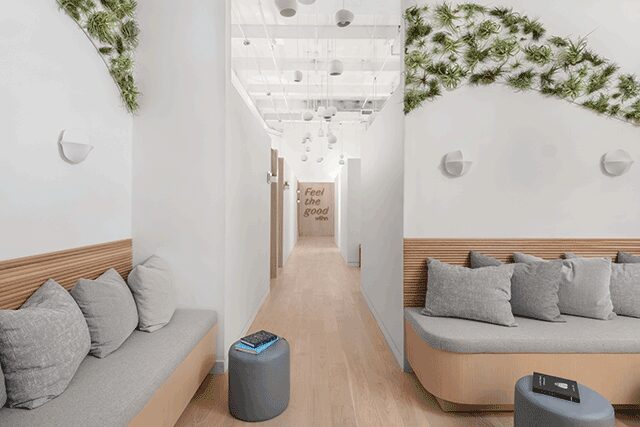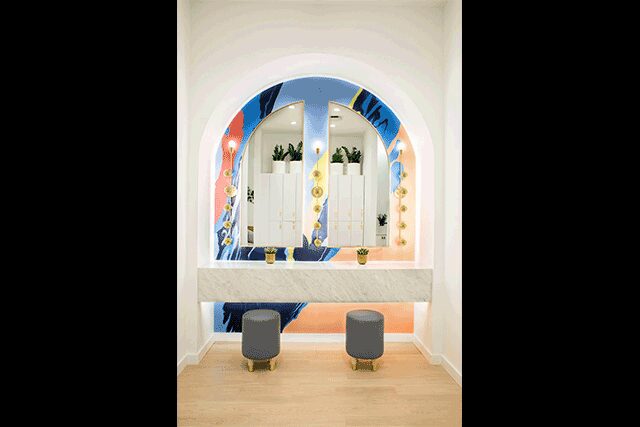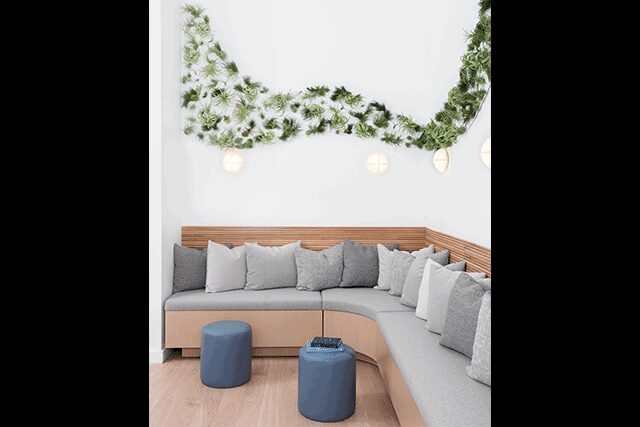 Humming Puppy > After transforming the yoga experience with its unique humming sound wave classes in both Sydney and Melbourne, Humming Puppy looked to Manhattan for its first studio outside Australia. Melbourne designer Karen Abernethy teamed up with Brooklyn-based firm Mesarch Studio on the project, which accentuated the building's original details, such as 15-foot-high vaulted ceilings, steel Corinthian columns, and arched windows. Neutral tones, natural materials, and minimal lighting amplify the soothing aesthetic in the lobby, while other spaces are delineated only by floating curtains for an ethereal quality. From the outside, the self-contained ebony-dipped studio rooms "appear to be a floating mirrored volume that reflects its surroundings," says Abernethy.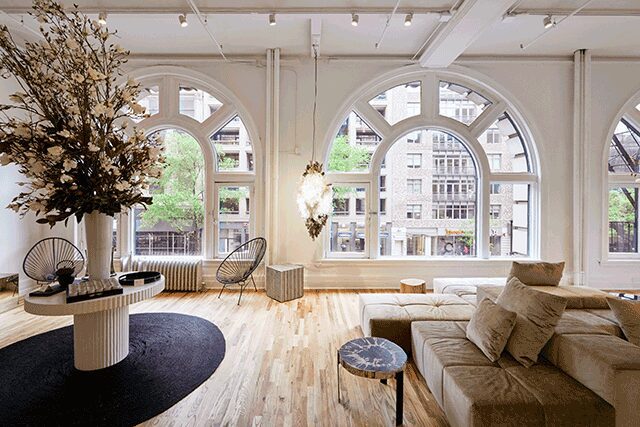 Blu Galaxy > After being in the business for more than 30 years, Blu Spas' principals Cary Collier and Doug Chambers are known for masterminding some of the most transformative spa experiences around the globe. Consider the tranquil atmospheres of the newly opened spas at the Yabu Pushelberg-designed Four Seasons Hotel Kuwait at Burj Alshaya and the Four Seasons Hotel Tunis by Mason Architects and Bilke Chen. Yet, their most daring idea comes in the form of a sustainable, cost-effective alternative dubbed Blu Galaxy, which Collier describes as "a healthy living ecosystem, a refuge of simplicity and play, and a wellness haven with a village vibe for guests, community, and visitors." The adaptable, scalable concept (three U.S. projects are in early development stages) will offer a "soak and play" module with components like salt flotation pools, salt caves, exotic showers, lounges, a river walk, a mud house, and cowboy baths. It's conceived for the broad wellness market demand, but rooted in Mother Nature, "the holy grail of happiness and awe," Chambers adds.


Entière Dermatology > When taking the leap to open her own dermatology practice in Manhattan's Flatiron district, Dr. Melissa Kanchanapoomi Levin was led by her belief that "the pursuit of skin health and wellness should be democratized in a simple, beautiful, and natural approach," she says. Working alongside creative designer Venessa Rosely and architect Thomas Barry, principal of Brooklyn-based Opera Studio Architecture, the 2,000-square-foot loft space includes seven treatment rooms, a waiting area, numbing/meditation lounge, a storage area, lab, and staff offices. Glass, wood, and plaster surfaces "peel away to reveal the layer below," Barry says, shaping treatment rooms, a curated product bar, and custom terrazzo-topped vanity. The waiting room's Scandinavian-inspired design highlights the gold "Entière" sign above the reception. It means "whole" in French, says Levin, "which is how we approach patient care."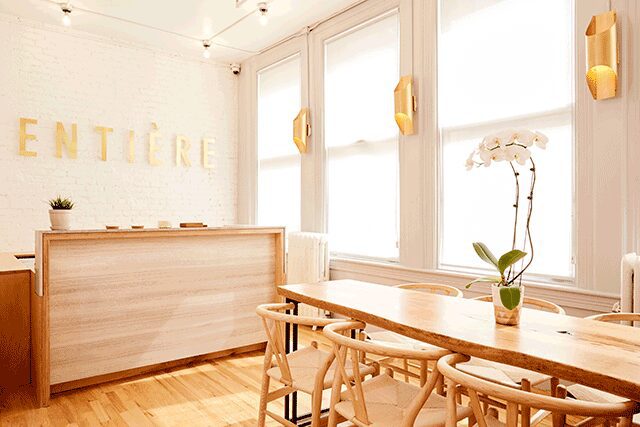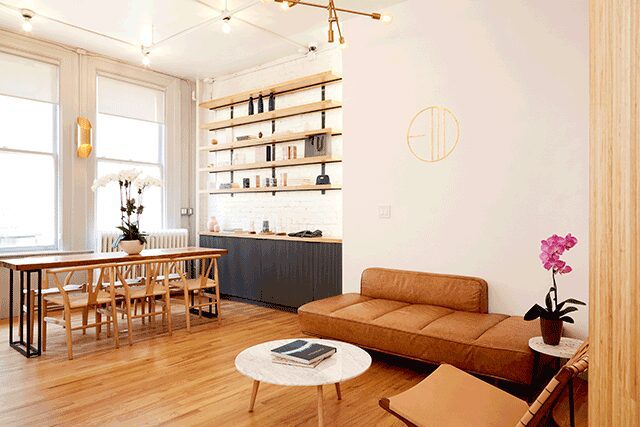 Hôpital Vétérinaire du Parc > An abandoned photo studio in Montreal has been transformed into four residential units, a SPCA emergency clinic, and cutting-edge veterinarian hospital Hôpital Vétérinaire du Parc, designed by Thomas Balaban Architecte (TBA). A new façade of local limestone and glass contrasts the streamlined interiors, conceived with stone, concrete wainscoting, and ceramic tiling. "On the ground floor, we organized the clinical spaces around a central circulation spine to allow for a spacious reception where animals and owners can circulate freely," says Jennifer Thorogood, TBA partner and senior designer. Popping up in the reception desk, the muted blue statement color refers to the vet's branding, while a cut-out glass floor is a window from the public area to the basement below easing "some of the anxiety that comes with visiting a hospital," says Thorogood.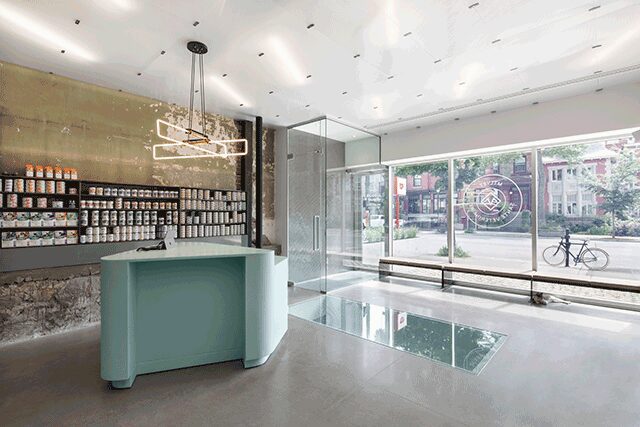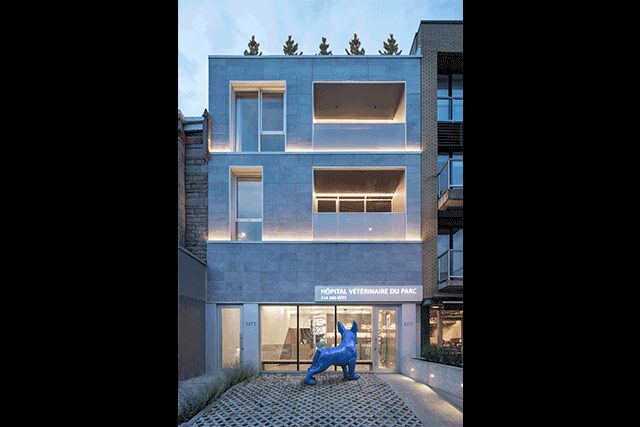 Photography by Phoebe Cheong, Claire Esparros, Joseph Shubin, Paul Thuysbaert, Richard Wait, and courtesy of