Twenty-four hours to create the next iteration of the luxury hotel guestroom. That was the one-of-a-kind journey Hilton and Hospitality Design sent 12 world-class design firms on during the inaugural Box competition this year, with the winning design debuting on the HD Expo show floor in Las Vegas in May. To judge such a feat—"the room of the future," as Leo Eskenazi, senior director of design for Latin America and Caribbean at Hilton and the mastermind behind the challenge, puts it—assembling an esteemed panel with varied backgrounds in the hospitality industry was necessary. Enter Argeo Hospitality president and TV personality Anthony Melchiorri; designer and Queer Eye sensation Bobby Berk; Larry Traxler, senior vice president of global design at Hilton; and Maurice Perry, director at design consultancy Perrysketch.
All met at Frank Lloyd Wright's Arizona Biltmore Hotel in Phoenix in January, where they were given the rules and tools for crafting the luxury digs, which would be housed in an approximately 13-by-32-foot space built by Admares using modular technology, with a twist: their designs—utilizing products from the two dozen sponsoring companies—had to channel a 1920s Art Deco aesthetic (a nod to Hilton's 100th anniversary). "You could see their minds kind of explode and say, 'Oh, wow, this is going to be way more intense than I thought,'" quips Berk. The 1920s was a "point when the decorative arts and modernism all came together. It was all about optimism, about the new world, about new opportunities to go places," says Rottet Studio principal Richard Riveire, who participated in the competition. "It's perfect for the architect who's interested in hotel design."
The challenge was unique not only because the designers had a short amount of time to conceptualize as well as sketch or render, but they also had to present their concepts in front of the other participants—their peers. "I have never had the opportunity to present my design ideas in front of our competition, and I doubt if any of the other design firms have either," says Traxler. "There was a real spirit of camaraderie and support for the other firms presenting." Moving past style and material, "they were able to hear how the other design studios thought about design and what their methodology was for solving the challenge of future luxury," he adds.
In the end, four finalists were named for their different, yet thoughtful designs, including Toronto's Chapi Chapo Design, the San Francisco office of HBA, Los Angeles-based Gulla Jónsdóttir Architecture + Design, and Miami studio Urban Robot Associates. After another review and much deliberating, Chapi Chapo was crowned the winner because the firm pushed "all the buttons in terms of luxury," notes Traxler. "It was understated creativity," adds Melchiorri.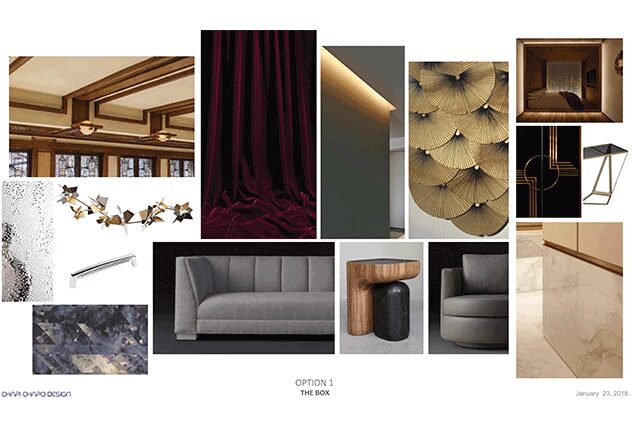 Indeed, Chapi Chapo chose an immersive approach, merging the living area with the bedroom and connecting the bathroom through a glass partition that can go opaque (plus, it is embedded with a tablet, allowing guests to watch shows from the bathtub or bed). In fact, technology was key, foregoing a traditional TV for a projection screen that covers a wall doubling as the room's main entertainment-work hub and art wall.
Contrasts reign throughout: light and dark, open and compressed, and soft and hard. For instance, the entrance as well as the bed nook are wrapped in a dark wood veneer, while in between, the bathroom is decked out in a light stone-like tile and the airy living room is dressed in shades of gray. Metallic finishes—found in the gold-finished artwork and the Art Deco-inspired brass screens—unify the spaces (and add a bit of glitz), along with chic furniture pieces that are reminiscent of the bygone era. Each casegood is "like a piece of jewelry. [It really has] a residential feel," says Alienor Guilhem, Chapi Chapo's co-CEO. Overall, it was the firm's "fresh planning approach, use of materials, shattering of traditional approaches to art and the TV, and beautiful hand sketches" that solidified the win, says Traxler.