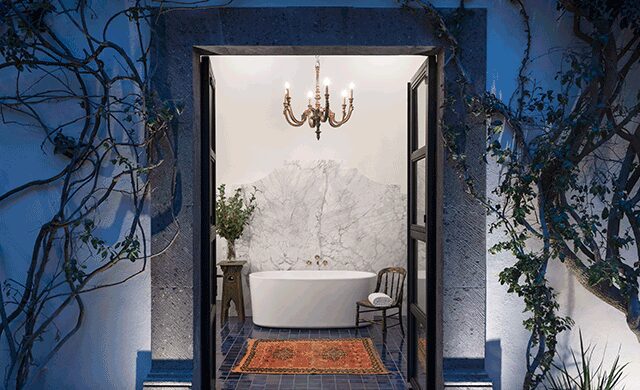 For his first hotel, project designer Aaron Rambo worked with owners Taylor Goodall and Mariana Barran de Goodall on the five-suite Hotel Amparo, situated in one of Mexico's most thriving cities: San Miguel de Allende. "We share a love of old, cool things that have a history, a story, a soul," says Rambo, owner and principal of his Houston-based firm Aaron Rambo Creative.
Bonding over their love of vintage art and antiques, Rambo designed the couple's home in Houston and soon found himself traveling with them to San Miguel de Allende—where Goodall and Barran de Goodall spend one-third of the year. "While there were fantastic hotels in San Miguel, there weren't any exactly like the type we gravitate toward when traveling—small boutiques that mix contemporary design with an Old World style," says Goodall. "We decided to try to fill that niche."
While searching for suitable properties in the UNESCO-protected historic city center, the trio found a 300-year-old residence (historically the mayor's private home) with a picturesque central courtyard. Remodeling started soon after, with Rambo retaining original features such as wood beams and paneling, decorative plasterwork, and tiles. "For the interiors, we thought globally. As soon as you step out of the door, the vibrant San Miguel culture is everywhere, so Hotel Amparo is a breathing space," says Rambo. "I wanted to create a crisp white box as a gallery for our furnishings and art sourced from around the world." With a background as an antiques store owner, Rambo started collecting inventory, which he then arranged around the hotel's residentially inspired spaces, giving them their own identity all while working within a specific scenario. "I imagined a crazy old aunt, married a lot of times, who traveled the globe only to return home with the things she'd acquired along the way," he says.
The private lounge exemplifies this approach. A lightly worn, emerald green Chesterfield sofa is a focal point, while layered vintage rugs and an oversized crystal chandelier uphold the gravitas of the space. Among Goodall's favorite pieces is the vast collection of art, including paintings and pottery, not least a set of hand-drawn letters by contemporary Mexican artist Pedro Friedeberg. Alternatively, Barran de Goodall says her most beloved piece is the pair of leather swivel barrel chairs that were purchased at auction. Thanks to Rambo's discerning eye, they were brought back to life with a citrus green Otomi fabric that adorns the back.
Rambo's ardor for all things graphic led him to play with the hotel's branding, distilling the logo as a motif for the steel entrance gate and deconstructing it further as a pattern for new bespoke bathroom tiles. These elements mix with bold hues found throughout, notable in the two-story tiled fireplace in the inviting courtyard done in an eye-catching cobalt blue. That hue makes another appearance in the flagship suite's bathroom, itself distinguished by a slab of Italian white-gray veined marble that doubles as a room divider and backs a pedestal soaking tub.
In addition to the coffee shop—wood paneled and enlivened by Lucas Risé's sunny yellow ceiling fresco—guests have access to a rooftop lounge outfitted in steelwork, stucco, stone, and terracotta plantings, which offers sightlines to the central market. "We've achieved an effortless global design that makes people feel at home yet surprises with tongue-in-cheek details," says Rambo. "We've pulled together pieces in a way that people haven't seen before by creating a gentle statement through a little controlled chaos."