Set at the base of mountains, Telluride sparkles with sunlight and blooms during the summer. This was the vivid season that resonated with Liubasha Rose, creative director at Miami-based Rose Ink Workshop (who worked with Auberge Resorts Collection chief creative officer Kemper Hyers at Starwood Capital before venturing out on her own), when renovating the ski-in/ski-out Madeline Hotel & Residences 10,540 feet above sea level.
"There is a certain look in the high-end expression of American ski towns, and I wanted to move away from that fall-inspired Southwest color story and design direction," she explains. "I'm from Ukraine and I always go back to that village style of architecture with a lot of detailing, carving, and layering in of wood that's European. We wanted to apply that memory here so the Madeline doesn't say you arrived at an American ski resort."
Instead, the 83-room, 71-residence property conjures a folkloric Swiss chalet. Anchored by a large custom table fashioned out of ebonized walnut, the entry is infused with retro alpine glamour, buoyed by pine trees sprouting out of planters, a vintage ski display behind the blackened steel and Pietra marble reception desk, and a handpainted decorative molding that subtly evokes the moon's various faces.
A fireplace clad in more blackened steel and crowned with reclaimed wood is the centerpiece of the Great Room, a sophisticated gathering hub and thoroughfare. Glowing with selenite crystal sconces designed by Rose Ink Workshop's sister lighting business, Stone & Rose, it has a number of seating vignettes that incorporate deep, built-in banquettes or chairs that nod to the 20th-century Swedish furniture designer Axel Einar Hjorth.
Originally, the concierge desk was intended to stand where the long sofa is now positioned in front of a plaster relief mural by John Opella. "During the demo, we realized that there was a concrete step buried there, which would have placed the concierge 18 inches higher than the guest," recalls Rose, "so we decided to add a freestanding desk to the lobby area while turning this into a huge, comfy banquette. Everyone sits there looking at the fireplace."
Public spaces were designed so that they "tumble from one into the next," Rose says. Past an arched millwork cabinet that doubles as a water station and through a dark blue vestibule, visitors enter the Timber Room. A hive of après-ski activity, it is composed of fluid zones that act as a "group of friends in conversation with each other," says Rose, yet "it still feels very much like one space."
Here, the fireplace is double-sided, just like the clever sofa that demarcates two separate lounge areas. One might also perch at the ornamental oak and walnut bar topped with limestone, or the banquette in back of the restaurant that is capped with backlit pottery and recalls Austrian architect Josef Frank's oeuvre. "[It] feels like it grew organically and was designed over time," she explains.
Guestrooms echo this rustic but polished atmosphere, melding dark wood four-poster beds, ski-print carpets, and fabrics redolent of sweaters with surprising features like a metal desk. "It's not what they would expect to see in this environment," Rose says."It's quite chic, with an urban edge."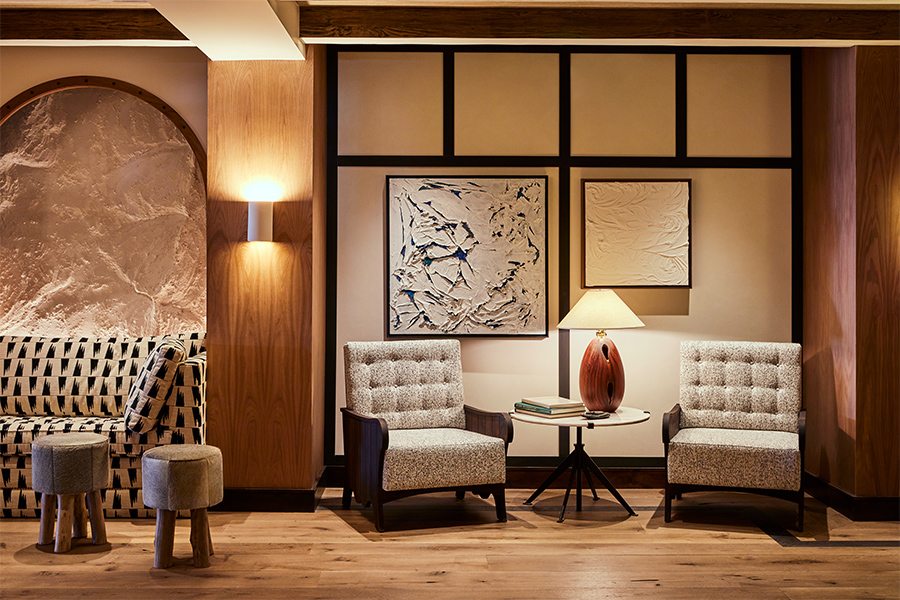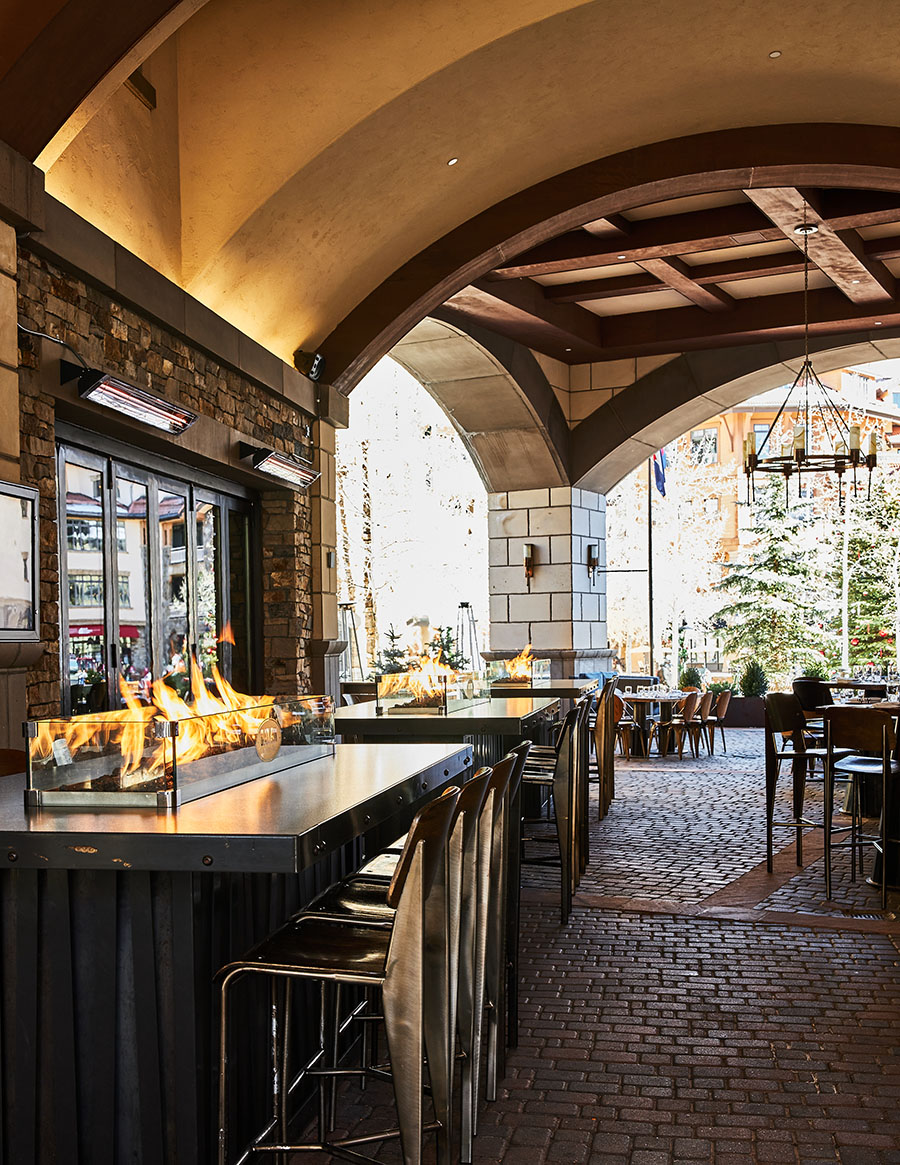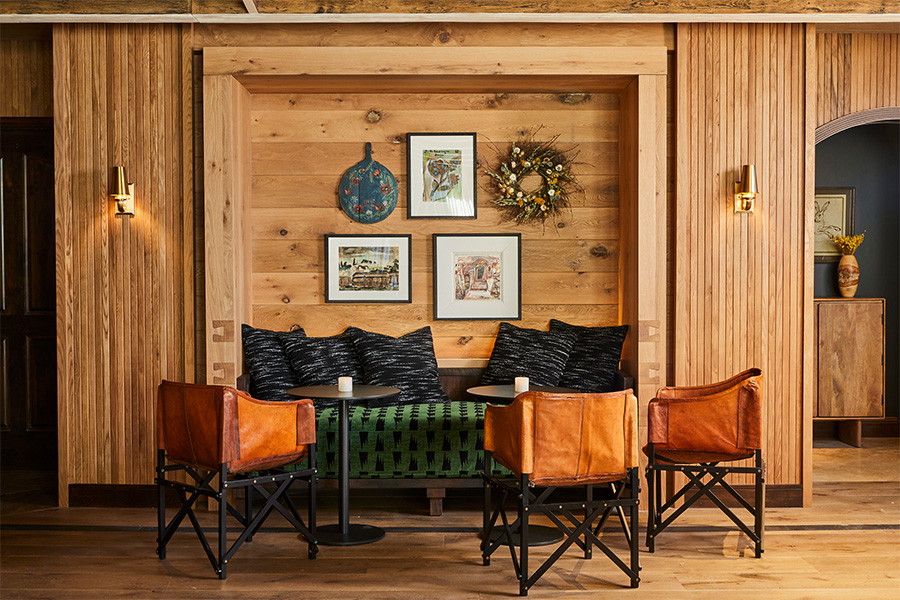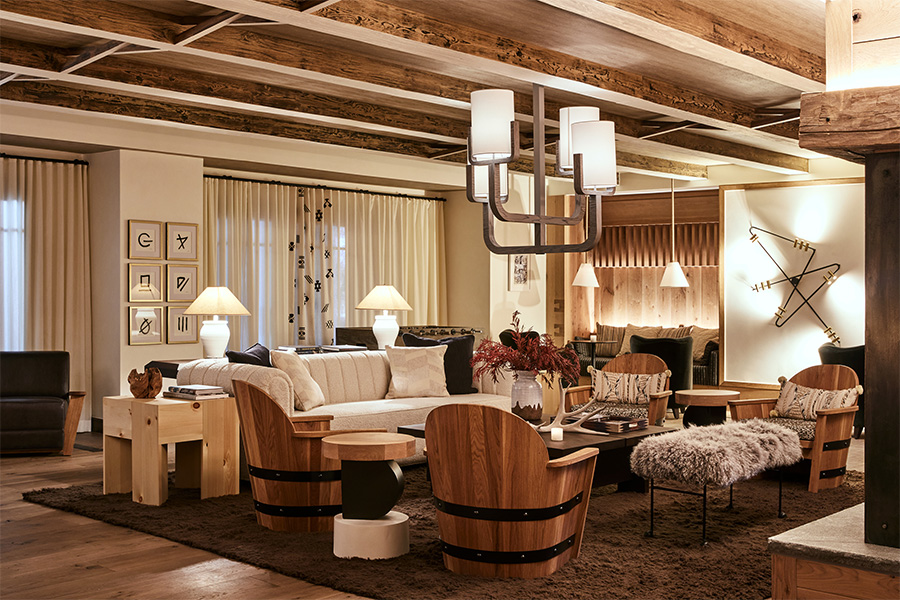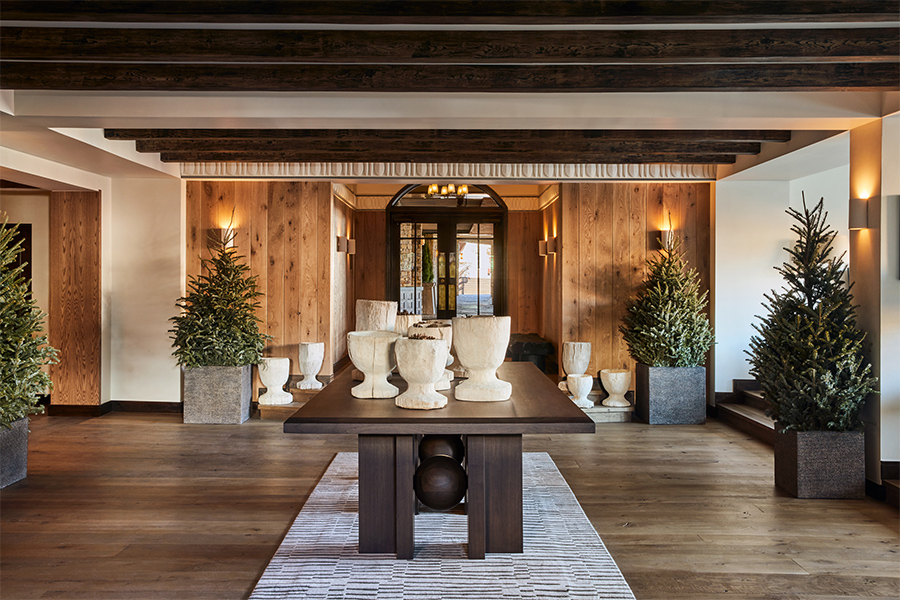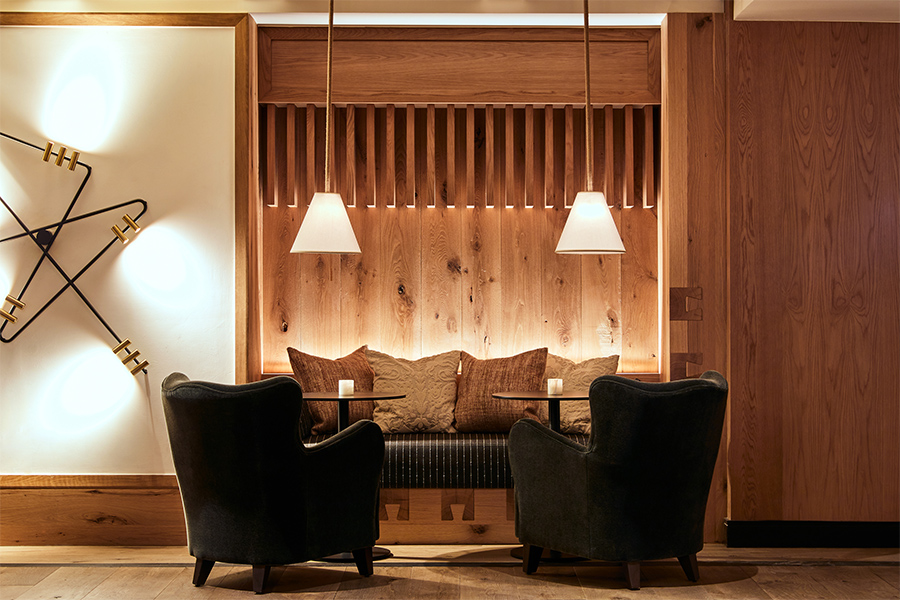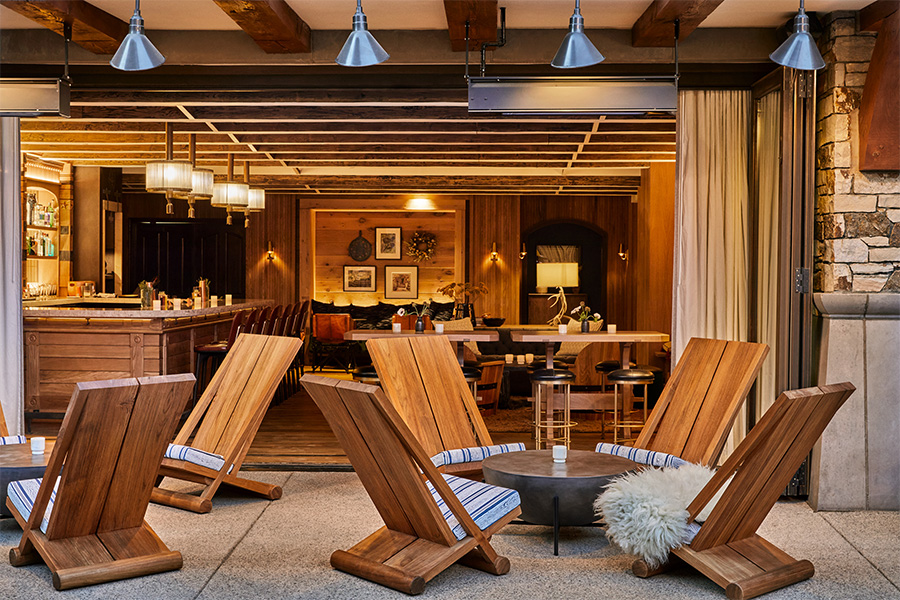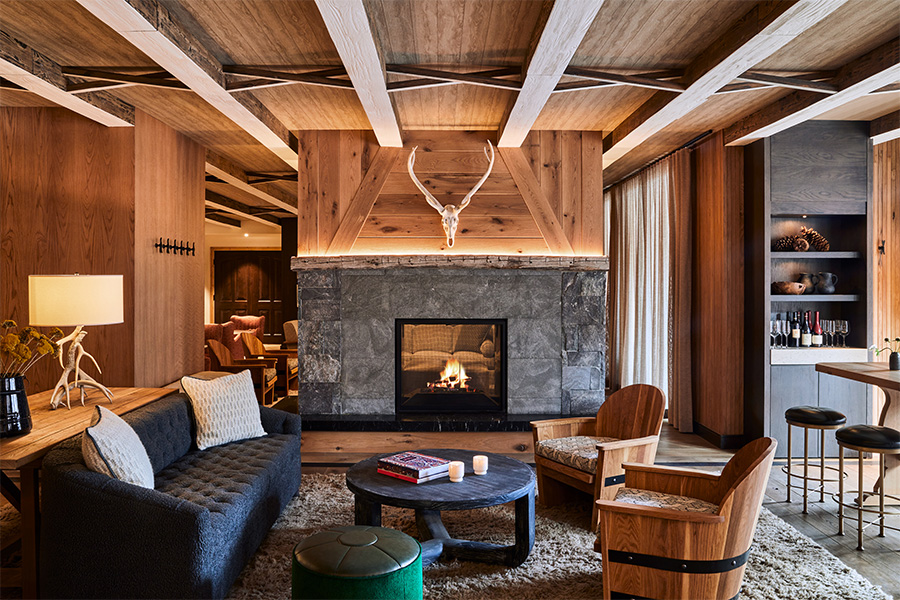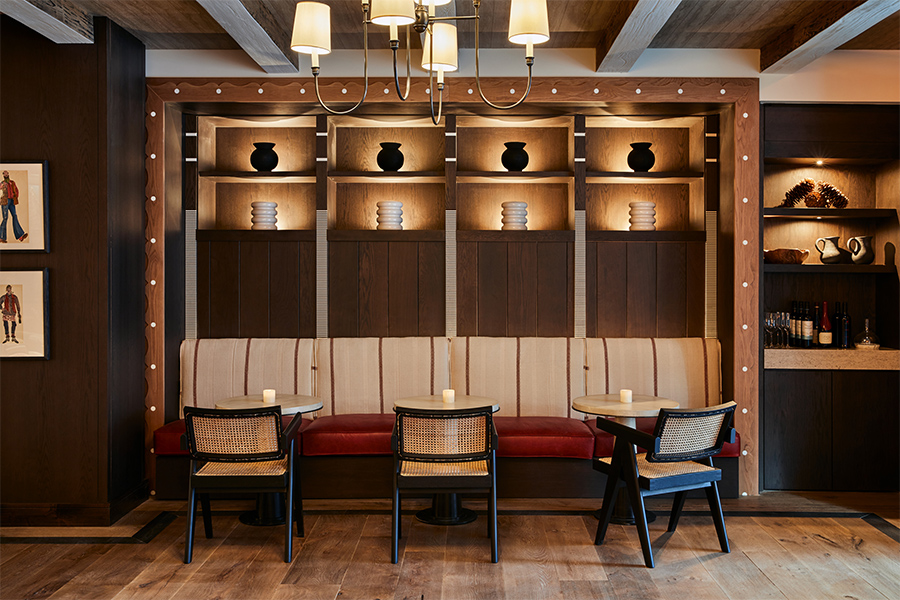 This article originally appeared in HD's May 2021 issue.
More from HD:
The 36 Most Anticipated Hotel Openings of 2021
What I've Learned Podcast: Kemper Hyers
Buxton Crescent Hotel Revives Its Status As a Wellness Destination