Paul Kember and Girish Jhunjhnuwala have worked together on numerous projects for more than a decade. In 2005, the Hong Kong-based British architect and co-founder of K Plus K, with his identical twin brother Johnny, designed 38-unit service apartment Erba for the Hong Kong developer. This year, the same building underwent a second metamorphosis into Ovolo Hotel, the first of Jhunjhnuwala's projects to be renovated from his extensive portfolio of service apartments.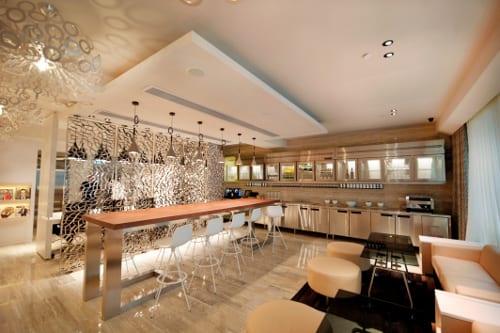 "Girish feels that the local service apartment market is saturated," notes Kember. "At the same time, corporations are no longer offering staff the all-inclusive packages they used to, and there is a dearth of hotel rooms in Hong Kong for business and budget travelers."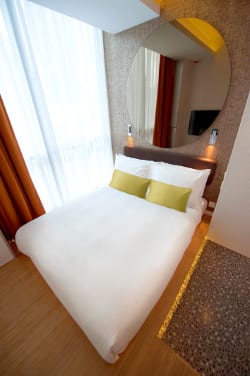 By dividing up what were previously one or two units per floor into three, Ovolo caters to the smart, casual, single business traveler who is independent and plugged in. Forty units were designed not only with Japanese aesthetics, but also a Japanese approach to prefabrication circa 1970.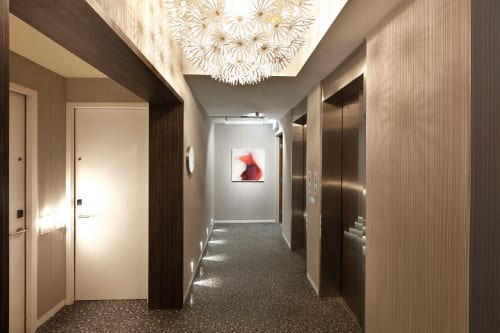 "For example, instead of using tile, we took the porcelain shower tray as a module for the overall size of the bathroom," explains Kember. "It goes back to the notion of how the Japanese used to build hotels quickly. The Japanese influence in our design was both technical and practical as well as romantic, such as the river stone rubber flooring-which is actually from Japan."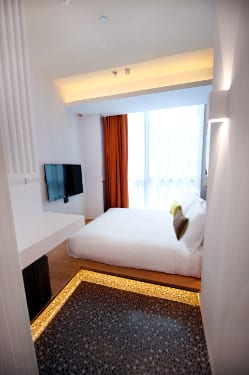 Other elements include low platform beds, oversized bronze mirrors, and a hydraulic-assisted open hanging system that allows clothing to be stored high and out of the way. Despite being snug, bathrooms feel generous, with the inherent warm color palette of the room and wall-to-wall glazing adding light and air for optical illusions of space.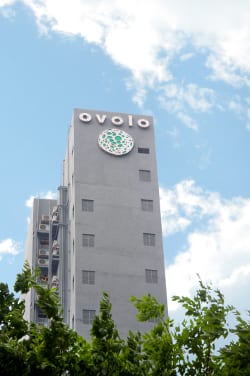 Further catering to intrepid business travelers, a 24/7 laundry room featuring a wall of Siemens washers and dryers is available for jetlagged guests to have freshly laundered clothing for the next morning. A lounge doubles as a second living and meeting room for guests to use at any hour. A breakfast room in the morning, it changes to a quiet work space during the day and then to a lively cocktail bar in the early evenings.
"Girish planned for the lounge to be a space where guests could feel at home, where everything in it was theirs to use," notes Kember.
Rounding out the facilities is a gym and lobby featuring the initial stages of an art program that Kember is developing for Ovolo Hotels, which includes the commissioned work of Hong Kong-based Dutch photographer Simone Boon and a wall of Ovolo's signature eggs made from polished aluminum.
Kember is currently working on the renovation of Ovolo on Arbuthnot Road, slated to open in September.