In the heart of Kentucky's Bluegrass region, the Manchester opened this summer in Lexington's revitalized Distillery District, built on the site of the city's first registered bourbon producer, the Ashland Distillery, which was established in 1865. "[It's] a celebration of Kentucky," says hotelier Nik Feldman of the property he developed with partner Hank Morris.
Envisioned as a gathering spot with a welcoming Southern vibe, "we developed the property to provide a spirited and locally rooted landmark hotel for Lexington," Morris says. "It's all about Bluegrass hospitality—giving our guests a key to the horse capital of the world and locals a place to call their own." With more than 450 nearby horse farms, the title is one Lexington proudly claims, and it draws a crowd, bringing visitors from across the world to the city. "We wanted to create an exceptional quality place where guests want to stay and locals want to hang out," adds Feldman.
New York-based designer Jenny Bukovec, Morris' frequent collaborator, paid homage to that history throughout the 125-room hotel with a restrained and timeless design. "It had to fit within the fabric of Lexington," explains Feldman. "When you walk into the lobby, you feel the design is authentic—that someone with a real connection to this place is behind it."
The sensitivity begins even before guests pass through the front doors. Though it's a new build, crafted by local firm EOP Architects, the façade fits so seamlessly into the neighborhood that locals would comment that they could not recall what it used to be before it became a hotel. It's a testament to the authenticity of the design, which the team coined Rickhouse Revival in reference to Lexington's structures built for storing and aging distilled spirits.
The interiors honor the city's bourbon-soaked heritage through warm, inviting spaces. To create a rich sense of history, Bukovec looked to local sellers to source vintage furnishings that would sit alongside custom pieces from artisans in Morocco. "We wanted the charm that comes from things that are timeworn and handmade," she explains. "Nothing is too precious; it's all meant to be comfortable and inviting."
The Manchester is also home to two lively restaurants. Granddam, named for the term for a matriarchal racehorse, is a refined leather- and wood-clad dining hall serving up reimagined Bluegrass fare. Upstairs, rooftop bar Lost Palm offers a departure with a playful nod to another equestrian hotspot, South Florida. The 1960s-inspired indoor-outdoor bar pairs tiki drinks with Southern-meets-tropical dishes amid potted palms, cane furniture, and even a plastic flamingo, standing as one-legged proof of the Manchester's unbridled charm.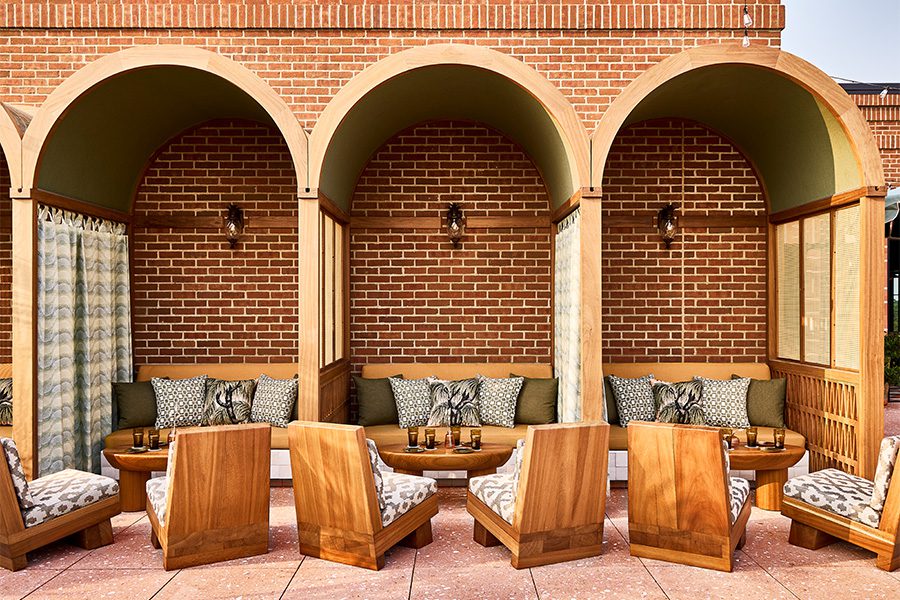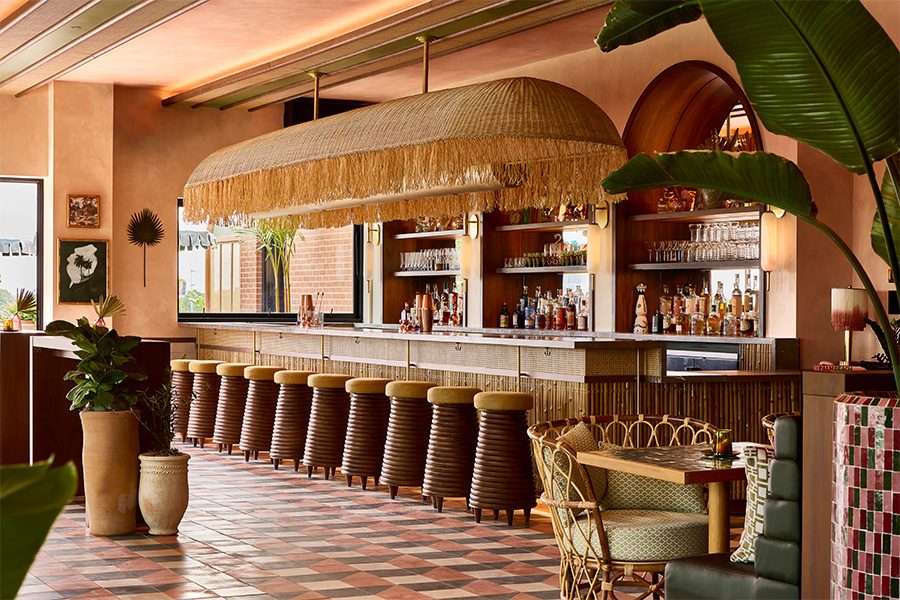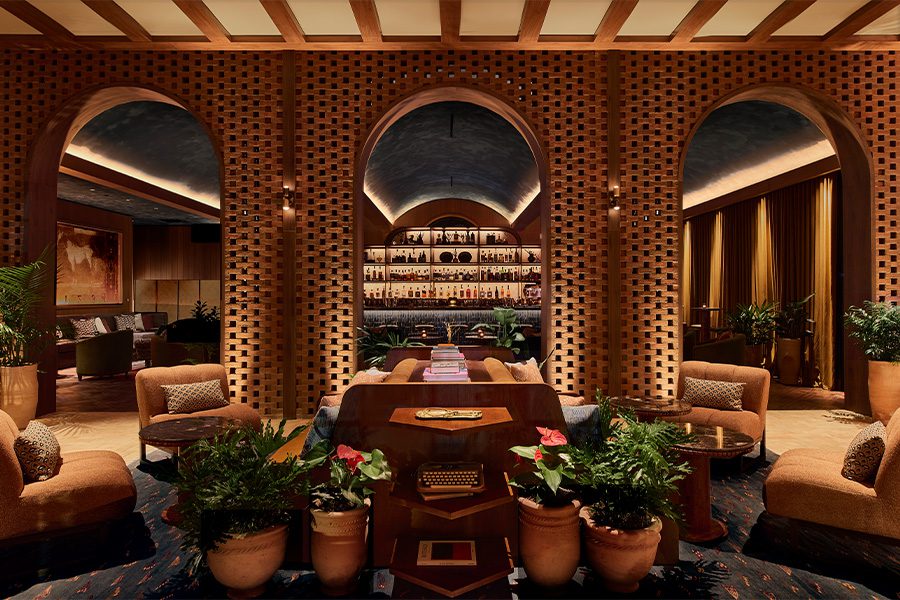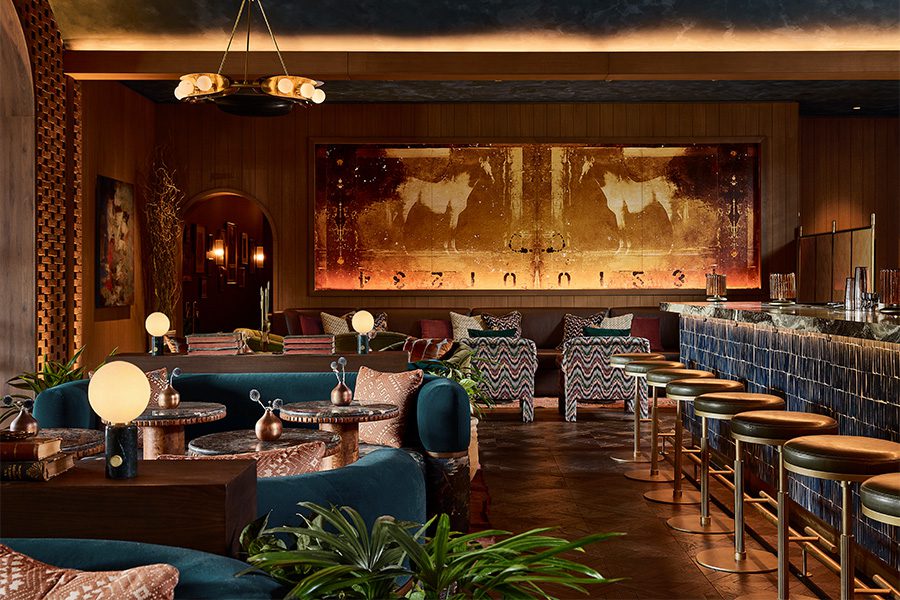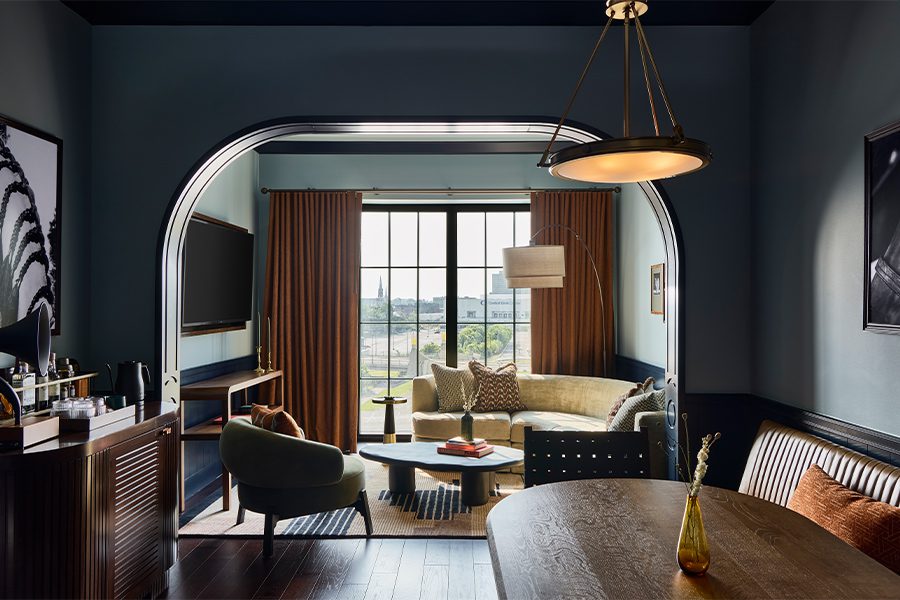 This article originally appeared in HD's October 2023 issue.