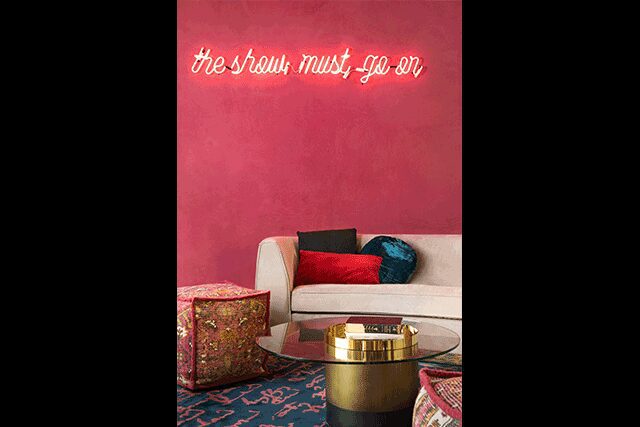 Nestled in the heart of the Cedars District in the Texas metropolis, Canvas Hotel Dallas from Studio 11 Design is a playful interpretation of the neighborhood "that feels distinctly Dallas," says the local firm's cofounder and principal Kellie Sirna. Given the quick turnaround and tight budget, the concept's 76 guestrooms and suites are eclectic with bold pops of color, while public spaces create "a sense of comfort and discovery" for a lively living room with intimate seating areas that foster socializing. The standout, however, is the vibrant rotating art gallery curated by SemosMauldin Art Consultancy that champions local artists.
The pink neon "The Show Must Go On" sign by artist Hugo Urrutia pops against a hot pink wall and blush sofa from Houzz in the Chef's Palette restaurant just off the lobby. To complement the sign, a sculptural glass and metal coffee table from Wayfair and a clay kilim-patterned pouf by Surya are paired with a repurposed blue and pink rug.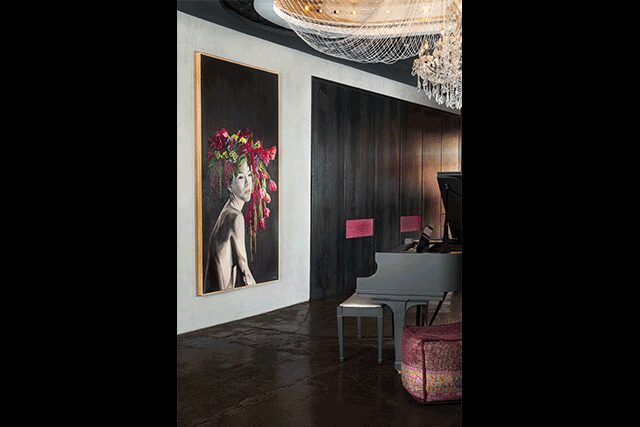 Across from the reception desk, a grand piano and original artwork, including a piece by artist Haylee Ryan, create a space that is "artistically inspiring, creatively stimulating, and conducive to social gatherings," says Studio 11 Design interior designer Tori Kennedy. The acrylic and oil Femme Floret painting plays with the space's bold color scheme and is one of only three permanent fixtures to the hotel's collection. "The chandelier and concrete flooring were existing to the property," she says, retained to accentuate the framework of the lobby, "while achieving a more updated, contemporary feel."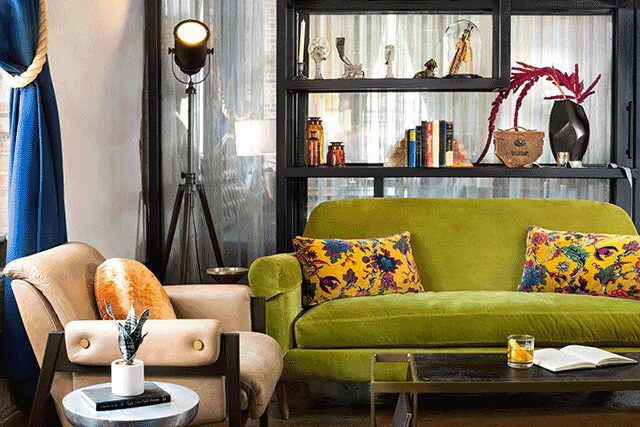 Layered with floral throw pillows, a Crate & Barrel green settee and a tan lounge chair from West Elm lend themselves to "the city's quirky, artistic sensibility," says Sirna. Sheer drapery from Kravet creates a backdrop for a carefully curated bookcase that houses found objects from Dallas antique shops and artisans. It's approachable and "creates new nooks for socializing and relaxing," she adds.