For upscale bar and lounge Wrigley Rooftops, Chicago-based Esyn Design Architecture, Ltd. wanted to reference the baseball stadium that sits right across the street without creating a typical sports bar. "We focused on materials that evoked a sense of the experience inside Wrigley Field," says William Ewert, principal and founder of the firm. For the design of the 62-seat lounge, Ewert filled the space with colors and materials that recall those typically found inside stadiums—wood, steel, and white leather—and also took cues from the apparatus of the game (bats, gloves, and scoreboards) and the delineation of baseball (fly ball, pitch, and strike). "We looked at the essential aspects of the experience of Wrigley and the game of baseball itself," explains Ewert.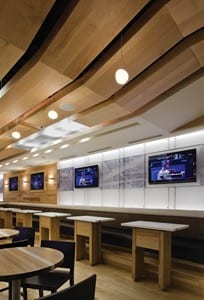 Walls and floors made of hickory, a wood once used to make baseball bats, create a tailored and warm look. "We wanted to express notions of tailoring into the design, and we looked at pin-striping, which is common in some baseball uniforms," says Ewert. This element is also expressed in custom fabricated tables made of oak butcher block with a strip of Corian. Along with the hickory, a series of pendant lights positioned to look like foul balls run the length of the space, and banquette and booth seating, raised on platforms so that seated guests are at equal height to standing guests, are done in perforated suede upholstery to represent the leather on baseball gloves. White details, a nod to chalk baselines and bases on the field, mingle with the wood throughout—in acrylic found on the walls and ceiling and the white Corian on the bartop and tabletops. And lounge-goers can watch the game out the open window wall or on televisions hanging throughout.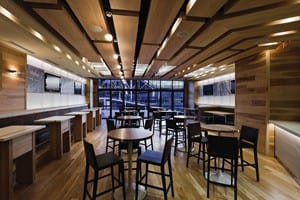 The owner requested artwork, but not typical sports memorabilia. With that in mind, Ewert photographed the structure and architecture of Wrigley Field. The result: a series of photo collages exploring patterns and the panorama of the stadium applied to acrylic panels and mounted onto a steel frame, inspired by a scoreboard. "We wanted to have imagery that referenced the experience without being too literal or nostalgic," explains Ewert.
Next up: Ewert is working with the owner on a second Wrigley Rooftops just down the street. "There's definitely a casual and friendly aura about the Cubs and Wrigleyville, and our goal was to elevate the game-day experience without sacrificing the baseball fan's perception of comfort and hospitality."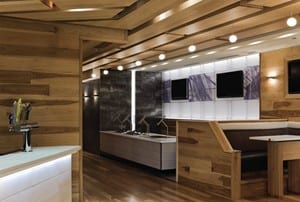 www.esyndesign.com; wrigleyfieldrooftopclub.com
Wrigley Rooftops, Chicago
Owner: Wrigley Rooftops
Architecture Firm: Meyers Jeffers Gillespie Architects, Chicago
Interior Design Firm: Esyn Design Architecture, Ltd., Chicago
Interior Design Project Team: WilliamEwert, principal, architect, and designer; and Shannon Sterne, designer
General Contractor: Wrigley Rooftops Contracting
Millwork: POB Construction
Custom Artwork: Esyn Design Architecture, Ltd.
Custom Tables: Chicago Cabinet Fixture Co.
Table Bases: CF Group
Ceramic Tile: Stone Source Midwest
Barstools: ISA International
Food Service Equipment: Edward Don
Lighting: Lightology
Acrylic Panels: Lightblocks