Submissions are now open for the Hospitality Diversity Action Council's (HDAC) third annual Awards of Excellence program.
Honoring exemplary work in the hospitality industry, the award(s) will be granted to individuals and companies in multiple categories—including ownership/management, architecture/design/landscape, branding, and vendor/product—that are working to advance our industry through the promotion of diversity, inclusion, and equity.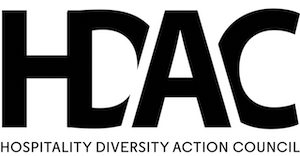 Submit to the Awards of Excellence by April 14th
Hospitality industry members are encouraged to nominate others (or themselves) in recognition of the work they are doing to strengthen the field in three areas:
– Professional Excellence: A body of work that exhibits a high level of professional achievement. Exhibits a collaborative and participatory approach to working with others.
– Promotion of Diversity, Inclusivity, and Equity: Demonstrated intent and ability to promote diversity, inclusivity, and equity through their work and values.
– Affecting Change: Exhibits a forward-thinking and progressive approach with a goal to create positive change in the hospitality industry and the wider community.
Selected by a jury of current HDAC members, winner(s) will be honored at the 19th annual HD Awards on June 6th at Cipriani 25 Broadway in New York.
Jason Bass, a community activist and entrepreneur who serves as the director of culture and impact at Baltimore's Hotel Revival, received the 2023 Awards of Excellence at the 18th annual HD Awards. The program's inaugural winner was Dyonne Fashina, founder and principal designer at Toronto-based interiors studio Denizens of Design.