Los Angeles-based architect and interior designer John Sofio, the president and founder of Built Inc, channels the relaxed lifestyle of the Mediterranean at Mon Ami, a new restaurant and lounge in Santa Monica, California. This is the latest venture from Pacific Coast Hospitality (PCH), owner of several restaurants in Europe as well as the area's downtown nightclub, Canary.
Mon Ami's menu fuses spices and spirits from Mediterranean countries such as Spain, Greece, Italy, France, and Morocco to create dishes with ingredients primarily sourced from the local farmers market. This mélange of influences inspired Sofio's design concept of laidback seaside living. "Mon Ami was designed to have the warm, comfortable soul of Mediterranean nights," says Sofio.
Tucked inside a courtyard off Ocean Avenue, the venue is protected from Pacific winds by smooth stucco walls painted in warm tones of sage green and creamy white, a palette that continues inside the restaurant to encourage memories and a sense of familiarity. A cedar door leads to the outdoor space with elegant furniture and lush, Mediterranean-inspired landscaping. Striped awnings above bespoke sofas invite guests to relax and socialize, too.
The chilled mood flows indoors with seating arranged to engage patrons in a night of comfort and fun. Sized proportionally for the bijou space, the raised DJ booth is flanked by vignettes styled for drinking and dining. Warm mahogany and cedar finishes extend the intimate feel into the bar where long, low-back shelving further scales the space for cocktails and conversation. Sheers and glowing lights soften the atmosphere, while a private dining room offers a hideaway for guests to gather around a long, custom white oak table.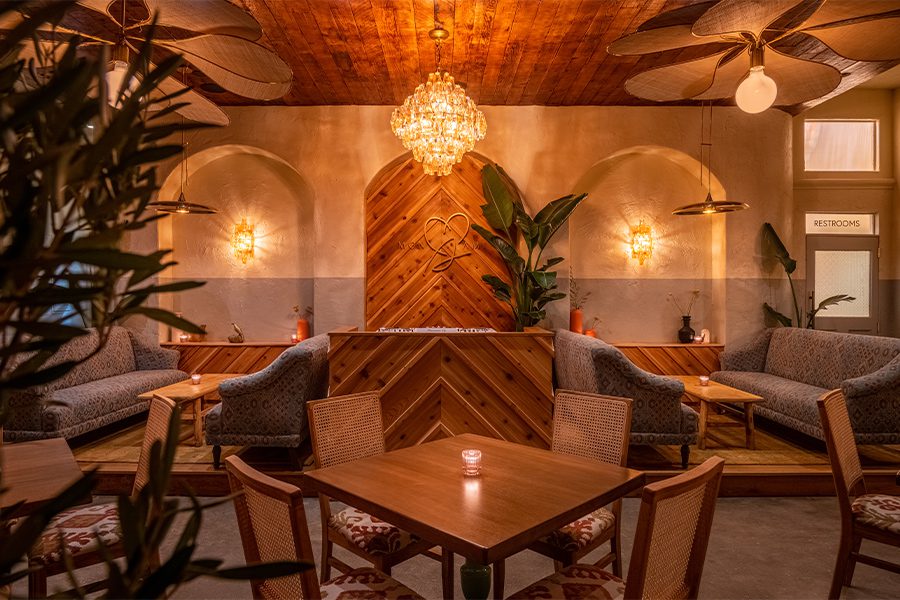 More from HD:
Glamping Gets Even More Luxurious at ULUM Moab
Industry Leaders Discuss the Obstacles of Running a Business
Genuine Partnerships Are Paramount for Ryan Crown