Unencumbered desert views and enviable proximity to Canyonlands National Park made Moab, Utah a prime location for the inaugural outpost of ULUM Resorts. This luxury spinoff from glamping brand Under Canvas celebrates outdoor living just as much as the original concept but responds to a growing subset of customers who also crave the elevated amenities found at more traditional hotels.
Adjacent to Looking Glass Arch, the 200-acre ULUM Moab comprises 50 tented suites and a vast communal space that flows from the lounge to the dining area to the alfresco terrace and yoga deck, and the trio of dipping pools beyond.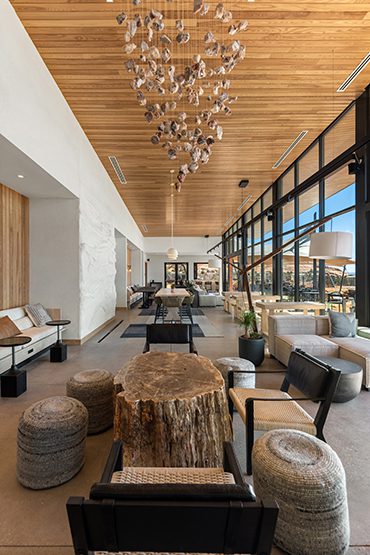 "We still see groups of people sitting around the fire sharing stories of their adventures and making recommendations to each other for things to do in the area. That level of guest connection is unique to this style of hospitality, and we design our spaces to encourage it," explains Ben Landry, ULUM's vice president of design.
Landry worked hand in hand with DESIGN360unlimited on interiors that highlight the property's environs, with a color and material palette echoing the flora and fauna of the location. "The textures and tones tell a story of contemporary desert design," adds Landry, noting, for instance, how the lobby's exterior is made with "color-matched concrete that blends into the landscape."
For inspiration, Dean Singer—owner at the Santa Monica, California- and New York-based firm—held rocks found on the grounds of the site up to the sun. "The luminescence within was amazing to see," he recalls. "We wanted the guests to see that."
Ultimately, ULUM Moab is a respite, as senior project designer Jennifer Kreisberg puts it, so the design team focused on using practical indoor/outdoor materials "that feel and look comfortable, yet can be easily cleaned as guests are coming in from hikes and mountain biking."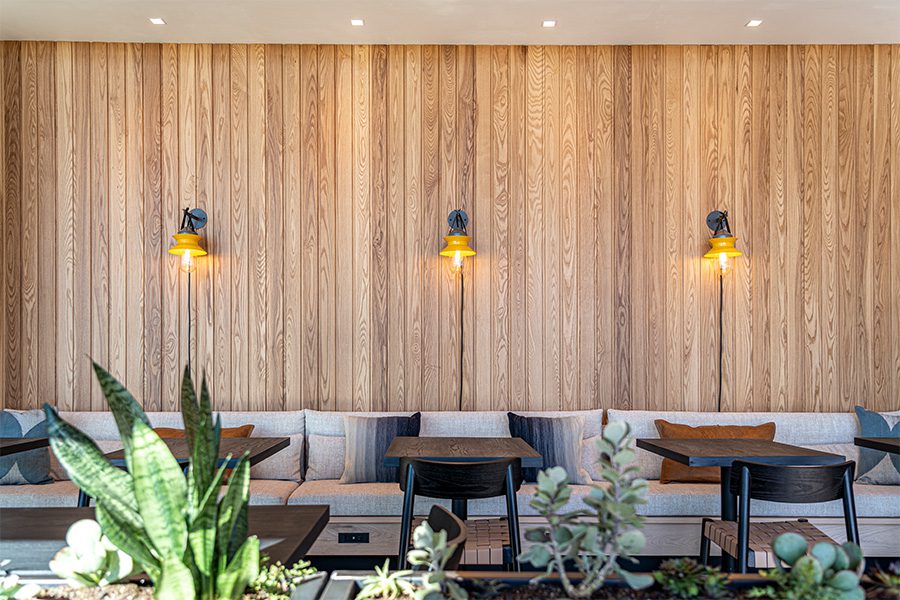 One standout of the design is the chandelier found in the lobby. Suspended over a repurposed petrified stump coffee, it's crafted with semi-translucent, smoky quartzite rocks "arranged with a sense of organic levitation," Landry says. "They put on a show of movement, changing colors as the lighting changes."
A floor-to-ceiling sculptural wall reinterpreting the surrounding cliffs also draws attention. "With uplighting from the floor, the light and shadow offers a captivating backdrop and focal point to the dining room especially after the sun sets," Kreisberg adds.
Just as carefully considered are the tents, which incorporate thermally modified lumber and are bolstered by such perks as rain showers, private decks, evaporative cooling, and electricity. They were also meticulously nestled into the terrain to maximize intimacy and vistas alike. "No two tent perspectives are the same," as Landry puts it. "Some are perched along the ridges, flowing off the sandstone horseshoe bowl, while others are tucked into the trees in the natural drainages. Each tent has its own micro ecosystem."