Sushi restaurant and cocktail bar Tako has opened in Rome's Ostiense neighborhood, a previously industrial area complete with street art and its own underground culture. Designed by local firm COLLIDANIELARCHITETTO, Tako invites guests into an unconventional, dreamlike dimension.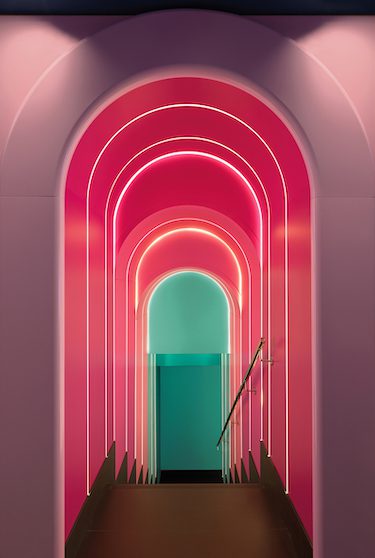 The 160-seat eatery draws inspiration from Alice's Adventures in Wonderland—as much as it is an emotional experience, it is also a place to be playful and carefree. Butterflies, flowers, lollipops, and rabbits populate an environment where food and design blend together, like a vivid dream played out in macro-proportions.
"I dreamed to create a place where you can feel free to express yourself, to detach yourself from the concreteness of everyday life, to enter a fairytale—a magical and extravagant environment in which people of all ages can travel with their imagination," says Daniela Colli, founder of COLLIDANIELARCHITETTO. "When you enter Tako, you are captivated by the colors, the lights, the details. Everything is emotion and amazement."
The restaurant's main dining room is characterized by color-blocked seating and tables awash in pink, magenta, cyan, and Klein blue. A backdrop of tapered arches frame semicircular niches dressed with magenta mirrors, sofas, and tables. Luminous pearl-shaped lights suspend from the ceiling like bubbles floating in air, emphasized—and multiplied—by the restaurant's mirrored surfaces and metal coverings.
The cocktail bar comprises a monolithic mirrored cylinder and an L-shaped counter with an absolute black marble top, covered in magenta press-bent metal.
Meanwhile, the sushi bar, with its large portholes, is wrapped in a fluid enameled surface that evokes the movement of water. On the other side of the sushi bar is a more intimate area that features furnishings in delicate shades of pink, set against metal walls bedecked with butterflies.
A pink lacquered arch marks the passage between the main floor and the functional areas of the restaurant. Within the passage, a kaleidoscopic tunnel of colored arches elicits the feeling of going down into Alice's magical world.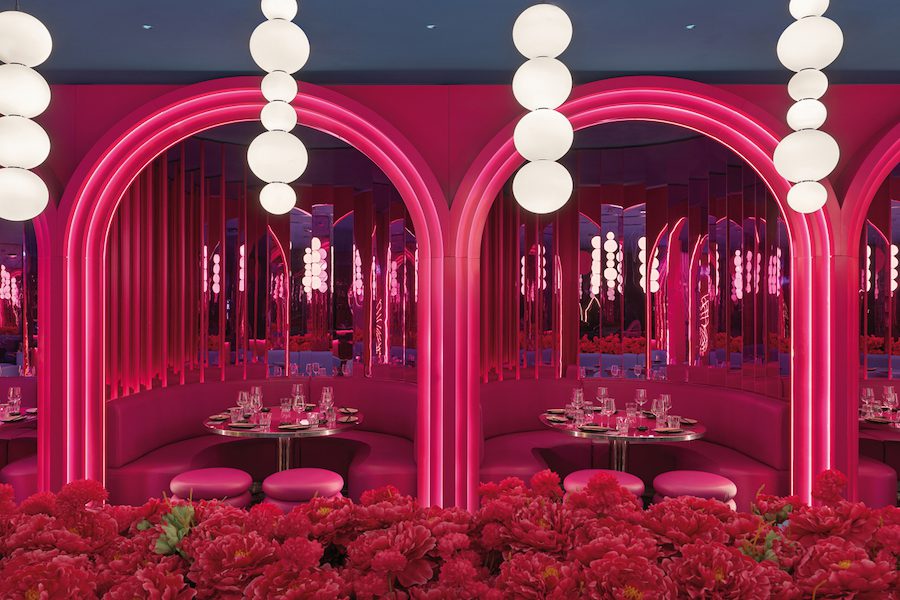 More from HD:
HDTV Goes Inside Hôtel Barrière Fouquet's New York
The Inspiration Behind the Junto Hotel in Columbus, Ohio
The Hospitality Industry Makes Strides in Sustainability