What does sustainability look like when viewed through a hospitality lens? Many hotel brands around the world are looking inward—thinking hard about who they are and what they stand for—as they come up with answers. Driven by a desire to make positive change and meet their guests' expectations, they are finding ways to cut back on their carbon emissions, water use, and waste. They are investing in cleaner energy sources, rethinking efficiency, experimenting with novel building materials, and finding ways to conserve what they already have.
Some companies are taking their approach even further, aiming to neutralize their carbon emissions by the middle of this century, and they are paving the way for more to follow. And that's a good thing. According to the Sustainable Hospitality Alliance, a London-based nonprofit that counts many of the world's top hotel companies among its members, hotels account for about 1 percent of global carbon emissions. It has reported that hotels will need to significantly reduce those by 2050 to ensure industry growth doesn't lead to a corresponding emissions uptick.
There is a sustainability playbook starting to emerge in the hospitality industry. Marriott International, one of the first large hotel companies to take aim at its resource use, reported this year that since 2016 it has reduced its properties' average energy needs by almost 13 percent and average water use per occupied room by more than 6 percent. Along the way, it has helped to accelerate the transformation taking place across the industry.
"A lot of people, from an energy perspective, identified the low-hanging fruit. Changing out from what were incandescent light bulbs to either CFLs or LEDs had a major energy reduction for them," says Denise Naguib, Marriott's vice president of global sustainability and supplier diversity. She points to the installation of low-flow appliances and providing smaller plates at buffets as strategies that can put a dent in water use and food waste, while saving hoteliers money in the long run.
Not every hotel has checked all those boxes yet. But a growing number of guests—across a range of price points—are expressing concern about their ecological footprints and seeking out more sustainable options. These sorts of modest improvements are fast becoming the industry standard.
Plenty of opportunities remain for hotels to become more sustainable, but embracing them requires more work, time, and money compared with their easy-to-reach counterparts. Companies are learning, however, that the benefits still outweigh the costs. They are experimenting with ways to embed sustainability into every part of their operations and create incentives for franchisees to go above and beyond—and are seeing remarkable results.
Reducing the footprint
At its most basic level, sustainability means that resources are not being consumed faster than they can be replenished. Every hotel interprets that meaning—and views its own road to sustainability—differently.
Most major hotel groups have rolled out their own sustainability programs. Hyatt's World of Care is requiring all full-service managed properties in the Americas to achieve some form of environmental certification by the end of this year. Wyndham Green is one of several to include tiered certification levels for franchisees that then can be displayed on hotel websites and searched by eco-conscious guests.
Choice Hotels' recently revamped Room to be Green takes a similar approach, beginning with "a fairly robust set of requirements" and expanding upward from there, says Megan Brumagim, vice president of environmental, social, and governance (ESG) for Choice Hotels. "Our owners [wear a lot of] hats, and they're focused on running their business. Part of our job is to help demonstrate to them why sustainability is good for business," she adds.
When it comes to tackling water use, an issue that will become increasingly urgent because of climate change, brands are getting creative. In addition to installing low-flow toilets, faucets, and showerheads, washing sheets and towels less frequently, and planting native species to lessen the need for irrigation, some have come up with other innovative solutions to local water challenges.
Hilton's Conrad Washington, DC, for example, added a system that captures and reuses 97 percent of the stormwater that falls on the property, helping to ease the burden on local drainage infrastructure. Marriott's Le Mériden Maldives Resort & Spa built a desalination plant to convert seawater into drinking water, while Berlin-based a&o Hostels is currently devising a heat-recovery system for new properties that captures up to 70 percent of the energy being lost and uses it to heat more water.
Education is also central to the hostel chain's water conservation initiatives, including giving guests "the opportunity to learn what water consumption means and what reasonable, sustainable water consumption looks like," points out Cedric Coy, the head of a&o's green team. These sustainable best practices go beyond water consumption. At a&o Berlin Mitte, for instance, colorful comic strips that include facts about energy use line the stairwells, while other locations host a climate breakfast, where staff members teach guests about food and its origins.
Endeavors focused on diverting parts of hotels' waste streams are also varied. IHG Hotels & Resorts has teamed up with food rescuer Goodr to distribute excess and expiring food to local nonprofits from a few pilot hotels. Hyatt introduced a pilot food service tracking and training program in Asia that cut waste by more than a third, and Accor has eliminated single-use plastics from over 80 percent of its hotels. Six Senses Hotels Resorts Spas is moving toward zero waste to landfill. In addition to producing its own compost, organic vegetables, eggs, and renewable energy at individual properties, in 2022, the company eliminated more than 1.5 million plastic bottles by bottling its own drinking water in reusable glass bottles.
Further, Hilton's partnership with amenities recycler Clean the World, which spans most of its locations, has enabled it to reprocess soap into more than 2.3 million bars that have been donated to those in need, diverting more than 211,000 pounds from landfills in 2022. "The most [effective] projects reduce our environmental impact while improving the guest experience and providing real value to our owners," says Jean Garris Hand, Hilton's global vice president of ESG. "Hilton's partnership with Clean the World is an excellent example of the positive impact you can make when you align these goals."
Ownership company Highgate—which reported that more than 200 of its properties are powered by 100 percent renewable energy, amongst many other sustainability-focused accomplishments, in its 2022 ESG report—found success when it began evaluating contractors' waste-reduction plans as part of its project selection criteria. According to Paul McElroy, Highgate's executive vice president of design, "Whenever these practices get embedded early, it doesn't have to cost more money. It's a different way of thinking."
During one recent renovation at a 600-plus-key hotel in Waikiki, Hawaii, Highgate opted to reupholster and refinish the existing furniture, keeping several tons of material out of landfills and shrinking the project's carbon footprint. But it was not without some logistical challenges, McElroy says, as "we had to think about getting skilled craftspeople into the hotel and have them be able to keep up with the project schedule."
Envisioning a net-zero future
For many of the hospitality companies striving to minimize their footprint on the planet, the ultimate sustainability goal is achieving net-zero emissions by preventing or offsetting all the carbon their operations release into the atmosphere.
Drastically reducing greenhouse gas emissions in line with climate science is central to the Journey to Tomorrow sustainable business plan IHG launched in 2021. The hotel group's first net-zero property, the 142-key voco Zeal Exeter Science Park is set to open in Exeter, UK in 2024. Developed by Zeal Hotels, the building is designed to maximize passive heating and cooling and will source most of its electricity from solar panels located on the roof and the south, east, and west exterior walls.
IHG also numbers among the leading hotel groups that have purchased Renewable Energy Certificates—essentially the rights to a certain amount of renewable electricity, similar to a carbon offset built into the electric grid—to promote a cleaner electric grid and help shrink their own emissions. "This offering is just one of the many ways we're driving progress toward IHG's sustainability commitments," says Townsend Bailey, the company's head of corporate responsibility, Americas, "which include reducing our energy use and carbon emissions in line with climate science."
Since 2021, Marriott, Hilton, and Accor—all well on their way to meeting their initial sustainability targets—have upped their standards and formalized their plans to hit net zero by 2050. They have also taken tangible steps toward their new, loftier goals.
Hotel Marcel New Haven, Tapestry Collection by Hilton, is a reimagination of the Marcel Breuer Brutalist Pirelli building in Connecticut by local architecture firm Becker + Becker, with interiors by New York studio Dutch East Design. Having opened as Hilton's anticipated first net-zero property last year, the 165-room hotel received its LEED Platinum certification this April, raising the bar for future carbon-conscious projects nationwide. If it continues to stay under its emissions limits, as the data collected so far suggests it will, Hotel Marcel will soon establish itself as the anticipated first net-zero hotel in the country. "Hotel Marcel is a great example of what is possible for the future of sustainable travel," Hilton's Garris Hand says.
"Through our relationship with our hotel ownership communities, Hilton is working to help minimize environmental impact while redefining sustainable travel," she adds. "What [Becker + Becker founder] Bruce Becker and Hotel Marcel demonstrate is that investments in sustainability don't have to come at the expense of guest experience."
For Hilton or any other company to reach net zero across the board, Hotel Marcel will have to be the first of many. Through its Travel with Purpose 2030 Goals program, Hilton has shrunk its per-unit emissions intensity by 44 percent since 2008, while Marriott's Serve360 initiative has achieved a decrease of almost 25 percent from its 2016 baseline, according to the companies' most recent ESG reports. Now, both are aiming higher.
For Marriott, Naguib says, viewing hotels' incremental emissions reductions as part of a pathway to net zero "fundamentally means we can't rely on those low-hanging fruits." The company has to depend partially on external forces—reaching net zero will hinge on having access to a much greener electric grid—which raises the stakes of modifications within its control, like putting solar panels on existing hotels and updating design standards for new ones. The design process is ongoing, but according to Naguib, electrification, insulation, and strategic building management rank near the top of the priorities list.
All of Marriott's 31 brands will be held to higher standards for resource use. But, Naguib says, "our luxury hotels have more opportunity and have more expectations from their primary travelers to focus on sustainability." Indeed, luxury guests want to spend money in places that offer them the best experience, "but also a connection back to purpose," she adds, "and that often ties back to the environmental impact of their stay."
One hotel at a time
Chinese luxury hotel group Songtsam wanted its newest property, the 122-room Songtsam Linka Retreat Lake Basong Tso in Tibet's Jieba village, to be net zero. Regularly shipping supplies to its remote location among mountain peaks at the northern edge of the Himalayas, however, turned out to be too carbon-intensive for that, says Florence Li, Songtsam's director of overseas business development, whose father founded the company. Instead, they settled on keeping emissions as low as possible.
The hotel, designed by Hangzhou, China-based firm Studio Qi Architects, was modeled after traditional Tibetan architecture and built with the same locally quarried gray stone used in the homes nearby. Songtsam's aim was to create a destination for global travelers while also preserving the traditional character of the local village, Li explains. "We don't want to stand out or to make it look imbalanced."
Nearby solar installations generate much of the hotel's electricity, and the rooms are stocked with glass bottles of water instead of disposable plastic ones, as well as reusable shampoos, conditions, and lotions. "For this new property, we brought it to the next level," she says.
The Lake Basong Tso hotel, the largest of Songtsam's 16 properties in the region, is the first to take aim at its carbon footprint. Two smaller Songtsam hotels opening later this year will do the same. For Songtsam, the goal is to stand out among the more limited sustainable travel options in that remote corner of the world. "Sustainable travel is not the main aim for domestic Chinese travelers," Li says. "But for Europeans and also for Americans, this is one of the key factors; they always try to contribute to the local community."
Thousands of miles from Lake Basong Tso, meanwhile, opportunities to cut back on carbon are so plentiful they are now available to economy travelers. Whitbread, a major UK hotel company aiming to reach net zero across all its operations by 2040, plans to open its first all-electric Premier Inn this year and remove natural gas mains from more than 800 others in the near future.
For a&o Hostels, an even faster timeline is the goal: It wants to get to net zero by 2025, becoming the first hostel brand in Europe to do so. Where it's feasible, most of a&o's locations are on track to use 100 percent green electricity or be covered fully by the European version of Renewable Energy Certificates by the end of the year. (Currently, all properties use green energy except for Warsaw, Rotterdam, and Amsterdam.) a&o has also converted about 75 percent of its vehicle fleet to electric and installed solar panels on eight properties, with plans for more solar planned over the next few years. "Sustainability is not a marketing strategy for us," Coy says. "It's seen as a [longterm] investment."
A new way to build
One big challenge for the carbon-conscious in the hospitality sector is that some of the hardest emissions to avoid are baked into the walls and beams of the buildings themselves. Most large hotels, including virtually all with 10 or more stories, are framed with concrete and steel, materials that are sturdy, dependable, and have been in use for decades. They also share one important downside: an enormous carbon footprint. Both products are manufactured at extremely high temperatures that take a lot of energy to maintain. Cement is responsible for an estimated 8 percent of global carbon emissions. Steel contributes almost as much. Until recently, avoiding them in the U.S. has been close to impossible.
In recent years, though, mass timber buildings—made from raw wood products bound together into very strong planks—have emerged as a low-carbon alternative that can rival the strength of concrete and steel, even in structures dozens of stories tall.
International design firm DLR Group has completed several mass timber office buildings and is working with Texas A&M University on a mass timber academic center for its hospitality and retail studies programs. Following the International Code Council's decision to raise allowable heights for mass timber buildings to 18 stories in the 2021 International Building Code, DLR Group hopes to expand mass timber to hotels. "A lot of the people we work with are looking for authenticity and a story relating to a sense of place," says Bobby Larson, senior associate and architect at DLR Group. "Wood as a material can do that a lot more naturally than concrete."
Thanks to a grant from the U.S. Forest Service and input from Marriott and Friedman Properties, DLR Group has designed a full prototype of a mass timber hotel with 34 rooms per floor that could be constructed, with minor adaptations, in any North American city. The design uses wood from trees, typically fast-growing conifers, harvested through sustainable forest management, and it would keep the carbon stored in those trees from re-entering the atmosphere. It would also reduce the overall carbon footprint of the building by not using as much carbon-intensive steel and concrete.
The mass timber hotel would cost roughly 4 percent more to build than a concrete-and-steel building of the same size, according to an internal analysis of the project. But DLR Group believes that shorter construction times associated with mass timber will help to neutralize those costs—and that the price tag is likely to fall as a skilled workforce starts to emerge. Currently, there aren't any mass timber hotel construction projects that have made it past the schematic design phase, but the firm is working with several clients on developing concepts for consideration.
"When it comes to a lot of novel solutions, very few people want to be first," says B Sanborn, a principal and design research leader at DLR Group. "It's a risk to be first. When somebody else has gone and taken some steps down that path ahead of you, it really helps drive interest."
The next frontier
As the hospitality world looks to reorient itself around sustainability, a handful of companies have emerged to push the limits of what a sustainable hotel can be. 1 Hotels, founded by Barry Sternlicht in 2015 as a platform for change, was among the first.
"Environmental impact is the foundation that we base all the design and construction methods and operations on," points out Raul Leal, CEO of SH Hotels & Resorts, which incorporates 1 Hotels. "All decisions are made through the lens of sustainability, with the goal of moving our hotels, and the industry, forward."
For example, the recent $300 million renovation of the St. Regis Princeville into the 1 Hotel Hanalei Bay in Hawaii transformed part of the former entrance into a miniature rainforest brimming with native plant species. "Our approach was to focus on the views and bring in natural materials," says designer Nicole Hollis, founder of her eponymous firm.
"Hawaii—Kauai especially—is so focused on sustainability, and we were looking to see what the reaction of our neighbors was going to be," Leal adds. "We kept the building under wraps for a while, but when they walked through, some of them were so emotional."
Not every 1 Hotel has a net-zero target—the potential to reduce carbon emissions depends on the nature of the building itself, Leal says—but the company sets yearly emission targets for each property, with the goal of getting as close to net zero as possible. Additionally, all properties have or are working toward LEED or BREEAM certification. The brand also believes in being as local as possible—from food and materials to contractors who share its mission. "Prioritizing sustainability doesn't mean sacrificing design, functionality, or luxury," Leal points out.
Similarly, Six Senses' brand ethos is built on sustainability. At its recently opened Rome property, which aims for LEED Gold certification, the restored building is supplied with 100 percent green power, while the Six Senses Svart in Norway is set to become a showcase for sustainability when it opens in 2024. Envisioned in collaboration with global firm Snøhetta, the ring-shaped hotel will be the first fully carbon-neutral and emission-free resort, meaning it will not only consume 85 percent less energy than other comparable hotels, but it will also generate more energy than it took to build or operate via solar panels and geothermal wells.
"Our sustainability goals go beyond protection, as we act as a regenerative business to add value to all local stakeholders (whether human, animal, or plant) with the aim of giving back more than it takes," explains Jeffrey Smith, Six Senses' vice president of sustainability. "We have set forth a comprehensive roadmap that encompasses regenerating vital ecosystems on land and underwater, and supporting local communities, while moving toward zero waste, plastic freedom, and reduced-carbon stays."
Over the last several years, the team at Urban Villages has arrived at the same conclusion. The Denver-based real estate developer is partnering with architecture firm Studio Gang to open Populus, a property it is calling the first carbon-positive hotel in the U.S., in Denver next spring, followed by a second, Hotel Westland, in Seattle that summer. (Like Urban Villages, some companies are opting to label products and services as carbon positive, rather than carbon negative, because they want to emphasize the environmental benefits of removing more carbon from the atmosphere than they emit. Both terms typically have the same meaning.)
Populus, Urban Villages' flagship carbon-positive project, will be built using a lower-carbon concrete that contains high fly ash contents, while the company is working with One Tree Planted and the U.S. Forest Service to replant damaged forests in Colorado to help offset construction emissions. The hotel will have space-efficient rooms adorned with locally made, nature-inspired art and, to encourage different modes of transportation such as the nearby lightrail station, will forgo onsite parking.
"We picked the site that's immediately across the street from the busiest mass transit center in Denver, so it's easy for people to get to our hotel using mass transit," says Jon Buerge, Urban Villages' president.
Because both Populus and Hotel Westland (which will repurpose a historic building) have limited space for solar panels, Urban Villages will help fund commercial solar or wind farms through the purchase of renewable energy. Both buildings will have gas-fired boilers for heating and water including the kitchens, something the company also plans to offset along with the impacts of guests' stays. Urban Villages wants to source most Populus produce and proteins from local, sustainably managed farms—and is exploring ideas for guests to help offset their carbon footprint during their stay that will be used to reinvest in carbon-saving practices, like no-till farming, in collaboration with its suppliers. "There's an incredible opportunity to introduce hotel guests to some solutions to climate change," says Buerge, "some ways to be able to get more engaged in living a more sustainable life."
Urban Villages also wants to demonstrate that a property can be built and operated at an even higher standard than net zero without breaking the bank. In other words, part of the goal is to "show people how to make money doing the right thing," Buerge says. "We can build and operate the greenest hotel ever created, and it's not going to have that big of an impact on the world," he says. "But if it inspires others to do similar work, that's where we can have a big impact."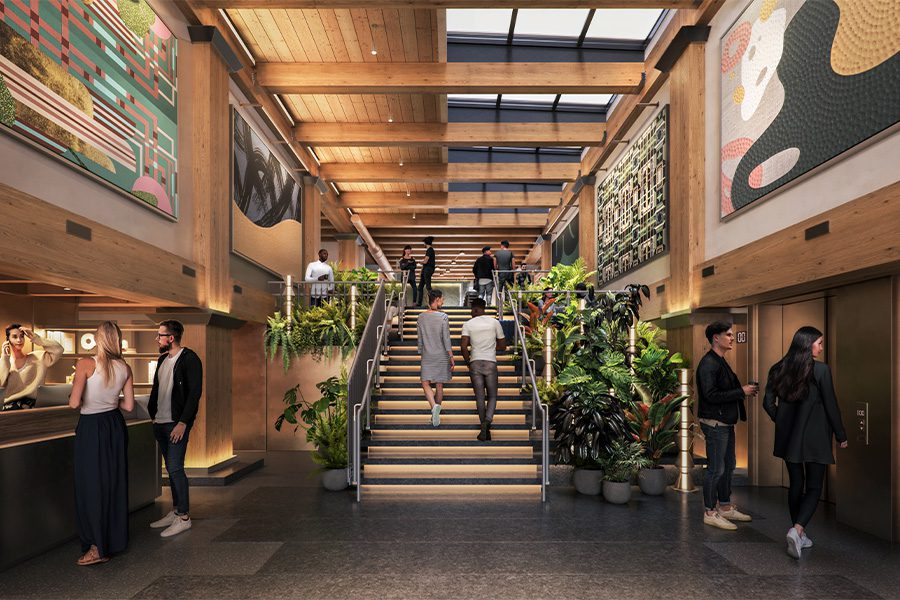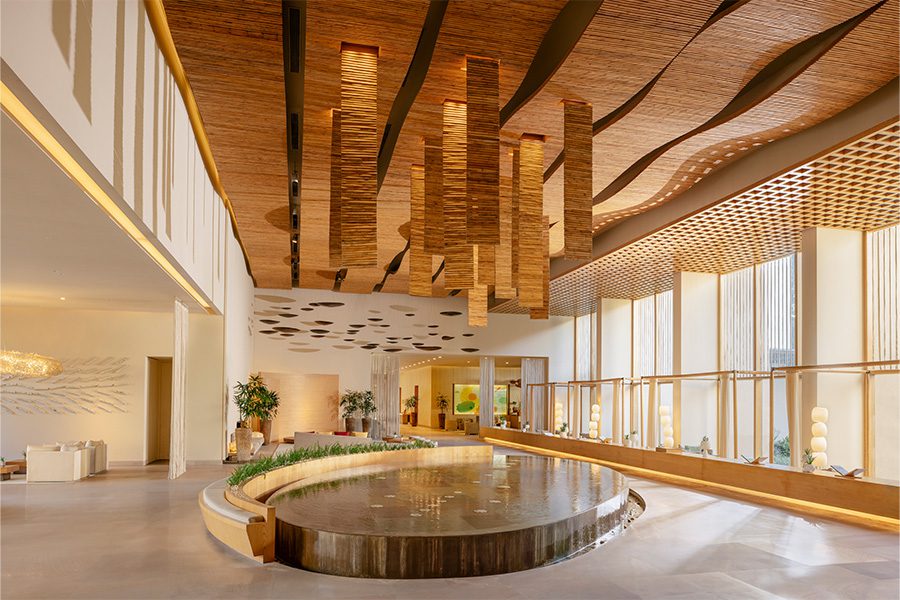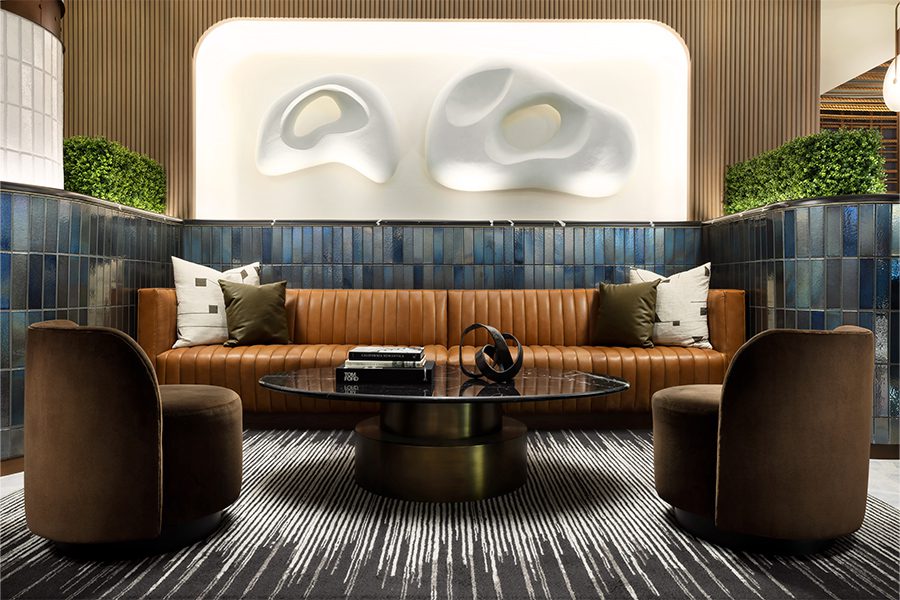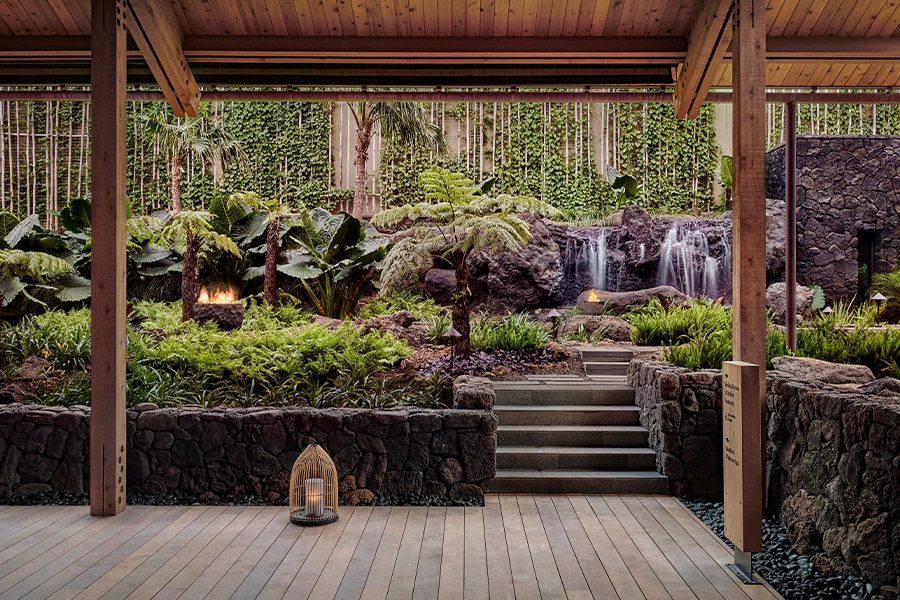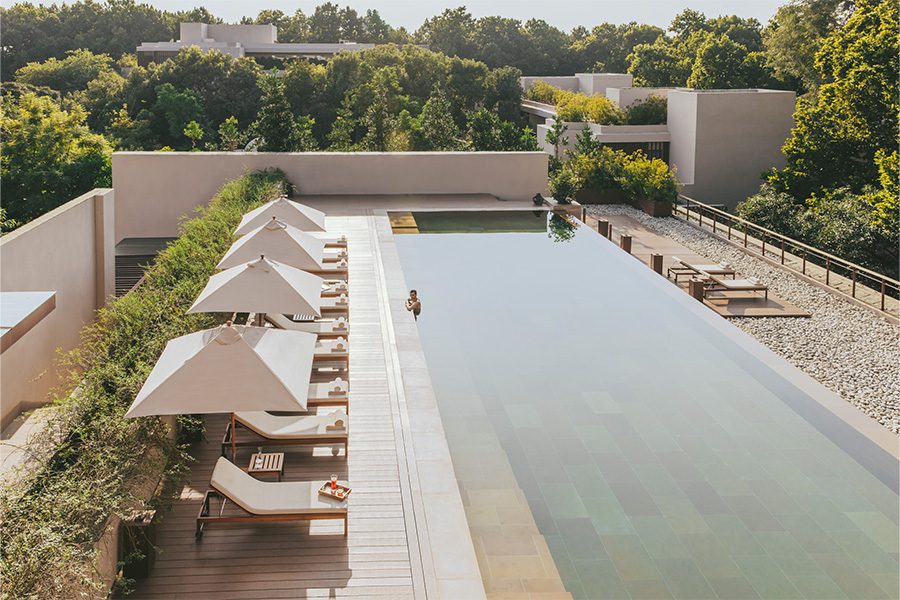 Photos and renderings courtesy of AVABLU, DLR Group, Christine Gatti, IHG, Justin Nicolas, Seamus Payne Rottet Studio, Six Senses, Studio Gang, Songstam, and Urban Villages
This article originally appeared in HD's September 2023 issue.