AI may cause an increased environmental burden on the planet, Reginald Dwayne Betts brings micro-libraries to prisons, and restaurants opt for red lighting. All that and more in this week's Five on Friday.
Restaurants embrace darkroom-core
Last week, The New York Times wrote about a new lighting trend in the F&B world: dim interiors illuminated in a moody red glow. The story points to C as in Charlie, a restaurant in downtown Manhattan immersed in red LED lights, which has now become its calling card. The bold hue is not unusual in restaurants and, in fact, is thought to stimulate hunger while evoking intimacy. While there are some drawbacks, including not being able to see menus or interpret the food, it adds an element of drama to the space. "Red is risky," owner David Yun told The Times. "But it really sets the tone. It shows our identity."
AI's negative environmental impact
A growing number of academics are looking at the environmental impact of artificial intelligence (AI), writes Dezeen. AI's footprint comes almost entirely from the energy use of the data centers that house the processing units, of which there are at least 8,000 worldwide. These centers also use huge amounts of water for the cooling systems that keep the racks of servers from overheating. For context, Google reported its data centers used 5.2 billion gallons of water in 2022. There are other factors at play, including an increase in mining lithium, a key battery metal, which creates "an environmental and social burden that rich Western countries have mostly exported to the Global South," the article states.
New York distillery brings Basquiat to Great Jones Street
Great Jones Distilling Co. in Manhattan is bringing Jean-Michel Basquiat's iconic artwork to Great Jones Street, a block from the site of the artist's apartment and studio in Noho. The full collection includes the release of three exclusive bottles featuring Basquiat's artwork, Basquiat's New York tasting room, a capsule collection of specialty merchandise, and the opening of a pop-up dubbed the Basquiat Bar. The latter is a throwback to one of his favorite places, the Mudd Club. Recently, Hypebeast investigated why we're seeing Basquiat everywhere, from whiskey bottles to phone cases and handbags. "There's a risk, though, that by continuing to spin their works into ever-increasing merchandise collections, the political and social justice issues that they represent might be lost," according to the article.
MacArthur fellow opens micro-libraries in empty prison cells
Poet, lawyer, and MacArthur genius Reginald Dwayne Betts is the founder of Freedom Reads, a nonprofit with a mission to transform access to literature in prisons by opening micro-libraries in empty prison cells. Betts, who was incarcerated for eight years, credits his access to books as his avenue for freedom. Since Freedom Reads launched in June 2020, it has built 173 libraries in 31 facilities across 10 states. Its goal is to open more than 1,000 libraries in the next three years. The bookshelves are hand-built and curved, serving as gathering spots for people to congregate. They also are a supplement to prison libraries, which often offer limited hours and many other constraints. Of the books he chooses, Betts told Fast Company: "I'm going for books that I believe are timeless and allow us to connect more deeply."
ICYMI: HDTV tours Marriott's HQ in Bethesda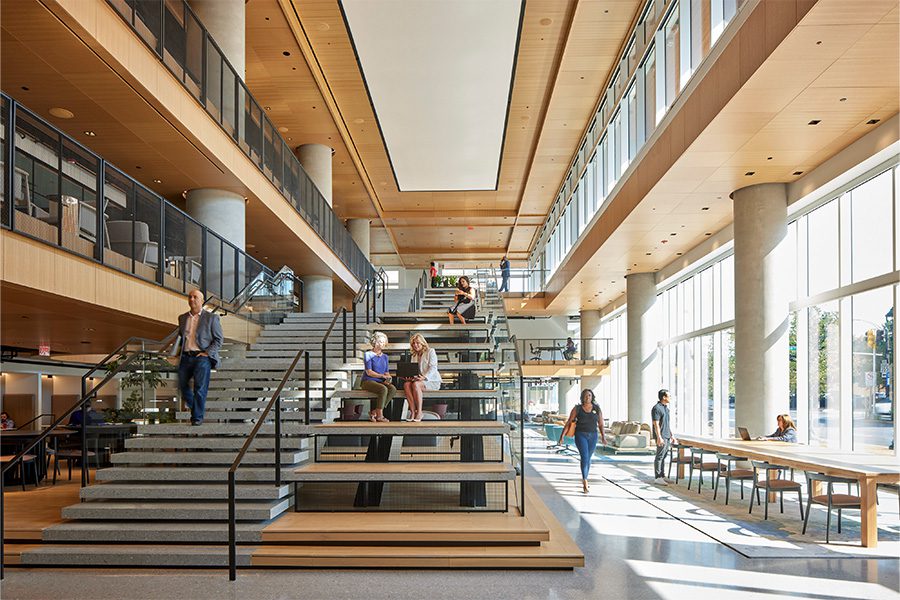 For the latest episode of Hospitality Design's HDTV video series, Jeff Voris, senior vice president of global design strategies at Marriott International, walked viewers through the hotel company's new global headquarters in Bethesda, Maryland, designed by Gensler. The new space, located next door to the flagship Marriott hotel by Rottet Studio and Gensler, is meant to bring people together and immerse them in the space. "To have this as a draw coming out of the pandemic, this is an unbelievable place," he says. "It serves us much better for where we're headed in the future."
More from HD:
What I've Learned Podcast: Linda Boronkay
Industry Leaders Discuss the Obstacles of Running a Business
5 Hotels That Are Remaking Louisville