One hundred years ago, the Brown Hotel opened in Louisville, Kentucky, resplendent with gilded ceilings and encrusted walls in a purpose-built Georgian Revival building that's since been added to the national register. It would be nearly 85 years before another Louisville hostelry gained as much attention: the 21c Museum Hotel. An adaptive reuse of several 19th-century warehouses that featured interiors by architect and designer Deborah Berke and art everywhere, the property kicked off a boom that saw about 2,500 rooms added to the mix between 2014 and 2018.
Now, post-COVID, this city of 600,000—to which 19 million visitors come each year—is in the midst of another hotel renaissance, adding 25 properties to downtown and to neighborhoods like Highlands and NuLu since 2021 and through the next few years. Here, we look at a handful of new properties populating the southern city.
The Grady Hotel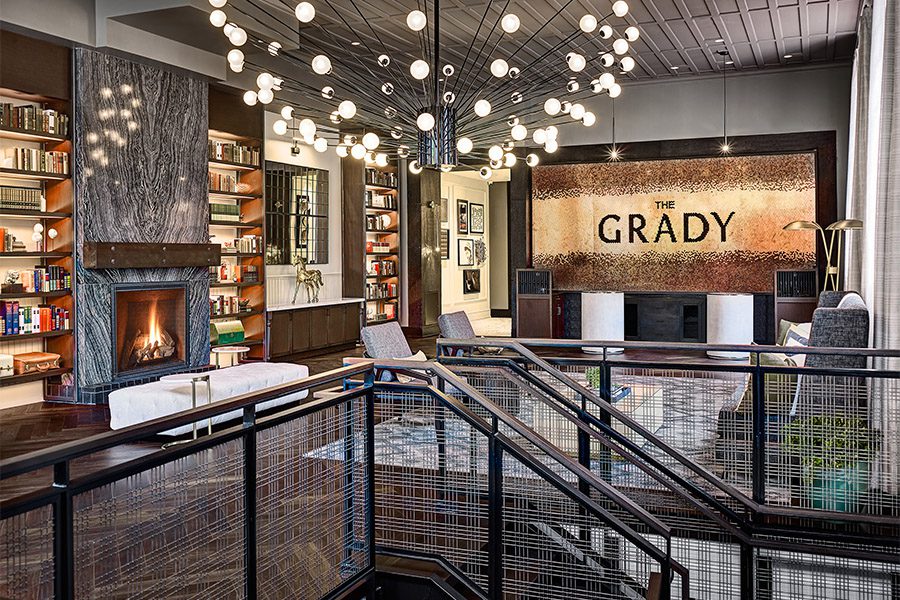 A transformation of an 1883 downtown landmark into a 51-key hotel, the Grady Hotel draws inspiration from the Industrial and Mercantile Southern Exposition, which was held in the city the same year the building was completed. "As we worked through a gut renovation, we were lucky enough to uncover some happy surprises, such as beautiful wood ceilings," says Jenny Rutledge, principal at Atlanta-based Sims Patrick Studio. Guestrooms—outfitted in deep tones of navy, emerald and olive—also showcase original wainscoting.
In a nod to the Derby-maker that was once housed here, an art installation at the front desk is crafted from replicas of the custom coins the milliner gifted to its patrons as tokens of appreciation. "Another focal point is the chandelier in the front lobby," says Rutledge. "In addition to its huge scale, this light fixture features dozens of lightbulbs as a historic callback to Thomas Edison's 5,000 light display at the 1883 Expo."
The Bellwether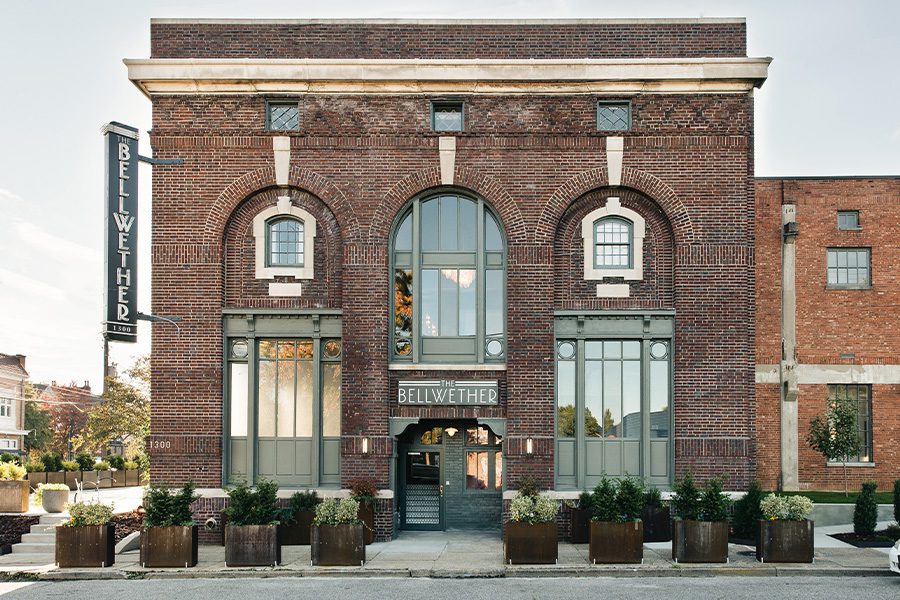 Sarah Mattingly and her husband Ben Botkins would often pass a pair of low-rise buildings—a 1907 police station and a 1917 Bell South switching station—that had sat vacant on a prominent Highland corner for decades. When it came up for sale a third time, the couple, who had owned and operated around two dozen Airbnbs in town, purchased the parcel in partnership with their friends Sean and Annie O'Leary. Three years later, in the fall of 2022, they unveiled the 18-suite Bellwether.
The two women took the lead on design, working with local architect Jeff Rawlins, artist Shelley Vaughn Hulsey, and other local artists and artisans. "When landing on a design plan, we wanted to bring back the structure to the time the switching station was in its glory: the Art Deco period," says O'Leary. "During demolition, we found beautifully arched walls and hints of original paint colors layered in the woodwork." The project involved connecting the two buildings, with the bulk of the guestrooms located in the Bell South building, and the police station serving as the entrance to a restaurant and bar and housing an upstairs four-bedroom, two-bedroom apartment with kitchen, dining, and living areas.
Bardstown Motor Lodge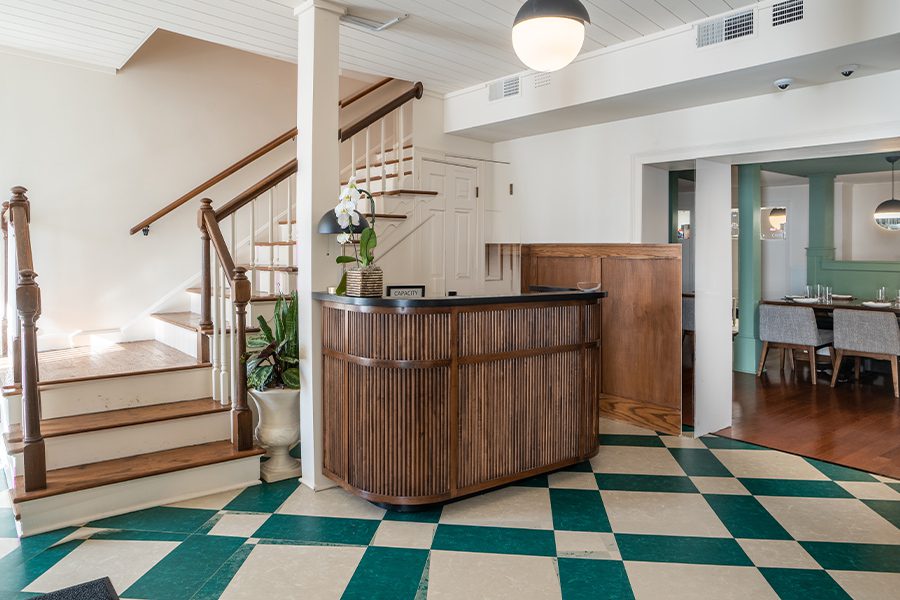 The first property to open from the Common Bond Hotel Collection, a new vertical from Louisville-based Weyland Ventures, the Bardstown Motor Lodge occupies a renovated midcentury, family-run motel and restaurant about 40 miles south of Louisville and offers 35 rooms filled with "whimsy, fun, and nostalgia," says Craig Pishotti, director of Weyland and cofounder of the Collection.
Led by Ashlyn Ackerman of the in-house design team, the guestrooms feature hues of blue accented by bright orange and cork flooring with inlays of a denim-like carpeting. In addition to a pool and retro rec room, tavern-style restaurant Toogie's Table, with oak wainscoting, a bar with matte black finishes, and lighting fixtures that nod to the dark charred wood and metal hoops of bourbon barrels complete the look. "We value comfort and connection," says Pishotti. "We are presence over pretense. We embrace tradition and history and its impact on who we are today."
Myriad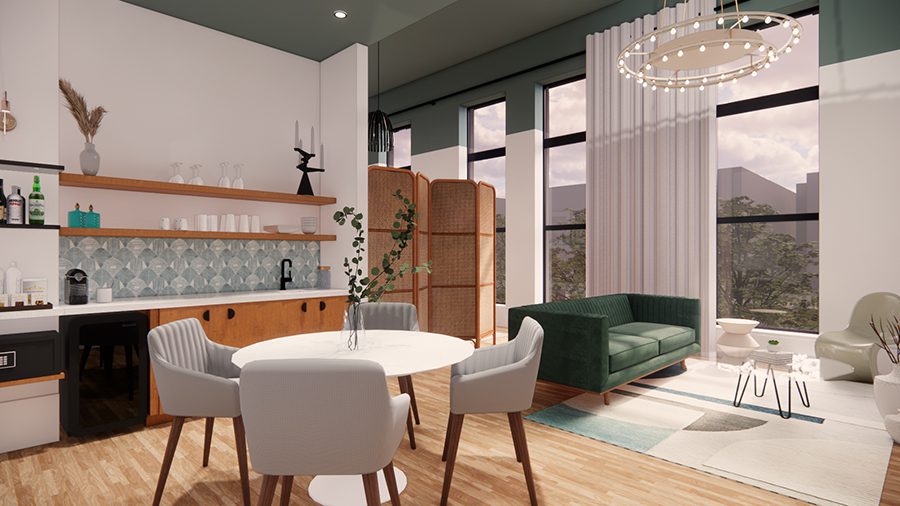 That design philosophy also dominates Common Bond's second property, which opens later this year in the Highlands neighborhood. The 65-room Myriad hotel will transform a factory and attached structures that once produced mirrored disco balls. What were dubbed myriad reflectors when they were first patented in the early 1900s inform not only the hotel's name but also its design concept, including a piece of glass grinding equipment that has been refashioned into a pool-side sculpture.
"You will see bits of [disco-related] elements here and there," says Pishotti, "but what we are emphasizing is the spirit of disco: the partying with friends, the being in the moment." The Myriad's various guestroom configurations include ground floor spaces with private lanais, suites, and bunk rooms. Original features from the Italianate and Queen Anne buildings, such as concrete and aggregate floors and exposed steel beams, have been retained. "Go with what the building is giving you has been our North Star on this project," he adds.
Hotel Genevieve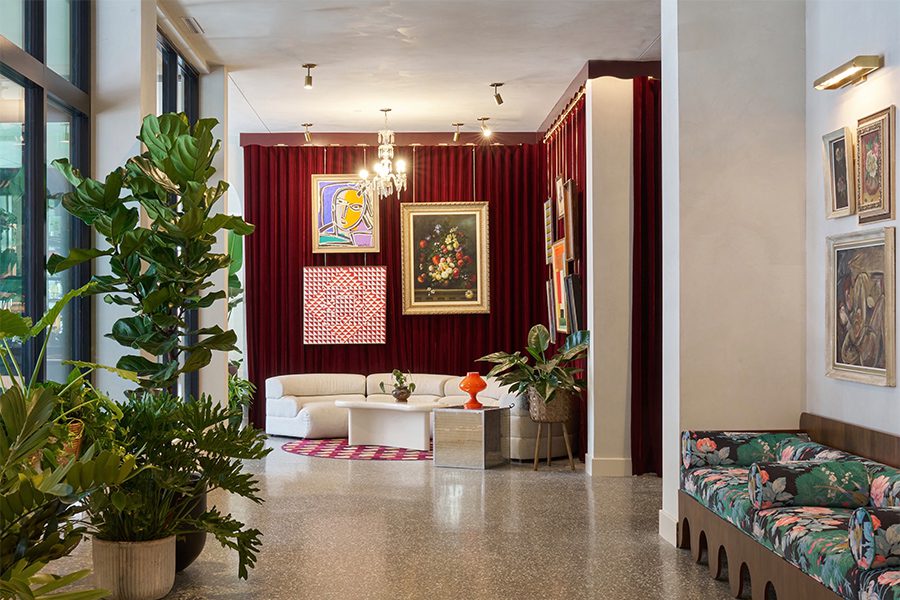 The first hotel project in Kentucky from Bunkhouse, and its largest property to date with 122 rooms, the new build in the NuLu neighborhood opened in May with a design by Philadelphia-based Rohe Creative.
Featuring an all-day ground-floor restaurant, rooftop bar and restaurant, mini market, and hidden speakeasy, Hotel Genevieve features Rohe's signature feminine vibe with touches of bold colors drawn from the region—especially the greens of the state's rolling hills—as well as a mix of vintage and custom furniture. Details reference the city's namesake, King Louis XVI, and Kentucky's quilt culture, with contemporary quilting patterns showing up in corridor carpets and bedroom throws. "We mixed lacquered finishes with warm earthy textures and soft edges on furniture and entryways," says Rohe. "My favorite moments are those spent working with artists, builders, and fabricators, and scouring flea markets, auctions, and antique shops to add that last layer of personality."