The hospitality industry leads Maui wildfire relief, two Danny Meyer restaurants are shuttering, and the David Adjaye scandal fallout continues. All that and more in this week's Five on Friday.
Maui relief efforts tap into hospitality's nature
Following the wildfires that have devastated the harbor town of Lahaina, chefs, restaurant owners, and hotel companies are committing to help Maui residents. Chef and restaurateur Roy Yamaguchi has partnered with the Kokua Restaurant and Hospitality Fund, for example, which is helping people who work in hospitality and tourism recover from the disaster. Other local chefs have stepped up as well, preparing and serving meals to those in need. "This is a grassroots community effort to feed people that need to be fed," restaurant owner Sheldon Simeon told Good Morning America. "It's a group of chefs and just community people making food, giving from their hearts, and feeding our community." Celebrity chef Lee Ann Wong, who lost her restaurant Papa'aina at the Pioneer Inn that she has helmed since 2019, has helped mobilize efforts at a food and meal distribution center at the University of Hawaii Maui College (UHMC) Culinary Arts facility. Hospitality management company Highgate, for its part, announced that it will donate $10 from every hotel booking at its other Hawaiian properties to the Highgate Charitable Foundation, with a goal of raising $1 million for Maui families (others can donate here); while Marriott International is supporting multiple relief organizations, including the World Central Kitchen, and is tapping its Marriott Disaster Relief Fund and TakeCare Relief Fund to help company employees who live in the area.
Danny Meyer to close Manhattan eateries amid migrant housing crisis
Union Square Hospitality Group (USHG), founded by famed restaurateur Danny Meyer, announced that it will close two of its New York restaurants this month. Marta and Maialino (vicino), both located at the Redbury Hotel, will end service on August 25th, according to Eater. Maialino (vicino) had relocated from its original location in the Gramercy Park Hotel, just last October. The closings come as the Redbury has been repurposed to shelter an influx of migrant asylum seekers arriving in New York City. A statement from USHG reads, in part: "[As] the Redbury partners with the city to house asylum seekers, it's become clear that the timeline for [the hotel's full post-pandemic] reopening has been extended indefinitely. While we admire and respect the Redbury's decision, the viability of our business relies significantly on hotel-related F&B operations. We remain fully supportive of the Redbury's initiative and will continue advocating for policy change that expedites work permits for asylum seekers."
David Adjaye removed from NEOM project in Saudi Arabia
Allegations of sexual misconduct by Ghanaian-British architect David Adjaye that surfaced in July have led to his firm losing yet another high-profile project. Saudi Arabia's NEOM development has removed Adjaye Associates from the controversial Line linear megacity project, reports the Architects' Journal. The studio was involved as a consultant in the pre-concept design, according to the British outlet, and will not participate in the third, and final, design phase slated for September. In the wake of the scandal, Adjaye has also been removed from Liverpool's International Slavery Museum renovation project, a planned waterfront redevelopment in Cleveland, and the Africa Institute in Sharjah, UAE, among others.
Tiffany & Co. flagship reemerges with an art gallery
In an interview with Artnet, renowned architect Peter Marino details how he has envisioned Tiffany & Co.'s newly revamped flagship in New York into a 10-story art gallery. Debuted in April with architecture by OMA, the luxurious Fifth Avenue store, known as the Landmark, blurs the line between retail and gallery space, calling on Marino's decades-long record as an art collector and founder of the Peter Marino Art Foundation. At the entrance, for instance, a row of abstract sterling silver portraits by artist Not Vital greets patrons. "I thought they were terribly beautiful, special, and weird," Marino shared. "People think it's the New York skyline. Not at all, lovey! It's the 15 most famous women who ever wore the Tiffany diamond!" Other artists with works on display include Daniel Arsham, Sarah Sze, Anish Kapoor, Richard Prince, Jeff Koons, Julian Schnabel, and Jenny Holzer. "You have to make art the focus, jewelry is so small," Marino added. "It can't be a ring. With these vast rooms, it's never going to be jewelry. It's always going to be the art." The Landmark's pieces will be on view for six months to a year, then traveling to other Tiffany flagships around the world.
ICYMI: Emlyn Brown shares Accor's wellness strategy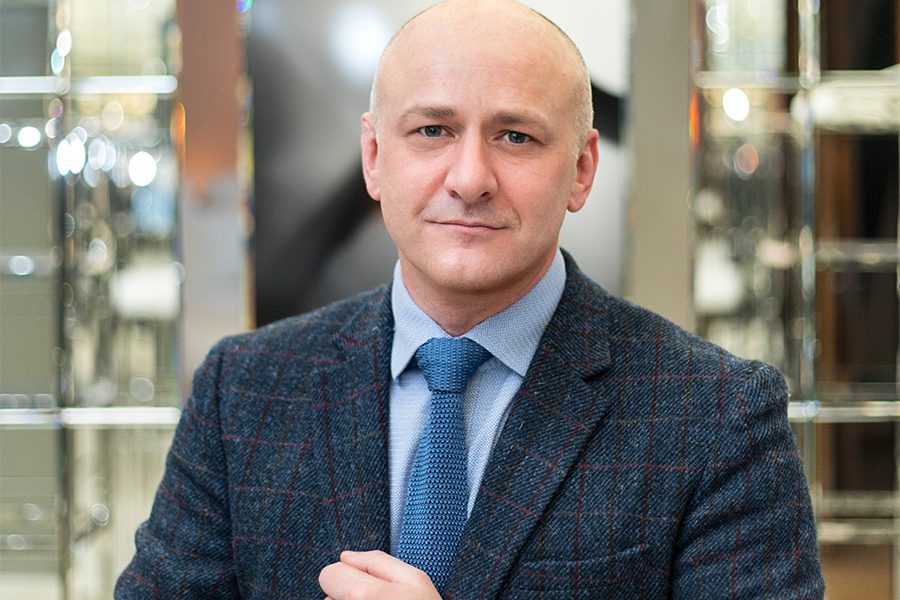 In the latest episode of HD's What I've Learned podcast, editor in chief Stacy Shoemaker Rauen talks with Emlyn Brown, Accor's global senior vice president of wellbeing. With a resume that reads like a who's who of gamechanging wellness brands—from Six Senses to GOCO Hospitality and Resense Spa—he details how to do wellness right. Listen now!