Art and design mix in a new Edward Hopper exhibition in Virginia and an installation from artist David Hartt at a Frank Lloyd Wright-designed synagogue in Pennsylvania. Meanwhile, Singapore undergoes a creative renaissance, Ace Hotel heads to Canada, and three development duos talk their recipe to success.
Three development duos redefine F&B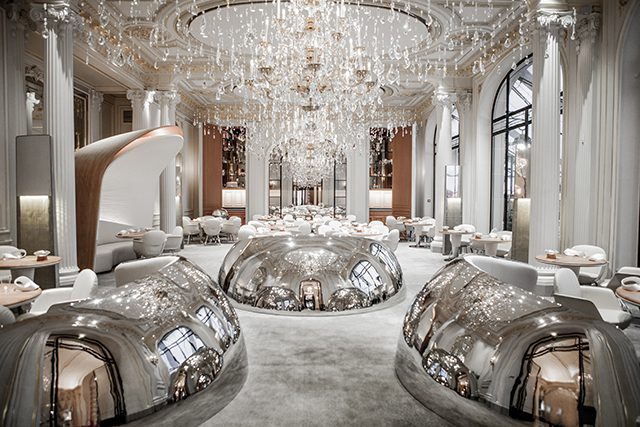 In HD's October F&B issue, we looked at three development duos who prove that trust and chemistry can produce highly sought-after spaces.
Design studio Baranowitz + Kronenberg and Amsterdam-based Entourage Group have been longtime partners, fundamentally changing Amsterdam's hospitality landscape while growing an abundant international portfolio. Meantime, New York-based CetraRuddy has helped D&D London bring their restaurants stateside, notably with the recently opened Queensyard in Hudson Yards. "When you find someone who has shared values and understands what's important to you, then you develop a shorthand," says Nancy Ruddy.
In that same vein, the longterm collaboration between Parisian design firm Jouin Manku and restauranteur-chef Alain Ducasse have created some of the most high-profile restaurants the world over. "It's all about feelings, intuitions, and ideas," says the chef of their partnership. "As we know each other well, the process is smooth and natural. Yet, this mutual understanding must not turn into a comfortable habit; we still challenge each other and even disagree."
A Frank Lloyd Wright-designed synagogue gets a second life
One of the last works Frank Lloyd Wright designed before his death, the  Beth Sholom Synagogue Preservation Foundation in Elkins Park, Pennsylvania, is being revitalized by artist David Hartt, who was a approached a few years ago for a site-specific commission to activate the space. He opted for using the synagogue's ground level and ceremony hall to exhibit The Histories (Le Mancenillier), his multidisciplinary series uses moving image, music, tapestry, orchids and sculpture as design elements. Curated by Cole Akers, the installation explores themes of Jewish and black diaspora and belonging and will be on view through December 19th. "I've been thinking about the building's potential future as an architectural ruin and wanted to commemorate that aspect in relation to community-building," Hartt told Wallpaper about the exhibition.
Edward Hopper Checks In to the Virginia Museum of Fine Arts
Edward Hopper and the American Hotel, the first thorough exploration of the artist's work in the context of hospitality, has recently premiered at the Virginia Museum of Fine Arts in Richmond. Running through February 23, 2020, the exhibition features more than 60 paintings, illustrations, and watercolors by Hopper, curated to represent his immersion in the universe of  hotels, motels, and tourist homes in the early and mid-20th-century America. As a frequent traveler himself, Hopper was fascinated by the idea of traveling by car, which also inspired his work as an illustrator for hotel trade magazines in his early career. But, perhaps the best part about the show is the Hopper Hotel Experience tied to it, a 3D recreation of the artist's iconic painting, Western Motel, offering guests a chance to spend the night within the art piece.
Singapore is poised for a creative revolution
The Singapore has been synonymous with wealth since its founding in 1965. Yet, recently is has also become a haven for original thinkers, according to Surface. Times are changing for the country, and it now is poised for a creative revolution thanks in part to a younger generation coming back home after studying arts at Western institutions, the government hosting design events like the Singapore Design Week and Brainstorm Design Conference, the initiation of integrated retail and incubation spaces like Design Orchard, and the launch of the DesignSingapore agency, which offers loans for students who want to study arts overseas. "You don't have to feel ashamed to be creative in Singapore anymore," Robert Cheng, founder of local design studio Brewin Design, told the magazine.
Ace Hotel takes its talents to Toronto
Ace Hotel is expanding its footprint to Canada with the Ace Hotel Toronto, slated to open next year. As of late, Toronto has seen a series of exciting new entrants into the hospitality realm. Consider the decadent Bisha Hotel from local Studio Munge or the former strip club-turned-lifestyle property the Broadview Hotel from another hometown firm, DesignAgency. Buzzy eco-friendly brand 1 Hotels is planning to open a hotel in the city in 2020, as well.
This will be Ace's first hotel in America's northern neighborhood and will feature a design by locally based Shim-Sutcliffe Architects in partnership with Atelier Ace, the company's in-house creative agency. The interiors will nod to the location's industrial past, while also punctuating the city's vibrant design scene. "With its public spaces conceived as local spots to gather, Ace Hotel Toronto is a contribution to the neighborhood and city itself," says the firm in a statement.