This week's Five includes Nobu Hospitality's Spanish outpost, a couch made out Balenciaga's fashion waste, the first-ever makeup museum set to open in New York, and more in our weekly roundup.
Kusama's balloon joined the Macy's Thanksgiving Parade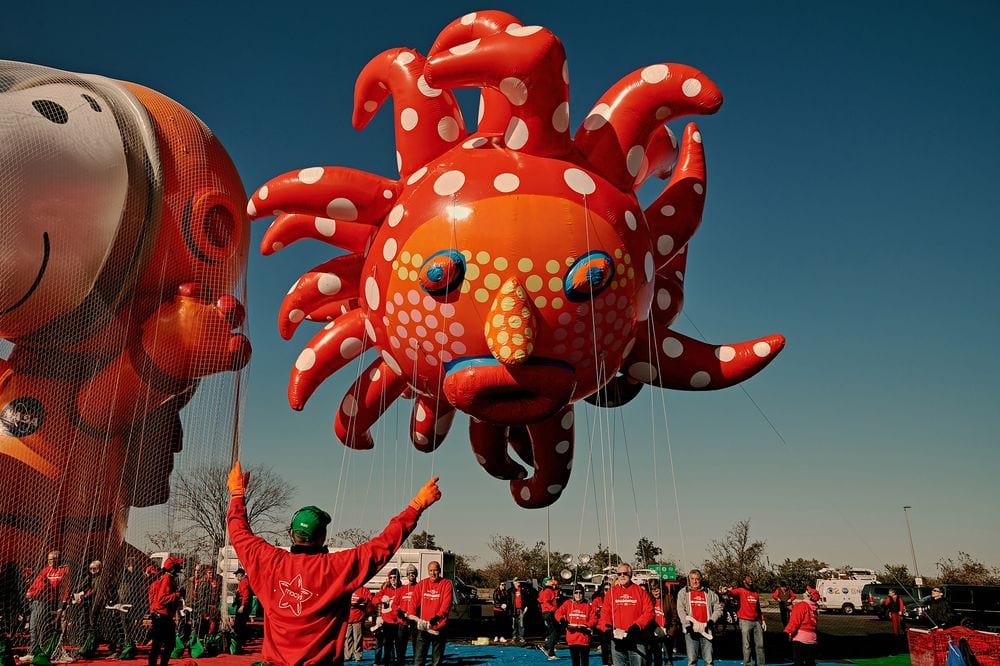 Japanese contemporary artist Yayoi Kusama contributed to Macy's Thanksgiving Day Parade with her "Love Flies Up to the Sky" balloon, which boasts a red and yellow color palette punctuated with her signature polka dots. The collaboration also marked Kusama as the first woman on the retailer's Blue Sky Gallery series, which invites artists, such as Jeff Koons and Tom Otterness, to create balloons in their distinctive styles. "I think it will be fascinating to see how kids and adults alike respond to it," the parade's executive producer, Susan Tercero told Architectural Digest. "That's what makes working with this particular artist such a fantastic moment for the parade. Her designs and creations fall right in line with what the parade is all about—entertainment for young and old."
Fashion waste turns into an artful statement
The collaboration between Russia-born, New York-based furniture designer and architect Harry Nuriev of Crosby Studios and fashion powerhouse Balenciaga has resulted in a whimsical outcome, according to Vogue. As a statement on fashion waste, the Balenciaga sofa is made out of garment off-cuts and damaged clothing pieces from the brand covered with a see-through vinyl that aims to showcase how clothes waste can be upcycled and given new life, as the fashion industry continues to question how to dispose of and recycle unsold clothing. "It is important to me to show young designers that you can work with upcycled things, you can execute it in a beautiful way, in the right shape, and with the right material," Nuriev told Vogue.
The Makeup Museum set to open in New York next year
Considering its rich 10,000-year history, it only makes sense that makeup finally has a museum dedicated to it. Opening next May in New York's Meatpacking District, the Makeup Museum will be centered on the makeup industry and culture around it. Debuting with the Pink Jungle: 1950s Makeup in America exhibition, which will look back at the important figures who defined beauty in the mid-20th century, the museum "is a critical institution for the cultural landscape in New York," says Doreen Bloch, executive director and cofounder of the museum, according to Business Insider. "There is so much that the museum wants and has to explore. And 1950s is a perfect time period for us to start since it marks the birth of the modern cosmetics industry."
Nobu lands in Spain
Nobu Hotels has arrived in Spain with Nobu Hotel Marbella. Perched on the country's Golden Mile, the famous shoreline in the Andalucia region, the 81 room-hotel features a design from Jean Pierre Martel of M&P Archidesign Consulting that evokes the Mediterranean mixed with the traditional Japanese style of minimalism. Created as an exclusive playground for grown-ups, the luxury resort features many luxe amenities, such as signature dining concept Nobu, a tennis club, golf course, an equestrian center, Six Senses Spa, and La Suite nightclub.
W Hotels undergoes a makeover
Under Starwood Hotels & Resorts, the W hotel was meant to be a lifestyle juggernaut: hip, cool, and for a younger travel, but with the influx of lifestyle hotels, from EDITION to PUBLIC and sbe's prolific portfolio, the W's popularity as waned in recent years, according to Skift. Now entering adulthood at 21, the brand is "considered dated, not even the grande dame of lifestyle hotels," says the story. Marriott's mission is to make W cool again. Since 2016, Marriott has de-flagged five W hotels, with half of the 26 hotels open in the U.S. undergoing renovations. Globally, 57 W hotels are open with 32 on the boards and a goal to reach 100 hotels by 2025, according to reporting.