A new performing arts center rises at Ground Zero in New York, UNESCO's World Heritage List grows, and the first AI hotel receptionist joins the workforce. All that and more in this week's Five on Friday.
Despite earthquake risks, adobe remains an everlasting building material
Roughly 30 percent of the world's population live in housing structures built from adobe, rammed earth, or similar materials. Yet, the risk of these adobe structures crumbling during earthquakes is notably high, evidenced by the devastating number of casualties in Morocco's most recent disaster. A new Fast Company article reports that while many cities have found more shock-resistant alternatives to adobe, there are communities that cannot afford the transition, leading instead to innovations that strengthen the 10,000-year-old material. Some of these include wire mesh reinforcements, or even SuperAdobe, which is adobe fortified with lime, packed into sandbags, stacked atop each other, and then bound with barbed wire.
A $500 million performing arts center emerges at Ground Zero
Amid the commercial skyscrapers that dominate the area around Ground Zero, the new Perelman Performing Arts Center emerges as a translucent marble cube standing eight stories high at the foot of One World Trade Center. The New York Times examines how the new center, designed by architect REX, may be the cultural cornerstone needed to turn the World Trade Center into a neighborhood more than two decades after September 11th. The $500 million, 129,000-square-foot project reveals itself as three meticulously engineered, shape-shifting theaters, designed with modular acoustic wood panels that can be reconfigured into over 60 different arrangements.
UNESCO adds 13 sites to the World Heritage List
In UNESCO's latest World Heritage Committee conference, representatives from 21 member states gathered to make significant developments to the World Heritage List. The session resulted in the addition of 13 new sites, as well as extended recognition for several existing ones, providing legal protection for distinct landmarks across the globe, reports Designboom. Among the new additions include Bronze-age burial monuments in Mongolia, ancient temples in Cambodia, caravanserai in Iran, and Viking fortresses in Denmark.
Check in with the world's first generative AI hotel receptionist
While demand in the hotel industry is poised to rebound beyond pre-pandemic levels, 87 percent of establishments still face staffing challenges, according to a Benzinga release. As a solution to the shortage, Easyway—a hospitality generative AI provider—has introduced an AI hotel receptionist that operates through iMessage, WhatsApp, or an integrated website chat widget. Easyway's AI Agent engages in continuous and direct communication with guests, ensuring hotels deliver fast, precise responses in the guest's preferred language. The platform also provides crucial data to help hoteliers predict guest behavior and optimize staffing and resource allocation.
Join us at Platinum Circle in New York!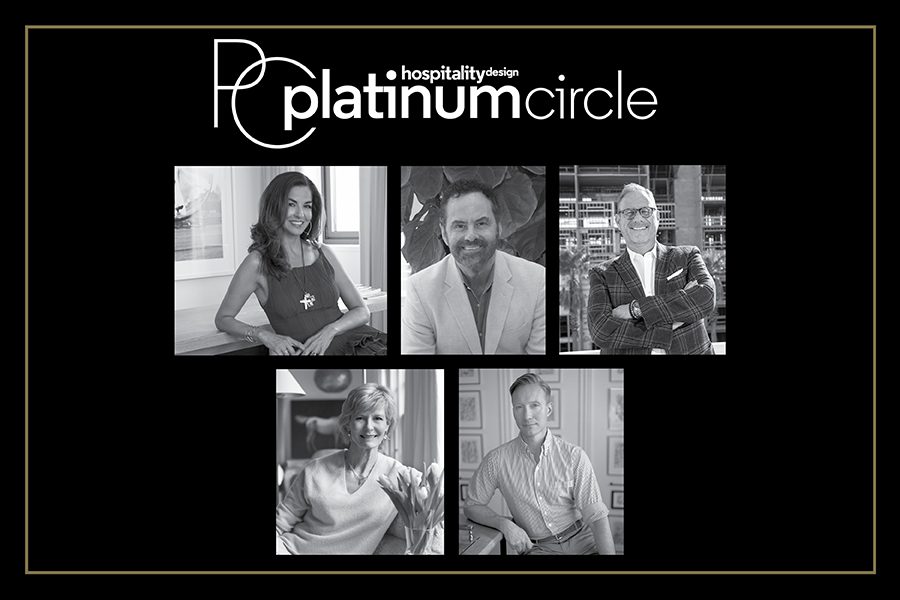 Don't miss the party of the year! Tickets are now available for Hospitality Design's Platinum Circle Awards gala, taking place November 10th at Gotham Hall in New York. The awards recognize those who have made significant contributions to the hospitality industry across design, architecture, ownership/management, and purchasing. At this year's annual event, Hospitality Design will induct five distinguished leaders into the Platinum Circle hall of fame, including Martin Brudnizki, founder of Martin Brudnizki Design Studio; Ted Carroll, president of the Carroll Adams Group; Raul Leal, CEO of SH Hotels & Resorts; Dayssi Olarte de Kanavos, president and COO of Flag Luxury; and Libby Sims Patrick, founder and CEO of Sims Patrick Studio. Shelia Lohmiller, CEO of NEWH, will also be honored with the 2023 Manfred Steinfeld Humanitarian Award. Buy your tickets today!