The LUMA Hotel San Francisco shines like a beacon as the first hotel in the city's Mission Bay neighborhood.
The property lives up to its name with a design from Cole Martinez Curtis & Associates (CMCA) in collaboration with Hornberger + Worstell that illuminates the new-build project's many local muses. "The hotel represents a distinctly different personality, offering highly curated art programming and amenities that inspire the guests and cater to residents in search of diverse experiences in a rapidly evolving neighborhood," says CMCA managing principal Jill Cole.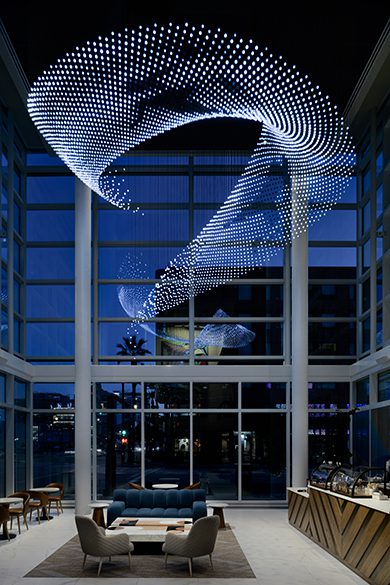 Backlit, laser-cut panels evocative of a salt pond illuminate the arrival experience, casting a spectrum of color that evolves throughout the day. A sense of place permeates interiors in the form of a cool, neutral color palette accented with notes of teal that allude to the surrounding landscape of former salt marshes.
Large-scale works from local artists further punctuate the property. One installation, by Jim Campbell, comprises 4,000 wires and LED bulbs to form a body climbing through water, while an 18-foot-tall abstraction by Adia Millett draws influence from the region's indigenous birds. Glass partitions and a medley of lounge furniture promote an openness reflective of the sense of community LUMA aims to create among guests in the public spaces.
Accommodations, meanwhile, are outfitted with furniture oriented to face floor-to-ceiling windows overlooking vistas of the city and its surroundings. Adds Cole: "LUMA is designed to be welcoming and inclusive without being overwhelming by seamlessly integrating into the fabric of Mission Bay."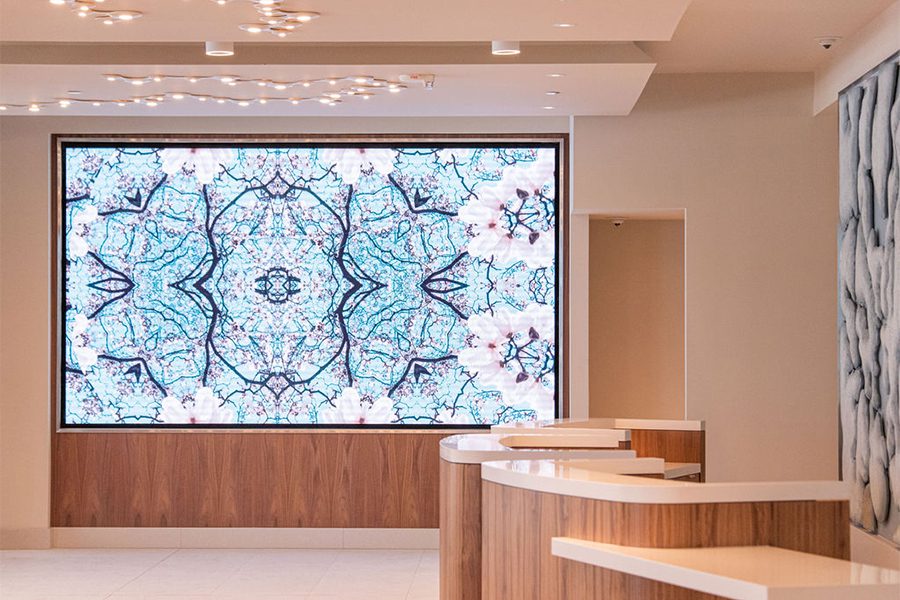 More from HD:
What I've Learned Podcast: Malene Djenaba Barnett
Marriott's 8,000th Hotel Revisits the Company's Humble Origins
5 New Hotel Brands Respond to Travelers' Wants