Innovation and growth are hallmarks of the hospitality industry, two attributes that are reflected in the constant stream of hotel brand launches. Consider the current crop of newcomers such as ULUM, the safari-like offshoot from glamping company Under Canvas that debuted in the scenic Moab, Utah desert with high-end tent accommodations by New York- and Los Angeles-based Design360 and Under Canvas' vice president of design Ben Landry.
Field & Stream Lodge Co., a forthcoming collaborative venture from Starwood Capital Group and AJ Capital, will also attract outdoor enthusiasts. An extension of the namesake camping and fishing gear retailer that traces its roots to 1871, Field & Stream will establish properties close to mountains, beaches, and national parks to maximize recreational opportunities.
Sircle Collection—known for Sir Hotels, Max Brown Hotels, Park Centraal Hotels, Àterre, and private members' club the Cover—is ramping up its lifestyle holdings with Sircle Hotels, starting this fall with an outpost in the East End of London designed in-house and a restoration within Milan's Torre Velasca skyscraper led by local practice Dimorestudio.
On the luxury front, Greece's Metaxa Hospitality Group will unveil the sustainably minded Santo Collection in Santorini in June, comprising the all-suite resort Santo Mine, the rebranded Santo Pure featuring 20 new suites, and the Villas by Santo Collection, two four-bedroom retreats.
What else is making a splash? Here, a closer look at five recently hatched hotel concepts.
Handwritten Collection
After finding success with its luxury and upper upscale Emblems and MGallery collection brands, Accor has set its sights on the midscale sector with the Handwritten Collection, a global portfolio of intimate, soulful hotels. "We were seeing rising demand from independent hoteliers seeking to leverage the benefits of an international and leading hotel group; however, they didn't want to lose the unique personality and experience that they had carefully curated for their property," explains Nadege Keryhuel, Accor's global vice president of midscale brands.
Designed for guests who "don't care for generic or tried-and-true tourism lists," as Keryhuel describes it, the Handwritten Collection makes an impression through a combination of warm hospitality and quirky touches. There are plans for more than 250 Handwritten hotels by 2030, a mission expedited by an 80 percent conversion rate. In 2023, the brand kicked off with the Art Nouveau-spirited Le Saint Gervais Hotel & Spa in France, the Wonil Hotel Perth in Australia, and the leafy Hotel Shanghai Sheshan Oriental in China. The Art Deco-meets-the-1950s Thierry d'Istria-designed Le Splendid Hotel Lac d'Annecy in France is coming soon, as is the Hotel Morris Sydney, a former hostel revamped by Caringbah, Australia-based Reward Group and Darlinghurst design firm Tom Mark Henry.
Beyond a slew of openings in France, from Paris to Toulouse to La Roche-sur-Yon, one-of-a-kind properties in Estonia and Vietnam are also on the boards. "Overall, the hotelier's vision is respected as paramount, with the original character of the hotel continuing to shine," promises Keryhuel.
Almanac X
The Alcron Hotel Prague, opened in 1932, was one of the city's first luxury properties. That legendary building by architect Alois Krofta has now been reimagined by local firm Marani Architects and Barcelona's Tres Cinco Uno Creative Studio as Almanac X Prague. The first property in the Almanac X collection, "the younger, louder sister brand of Almanac Hotels," as Tina Haselbacher, owner of parent developer WSF Group puts it, revolves around F&B offerings.
Its centerpiece, the revived Alcron Restaurant (bolstered by a coffee shop, Art Deco bar, and a rooftop terrace slated for summer 2024) melds wood panels and crystal chandeliers, complementing the minimalist guestrooms adorned with wainscot paneling, Czech limestone, and glass pendants. Tres Cinco Uno's design approach "is 'less is more'—something I was quite excited about as that was a departure from what we as a company have traditionally done," shares Haselbacher.
Born in 2018 in Barcelona, in a historic building revitalized by local Jaime Beriestain Studio, Almanac Hotels was quiet until this year. That's when Almanac X debuted alongside Almanac Palais Vienna, also the handiwork of Beriestain, which stars a two-story marble wellness center. "He has developed an Almanac interior design handwriting that is based on the use of different kinds of natural stones and art while respecting the heritage of our buildings," Haselbacher explains.
Almanac's slow growth was intentional, says Haselbacher, who admits WSF Group was "naïve in thinking that if we just hire the right people, the property will take care of itself. You can imagine that wasn't the case, and we had a lot to learn before growing our portfolio. Now, we understand much better what it takes; we are delighted with all the attention and success Almanac Barcelona enjoys and are ready to replicate and improve on that," with future hotels planned for Zagreb and Budapest.
Spark by Hilton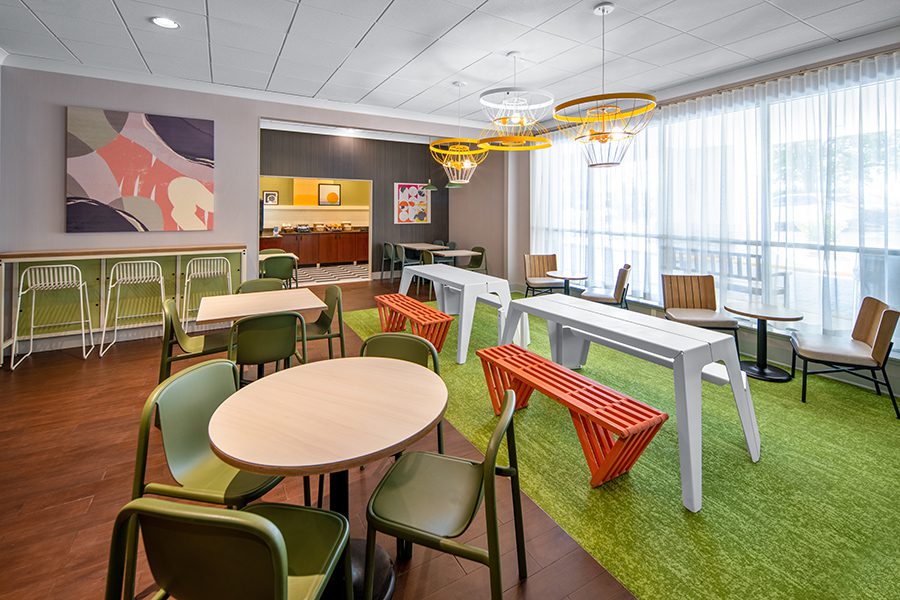 Hilton will begin rolling out its premium economy brand of comfortable, reliable accommodations, all of them conversions of existing properties. (Although more than 200 deals are in the works, inaugural locations have yet to be announced.) "Consistent quality is guaranteed as each hotel will be required to complete a full renovation encompassing all guest-facing areas of the hotel," explains brand leader Alissa Klees.
Marked by artwork, thoughtful amenities like a bagel bar, and pared-back guestrooms featuring flexible furniture and jolts of animated color, Spark by Hilton will resonate with consumers who "maximize value," points out Klees. "These guests appreciate the little things in life and are constantly striving to better themselves. They are down-to-earth individuals who seek simplicity."
Bluebird by Lark
During the pandemic, Rob Blood, founder of Lark Hotels, yearned to travel again with his family. "I found myself daydreaming about the trips that my parents took us on when I was a kid in the '80s. They often involved stops along the way at motels with great pools and vending machines filled with things that kids love," he recalls.
That nostalgia was the springboard to Bluebird, Blood's midscale brand currently centered on nature-driven locales across the Northeast (plans for the Southeast and West Coast are underway), including New Hampshire's Lake Sunapee and Cape Cod, Massachusetts, as well as the Catskills, Saratoga Springs, and Lake Placid in New York. This summer, Bluebird Cady Hill Lodge will arrive in northern Vermont, a short distance to Bluebird Tälta Lodge in Stowe, as will the Bluebird Ocean Point Inn in Boothbay Harbor, Maine. "As we took a closer look at the hospitality landscape, we started to see opportunities to bring back the love to an asset class that used to be part of the memory-making fabric of America: the roadside motel," he adds.
Blood deems Lark and Bluebird cousins more than siblings. Each of the Lark properties, often set in historic buildings, "have a strong individual identity tale," he explains, which contrasts with Bluebird's "purpose-built hotels, motels, and lodges that are carefully designed to ensure that form and function are symbiotic."
An accessible pricepoint is intrinsic to the Bluebird ethos, and so small luxuries and services are scaled back. "People understand when they are booking that they won't have all the same bells and whistles in the room that they would at a Lark. On the flipside, because Bluebirds are renovations of existing hotels, they often have additional amenities like pools," Blood continues. "Guests essentially get the same attention to detail and finish quality that they would at a higher pricepoint," like the mattresses, linens, and pillows that are also found at Lark.
Bluebird properties largely showcase standardized features such as wood-wrapped walls, but they all exude a local air because of objects sourced from nearby antique shops and flea markets. Blood and his team also try to preserve and celebrate the discovery of original elements. "For instance, in Dennisport the bathrooms had amazing 6-by-6 pink tiles that we had to keep," he says, "and the cottages had knotty pine-paneled walls, which became the main design inspiration for the project."
SIRO
One Za'abeel, developer Ithra Dubai's swank, mixed-use development in the center of the city, will bring together an urban One&Only resort and the first location of SIRO, a hotel brand anchored in fitness and recovery, late this year. "Dubai's vibrant energy and adventurous spirit make the city the perfect place to launch," says Philippe Zuber, CEO of Kerzner International, the developer behind both brands. "We want to continue to disrupt the hospitality space. Fitness and wellbeing are at the core of the modern lifestyle. We've observed this demand across our existing portfolio and decided to introduce SIRO to provide a place where passion can be ignited for living well, to inspire and unite people to become the best versions of themselves."
Leading SIRO's programming is Team SIRO, a collective of athletes, technicians, and specialists who can train guests and teach them biohacking techniques based fitness, nutrition, sleep, recovery, and mindfulness. The interiors also promote that mission throughout with panoramic views, a calming aesthetic, and plenty of rejuvenating communal spaces.
Courtesy of local practice LW Design Group, SIRO One Za'abeel invites guests into a transformative world, where they settle into the natural light-filled fitness club for yoga and meditation sessions and take to the cryotherapy chambers or sign up for acupuncture in the Recovery Lab. When they wind down in their rooms, they are treated to thermoregulation mattresses topped in anti-allergen duvets, a dimming lighting system, and steam showers.
SIRO Boka Place, coming to Montenegro in 2024, is a choice follow-up to Dubai that capitalizes upon its location on the Adriatic Sea with sailing excursions. Proximity to an abundance of outdoor activities like hiking and cycling trails is, in fact, a driver of the brand's development.
A destination for those who want to "unlock their physical and mental potential," says Zuber, SIRO thrives on "blending the boundaries between hospitality and wellness through a fresh and balanced perspective and energizing experiences."
This article originally appeared in HD's April 2023 issue.