BLVD Hospitality will officially reintroduce the Georgian hotel, a Los Angeles landmark dubbed the First Lady of Santa Monica, next week. Steeped in Hollywood history on Ocean Avenue, the iconic property has reemerged from a refresh led by London- and LA-based studio Fettle.
The Georgian's distinctive turquoise façade and Period Revival-meets-Art Deco aesthetic remain intact, bonding the hotel's next chapter to its glamorous Old World roots. "I had passed by the Georgian many times before stepping foot inside the architecturally stunning property for the first time 13 years ago," says BLVD founder and CEO Jonathan Blanchard. "I could see the Georgian had such a striking presence and charm, she just needed to be brought back to her full potential. We are so thankful to have such a wonderful group of passionate and inspired visionaries and partners working to give the Georgian what she has deserved for decades."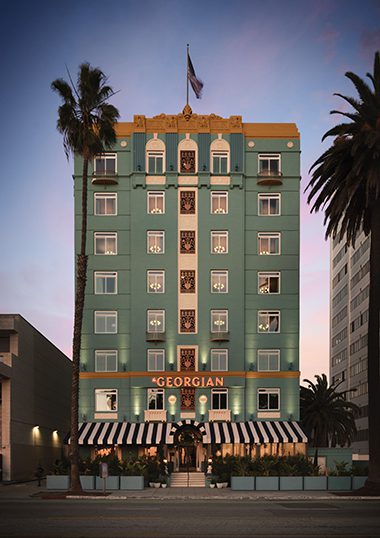 An elaborate art program and thoughtful new materials enliven historic elements of the site. Custom Art Deco-style furniture was installed alongside ornate light fixtures, imported Italian marble, and Havana Deco-inspired floor patterns.
In addition to 56 guestrooms and 28 suites, onsite amenities comprise the Sunset Terrace, dining room, and the Sunset Bar. A library, fitness center, and a pair of versatile meeting rooms are featured as well.
"The story of Santa Monica's First Lady is one filled with magic, intrigue, sophistication, and quite certainly, a touch of debauchery," adds BLVD cofounder and president Nicolo Rusconi. "Our vision is that each one of those elements will coalesce with contemporary California culture to once again make the Georgian California's crown jewel."
More from HD:
Palm Beach's Colony Hotel Maintains Its Youthful Glow
2023 Hotel Development Update: New York
The Restaurant World Embraces Pop-Ups and Speakeasies