The Colony Hotel has seen many iterations since its construction in 1947 by architecture firm Simonson & Holley during Palm Beach's postwar construction boom. Changing hands over the years, the property's seven-decade evolution has amassed a star-studded guestlist, including numerous celebrities and U.S. presidents; the addition of villas and suites inside the adjacent Mediterranean-style mansion, Casa Manana; and, perhaps most importantly, its unmissable pink façade, which was painted in 2006 while undergoing a refurbishment by late decorator Carleton Varney.
Fittingly dubbed the "Pink Paradise," the six-story boutique hotel entered its most recent incarnation in 2016, when it was purchased by Andrew and Sarah Wetenhall. A year later, the couple announced the Colony would undergo a multiyear renovation spearheaded by Kemble Interiors. The final phase of the restoration, comprising the redesign of all 79 guestrooms, came to a close late last year—just in time for the hotel's 75th anniversary.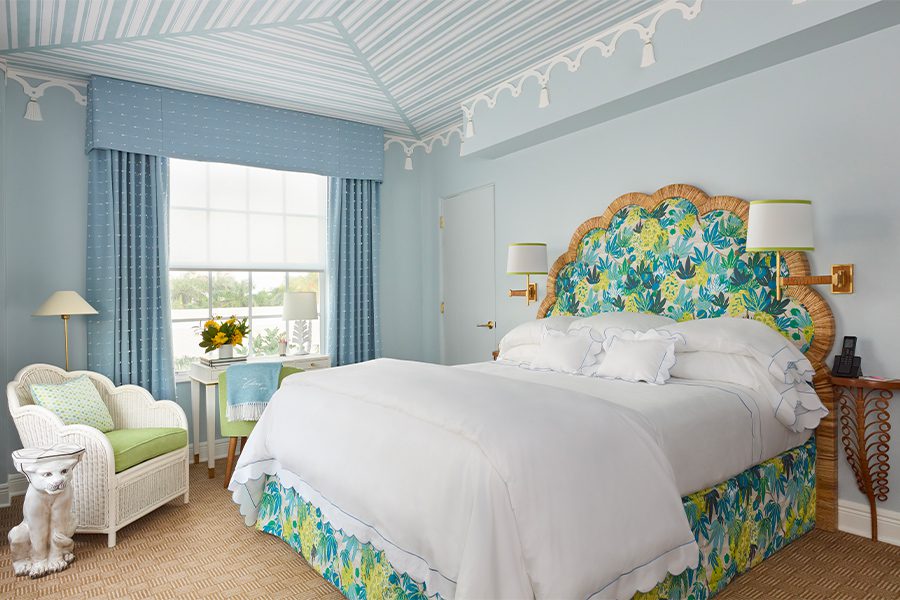 Mimi McMakin, founder of Kemble Interiors and a Palm Beach native, collaborated closely with Sarah Wetenhall to craft the rooms in a way that would tie the property together and "fulfill our vision of a cohesive aesthetic and guest experience," Wetenhall says. This meant tapping into all things Palm Beach—embracing its history, the lifestyle, and native materials.
The result is three distinct guestroom designs, plus uniquely executed suites. While each accommodation tells its own story, "the vernacular materials of Florida—cane, bamboo, and brightly colored paints and fabrics that say 'stay awhile,'" as McMakin puts it, are woven through each space.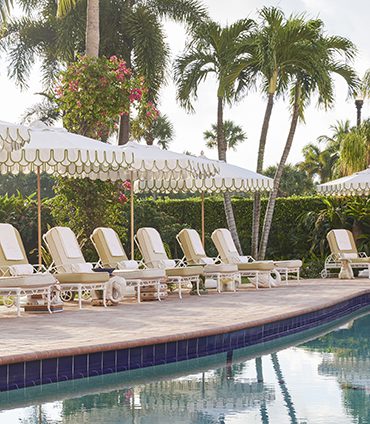 The guestroom schemes include the green-sheathed Bloom, the Pink Deco, and the Cabana (McMakin's personal favorite). "I love the whimsy of the cabana-striped rooms," McMakin says. "While lying in bed, it feels as though you are under a sun shade by a pool. We made custom tassels that come down from the striped wallpaper that clads the ceiling, and the end result is lighthearted and fun." Indeed, the scallop trim found in other room types mimics the umbrellas that surround the Colony's pool. "We wanted guests to feel like they are at the beach even while inside," Wetenhall adds.
Earlier upgrades impacted public spaces—like the lobby, or Living Room, hallways, and pool area—establishing a playful, personality-filled harmony throughout, which "physically reflects the Palm Beach environment and local design heritage," Wetenhall says. "As a historic property, we believe classic is cool."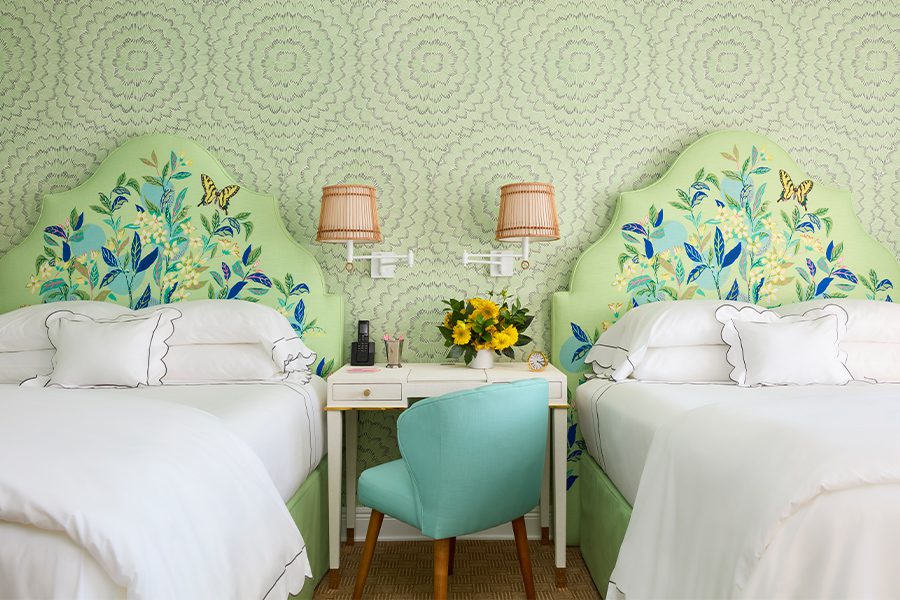 More from HD:
The Latest Retail Stores Focus On Experience
Meet the Minds: Rustam Mehta, GRT Architects
2023 Hotel Development Update: New York