Glamping company Under Canvas has launched ULUM, a safari-inspired outdoor resort brand, in Moab, Utah. Crafted by Design360 and Under Canvas' vice president of design Ben Landry, ULUM Moab bonds the sophisticated comforts of the elevated hospitality brand with an immersive sojourn into nature.
"ULUM introduces a higher level of comfort in nature, taking the very best of Under Canvas and adding refinements, such as a contemporary view lobby, upscale residential design, dipping pools, and an expansive food and beverage offering, all in an exceptionally beautiful location south of Moab," says Under Canvas CEO Matt Gaghen. "Our tenure and reputation as leaders in the outdoor resort space—with more than a decade of experience providing exceptional hospitality in remote environments—paired with heightened demand to explore amazing destinations like Moab made it the perfect time for us to introduce a new concept that will inspire both existing and new guests alike."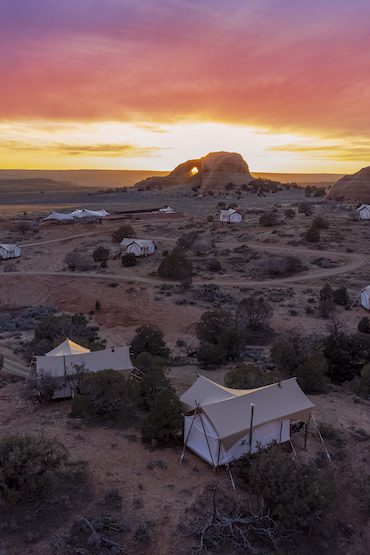 Sustainability is at the heart of the ULUM brand, and the 200-acre Moab property features thermally modified lumber, recycled paper board walls, and basins and sinks that employ carbon sequestration to minimize carbon footprints. A low-profile, temperature-controlled lobby anchors the site, complete with a lounge and restaurant.
In the lobby, nature-inspired, organic materials—like local stone and wood—are illuminated by a custom chandelier comprising ancient rock fragments sourced onsite. Bi-fold, floor-to-ceiling glass windows further blur the barrier between indoors and outdoors, while alfresco amenities—like hot and cool dipping pools, a yoga deck, and an additional lounge—connect guests with the surrounding landscape.
Natural wood and woven rugs adorn ULUM Moab's accommodations as well. Each guest suite spans 360 square feet of interior space and includes a 70-square-foot deck. King beds flank bedside tables topped with lanterns, while lounge areas are endowed with queen-sized sofa beds and lounge chairs. Tents are equipped with evaporative cooling fans and wood stoves as well as contemporary barn door slides that sheath ensuite bathrooms appointed with rain showers and polished concrete sinks.
More from HD:
Tour the Park Lane New York With Yabu Pushelberg
As Remote Work Thrives, Coworking Spaces Take Centerstage
Submissions Are Open for the 19th Annual HD Awards