W Boston has revealed its newly transformed suites and welcome area following a makeover from Seattle-based Dawson Design Associates. Celebrating Bostonian history with nods to Edgar Allen Poe, the Massachusetts Militia, and the city's rock bands from the 1970s and '80s, the design also includes a motif of smoke and fire perpetuated by murals from Spanish artist Antonio Mora, which draw influence from Poe's poem "The Raven."
The suites' new look features Revolutionary War-inspired details such as smoked glass and faux-charred wood and nods to "The Raven" with angular shapes and sharp edges. Alongside stark, crisp furniture, each room's modern, edgier elements are balanced with cozy fabrics and upholstery. Floor-to-ceiling windows offer expansive city views.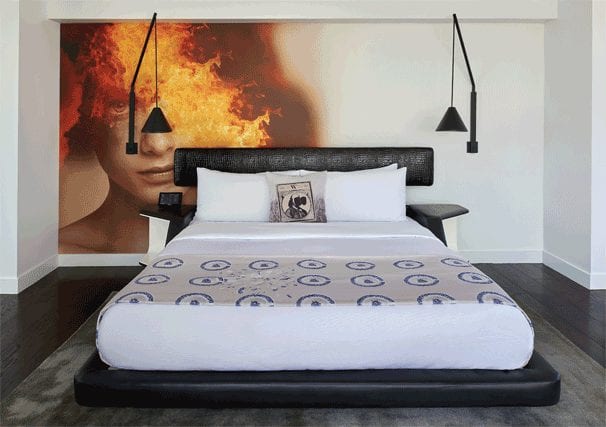 The Extreme WOW suite, the property's largest, is equipped with eccentric furniture such as a deconstructed Windsor chair and a chandelier recalling timbers falling from a fire. The suite also features dark oak and walnut flooring offset by crisp white walls reminiscent of a gallery.