Seattle optical store Eye Eye has added a second location in the lakefront Leschi neighborhood.
To defy the conventions of traditional eyewear stores and clinics, the brand tapped Best Practice Architecture—the firm behind Eye Eye's original flagship—to fashion a space that evokes interest and creativity. "We were tasked to give Eye Eye's customers and patients an unparalleled retail and eyecare experience," says Best Practice principal Sarah Smith. "Our client envisioned an engaging space that would spark joy and curiosity in customers, highlight Eye Eye's curated selection of frames, and foster a tranquil environment for those seeking sought-after clinical services."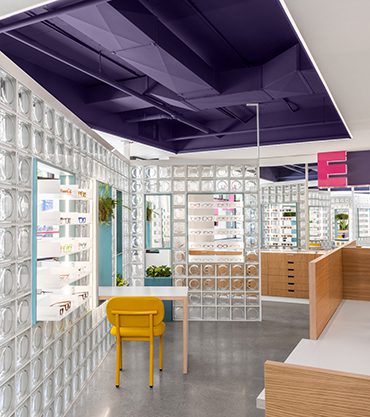 The client requested glass blocks, illuminated signage, and nods to the original store's design be incorporated into the design, leading Best Practice to expand the color and material palette. Dichroic glazing and purple ceilings line the 1,700-square-foot space along with walls of glass blocks that inform the circulation and contrast the orthogonal layout.
A wall system partitions the retail space from consultation tables, complete with carved-out niches equipped with mirrors and display glasses. Adjacent to the reception desk, a translucent, reflective dichroic wall leads to the clinic conceived to accommodate privacy for eye tests without compromising natural light. Custom medical equipment and warm wood cabinetry also punctuate the exam rooms.
More from HD:
2023 Development Update: Indonesia
4 Panelists Offer a Sneak Peek to HD Expo + Conference 2023
Amber Asher on What's To Come From Standard International