Set upon a cliffside overlooking the coast of the French Riviera, the Maybourne Riviera hotel has unveiled two floors dedicated to wellness facilities designed by Hong Kong-based architect André Fu. In addition to adjoining guestrooms and suites, also envisioned by Fu, the new spa comprises seven treatment rooms, a beauty and hair salon, specialist consultation rooms, a steam room, and sauna. The holistic wellness journey was crafted to reflect the evolving colors and motion of the sea and sky and instill tranquility.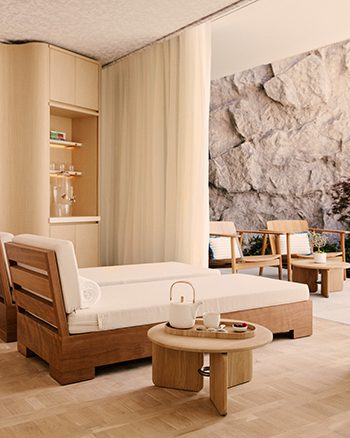 "In bringing elements of the Maybourne Riviera's surrounding environment into the design process, I was able to draw on the location's natural connection to a sense of wellness," Fu says. "As the sea has been correlated with elevated feelings of wellbeing, I frequently emphasized the open water's proximity to the hotel, aspiring to provide visitors with a holistic and immersive wellness experience—thoughtfully integrating luxury, tranquility, and repose into every design detail."
A full-height carved timber door heralds guests into the reception area, which is anchored by a tear-shaped stone desk installed against an organically shaped marble wall equipped with built-in lighting. Organic forms also define the salon, where bespoke oak shelving and cylindrical display towers guide visitors toward the expansive outdoor terrace.
Oak paneling masks equipment in treatment rooms, adding to a sense of fluidity and clean minimalism. Curved and sculpted walls echo the property's cliffside landscape, while the pristine French limestone backdrop conveys purity and cleanliness alongside accents of mineral blue and dusty olive green. Solid oak and sleek polished rose gold and peach terrazzo, reminiscent of a hypnotic sunset, line the interior as well, and olive trees were planted inside to further reinforce the setting.
More from HD:
The Best New Rooftop Pools Across the Globe
Nobu Hotel Barcelona Marries Japanese and Spanish Design
What I've Learned Podcast: Little Wing Lee