In 2022, the London-based Nick Jones was diagnosed with prostate cancer. It gave the Soho House & Co founder and director of the board time to reflect on the groundbreaking members club he founded almost 30 years ago in the city's Soho neighborhood. After a successful recovery and thinking about succession plans, Jones decided to hand over the business, known as Membership Collective Group (MCG), to the company's global president Andrew Carnie, now CEO. (Jones remains on the board in a founder role.)
For Jones, the allure of hospitality has always been about the people—whether its his team or the Soho House members—and he wanted to get back to the creative and entrepreneurial side of the business. Looking ahead, "there are definitely things I want to have a go at," he says, "but I haven't quite identified them yet."
Together with his in-house design team, Jones has perfected a signature style that embodies a well-lived-in, eclectic home—a brand hallmark that led to the launch of Soho Home, the collection of furniture, lighting, tableware, and accessories that mirrors the look and feel of Soho Houses from around the globe.
Indeed, Jones' pioneering spirit and risk-taking attitude changed the hospitality industry. Today, with 248,071 members globally and 41 houses and associated brands and counting—with plans to open four to five per year—MCG's future continues to look bright.
Soho House opened nearly 30 years ago in 1995 in London's Soho neighborhood. In 2003, you debuted the Soho House New York. What led you to expand the brand to the U.S.?
Nick Jones: It is funny being a Brit because you have such admiration for America, and you fear you'll come over to America and have to go back if it doesn't work out. I thought that was going to happen to me, but I'd much rather give it a go and not succeed than not giving it a go. It's not in the spirit of who I am. And luckily, for a lot of reasons, it did work. Not only did it work in New York, but it [also] has worked in many houses in many cities and states around America.
And you're still going. You have houses in Charleston, South Carolina and Portland, Oregon on the boards, which are secondary markets. How do you know which city is right for the brand?
NJ: Those cities are fascinating. We have great buildings, and it's been fun designing those houses. You don't have to be a massive [city] to have a Soho House. There are great people who live in Portland and Charleston, and [we don't need] that many [members] to make a Soho House work. We will continue to [look at] cities that aren't on the East or West Coast.
You're also growing globally, with houses popping up in places like Mexico City. What can you tell us about that location?
NJ: I was there [recently], and it's stunning. It's in a beautiful old house right in the middle of Mexico City. It was a miracle we got this building, and we've been able to put in an enormous swimming pool. Mexico City has fantastic culture, people, and restaurants. They've got it all covered, so we have to offer something a bit more if we're going to turn any heads.
Soho Farmhouse, which opened in 2015 in Oxfordshire, England, was another successful pivot for you. Are there plans to do more rural offerings?
NJ: We [recently] announced that we're doing Grasmere House, which is in Rhinebeck in upstate New York. The houses where members retreat to are incredibly popular. Farmhouse, much to my amazement, has been a big success. It was such an entrepreneurial [endeavor]. If you thought it through and said, 'this is what we're going to do, this is how you underwrite it,' it would have never got through anything. Winging it worked, and it's been a commercial success as well as very popular with our members.
Many Soho House locations are restorations of older buildings with adaptive reuse becoming a calling card. Can you describe your design process?
NJ: I fall for the building first. If I don't get that feeling within a minute or two, then it's not right. We always start with a clean piece of paper. I'm always pushing our design teams to be different and to think outside the box.
Do you watch how people use the space in the different houses?
NJ: All the time. People use it in their own way. More and more houses have gymnasiums and cinemas and facilities like that, and [members] might spend the whole time [on the property]. They might start with a workout or a swim, come to a member event, end up having a light lunch, then cocktails in the evening, and [finish the night with] a nightcap. You don't have to move around the city, you can stay in one place the whole time.
In recent years, there's been an influx of members clubs entering the market. How do you view these new models that are following the formula you pioneered?
NJ: It's interesting to see how many other people are catching on to the membership [model]. I'm surprised it took so long. There's room for us all, and I'm here to help. If anyone phones me and wants advice, I'm always here.
How do you continue to rethink Soho House and serve members as you enter new cities and countries?
NJ: We make mistakes, and we try new things out, but the bottom line is that it's all about our members. If we have a happy member, then everything else looks after itself. Most people have Every House membership, and there are 41 houses around the world with four or five new [ones] opening every year. The value of the membership keeps getting greater if you travel. A lot of our members do travel to our houses, and it is a home away from home.
Hospitality is about looking after people. We're so lucky because people have to eat, drink, and sleep every day. AI [isn't] going to replace that. It was always going to have to continue as it always has done. What we've been able to do to a degree is put a lot of flexibility into it. Everything is so much more customer friendly now, and I always look at everything through the customer.
You are also diversifying with Soho Home, the interiors collection inspired by the design of your properties.
NJ: Soho Home is a response to our members because whenever we open a [new Soho House], everyone says 'Where did you get the glass? Where did you get the bed? Where did you get the seat? Where did you get the mattress?' Originally, we ordered a few more, put it on the website, and let our members buy them. It's become a big business now, but that was by accident.
You recently named Andrew Carnie, former global president, as Soho House & Co's new CEO. Why was it time to pass the torch?
NJ: Andrew came to us five years ago from Anthropologie, where he was president. He's helped a lot on Soho Home. I brought him in to succeed me as CEO because I'm more entrepreneurial. I'm not a person who wants to sit in an office looking at spreadsheets. I went into hospitality because I love a room full of people having a good time. I got prostate cancer last year, and it was the perfect time to [move] into a role doing the things I enjoy. I love the creative side of the business, and I love the people side of the business. I love the people who work for us. Without them, we're nothing. I love our members because without them, we're nothing. Those are the areas I spend all my time now.
Reflecting on your time at Soho House & Co, what motivated you to launch that inaugural property all those years ago?
NJ: It was survival. It was one house, and I never dreamed of a second house. But luckily, the first one worked, and our members said, 'Why don't you do one in the country?' That's why we have Babington House [in Somerset, UK]. Then it was, 'You should do one in New York' and I got on a plane to New York. I'm quite gullible when it comes to our members. I do what they want.
Looking back, what has been your greatest lesson learned?
NJ: The customer is super smart. If any operator or any person in our business doesn't think that, they will trip up. That's the [one] thing I would tell anyone in the business we're in. I've always had enormous respect for the customer because they know when something's off. [They know when] it's not right.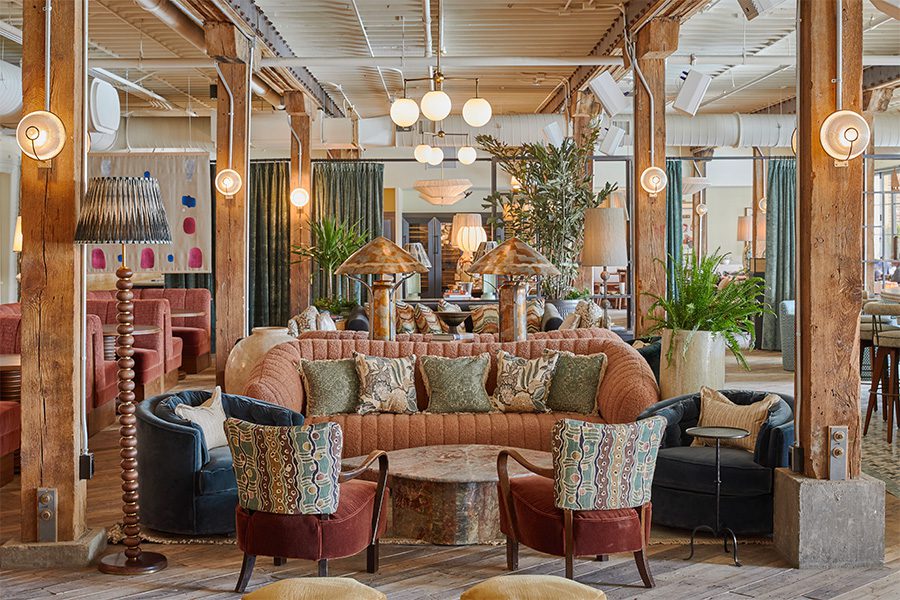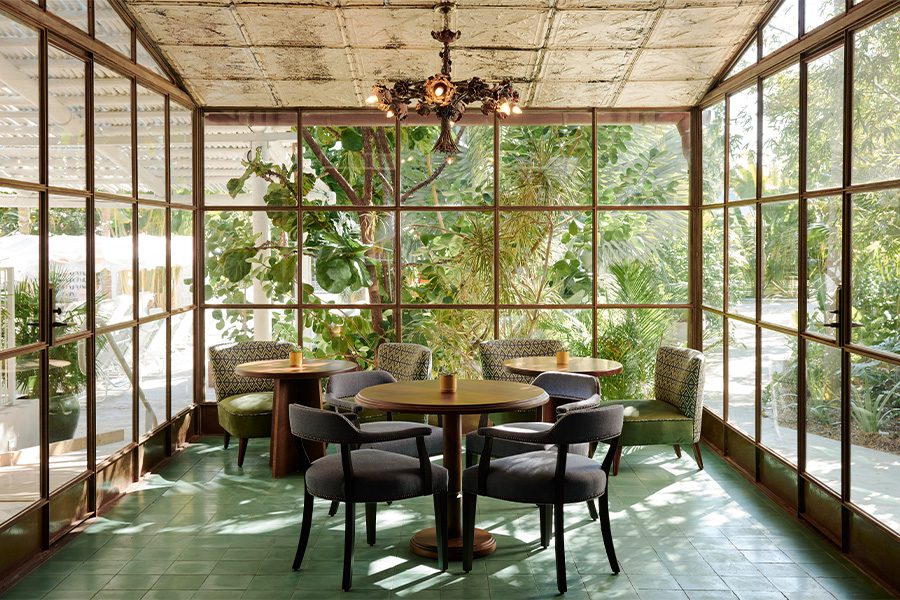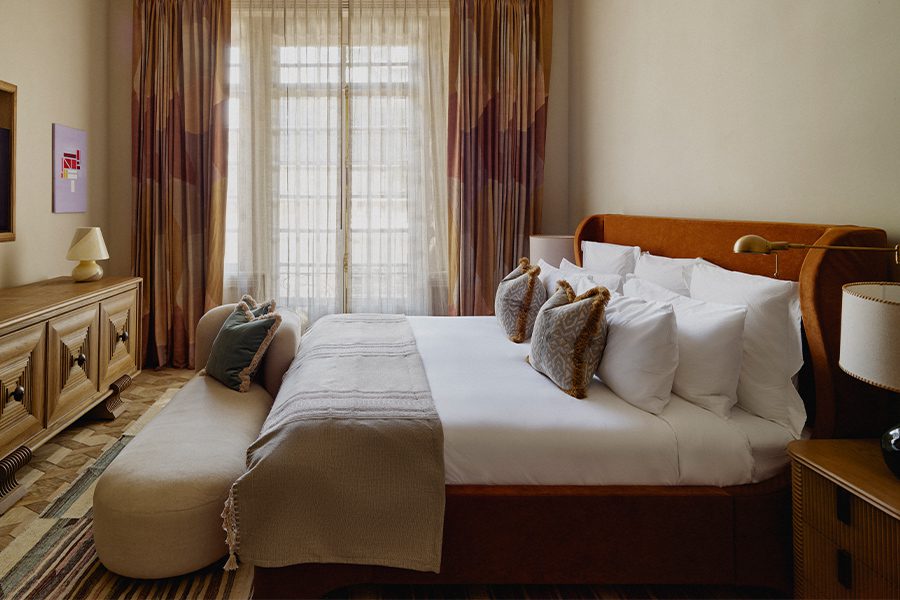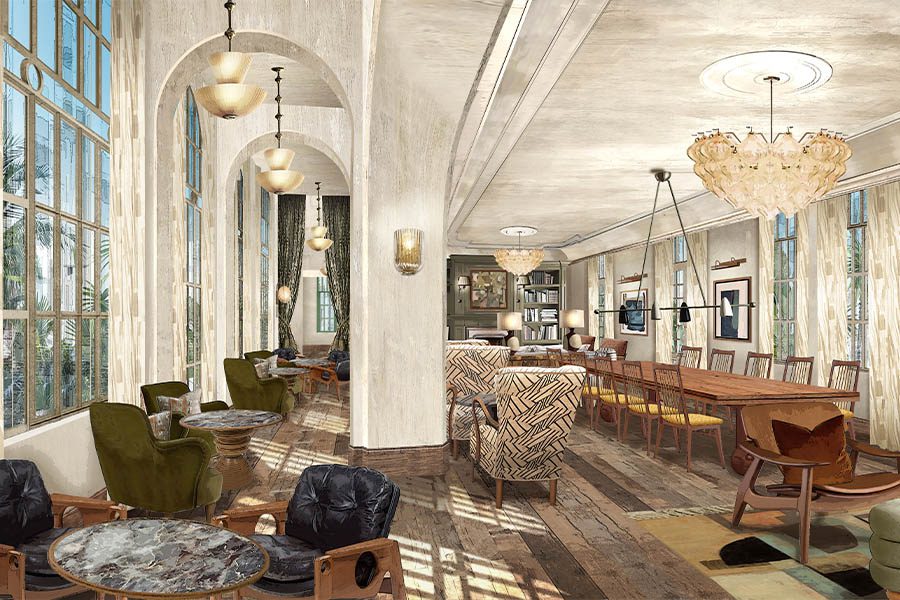 This article originally appeared in HD's October 2023 issue.