While AutoCamp's 25-acre Joshua Tree location doesn't stray far from the upscale "glamping" company's chic midcentury milieu, its designers felt the seemingly otherworldly location among the High Desert's boulders, cacti, and namesake trees merited a more organic approach tailored to its environs. "It's a bit funkier than their other locations," says Shannon Niehenke, founder of San Francisco-based Narrative Design Studio. "We went a little rogue."
The property's 47 Airstreams and eight X-suites surround a pair of half-domed, metal-roofed structures inspired by Quonset huts—a type of lightweight, prefabricated building often used in the military. The design also pays homage to similar forms by 1970s-era desert artist Noah Purifoy, whose work can be seen at the nearby Joshua Tree Outdoor Museum.
Clad in a mix of woods, one structure houses a clubhouse with dramatic desert views on both sides. The other serves as an open-air meeting and event space, its side walls replaced with large-scale louvers. "The design addresses winter winds and takes advantage of summer breezes with shading elements on all façades," says HKS principal Mark O'Dell. "Simple and compact architectural forms create an identity for the property that exudes intimacy, privacy, and community."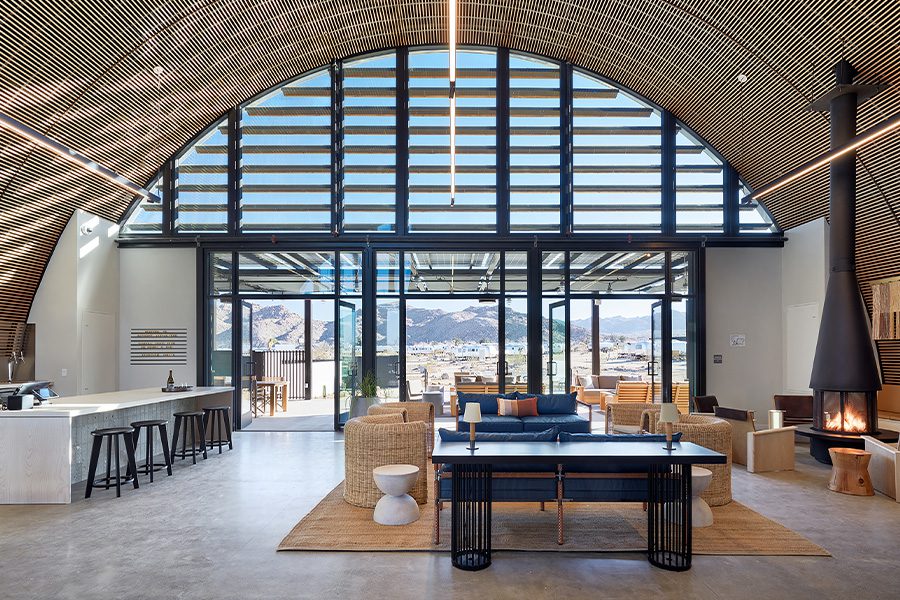 To that end, the clubhouse is flanked by large firepits that inspire conversation and stargazing. The chatter often spills inside, which, in addition to several distinct seating areas, houses a reception area, general store, and serving area/bar. "There's a seamless extension between the indoor and outdoor spaces," Niehenke says, pointing to the organic material palette, which also includes new and reclaimed wood, concrete, steel, volcanic tile, and leather. "It's warm and very comfortable."
Indeed, clad in slotted wood panels, the clubhouse's semi-circular ceiling and concrete flooring create a sophisticated backdrop for a mix of custom and handcrafted furnishings. In the center of the room, for example, contemporary woven chairs and a pair of sofas with leather-wrapped frames and waxed cotton cushions create a spot to relax.
Handmade furniture and original artwork, much of which is by locals, further enhance the design. Evoking the fringe on a 1970s-era jacket, an eight-foot-long textile made of various colored leathers by AVO's Britt Kleinman hangs over a built-in bench near a standalone black metal fireplace, an AutoCamp hallmark. "We incorporated as much texture and as many layers as we could," Niehenke says. Chic wooden armchairs by Alexis Moran and sculptural wooden stools by local artisan Dan John Anderson complete the picture.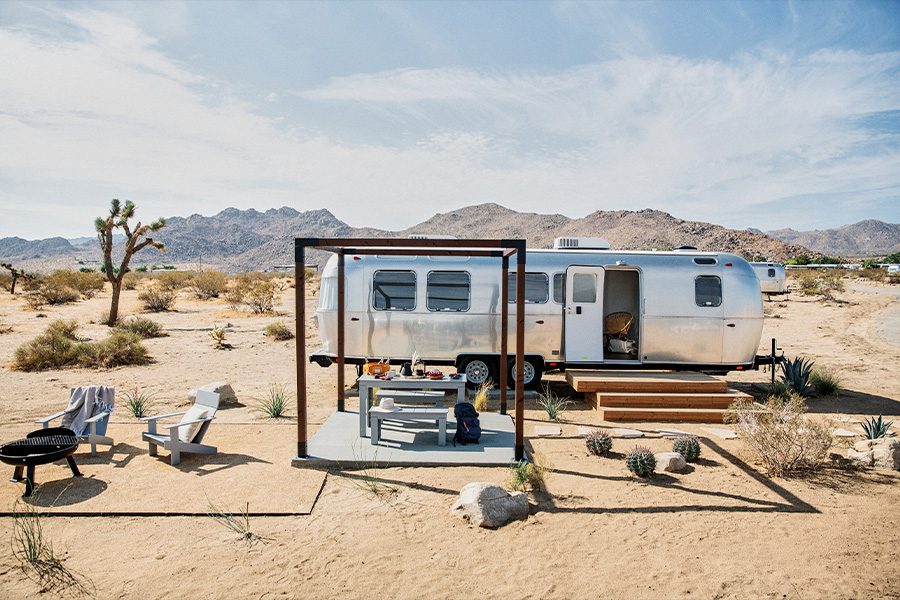 Acknowledging the area's original inhabitants, a graphic black, white, and red mural by indigenous artist Jaque Fragua elevates the poolside bar, which includes a covered seating area with small concrete resin tables and heated chairs. "Joshua Tree gets chilly at night, especially during the winter," Niehenke says. "Sitting in warm chairs with a drink is pretty nice."
Upon its debut in December 2021, AutoCamp Joshua Tree sold out within the first month, attracting a diverse array of guests, from young families to corporate retreats—something Niehenke witnessed for herself during a recent visit. "It was satisfying to see people happy to be there and enjoying their experience," she says. "It's a magical place."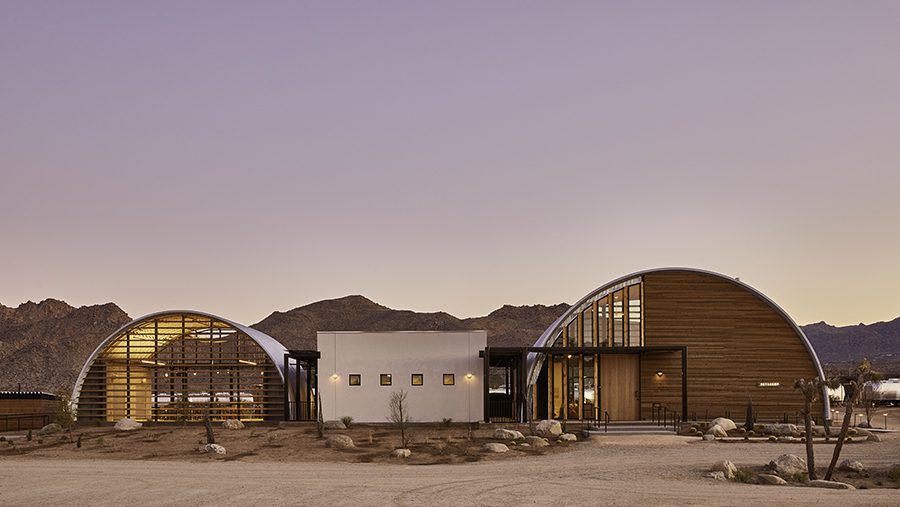 A version of this article originally appeared in HD's April 2022 issue.
More from HD:
The 40 Most Anticipated Hotel Openings of 2022
2022 Development Update: Napa Valley
Wynn's Todd-Avery Lenahan to Speak at HD Expo 2022