Nearly 20 years after it first debuted, the Bab Al Shams in Dubai reopened to guests early this year after an extensive 10-month renovation by locally based LW Design Group. Bab Al Shams, or "gateway to the sun," is the first Rare Finds Hotels & Resorts property by Kerzner International.
"The glamour of modern-day Arabia is unique and multifaceted," says Pooja Shah-Mulani, a partner and design director at LW Design Group. "Bab Al Shams presents the perfect opportunity to showcase this: a heritage building that looks to the future with a foot firmly rooted in the past."
Visitors to the beloved property pass through an Arabic pointed arch into a lush palm-filled landscape that feels like another world. Shaded by a new porte-cochère, the original carved, metal-studded doors open to the handsome lobby, where slatted screens with a geometric Arabic motif guide guests to the rich walnut reception desk.
Hand-knotted rugs, meanwhile, anchor plush furnishings covered in neutral fabrics and adorned with jewel-toned pillows. A swing with an upholstered seat and a fringe detail, for example, invites relaxation. Additional seating can be found in the richly appointed library, which features illuminated shelving displaying books, pottery, and original artifacts that have been repurposed and encased in plexiglass. The pieces add "an element of authenticity and nostalgia," Shah-Mulani says.
The blend of contemporary and traditional design flows into the lobby bar. Inspired by an open traveler's chest, the illuminated backbar cabinetry features herb drawers and handcut crystal glasses against a lacquered blue backdrop. Such hues, adds Shah-Mulani, "pop and bring new life to the formerly dark and dull interior spaces."
The vibrant palette likewise enlivens Zala, the property's signature restaurant. Beautiful handcrafted perforated ceramic pendants seem to float over the bar, which is clad with teal tile that complements the traditionally patterned floor tile inlay. It's a stimulating backdrop for a mix of channel-tufted banquette seating and more intimate tables surrounded by curvaceous chairs with rope backing.
The 115 guestrooms, by contrast, feature a calming palette of neutral hues that play off the original concrete flooring and solid teak doors. Mirrors that reflect the daylight have been strategically placed throughout, an ingenious solution for the smaller-scale doors and windows. A modern take on classic Arabic patterns, the spacious showers are clad in a marble mosaic. Inset mother of pearl, meanwhile, elevates the handcarved vanities. Softly lit by a mix of direct and indirect lighting, the spaces glow.
Revitalized for a new generation, the hotel's mix of influences fosters a luxurious yet relaxed milieu. "The interior transformation while maintaining the exterior heritage and charm is being talked about the most," Shah-Mulani adds. "People who know the property as an icon in Dubai are pleased that it has undergone a much-needed refurbishment."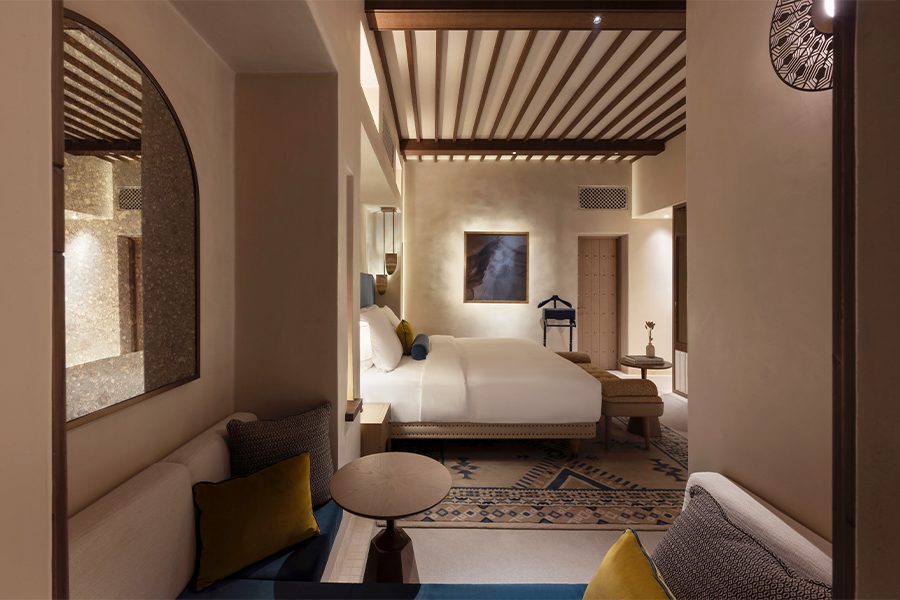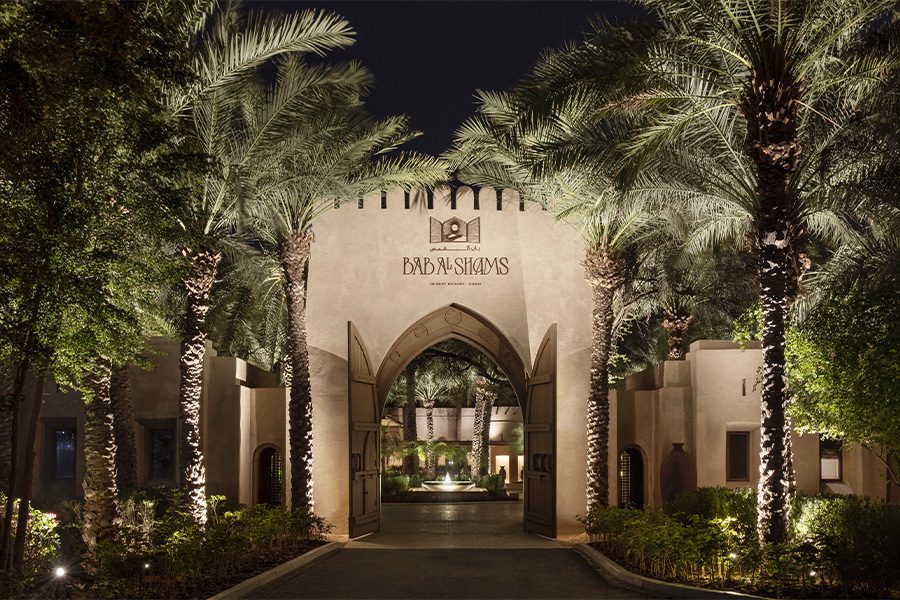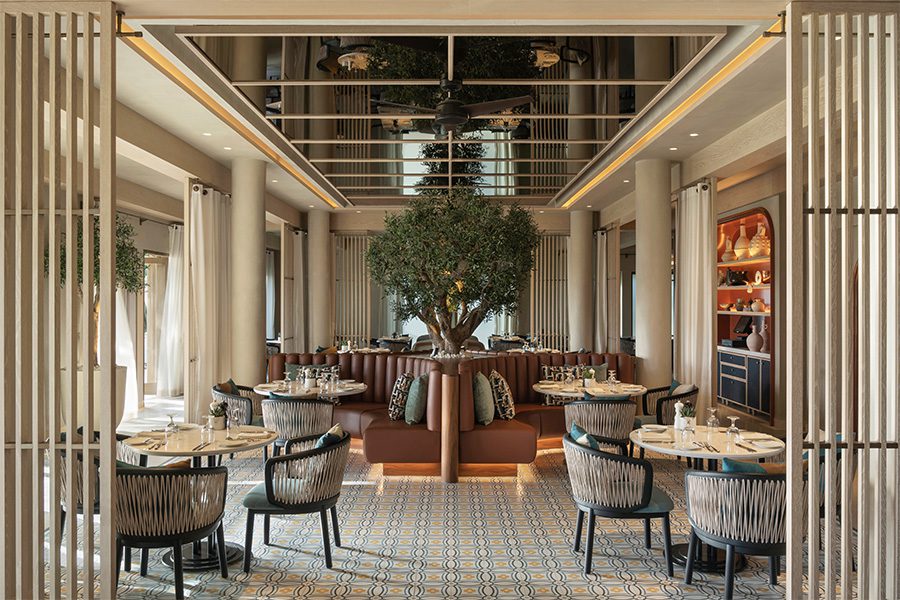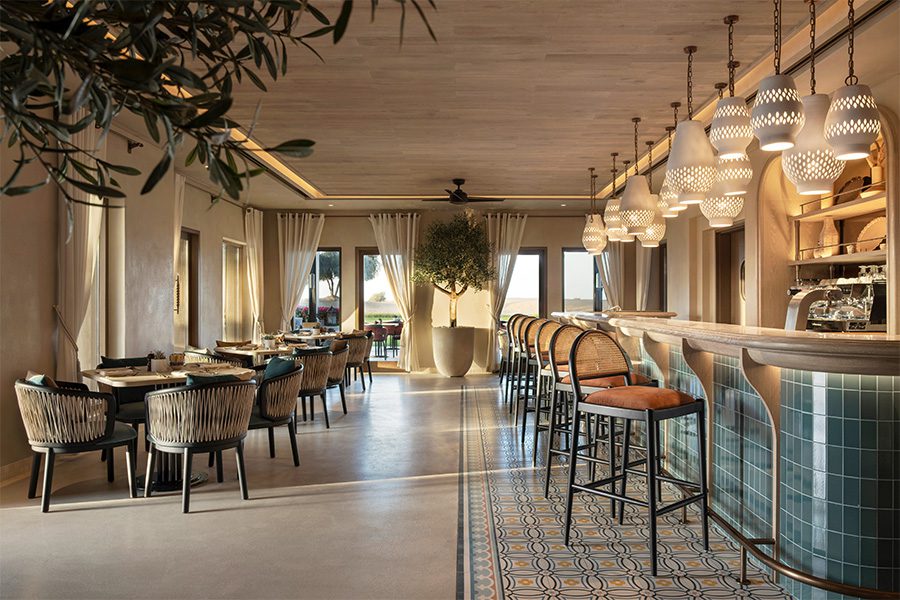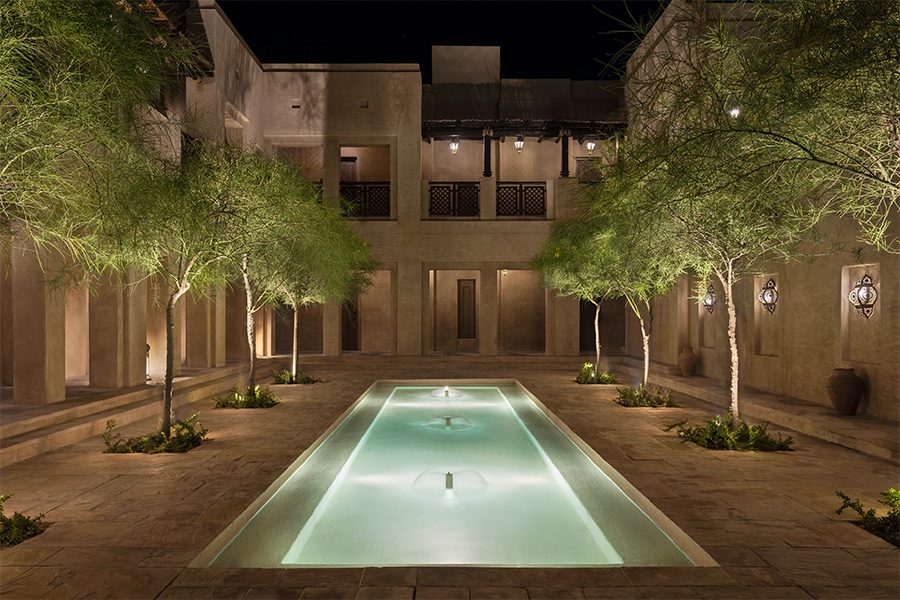 This article originally appeared in HD's April 2023 issue.