Although Moxy Hotels' first outpost in New York debuted in Times Square just over five years ago, its developer, Lightstone Group, was in search of a property on the Lower East Side "from day one," says Mitchell Hochberg, president of Lightstone. "It took us that long to find [the right place]," he adds.
The right place, it turns out, is the corner of Broome Street and Bowery, situated blocks from Chinatown, Soho, and Little Italy. "We liked that particular part of the Lower East Side being the center of gravity for a number of different neighborhoods," says Hochberg.
Manhattan locations, the Moxy Times Square, the Moxy NYC Chelsea, and the Moxy NYC East Village (Lightstone's recent opening in Williamsburg, Brooklyn brings the number to five). According to Stonehill Taylor senior associate Adam Blatner, the "birthday cake style" of the building helped to "limit intrusion into the light and air that gets into the street" and created unique keys for the 303 guestrooms with double-sided windows, a rarity in New York. "We wanted materials that would come out as timeless," he adds, referring to the structure's "simple palette" of exposed concrete, glass, and black metal.
Lightstone enlisted frequent collaborator Rockwell Group and added a new partner, Michaelis Boyd, to tag team the interiors. The latter caught Hochberg's attention with its work on the tranquil Soho Farmhouse in the UK's Oxfordshire countryside and the buzzy Soho House Berlin. Although tasked with designing different areas, both firms tapped into the neighborhood's rich history for inspiration.
In the Michaelis Boyd-designed lobby (accessed via a terrazzo "catwalk" from the front door), greenery on the ceiling nods to the Lower East Side's 1800s pleasure gardens, popular when the area was home to vaudeville theaters and menageries, before becoming theater circuses and bordellos.
To capture that whimsy, blink-and-you-might-miss-them details are scattered throughout. In the Victorian chandeliers, 3D-printed pinup girls dangle in acrobatic positions between crystals, and on curtains, what from a distance looks like an amorphous pattern reveals itself to be Kama Sutra sketches upon closer examination. "We love that we can create these moments, that every time guests turn their heads, there's something else there that can surprise them and delight them,' says Hochberg.
Consider the five Tao Group Hospitality-helmed F&B concepts on the property. There's lobby lounge and all-day café the Fix, Japanese restaurant Sake No Hana, rooftop hotspot the Highlight Room, nightclub Loosie's, and piano bar Silver Lining Lounge. Each tells its own story, but they also speak to each other with their layered, detailed spaces.
At Sake No Hana, Rockwell Group took cues from the rebellious Japanese yankii subculture that peaked in the 1980s and '90s. Access to the lower-level space is via metal doors leading to twin descending staircases with leather-upholstered handrails (an homage to leather jackets worn by yankiis) to create a "theatrical entrance," says Shawn Sullivan, partner and studio leader at Rockwell Group, culminating in a curved bar surrounded by fabric suspended from the ceiling modeled after vintage kimonos. In the dining room, a pink-tinted horsehair lighting installation nods to the Lower East Side's historic punk scene.
Further below is Loosie's, a "subterranean grotto," according to Sullivan. Entered through an alleyway, one wall features original graffiti unearthed during construction by late artist RAMBO. Purple neon lights emanate throughout, reflecting off a mirrored ceiling installation that evokes an exploded disco ball. Over the bar, a bronze art piece recalls scaffolding that is part of daily life in New York, while a custom wallcovering emulating patina imbues grittiness. "Even though the building is [new], getting to Loosie's and the Loosie's experience takes you back in time to this neighborhood," adds Sullivan.
While most of the property mines more distant history, the Michaelis Boyd-designed Silver Lining Lounge was born from recent events. Design meetings for the piano bar coincided with the uncertain early days of the pandemic, inspiring its name and mood. Filled with sumptuous blue velvet furnishings, the space is anchored by a handmade vinyl, acrylic, and metallic ink mural comprising lyrics, couplets, and a portrait of Andy Warhol muse Edie Sedgwick. "You have [moments] of light and glistening within the space to illustrate this idea that there may be darkness and uncertainty in the foreground, but there's always a silver lining," explains Rina Kukaj, director of Michaelis Boyd New York.
On the 16th floor, the Highlight Room crowns the property with an "oasis-driven atmosphere," according to Kukaj. With a bright palette, the plant-filled space contrasts the dark-hued Silver Lining Lounge, starring sweeping views of the neighborhood and beyond with the towering blue skyscrapers of Hudson Yards visible in the distance.
"What we love about developing the Moxys is the ability to bring together such a diverse group of creative partners that becomes almost combustible in terms of the final product," says Hochberg. "Sometimes people are afraid that when design is done by collaboration, it becomes the euphemistic too many cooks in the kitchen. Through listening carefully and being provocative with each other, we were able to create something unique that none of us would have been able to do without the rest of the team."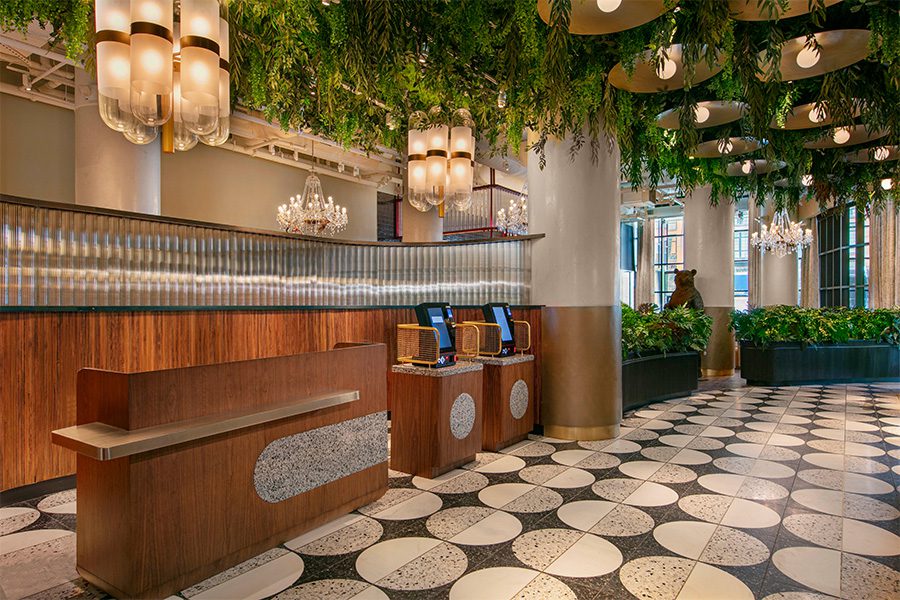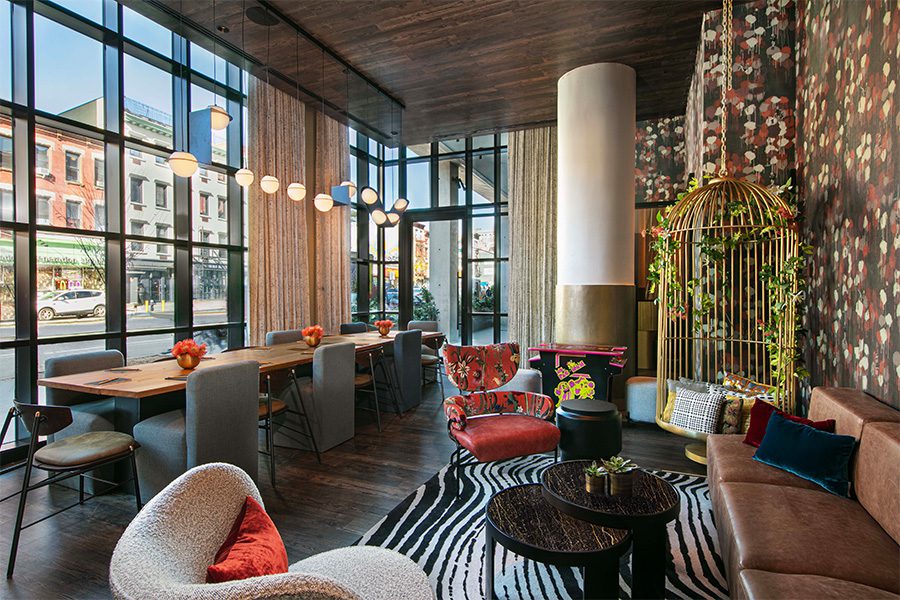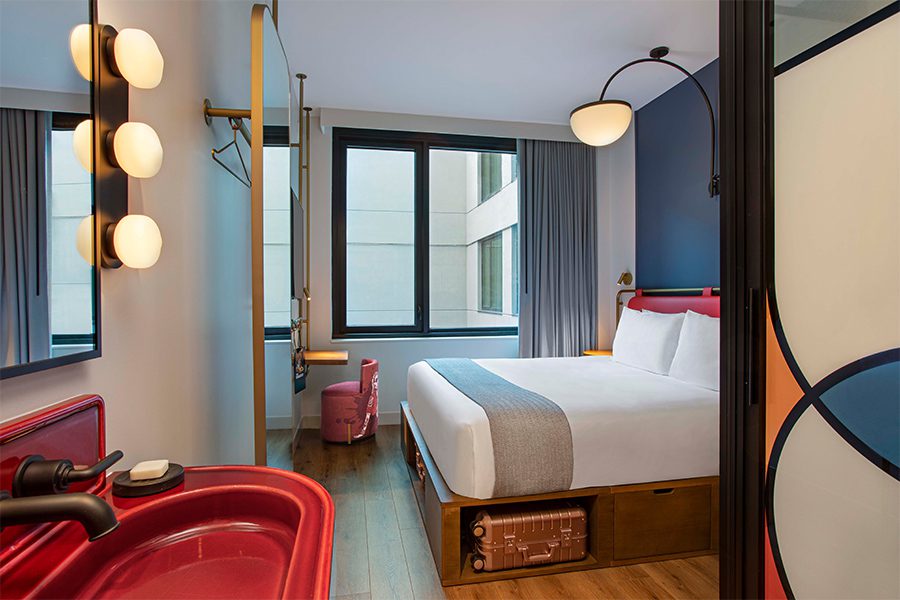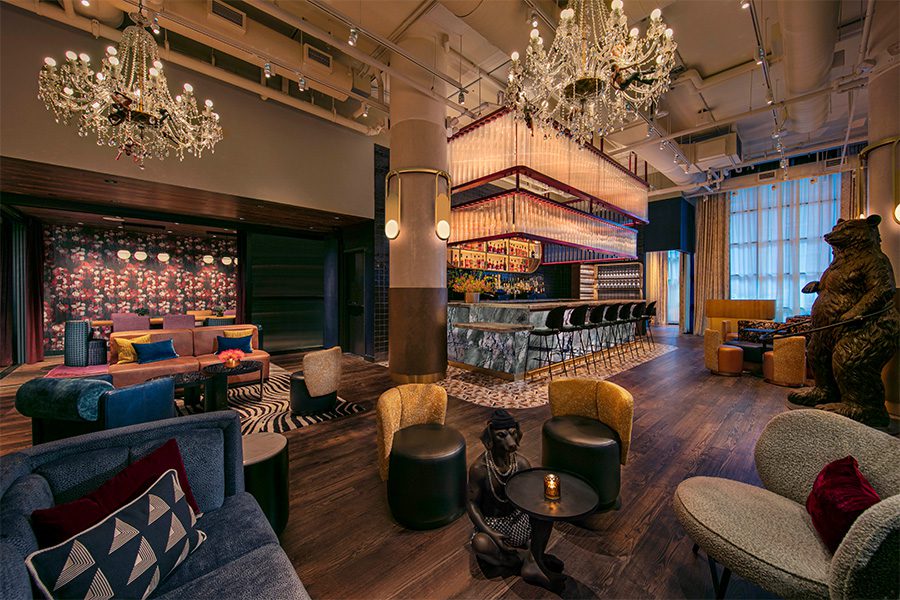 This is part of our HDTV video series, which offers a behind-the-scenes look at what goes into designing and developing hospitality projects.