Nineteenth-century France melds with modern Europe in the Four Seasons Hotel in Baku, Azerbaijan. Given a French Beaux-Arts design brief, London-based ReardonSmith Architects and design firm Richmond International reinterpreted the era's idioms for an authentic but up-to-date space.

Photography by Paul Thuysbaert
"We knew it could not be some kind of plastic pastiche," says Patrick Reardon, executive chairman of ReardonSmith Architects. "What we did was facially reinterpret [the details] in the sense of providing a replica." French inspirations⠯⠯from 19th-century roofs and staircases to the Carlton Hotel in Cannes⠯⠯contributed to the building's façade. "There's a fantastical feel in the city, and [the owners] wanted it to be a part of that," adds Fiona Thompson, principal of Richmond International.

Photography by ReardonSmith Architects
While the exterior replicates the centuries-old style, the interior incorporates more modernism. "We followed the lead of the building in the interiors, with a modern twist," says Thompson. "Baku is very much an outdoor city, so we wanted to keep it light and fresh, not murky."

Photography by Paul Thuysbaert
Public areas such as the lobby, tea lounge, cigar bar, and restaurant seamlessly "link" to each other, while columns, decorative chandeliers, and marble floors atop concentric circles grant the lobby its grandeur.

Photography by Paul Thuysbaert
In the center of the seven guest floors, 40-foot tall, barrel-vaulted ceilings⠯⠯housing an elongated pool⠯⠯echo a Roman basilica. "We relied on the complexity of the architectural interior for that majestic feel, rather than apply any elaborate decoration to it," says Reardon. However, "It felt quite brutal after the stonework and slightly inhuman in scale," explains Thompson. The painted plaster walls are instead softened with gold-leaf cherry blossom trees. "It feels quite grand and elegant, but has a decorative feel to it," she adds.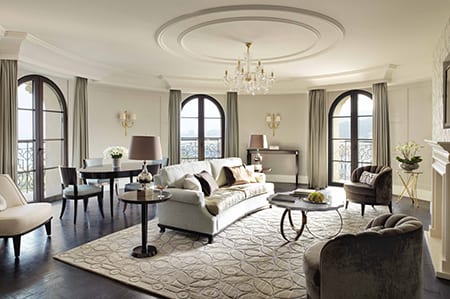 Photography by Paul Thuysbaert
In fact, the owners "were keen on having a feminine theme to the whole hotel," she says. With that in mind, the 175 guestrooms and suites boast a quiet palette of colors and windows opening onto terraces, while bathrooms contrast with curved mirrors and black-and-white floors. "Overall the rooms have a soft and calm feel, with good ceiling heights and a French flavor," says Thompson.

Photography by Paul Thuysbaert
"The biggest challenge is when you get a brief that's as tight a requirement as we received," says Reardon. "The challenge is meeting that in every way, and to not convert the building in a pale imitation, but to create an authentic copy."

Photography by Paul Thuysbaert